Dogo Onsen: Wrapped in History and Charm
Its main bath house has been the inspiration for the Studio Ghibli film Spirited Away (2001). But despite a famous pedigree, the onsen still feels like a public bath in the neighborhood.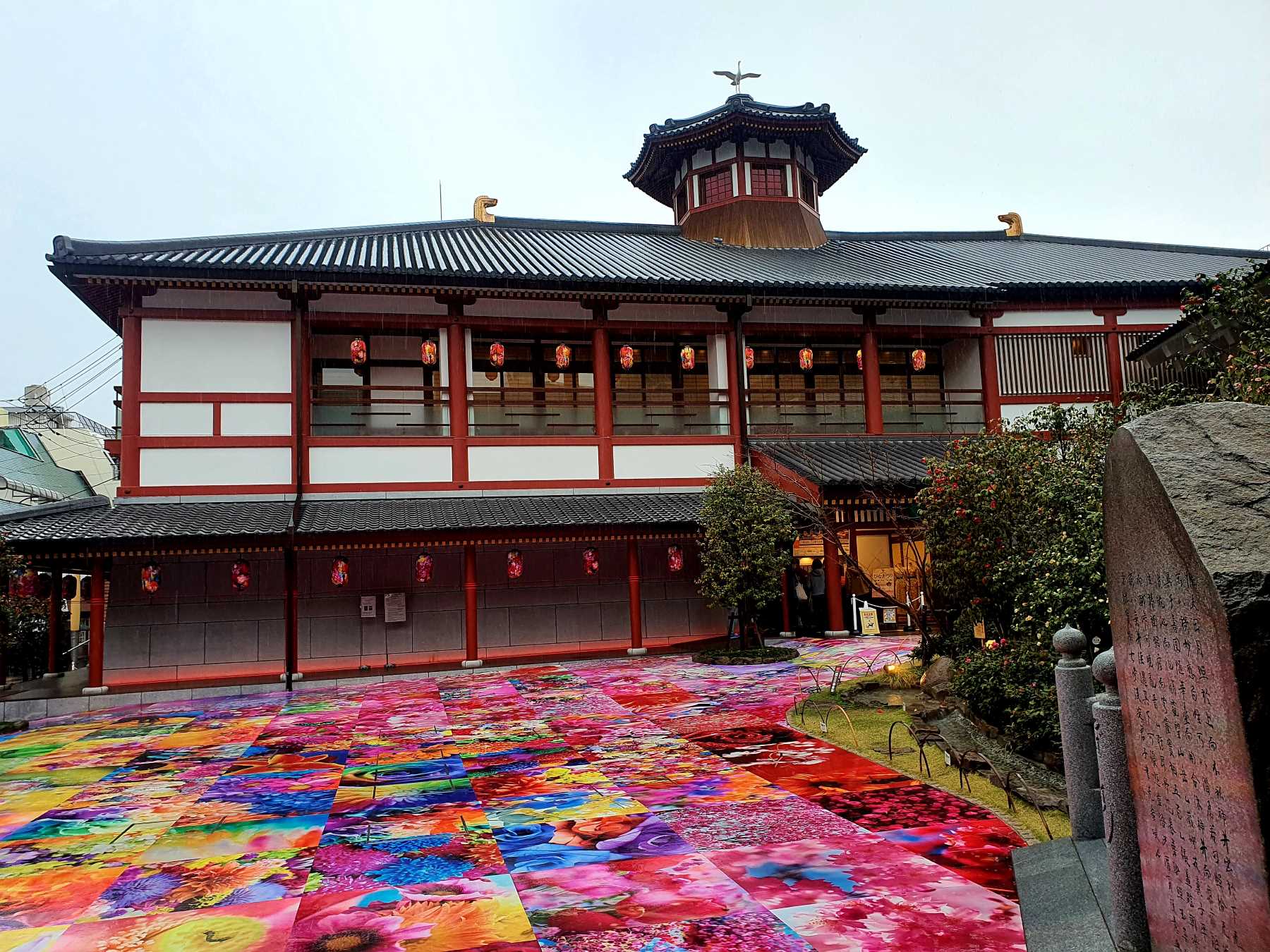 Just a short tram ride from Matsuyama city center is Dogo Onsen, Japan's oldest hot spring. Its main bath house has been the inspiration for the Studio Ghibli film Spirited Away (2001). But despite a famous pedigree, the onsen still feels like a public bath in the neighborhood.
"Please be careful", says the kind assistant at Dogo Onsen's main bathhouse. There is no witch and no wandering soot spirit. Instead she points out the dangers posed by low wooden door frames, ceiling planks and a steep, narrow staircase. The vertigo-inducing stairs lead straight down to the changing room covered with tatami mats.
Some ladies in their 70s and 80s are just getting dressed in front of wooden lockers that might be double their age.
Despite the fact that Dogo Onsen is one of Japan's most famous hot springs, the crowd this afternoon is clearly local. It feels like a public bath where neighbors come to soak and drink some cold milk afterwards. The entrance fee is only ¥420 yen and wooden lockers in the basement are fed with ¥10 yen coins, while use of the old scale is free.
Dogo Onsen is one of Japan's few onsen where the hot spring water comes directly from the source with no reheating or added water. Bathing has been going on here for over 1,000 years.
The hot springs are first officially mentioned in a Japanese poetry collection compiled around 759, but legend has it that it has been in use centuries earlier.
As the story goes, an injured heron once soaked its legs in the hot spring waters and healed its wounds. Restored to health, the bird flew away, but not before giving people the idea that the water had restorative qualities. Today, a heron statue adorns the bath house roof and healing powers are still attributed to the alkaline hot spring water.
Dogo Onsen has been an imperial retreat since 1899 and Yushinden, a bath reserved for the Imperial family, was constructed in the same year. Emperor Hirohito was the last member of the Imperial Family to bathe here in the 1950s.
Dogo Onsen was also a firm favorite of the Japanese writer Natsume Soseki. When the novelist, who was born and raised in Tokyo, worked in Matsuyama as a middle school teacher in 1895, he was far from happy with his post in the countryside. It appears that he only liked the hot spring, where he found inspiration for his work.
Dogo Onsen's main bathhouse with its elegant wooden structure dates from 1894. Since 2020 it has been undergoing construction, and parts of the wooden structure are wrapped up in colorful artwork.
During the renovation, the stone bath on the ground floor, Kami-no-Yu or (Bath of the Gods) remains open. The bath room features white tiles with blue paintings of landscapes and herons. It also has large column-shaped water spouts. Wooden bath stools and buckets at the washing stations add to the old time charm. The water is relaxing and very gentle on the skin.
Fans of Hayao Miyazaki's 2001 classic Spirited Away (Sen to Chihiro no Kamikakushi) are still debating whether or not Dogo Onsen Honkan served as the blueprint for the supernatural bathhouse commanded by witch Yubaba, where the main character Chihiro is trapped.
Surely, with its many floors, narrow passages and maze-like layout Dogo Onsen is a strong contender. Staff seem to appear and disappear out of nowhere, carrying cleaning utensils or putting things into place. And Kaonashi (No Face) and other Ghibli characters could very well be hiding behind the hot spring steam.
There are newer additions in Dogo Onsen, with more variety to add to the hot spring experience. Asuka-no-Yu, built in 2017, features open-air baths, private baths, resting lounges and impressive artwork.
Directly opposite stands Tsubaki-no-Yu, another bathhouse with high ceilings and stone tubs similar to those in the main bathhouse. The tsubaki flower is the symbol of Matsuyama city and a row of camellia trees lines the front of the building.
For the onsen aficionado, Dogo Onsen has a stamp card on offer: visit all three bath houses and get a face towel and mandarin scented soap for free. As they say, cleanliness is next to godliness.


Author: Agnes Tandler, reporting from Matsuyama