Zelenskyy's Appeal to Japan: Help Stop Russian Invasion, Start Rebuilding Ukraine
In a historic address to the Japanese parliament, President Volodymyr Zelenskyy thanks Japan for being the first Asian country to stand up for Ukraine.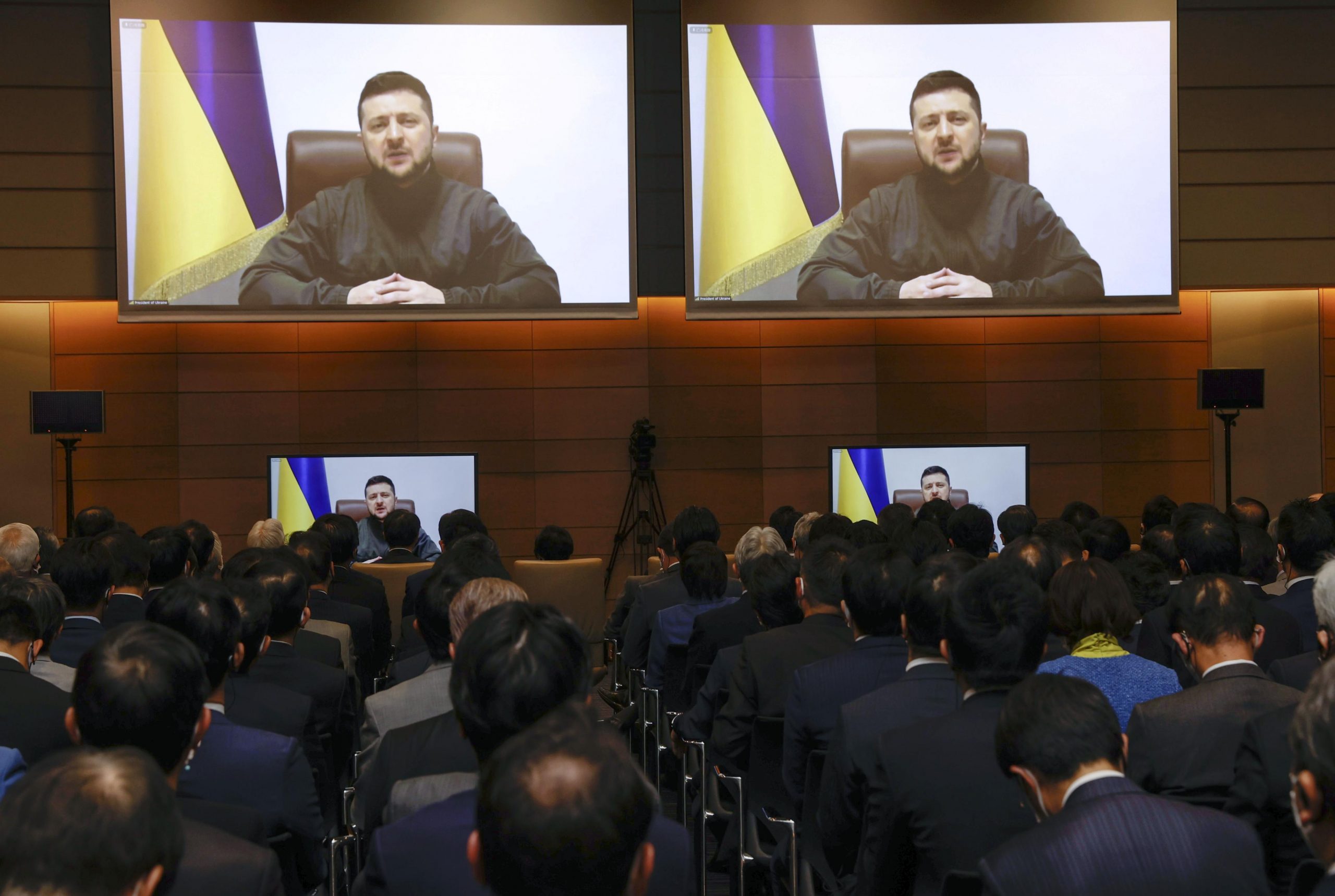 Read The Full Speech by President of Ukraine Volodymyr Zelenskyy to Japan's National Diet, here.


In a historic address urgently asking for help to "stop the brutal 'tsunami' of the Russian invasion," Ukrainian President Volodymyr Zelenskyy spoke directly to over 500 Japanese lawmakers on Wednesday, March 23.
This was the first time for the Diet, Japan's parliamentary body, to sit as an audience to an online address, and there were worries about whether the event would go smoothly.
RELATED: EDITORIAL | Why Does Japan's Parliament Seem Lukewarm About Zelenskyy's Address?
Zelenskyy spoke for only 12 minutes, appealing to Japanese lawmakers to further pressure Russia with sanctions.
The address was preceded by a short speech by Hiroyuki Hosoda, speaker of the House of Representatives, who said: "Our country is resolved to firmly oppose Russia's invasion of Ukraine. We stand with Ukraine."
The speech came as Japan's Prime Minister Fumio Kishida was poised to fly to Europe for the G7 summit in Brussels on March 24.
Following the address, Kishida said he would consider imposing further sanctions on Russia, and increasing humanitarian aid to Ukraine. Japan had pledged $100 million USD in emergency aid earlier in February.
'Japan Became a Leader in Asia'
Zelenskyy started his address by highlighting the similarities between the two seemingly distant countries: "There are approximately 8,193 kilometers that separate our two countries, and 15 hours by plane, but there is no difference in the way that we perceive freedom."
The Ukrainian president moved on to thank Japan for its speedy efforts in showing support in the face of Russian invasion, referring to the start of the conflict on February 24.
"I felt this on February 24, when Japan immediately held out a helping hand and gave support. For this, I would like to express my heartfelt gratitude," said Zelenskyy.
Zelenskyy highlighted the way Russia's invasion of Ukraine had laid bare "the real state of affairs in the world." He added that "Japan became a leader in Asia," as the first Asian country to join the ranks of countries opposing Russia's conduct.
Japan on February 25 quickly joined other G7 countries in imposing sanctions on Russia, among other moves, such as excluding several Russian banks from the SWIFT financial messaging system.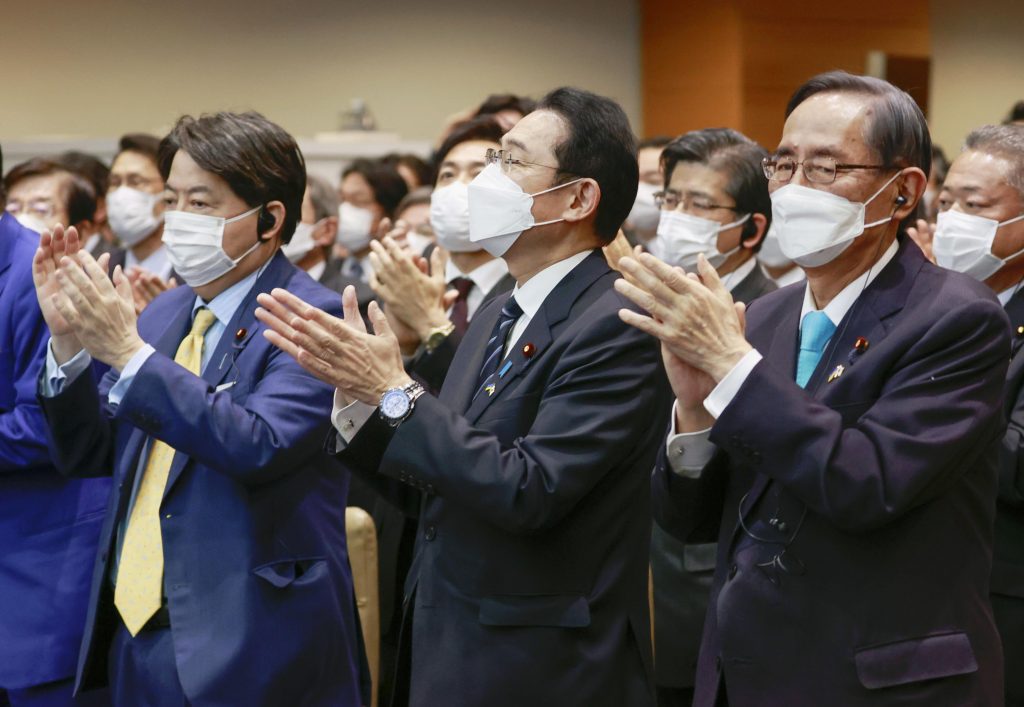 'Russia Preparing Attack Using Nerve Gas'
The Ukrainian president stressed the importance of protecting nuclear plants in the country, which have been among the first targets since the start of Russia's invasion.
RELATED: EDITORIAL | With Chernobyl Power Outage, Russia Can Run Away with Nuclear Fuel
Zelenskyy recounted the nuclear accident in Chernobyl in 1986, which caused the release of a radiation cloud that spread over much of Europe and left the "30-kilometer range area around the plant dangerous to this day."
Appealing to the Japanese public, who is sensitive to nuclear dangers, especially following the Great East Japan Earthquake of 2011, Zelenskyy asked:
"How many years will it take, after this war has ended in Ukraine, to comprehend the environmental destruction that has been caused?"
Bringing back the conversation to the current war in Ukraine, Zelenskyy cited the example of shelling on the biggest nuclear plant in Europe in Zaporizhzhia on March 4. He also quoted the example of a besieged chemical plant in Sumy, which was reported to have an ammonia leak on March 21.
"We have received reports that Russia is preparing to attack using sarin (nerve gas), and nuclear weapons, just like they did in [the war in] Syria," continued Zelenskyy.
In a veiled invitation to think seriously about this threat, he extolled: "Everyone is watching how the world will react if nuclear weapons are used."
Japan's prime minister, Kishida, comes from Hiroshima. This city is one of only two in the world — together with Nagasaki — which have suffered the impact of atomic bombs.
Coincidentally, March 20, just three days prior to Zelenskyy's address, marked the 27th anniversary of the Tokyo sarin gas attack, a domestic incident which killed 13 and injured several thousands of people in the Tokyo subways.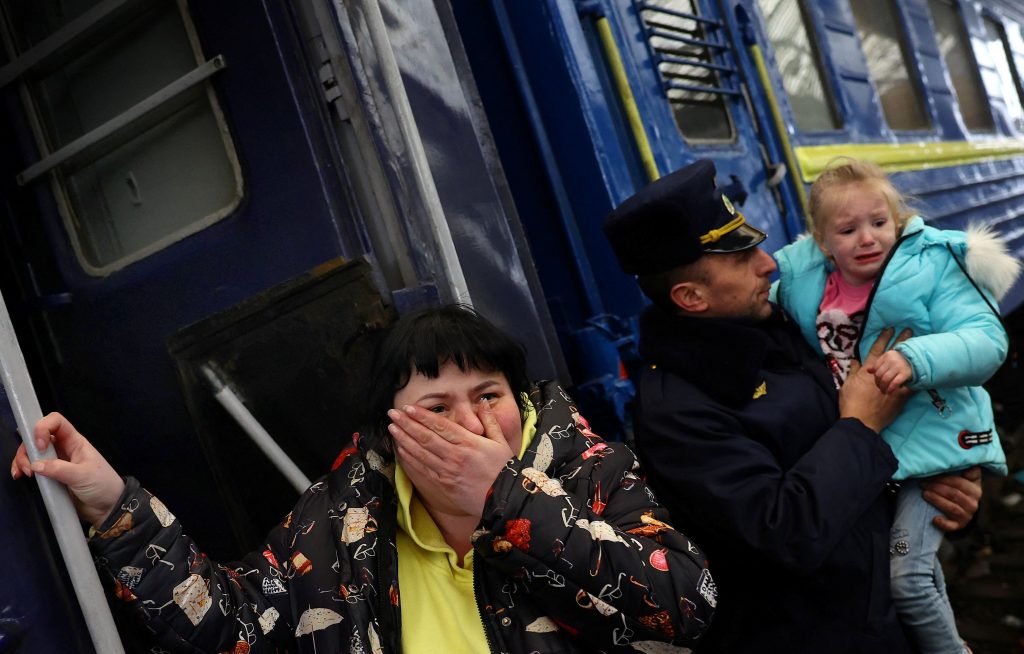 'Thousands Dead Among Them Children'
Zelenskyy gave a vivid picture of the destruction inflicted on Ukraine by this war, on Day 28 of the conflict.
"There have been more than 1,000 missiles shot, and many cities have been destroyed. When someone is killed, people can't bury their dead properly. They must bury them in their front gardens, or on the side of the road," he described.
Zelenskyy cited the thousands of dead, "among them 121 children." And the over nine million people who have been forced to flee their homes.
RELATED: INTERVIEW | Ukraine's Envoy to Japan on Mapping Out Russia's Offensive

'International Institutions are Dysfunctional'
In a frustrated call on the failure of international bodies, Zelenskyy then pointed out the ineffectiveness of international institutions in the conflict, appealing to Japan to play a role in changing the status quo.
"As you can see, international institutions are dysfunctional. Institutions such as the United Nations Security Council, they couldn't protect our safety, and we need to reform them," Ukraine's president said.
Zelenskyy continued, "We need to send a strong message of warning to those countries that plan on carrying out a military invasion going forward, a strong message that it's imperative not to destroy peace."
The Ukrainian president also outlined a series of concrete requests to Japan.
RELATED: [Asia's Next Page] Japan's Stake in the Ukraine Crisis
First, he asked for Japan to consider additional financial measures: "In order to stop this 'tsunami' of invasion in Ukraine, I would like to ask you to consider imposing a trade embargo on Russia, and for all [Japanese] companies to exit the Russian market."
Explaining the motivation for this, he said that any investment in Russia is an "investment towards the Russian military."
Zelenskyy further looked to Japan for help creating a "new tool" and framework to facilitate the process of Ukrainian reconstruction after the war.
"We need to make it possible for people to return to their hometowns. I think that people in Japan can understand that feeling of wanting to go back to their hometown regions where you are so used to living," said Zelenskyy.
"I think that Japan can fulfill an important role in creating this tool, for the world, and for Ukraine, so that there can be hope in what the future has to bring," he said.

'Our Hearts are in the Same Place'
Finally, to further appeal to his audience, Zelenskyy sought to show Ukraine's commonalities with Japan.
"In Ukraine we love Japanese culture, and these are not just words. In Japan's history, the ability of creating harmony ー and cultivating it ー is extraordinary," said the Ukrainian president.
Zelenskyy recalled how, in 2019, shortly after he was sworn in as president of Ukraine, his wife Olena participated in an audiobook project for visually impaired children which involved the translation of a Japanese folk tale into Ukrainian.
"We are geographically far, but our values have a lot in common, therefore we are not so far after all," he said, and then added: "Our hearts are in the same place."
Zelenskyy concluded his speech with the Japanese expression "Arigatou gozaimasu (thank you very much), glory to Ukraine, and glory to Japan."
Following the address, Akiko Santo, president of the House of Councilors, expressed the lawmakers' strong support for the words of the Ukrainian president:
"Our hearts are already united with Ukraine. We, members of the National Diet, will do our utmost to bring peace back as soon as possible."

Author: Arielle Busetto