EDITORIAL | Japan Must Work with U.S. to Stop China's Missile Launch Provocations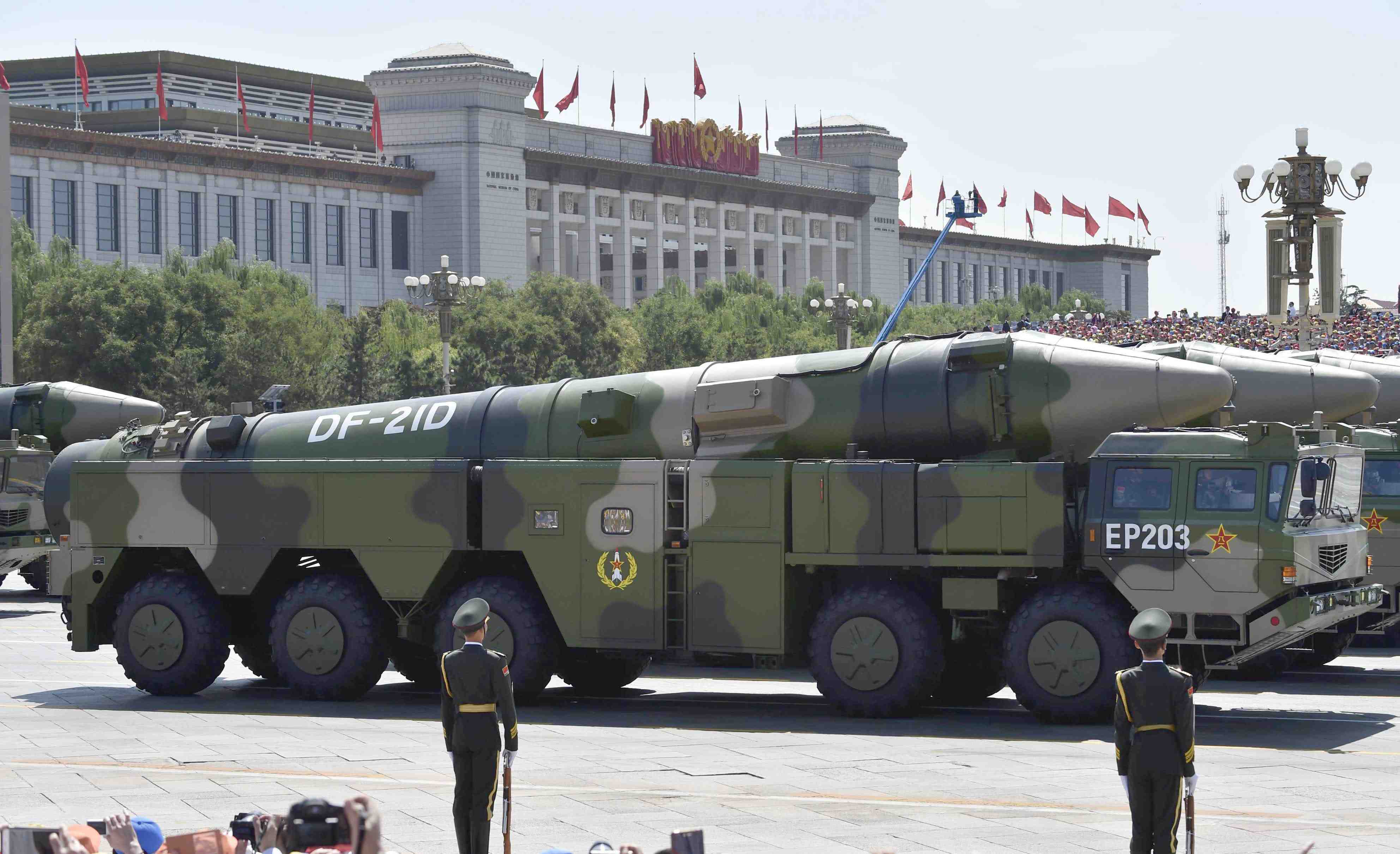 Photo: Chinese Dongfeng DF-21D anti-ship missile
The Chinese military launched four ballistic missiles on August 26 from mainland China into the South China Sea. The missiles were fired into the waters between the disputed Paracel Islands and the southern island province of Hainan, according to United States Defense Department authorities.
Two of the four missiles were Dong Feng (DF)-26 intermediate range ballistic missiles capable of conducting a nuclear strike on the U.S. Pacific island base in Guam, said a Hong Kong-based newspaper. It said the remaining two were DF-21D anti-ship medium range ballistic missiles, dubbed "[aircraft] carrier killers." DF-26 is also considered an anti-ship ballistic missile, according to experts.
The Chinese military fired ballistic missiles into the South China Sea in 2019 too. The firing of the missiles was presumably intended to intimidate the United States by showing off Beijing's ability to strike U.S. aircraft carriers in the region and the U.S. military facilities in Guam, in the event U.S. forces enter waters near the Chinese coast or the South China Sea, where Chinese-built man-made militarized islands are located.
China's missile launches should be condemned as acts that are as reckless as North Korea's flying of ballistic missiles over the Japanese archipelago toward Guam. China's Xi Jinping administration must not repeat these futile military provocations.
Beijing has claimed most of the South China Sea by unilaterally drawing what it calls a nine-dash line defining its own view of China's territorial rights. However, as the Hague-based Permanent Court of Arbitration ruled in 2016, Beijing's nine-dash line claims have no legal basis and instead trample on international law without justification.
On August 26, Vietnam demanded that a live-fire naval drill being conducted by China in the South China Sea be immediately suspended.
The same day, the United States imposed its first sanctions on China's state-owned enterprises that have been involved in reclamation, construction, and militarization of outposts on the artificial islands in the South China Sea. U.S. Secretary of State Mike Pompeo emphasized the United States "will continue [sanctions] until Beijing discontinues its coercive behavior in the South China Sea."
In reference to news reports on China's missile firing, Japan's Chief Cabinet Secretary Yoshihide Suga said in a news conference on August 27: "Japan is closely watching China's recent moves in the South China Sea with concern. Our country is strongly opposed to any actions that heighten tensions" in the South China Sea."
The chief government spokesman added, "Japan will cooperate beginning with the United States, and with other members of the international community, to protect the peaceful, free, and open seas."
U.S. Secretary of Defense Mark Esper, in a speech delivered in Hawaii on August 26, warned that, if the Chinese People's Liberation Army (PLA) makes progress in its aggressive military modernization program, "its provocations in the South and East China Seas will undoubtedly intensify."
Mr. Esper called on concerned countries to join hands in forming a bulwark of protection against Beijing's threats.
Japan's Defense Minister Taro Kono met his U.S. counterpart Mr. Esper in Guam on August 29. The South China Sea, linked directly with the East China Sea, is a key sea lane and shipping route of high importance to Japan.
Our hope is that the defense chiefs of Japan and the United States have reached an agreement on specific measures to be taken to ramp up their bilateral security cooperation to stem China's pursuit of regional and global hegemony.
(Click here to read this editorial in its original Japanese.)
Author: Editorial Board, The Sankei Shimbun