EDITORIAL | PM Suga's First Trip Puts Spotlight on Japan and ASEAN Shared Vision for Free and Open Indo-Pacific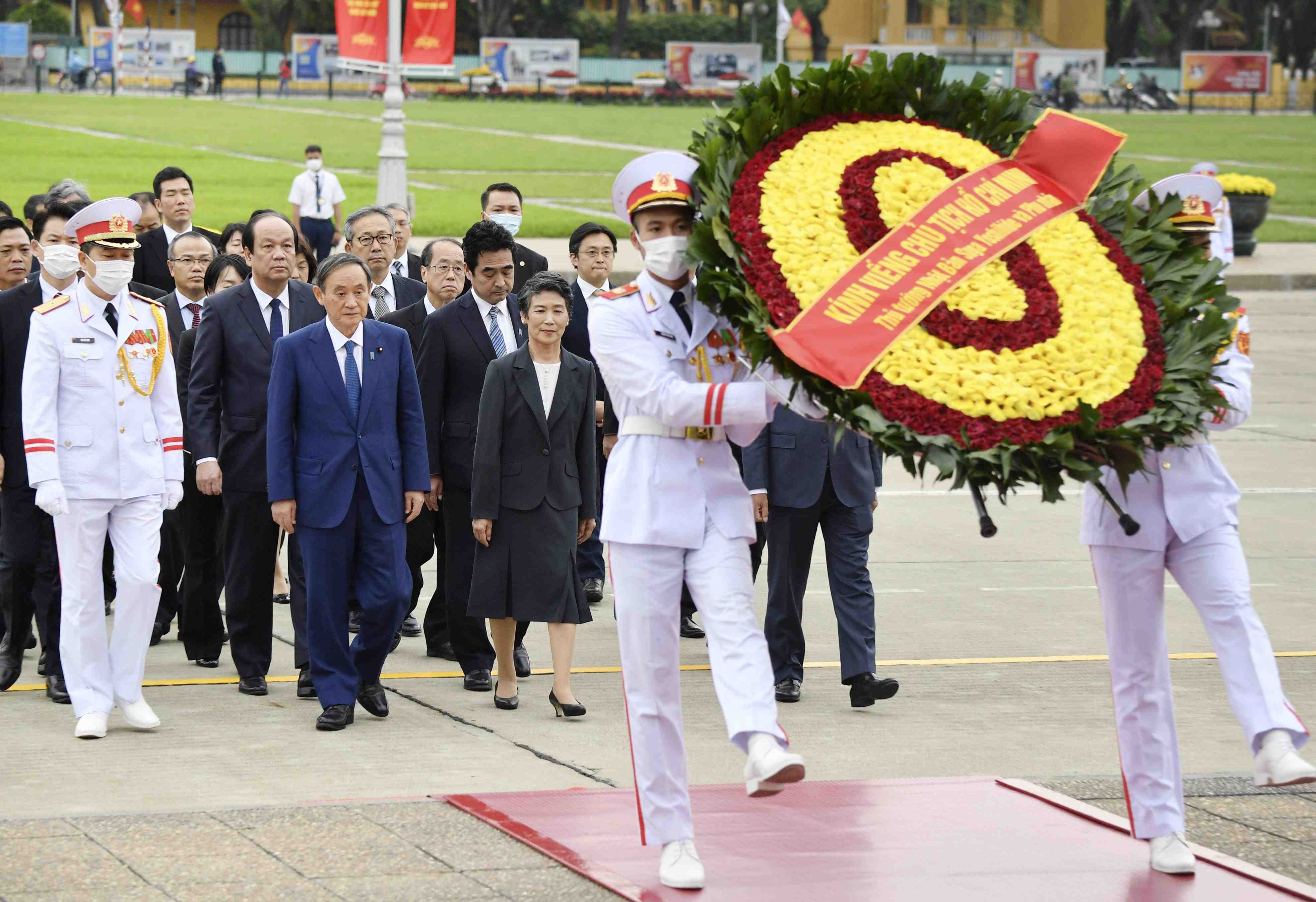 Above: Prime Minister Suga and Mrs. Suga honor those fallen in wars in a memorial offering in Hanoi during his trip to the country in October 2020
This week the prime minister achieved a significant step toward expansion of the circle of cooperation for Japan's vision of a "Free and Open Indo Pacific.
This is in reference to Prime Minister Yoshihide Suga's four-day trip to Vietnam and Indonesia, both maritime member states of ASEAN (the Association of Southeast Asian Nations) from October 18 to 21. In summit meetings in both countries, the respective leaders reached agreements to boost economic ties and to further beef up defense cooperation in the face of China's increasingly aggressive maritime advances.
The "Free and Open Indo-Pacific" initiative seeks to promote the region's peace and prosperity based on the rule of law. It also aims to stem China's ambition for maritime hegemony.
Japan has been promoting this initiative, along with the United States, Australia and India, with support articulated from major European nations. Yet what is important is the perspective of the ASEAN countries that lie at the geographical center of this vision.
ASEAN itself came out last year with its own initiative on the "Indo-Pacific" concept, which also incorporated values such as the rule of law.
It is necessary to integrate the two visions into a single concept. This would be difficult to accomplish through Western thinking with its linear approach. However, it is a role that Japan is uniquely qualified to play, with its history of engagement with ASEAN countries on an equal footing.
In a speech delivered in Hanoi, the capital of Vietnam, Prime Minister Suga said the ASEAN statement and Japan's initiative "share many essential aspects." It was an appropriate expression of Japan's support for the vision of ASEAN.
"There are moves in the South China Sea that run counter to the rule of law in the ASEAN vision," he said, adding "We oppose any actions that will heighten tensions [in the South China Sea]". His words could have been taken as a strong swipe at China, which has ignored internationally established rules as it projects its power into the region.
Vietnamese Prime Minister Nguyen Xuan Phuc was quoted as telling his Japanese counterpart that Hanoi shares "grave concerns with Japan" over China, while Indonesian President Joko Widodo expressed his desire to have "safe waters" in the region.
Significantly, Suga's first trip since the start of the pandemicーand his first trip since taking officeーwas to Hanoi and Jakarta, during which he sought to strengthen the supply chain ties between Japan and the two nations for products such as medical supplies.
Anxieties about Japan's deep economic links with China spread across the Japanese economy this spring as it became difficult to meet the demand for face masks during the COVID-19 pandemic, due to heavy dependence on manufacturing in China. Given that excessive dependence on China for necessities is accompanied by great risks, steps must be taken to diversify the supply chains.
Many Japanese companies are branching out into ASEAN countries, and measures to strengthen Japan-ASEAN relations will be of key importance to decoupling from overdependence on China. Japan should take advantage of the opportunity presented by the COVID-19 crisis and ramp up supply chain cooperation in the ASEAN region.
(Read the editorial here in its original Japanese.)
Author: Editorial Board, The Sankei Shimbun