[Bookmark] EXCLUSIVE: Shinzo Abe on Ensuring Japan's Position in East Asia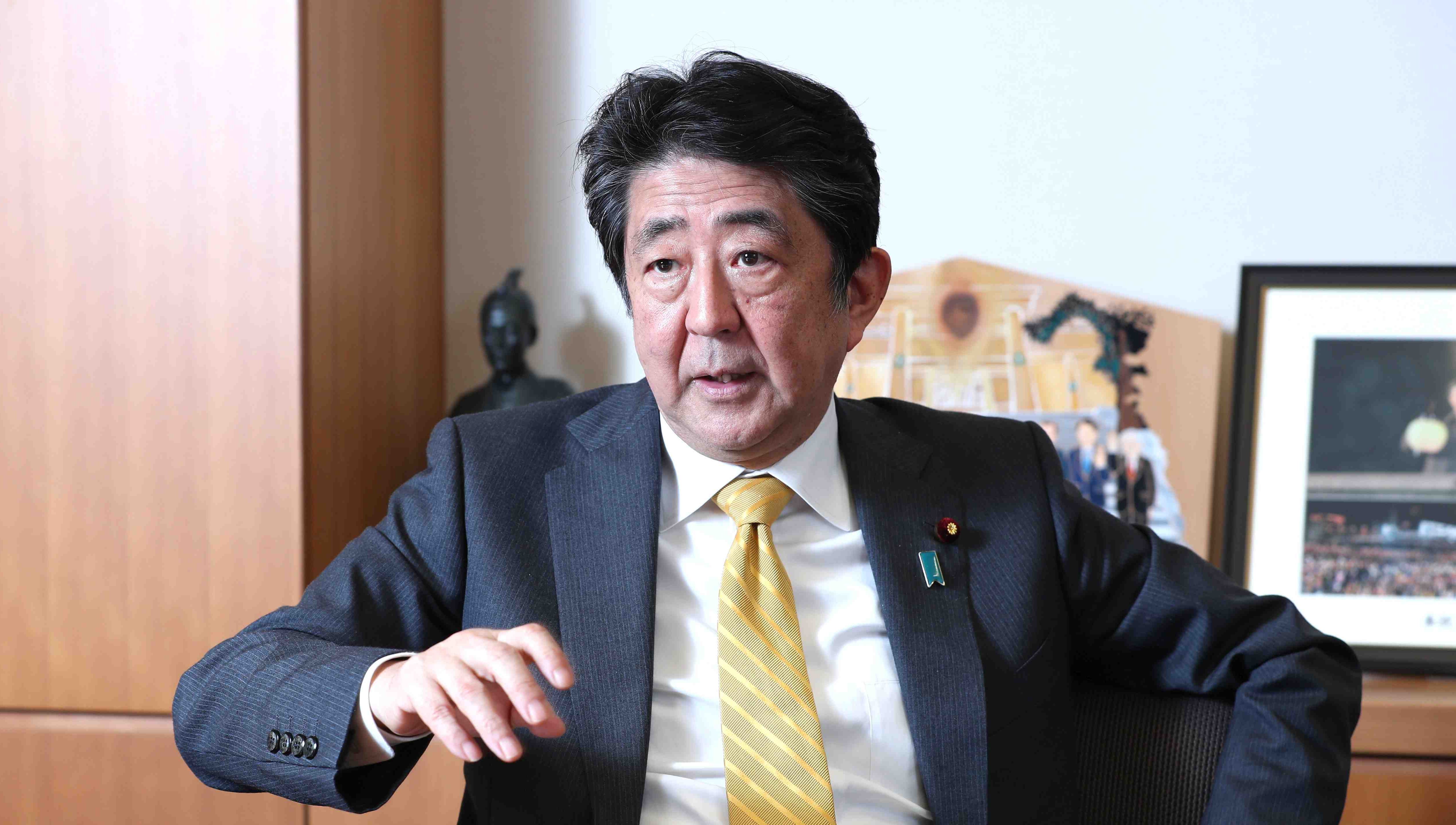 Above: Former Prime Minister Shinzo Abe on October 16, 2020, in an exclusive interview with The Sankei Shimbun and JAPAN Forward
Bookmark is a JAPAN Forward feature that gives you long reads for the weekend. Each edition introduces one overarching thought that branches off to a wide variety of themes. Our hope is for readers to find new depths and perspectives to explore and enjoy.
(First of 2 parts)
Shinzo Abe stepped down on September 16 due to an illness, after serving the longest term of any prime minister in Japan's history. On October 16, one month after he resigned, Abe sat down for an exclusive interview with three reporters of The Sankei Shimbun and JAPAN Forward.
What foreign policy changes did he leave behind after 2,822 days in office during his record-breaking second stint in office (2012-2020), and his first one-year term (2006-2007)? In this Part 1 of the interview, we asked Mr. Abe about his foreign policy views and priorities, successes and unfinished business, and his relationship with United States President Donald Trump.
Excerpts of the interview follow.
In 2015 you issued a statement on the 70th Anniversary of the End of the War, which marked a turning point that put an end to "apology diplomacy." How did that change Japanese foreign policy?
During my first administration, I championed "exiting the postwar regime." However, my approach was a bit lacking strategically. Although the statement made by [then-Prime Minister Tomiichi] Murayama (1994-1996) on the occasion of the 50th anniversary of the end of the war focused solely on Japan, we have to remember that that war was a truly global event. So we need to consider it from a broad universal perspective and against the backdrop of the long flow of history. I employed a time axis of a century for the 70th anniversary statement.
One hundred years ago, there were only a few independent nations and many colonies in the world, and amidst those conditions Japan was struggling to maintain its own independence. I tried to look back at events involving Japan 70 years ago from the perspective of global history. I prepared the 70th anniversary statement with universally shared values and the kind of global society we are aiming for in mind.
Has that changed how your critics harp on historical issues that were regularly brought up before then?
Around the time of the 70th anniversary statement, I had the opportunity to address the Australian parliament as well as a joint session of the U.S. Congress. And after that, then-U.S. President Barack Obama paid a visit to Hiroshima, while I went to Pearl Harbor. So that was how we found closure for the postwar era.
It has been said that you were determined that our children and grandchildren would not be predestined to having to continue to bear the burden of apologizing for the war. Were you thinking that far into the future?
I had the strong belief that we needed to put an end to all the debate over the past. Therefore, during my speech in the United States, I purposely used the term "remorse" (kaigo). I thought this term conveyed a sense of respect for all fallen soldiers and the hopes they had for the future, as well as thanks to Australia and the United States for their efforts at reconciliation.
As for the "comfort women" issue in dispute with South Korea, I wanted to confirm that the international community stands witness to the fact our two countries already have agreed on a "final and irreversible resolution" to that issue. The [Japanese] government [in 2014] undertook verification of the background to the Kono Statement [of August 1993].
Thanks to the efforts of many researchers, we have gotten much closer to the actual historical facts, and have been able to put an end to these historical controversies.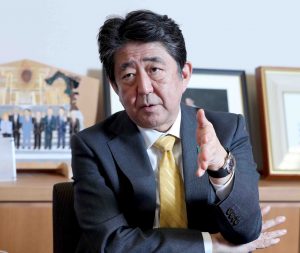 The Peace and Security Legislation has become the foundation of a strong Japan-U.S. alliance. Has that changed the risk of becoming involved in a war, and, if so, how?
The Japan-U.S. alliance is based on a bilateral agreement, with Article 5 of the Japan-US Security Treaty of 1960 at its core. That article obliges the United States to come to the defense of Japan, and Article 6 obligates Japan to provide bases for the American forces. In the event that Japan were to be attacked, they would respond jointly.
Previously, the standard interpretation of the alliance was that Japan would not in any way exercise the right of collective self-defense in concert with the United States.
However, the alliance could not be expected to endure with such a restraint. Japan must be ready to respond jointly in support of the United States, a fellow democracy. Otherwise, could we really expect support from the parents and families of U.S. servicemen sent off to war?
It would be very difficult to win such support unless we were willing to fight side by side. The Peace and Security Legislation creates an alliance structure in which we can mutually assist each other, and thereby strengthens the Japan-U.S. alliance. That, in turn, enhances deterrence and greatly reduces the possibility that Japan will become involved in a conflict.
Did you have a sense of crisis that the Japan-U.S. alliance would be tested in the context of the tense situations in East Asia and with North Korea?
I did, very strongly. And I still do.
President Trump brought up the question of Japanese abductees several times during negotiations with North Korea. Can you tell us about how he really sees the issue?
From the first time that I met Donald Trump at Trump Tower in New York City, I let him know just how seriously my Cabinet viewed the abduction issue. In fact, every time I talked to him, I reiterated how important the issue was to Japan. Actually, I think his meetings with members of the families of abductees, including Shigeru and Sakie Yokota, and Akihiro Arimoto, left a big impression.
In his first address to the United Nations as president, he touched on the case of Megumi Yokota. And in his first summit meeting with North Korea's President Kim Jong Un, he conveyed my thinking.
Also, during his one-on-one meeting with Mr. Kim during the second North Korea-U.S. Summit, he again raised the abduction issue. Usually, such discussions would focus on the nuclear and missile issues, and the U.S. side might be inclined to refrain from bringing up the abductees, out of fear of complicating the negotiations. That Mr. Trump did so despite such concerns helped to build our strong ties of trust.
Your ability to build a relationship of trust with President Trump gained attention around the world. What was your secret for dealing with him?
My father (Shintaro Abe, who served as foreign minister from 1982 to 1986) told me, "The key to diplomacy is to deal with others in good faith." I totally agree with that.
How did you express your sincerity to Trump?
Although the international community was very cool towards Mr. Trump, I believed that, as president of the United States and therefore leader of Japan's ally, he deserved to be treated with the greatest respect. So, I acted that way no matter what the forum.
Consequently, despite there being rather fierce back-and-forth between the Japanese and American sides, I made sure not to do anything that would undercut his position during international meetings.
What did you and Trump most strongly disagree about?
It was our trade negotiations. Of course, there was also discussion about the costs for stationing U.S. troops in Japan. But, on that score, he accepted my explanation.
You were unable to find a solution to the abduction issue. Do you think there is something you should have done differently, and how do you feel about leaving it to your successor?
I wracked my brains to find an approach that would work. Say, for example, scaling a peak is the equivalent of such a solution. I tried climbing from the base of different trails, and tried using various equipment. I did everything I could possibly think of.
But, unfortunately, whatever I did yielded no results. I feel no qualms about entrusting Prime Minister [Yoshihide] Suga with seeking to solve the issue since he is well aware of the course of past negotiations and the essence of the abduction issue.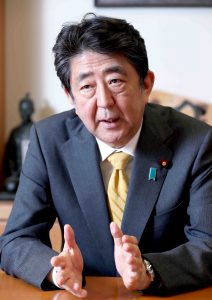 Turning to the protection of Japanese territory, the Chinese government ships have been intruding near the Senkaku Islands, administered by Ishigaki City in Okinawa Prefecture, for many consecutive days. How do you perceive the threat?
I believe that in the back of the Chinese stance on the Senkaku Islands is strong resoluteness. In response, Japan needs to display strong resolve to defend the islands. Otherwise, there is a danger that the opportunity for conflict between Japan and China will increase. Since our return to power, the LDP-led government has been bolstering Japan's position by taking substantive steps to respond to the situation.
Related to the Senkakus, you chose a veteran from inside the ranks to head up the Japan Coast Guard.
That's right. Although there was strong resistance, it was necessary in order to raise morale among those in the field who are being confronted by Chinese government (Chinese Coast Guard and maritime militia fishing) vessels.
Some critics have charged that the government has adopted a weak-kneed stance towards China's flouting of the rules and more aggressive naval expansion. How would you respond to them?
China is Japan's largest trading partner. Japan gains huge benefits from exporting to and investing in China, while Japanese investment creates many jobs in China. In these and other ways, we share the benefits of the relationship.
Decoupling from China is simply impossible. While bearing in mind this reality, we have to find ways to deter China. No matter what situation arises, we cannot sever interchanges among the leaders of our two countries.
It is strange for the Chinese to say after my visit to Yasukuni Shrine that they (mutual visits by national leaders) are out of the question. If there are problems, we need to meet and discuss them.
In principle, visits to foreign countries by President Xi Jinping are treated as state visits, and visits in the past by China's top leader have been treated as state visits. That is why I invited Xi for a formal state visit.
Concluding a peace treaty with Russia was one of your unfinished goals. What would that have accomplished, particularly concerning relations with China?
In diplomacy a broad global perspective is essential. You have to consider not just Sino-Japanese relations, but also Japan's relations with Southeast Asia and China's relations with Southeast Asia. And you also have to look at things from the standpoints of Japan-U.S. relations and Japan-Russia relations.
We should strive to improve Japan-Russia relations while thinking about diplomacy and a security strategy that will ensure a strong position for Japan in East Asia.
【Explanation of Terms】
Statement on 70th Anniversary of the End of WWII
This refers to a statement by Prime Minister Abe which was released as a Cabinet decision on August 14, 2015, to mark the 70th anniversary of the end of World War II. While affirming that the positions articulated by previous Japanese Cabinets, including statements of "apology" and "deep remorse," will remain "unshakable" in the future, it denied the need for future generations of Japanese to continue to apologize.
Peace and Security Legislation
This is a collective term for a package of 11 measures, including the Armed Attack Situation Response Act and nine other defense-related laws, as well as the International Peace Support Act. This package was passed in March 2016. Among other things, it provides for limited application of the right of collective defense, and it allows Japanese Self-Defense Force personnel participating in Peacekeeping Operations (PKO) to use armed force to come to the rescue of United Nations staff, etc., under attack in remote areas.
Decoupling
Decoupling means "to separate." In the United States, it is used when discussing relations with China to mean that mutually dependent ties should be severed to prevent the outflow of technologies which might be diverted to military applications. With the rivalry between the United States and China intensifying, there are calls for a wholesale reevaluation of economic ties, including trade, investment, and supply chains.
(To be continued)
(Find access to the interview in Japanese here.)
Interviewed by Rui Abiru, Mayumi Ogawa, Koji Sugimoto, The Sankei Shimbun