EDITORIAL| RCEP Trade Deal: Beware Increased Dependence on China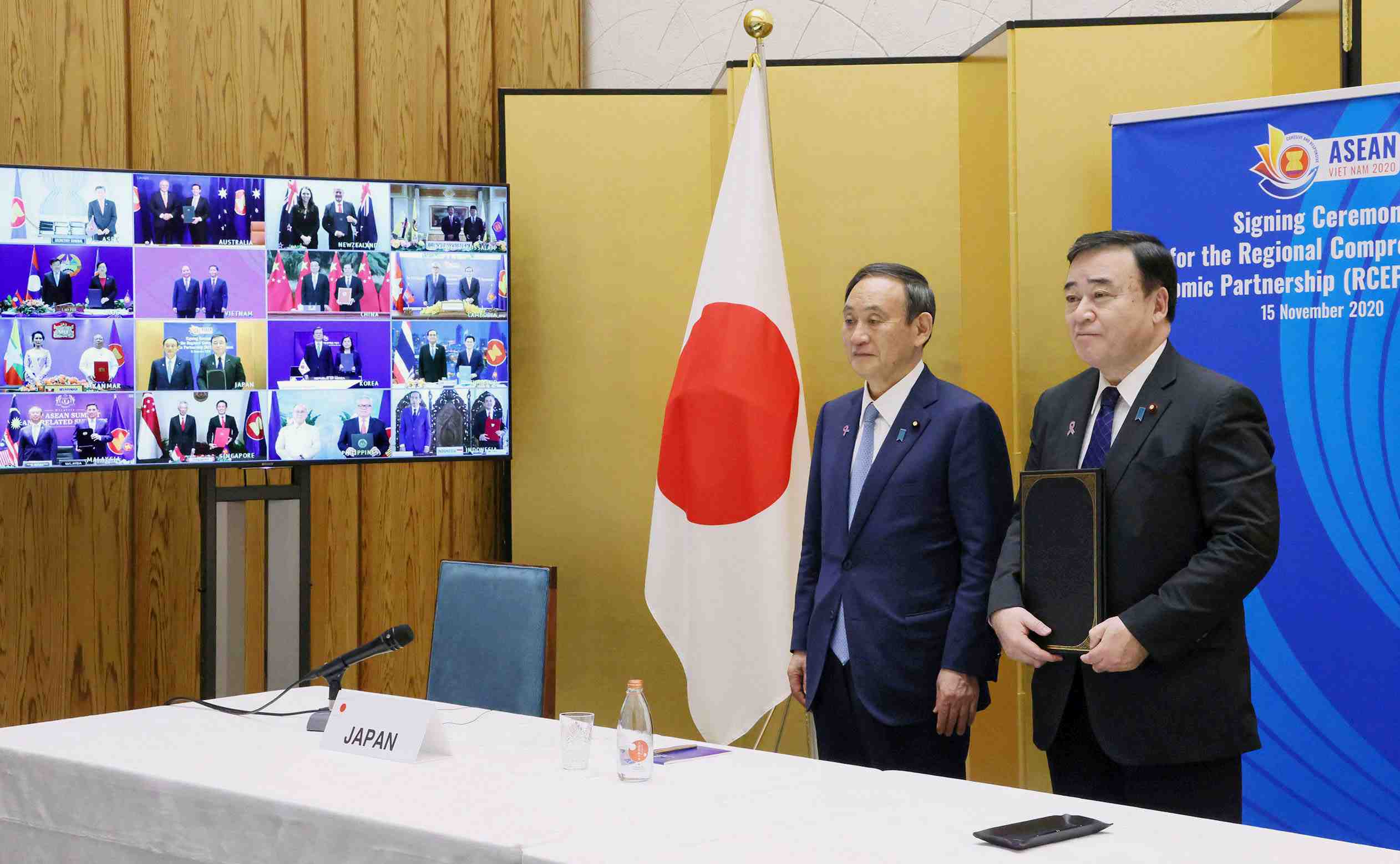 Japan, China, South Korea, and other nations including the ASEAN member states signed a major trade deal – the Regional Comprehensive Economic Partnership (RCEP) – on November 15. The RCEP is a mega trade agreement that is preceded by the Trans-Pacific Partnership (TPP) and the Japan-EU Economic Partnership Agreement (EPA).
The deal is not on the same level as the TPP in terms of tariff elimination or rule-making, but it covers a vast economic bloc that accounts for about half of Japan's trade value. It is also Japan's first trade agreement with China and South Korea.
With fears of rising protectionism across the globe, the fact that Japan – a free-trade promoting nation – has helped strengthen a free-trade foundation is significant. The RCEP could be the crucial spark for getting Japan's economy back on track, following the hit from COVID-19.
However, even if this does prove to be the case, Japan needs to proceed with an element of caution. Japan could potentially end up being overly dependent on the Chinese economy, which is a political risk.
China could use the RCEP as a way of accelerating its pursuit of military and economic supremacy.
Which is why it is a shame that India is not involved in the RCEP. The Japanese government was extremely keen that India – which has the ability to stand up to China – take part as well. Japan should be persistent, and try its best to get India to join.
Beijing did make some compromises regarding the RCEP, in areas such as tariff elimination and rules. For example, banning requests to foreign companies regarding technology transfer was done with China in mind.
But perhaps Beijing was willing to make compromises in order to speed up the formation of its own economic bloc – considering the tension between China and the U.S.
We must remember that China-U.S. friction and the COVID-19 pandemic have exposed the danger of depending on China as a trade and investment destination.
This is why the Japanese government has been encouraging companies' overseas offices to spread over a more diverse area. If Chineses influence is increased within the RCEP region, then overseas offices that have dispersed might end up returning under Chinese influence and pressure.
Japan is pushing for a "free and open Indo-Pacific," partly to counter China and its lack of respect for international rules. The Suga administration must aim for a free economic bloc that includes ASEAN countries, Australia, and India.
Even if India is not added to the RCEP, it is vital that Japan strengthens its relationship with India.
Japan must strictly monitor the extent to which China adheres to the RCEP. Some of the RCEP rules, in areas such as digital, are still very lenient.
As a major economic power, China has a duty to have a fair and transparent economy, not just in relation to the RCEP. It is important that Japan, the U.S. and Europe keep pushing for China to implement reforms in this regard.
(Read the editorial here, in Japanese.)
Author: Editorial Board, The Sankei Shimbun