Eerie, Exciting, Insects Up Close in Oyamachi Cave: Satoshi Kuribayashi Exhibit On Now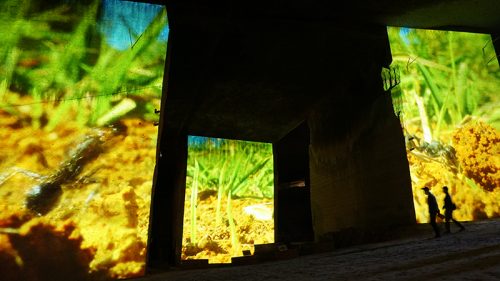 One often thinks that photo installations are all about the pictures, and the locations they are portrayed in. But we bet that you've never seen anything quite like what we are about to propose.
Starting October 31, a special photo installation called Untergrundstimme〜チカノコエ〜, which means "Underground Voice", is taking place in a cave in Oyamachi, just next to the Oya History Museum in Tochigi Prefecture.
The works of Satoshi Kuribayashi, a photographer who for more than 50 years has focused on capturing with photos and videos the lives of our insect friends, are being displayed in this very particular space.
The museum and adjacent cave are one of the top attractions in the area, and for good reason. The location used to be a mine for Oya stone, a particular kind of porous rock. The mine is recognized as an important cultural heritage site in Japan. And, thanks to the craftsmanship of the locals, the stone was used to build the Imperial Hotel in Tokyo, as well as Utsunomiya Castle.
The former mine's large underground space, with its high walls and echo chambers, has become popular for large events and art installations.
Completely for free until November 8, visitors can enter this magical underground world where the light is dim and the temperature drops precipitously from the world above, and enjoy the sometimes cute and other times eerie images of insects projected on the walls.
The colorful projections of insects occupy the surrounding walls, some of which are more than 10 meters high. It really is a unique experience of feeling like you are plunging in a different world.
After the opening, visitors also enjoy the entrancing atmosphere.
Reported comments from the many visitors, including children and families, were: "I'd never seen insects so up close before" "I feel like I've become an insect myself, it was a very mysterious experience."
For fans of photographer Satoshi Kuribayashi, some of his newest pictures will also premiere at this event. The photographer in 2006 was awarded the Lennart Nilsson Award, known as the Nobel prize for scientific photography, and also the Medal with Purple Ribbon in 2008. The event promises to be a unique opportunity to view his new work.
So, why not head out to Oyamachi to experience something different, and definitely drop by if you are in the area?
Special themed goods are also available. This is sure to be an event with something for everyone.
EVENT INFORMATION:
What: Untergrundstimme〜チカノコエ〜
When: October 31 to November 8
Opening Hours: 9 A.M. to 5 P.M. (Last Entry 4.30 P.M.)
Where: Oya History Museum , 909 Oyamachi, Utsunomiya City, Tochigi Prefecture.
Access:
By public transport: Take the Kanto bus from JR Utsunomiya station for "Tateiwa" to "Shiryokan Iriguchi" bus stop (approx.30 minutes) and walk about 5 minutes.
By car: approx.15-minute drive from Utsunomiya IC on the Tohoku Expressway. More information can be found here.
Admission: Free
More information: On the Photographer here, on the location here
SNS handles:
[Instagram] @oya_project_2020_
[Twitter] @OyaProject
[Facebook] https://www.facebook.com/oyaproject2020.
Organizers: AMUSE QUEST.
Author: JAPAN Forward