[Speaking Out] China's Aggressive Expansionism Prompts Quad-plus to Get Moving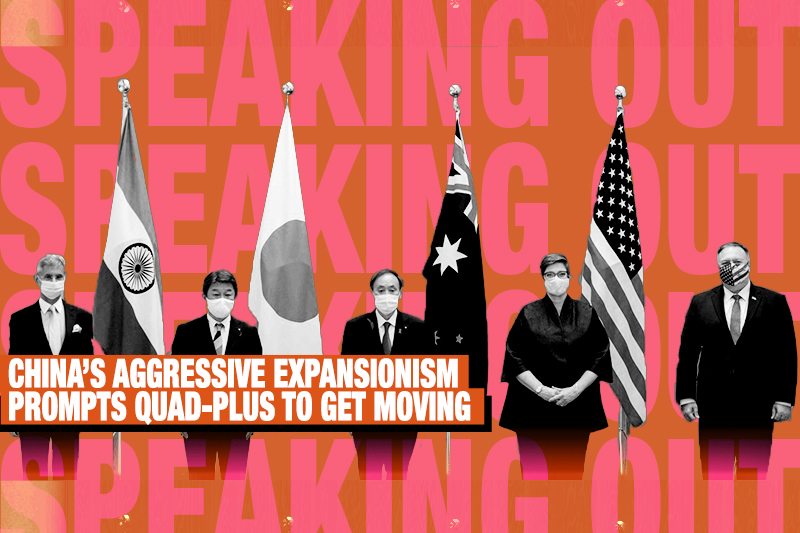 During his Southeast Asian tour in October, Japanese Prime Minister Yoshihide Suga consistently advocated a "free and open Indo-Pacific" with China in mind. Following the path paved by his predecessor Shinzo Abe, Suga has kept the Quadrilateral Security Dialogue, or Quad, between Japan, the United States, Australia and India moving.
Suga used his first overseas tour following his inauguration as prime minister in September to enhance Japan's partnership with the core members of the Association of Southeast Asian Nations (ASEAN). Unless China's Xi Jinping regime stops its blatant coercive diplomacy towards these neighbors, the four countries can be expected to seek expansion of the Quad framework to form a "soft alliance."
Suga Enhanced Partnership Through SE Asian Tour
Suga, though perhaps not as charismatic as Abe, steadily completed the goals for his first overseas trip as PM. He toured Vietnam, the current ASEAN chair, and Southeast Asian leader Indonesia, at just the right moment following the Quad foreign ministers meeting in Tokyo in early October.
Chinese Foreign Minister Wang Yi during his visit to Malaysia on October 13 denounced the Tokyo meeting as an attempt to build the Indo-Pacific version of NATO (North Atlantic Treaty Organization). Before Suga's tour of Vietnam and Indonesia, the Chinese minister might have attempted to warn ASEAN not to be lured into a Quad-plus framework.
China is concerned that an expanded Quad might develop into a "hard alliance" like NATO, where an armed attack on one of the NATO members is considered an attack against all, in this case for the purpose of isolating China. In fact, Suga during the two-nation tour emphasized that countries in the vast region between the two oceans should seek a loose partnership and prosperity based on the rule of law, respect for national sovereignty, free market and other common values.
Suga might have considered ASEAN's more moderate "Outlook on the Indo-Pacific," in which ASEAN countries replaced the "free" of the Japan-advocated "free and open Indo-Pacific" with the term "inclusive" when it was announced in June 2019. The Japanese and ASEAN initiatives should be combined and proceed in the same direction. The combination might be difficult under the sharp thinking of Western society. However, Japan can take advantage of its long relationship with ASEAN to play a role in combining two initiatives.
Noting that the Japanese and ASEAN Indo-Pacific initiatives have many fundamental commonalities, Suga in his speech in Hanoi said: "Unfortunately, in this region, developments contrary to the rule of law and openness upheld by the ASEAN Outlook have been unfolding in the South China Sea. Japan is strongly opposed to any actions that escalate tensions in the South China Sea."
He thus warned against a China that has ignored international rules. Then, Suga and Vietnam reached an agreement to transfer Japanese defense equipment technologies to Vietnam and enhance the supply chains for medical and other essential goods in a mutually complementary way.
Washington Seeking Flexible Alliance
The Quad foreign ministers meeting in Tokyo agreed on a loose strategic union, thanks to China's recent aggressive expansionism. India in particular, plagued by a military standoff with China in its Himmalayan border region, has invited Australiaーas well as Japan and the U.S.ーto participate in its November's Malabar naval exercises, achieving the first quadrilateral military drill in history.
A U.S. initiative to build a soft alliance in the Indo-Pacific region made concrete progress when U.S. Secretary of State Mike Pompeo and Defense Secretary Mark Esper visited India in late October.
Ironically, whether the Quad, now a consultative body, develops into a new multilateral security framework including Southeast Asian and European countries, will depend on the extent of China's aggressiveness expansionism.
(A version of this article was first published by the Japan Institute for National Fundamentals, Speaking Out #732 on October 29, 2020.)
Author: Hiroshi Yuasa
Hiroshi Yuasa is a Planning Committee member and a senior fellow at the Japan Institute for National Fundamentals. He is a columnist for the Sankei Shimbun newspaper.