Equinox Shines in Arima Kinen as Christophe Lemaire Wins the Race for the Third Time
French jockey Lemaire, who won his first Arima Kinen aboard Heart's Cry in 2005, steers race favorite Equinox to his second Grade 1 victory this year.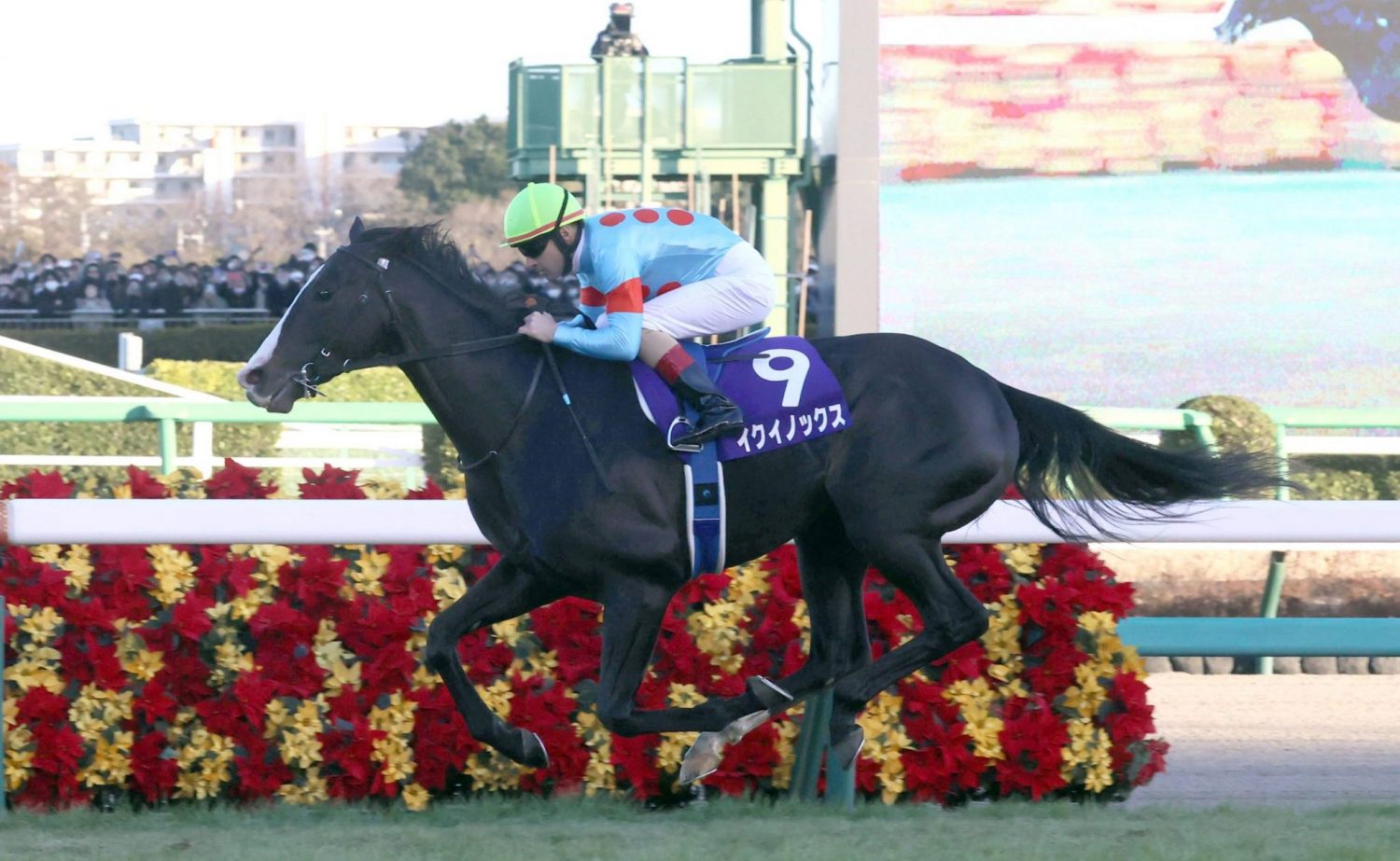 This article first appeared on SportsLook, JAPAN Forward's dedicated sports website.
Christmas is one of the most special days in Christophe Lemaire's illustrious horse racing career, a day in which he's won the Arima Kinen (The Grand Prix) three times.
On Christmas Day in 2005, Lemaire rode Sunday Silence-sired Heart's Cry to victory in the 50th Arima Kinen. Eleven years later on the same day, Lemaire teamed up with Satono Diamond to triumph in the Japan Racing Association Grade 1 race.

Lemaire did it again with Equinox in the 67th running of Arima Kinen on Sunday, December 25 as the 3-year-old thoroughbred displayed impressive speed in the pivotal closing stretch of the 2,500-meter race at Nakayama Racecourse. Equinox, a son of 2017 Arima Kinen winner Kitasan Black whose grandsire was Sunday Silence, completed the mid-afternoon race in 2 minutes, 32.4 seconds. (Watch the race here.)
The Arima Kinen isn't always held on Christmas Day. The 2021 edition took place on December 26, with Efforia (jockey Takeshi Yokoyama's ride) winning the race.
This year, race favorite Equinox claimed a 2½-length victory over Boldog Hos (Yuichi Fukunaga) in the 16-horse extravaganza with a total purse of ¥864 million JPY (about $7.51 million USD).
Third favorite Geraldina (Cristian Demuro) finished 1½ lengths behind the runner-up, while Izu Jo no Kiseki (Yusunari Iwata) was fourth.
Efforia, who was bidding to become the fifth horse to win the Arima Kinen in back-to-back years (and the first since Symboli Kris S in 2002 and '03), finished fifth.
Before commenting on the specifics of the race, Lemaire began his post-race interview in Funabashi, Chiba Prefecture, by greeting the crowd. "Mina-san (everyone), Merry Christmas!"



A Well-Managed Performance
Shortly after all of the 16 horses burst through the gate on a picturesque winter day, Lemaire and Equinox settled into a middle-of-the-pack position.
It proved to be the optimal position for Equinox, who demonstrated in the Tenno Sho (Autumn) that stamina is one of his chief strengths. In that race on October 30 at Tokyo Racecourse, Equinox mounted a thrilling, late comeback, erasing Panthalassa's 15-length advantage and winning by one length.
This time, Equinox moved into contention after picking up speed, dashing to the outside. In his sixth career start, Equinox had the second-fastest time over the last three furlongs, closing out the decisive stretch of the race in 35.4 seconds.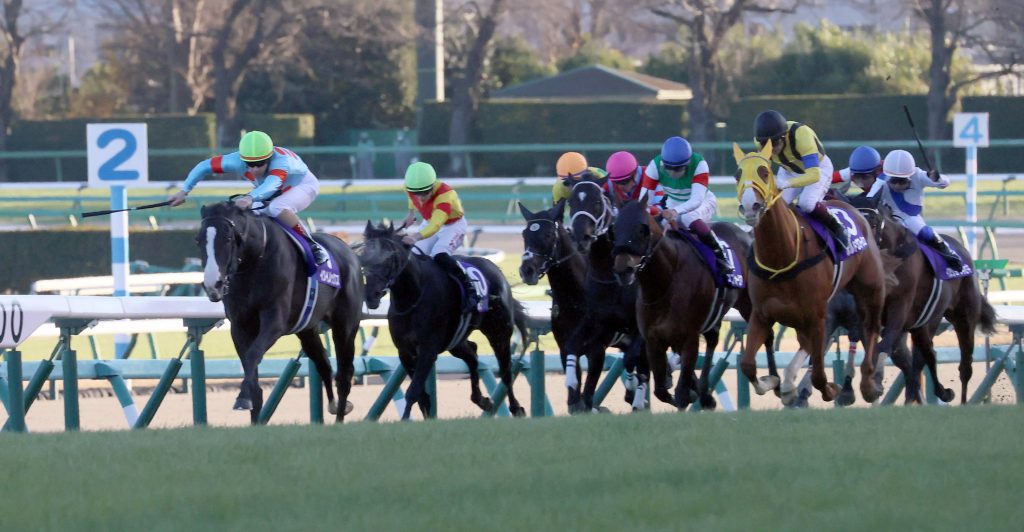 Titleholder, piloted by Kazuo Yokoyama, was the pacesetter from the get-go and held the lead for the majority of the race. Breakup, guided by Keita Tosaki, sat in second place during that span. Both fell out of the title picture, however, as other equines surged toward the front, including Boldog Hos, who overcame a poor start and moved from next-to-last to second.
Boldog Hos was clocked in 35.2 seconds over the final three furlongs (about 600 meters).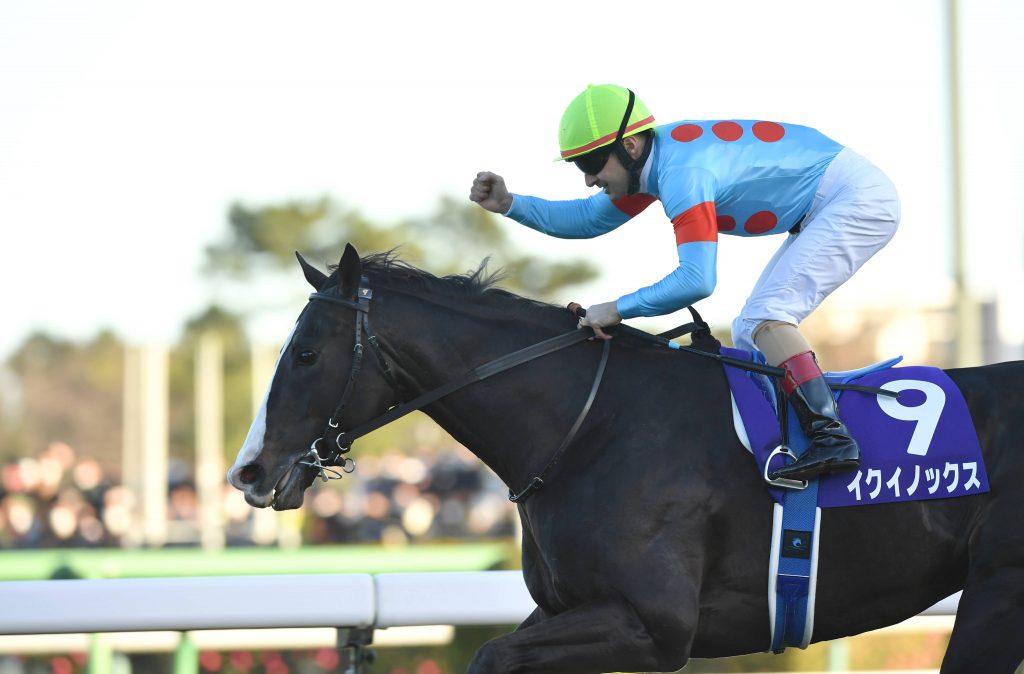 A Euphoric Jockey
When it was over, Lemaire pumped his right fist in the air. He patted Equinox on the head and waved to the festive crowd of 39,670.

"What happens twice will happen thrice," Lemaire noted philosophically after the race. "I won the Arima Kinen with Heart's Cry and Satono Diamond both on Christmas Day, and I'm really happy to be able to win the race on Christmas Day again.
"We were able to make a good start and the horse was keen to go. So I held him and he responded strongly when I brought him to the outside," added the French jockey, who earned his first G1 victories in his homeland in 2003 (Grand Prix de Paris, Prix Marcel Boussac). "Though he was not mature yet during his spring campaign, he became really strong from this fall and I look forward to his performance next year."
The 43-year-old Lemaire collected his 43rd JRA G1 victory, and trainer Tetsuya Kimura earned his fourth.

Other Prominent Participants
Deep Bond (Yuga Kawada), the 2021 Arima Kinen runner-up, placed eighth, while second favorite Titleholder was ninth.

Vela Azul, who was victorious in the 42nd Japan Cup on November 27 with Ryan Moore handling the reins, placed 10th. On Sunday, Kohei Matsuyama rode the 5-year-old colt.
Three-time Arima Kinen winner Yutaka Take finished 14th aboard Aristoteles.
Akai Ito (Hideaki Miyuki), the 2021 Queen Elizabeth II Cup champion, placed 15th.

Arima Kinen History
Kenichi Ikezoe is the winningest jockey in Arima Kinen history, securing titles in 2009, 2011, 2013 and 2018 aboard Dream Journey, Orfevre (twice) and Blast Onepiece.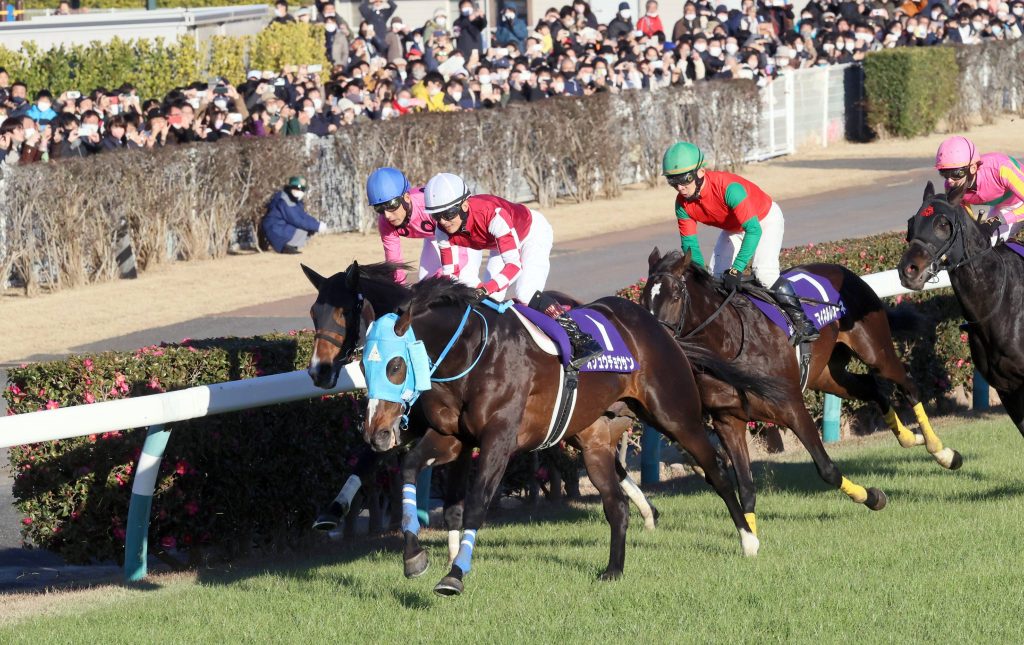 Oju Chosan's Farewell Race
Retiring steeplechase runner Oju Chosan finished sixth in the Nakayama Daishogai, his final career race, on Saturday, December 24. Nishino Daisy (Yusuke Igarashi) triumphed in the 4,100-meter competition, which featured 11 horses.
Shinichi Ishigami rode the 11-year-old Oju Chosan in his farewell competition.
"I'm really happy and I had a very good ride," Igarashi told reporters after the race. "His inexperience showed in parts of the race, right from the first fence, but he responded well and, with Oju Chosan in view during most of the trip, we were able to gear up really well in the last half. He's a natural with a lot of strength and I was sure that he had the ability to face this high-quality field."
Last year, Oju Chosan won the race on Christmas Day. He finished his noteworthy career with nine wins in 12 JRA G1 races. Those include three victories in the Nakayama Daishogai. He had 18 overall wins in 32 career starts.
RELATED:

Author: Ed Odeven
Follow Ed on JAPAN Forward's [Japan Sports Notebook] here on Sundays, in [Odds and Evens] here during the week, and Twitter @ed_odeven, and find him on JAPAN Forward's dedicated sports website, SportsLook.