Farmers on a Mission: Letting Fukushima Shiitake, Fruits and Veggies Shine Again
The Hibari Vegetable Garden Factory and Watanabe Farm are just a couple of examples of how, in the midst of adversity, Fukushima prefecture still produces safe, tasty food.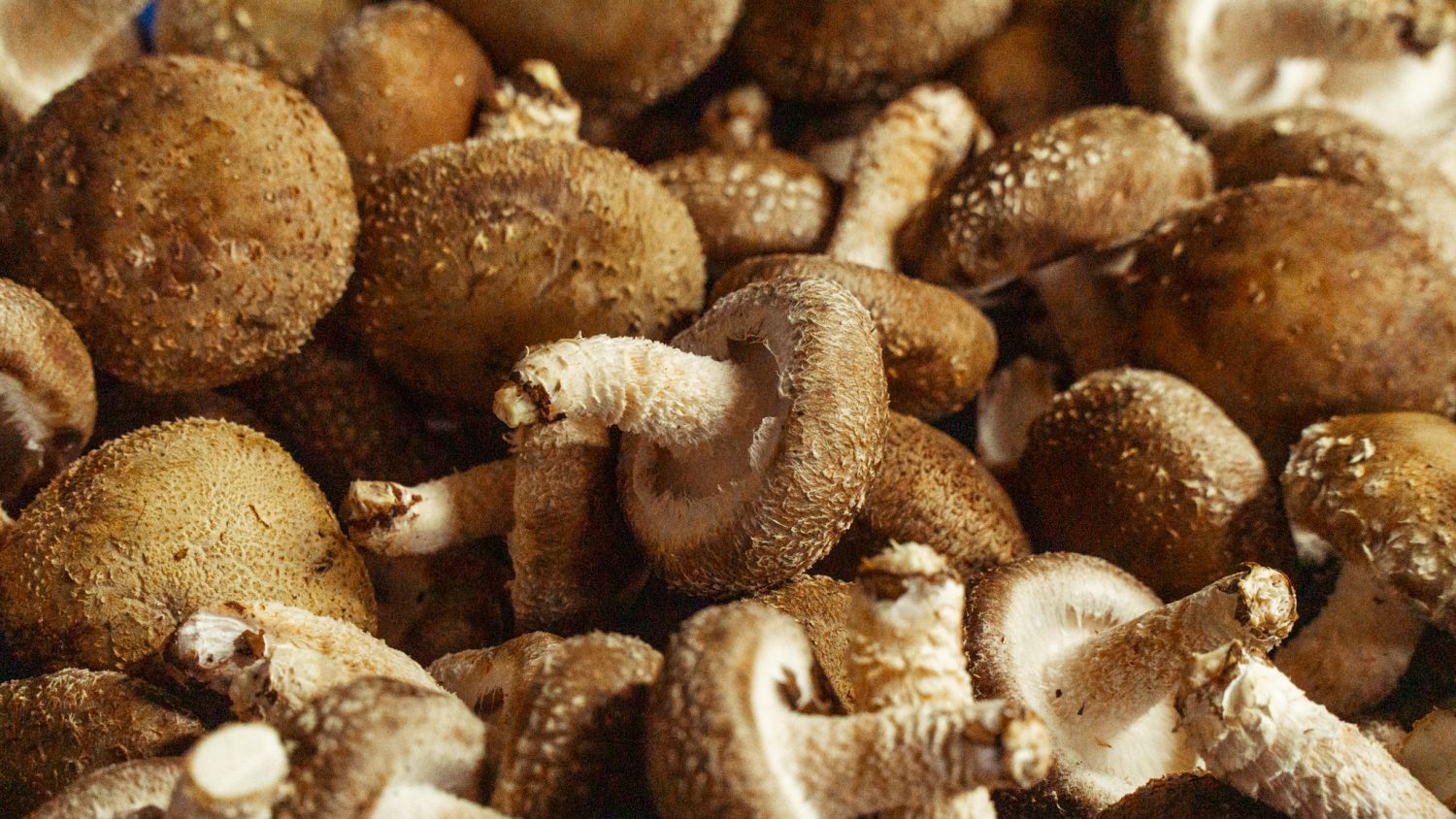 ~~
~
On October 5, 2021 Japan's national broadcasting network NHK's local Fukushima news channel reported that wild matsutake mushrooms from several regions in the prefecture had been found to be safe under the standards for measuring radioactive cesium (a radioactive material), and fit for shipment for the first time in 10 years.
In 2011, the Great East Japan Earthquake and its aftermath caused a nuclear accident at the Tokyo Electric Power Company (TEPCO) Nuclear Plant. Since then, Fukushima Prefecture has made local testing its highest priority to guarantee for consumers the safety of food produced in the region.
In reality, challenges remain, especially for categories of vulnerable produce such as wild mushrooms, but much progress has been made.
In a recent trip to Fukushima Prefecture, two different agricultural business owners revealed their singularly unique stories in an interview with JAPAN Forward and showed how creativity and community have helped lead the region out of adversity.
Resilience Around Ground Zero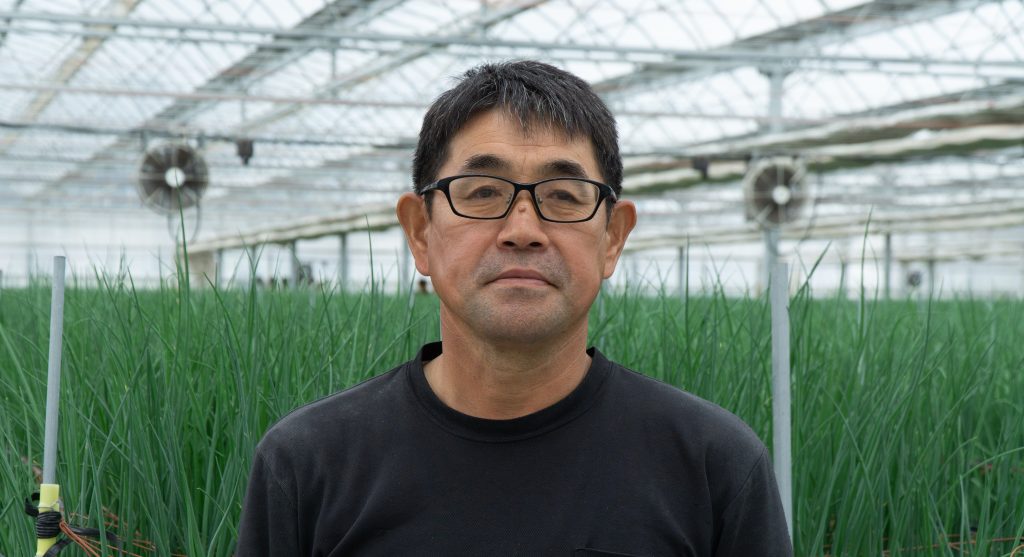 Toshikatsu Kamada comes across as a tough man when you first meet him.
He is the CEO of Hibari Vegetable Garden Factory in Minamisoma. Quiet and modest, he seems unphased by the challenges of recovering from the reputational damages, and said ruefully that the hardest thing in managing a vegetable producing enterprise was "human relations."
As he talks standing in the rain, his farming enterprise is fewer than 30 kilometers away from the TEPCO Daiichi Nuclear Power Plant.
The nuclear accident in 2011 caused a large part of the surrounding area to be evacuated. Restrictions were imposed on planting practices, harvest, and sale of agricultural products from Minamisoma City until they could be made safe again.
In 2011, Kamada himself was doing something completely different ― rearing Wagyu beef and cultivating rice not far from where he is currently standing. But the earthquake's deadly wave swept away his house and everything he owned. Instead of giving up, the local community came together to rebuild in a way that brings new energy to the area.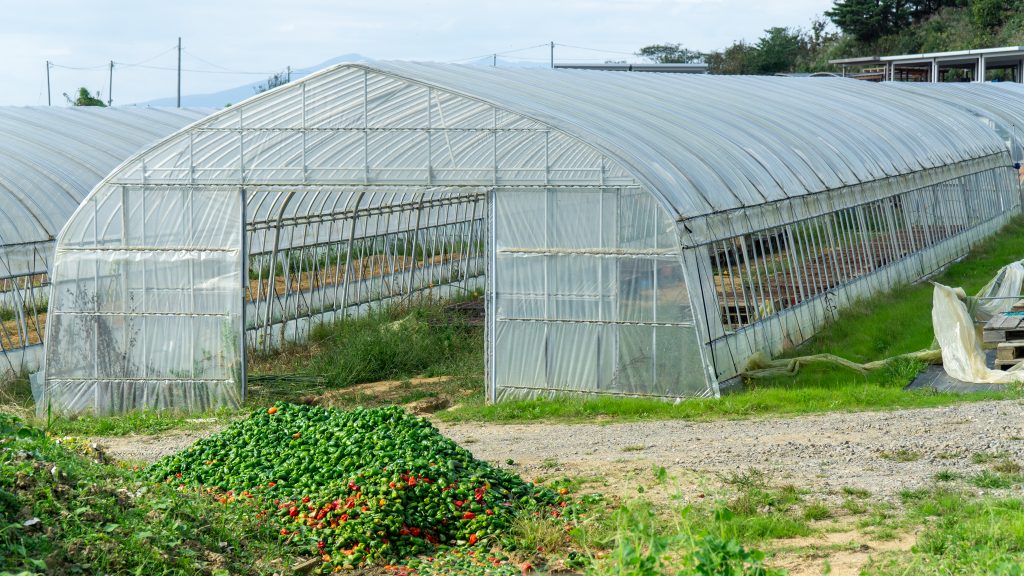 "We put together some agricultural businessmen who had suffered damage due to the disaster. We thought that if it was possible to start farming without the impact of radioactive cesium, we should do it," said Kamada. Out of that came Hibari Vegetable Garden Factory in 2015.
They use hydroponic commercial greenhouses, growing produce with water, not soil. The water itself is safely sourced from deep groundwater, which is well insulated from radioactive materials on the surface. In the same type of commercial greenhouse, there is cutting lettuce, the kind used in yakiniku (grilled meat)restaurants, and tomato plants growing up to three meters high, along with spring onions and kale.
They are grown in over 50,000 square meters of greenhouses and, using vegetable cutting factories, they supply part of their produce to restaurants in the Kanto region, big chain stores, and local supermarkets in Fukushima prefecture.
Hibari Vegetable Garden Factory employs 35 people, many from the nearby area, with a wide age range from 25-year-olds to those in their 70s, who share the sentiment of wanting to bring vitality back to the region.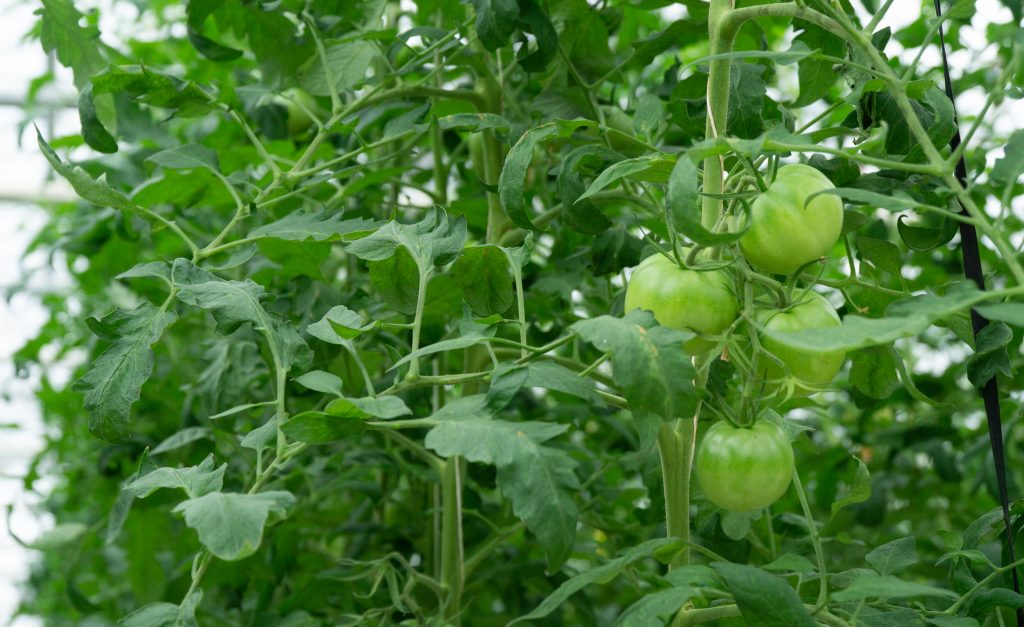 Kamada obtained the Japan Good Agricultural Practice (JGAP) certification as a way to "generate confidence in both product safety and quality." The certification is determined by a third-party institution, based on a set of standards for agricultural management. Categories include sustainable farm management, food safety, occupational safety, environmental protection and human rights.
Among its future goals, he explained, Hibari Vegetable Garden Factory aims to grow further while ensuring sound safety practices, so that "everyone can enjoy these vegetables with peace of mind."

Rebuilding Confidence in Fukushima's Produce
"You know, shiitake is full of Vitamin D. I could swear that the reason I haven't caught a cold in the last seven years is thanks to shiitake!"
This was the comment of Toshifumi Watanabe on October 5, near Miharu-machi, Fukushima. At 39 years old, he is the managing director of Watanabe Farm, which cultivates shiitake, a particularly fragrant type of mushroom.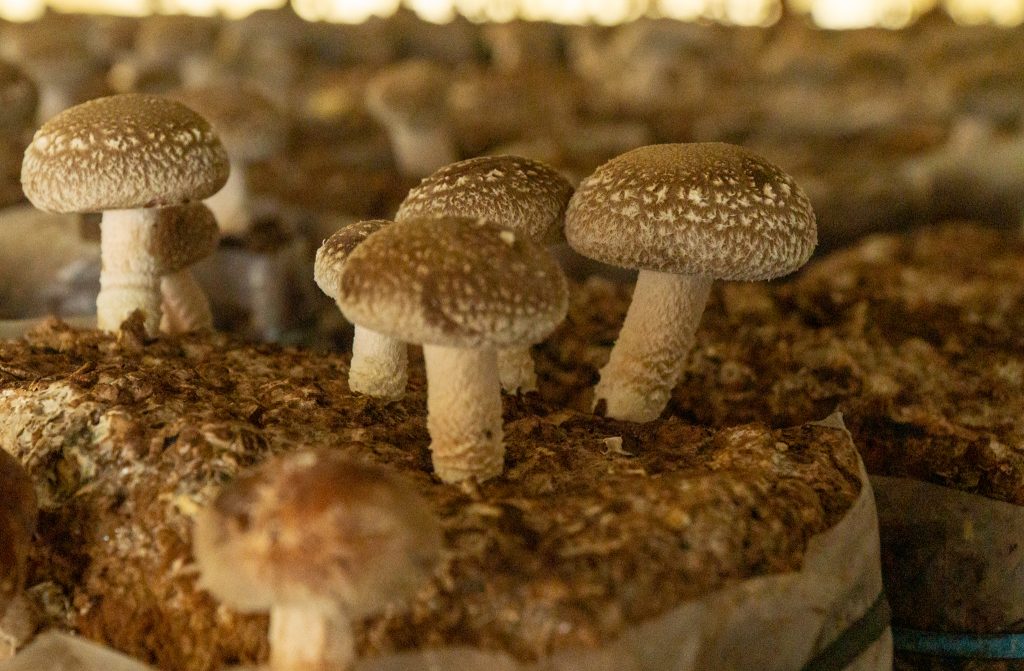 Like others from Fukushima, his life has changed since the earthquake.
Although the government announced radiation levels had dropped to an acceptable level in October 2011, things were tough for business, Watanabe's father Nobuo told us. Farmers felt like they were lumbering in the dark. Eventually, a local supermarket told them that they would sell the produce, if farmers would test it.
"However, the quantities were really small. We just picked the mushrooms and sold what we could," said Nobuo.
These days Toshifumi talks about the mushrooms with affection, and as if they were creatures. But in 2011, he was working in a travel agency in Sapporo. He recalled calling home several months after the earthquake and finding his father very discouraged.
It was then that he decided to move back to Fukushima. "After the disaster, I would hear people on the news saying that they wouldn't want to eat food from Fukushima because they didn't think it was safe. That made me really sad, and mad at the same time, because I knew it wasn't true. It made me want to come back," explained Toshifumi.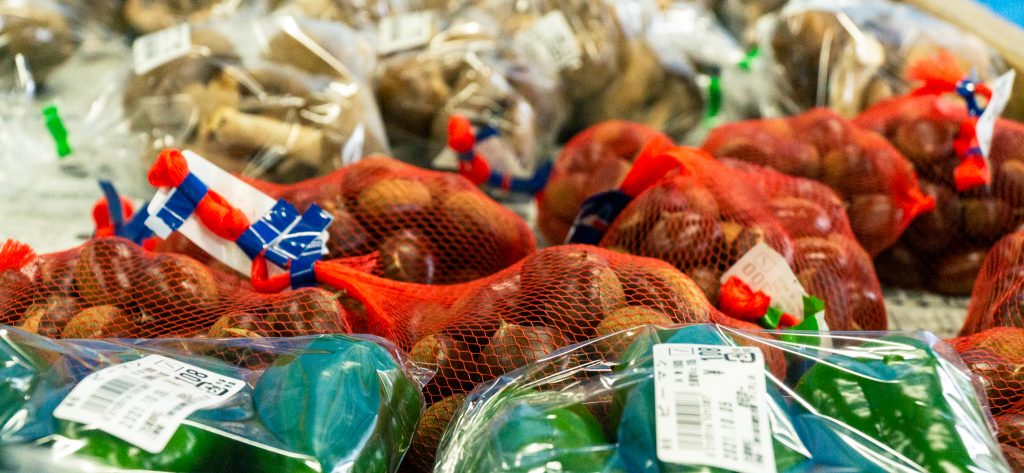 Shiitake are traditionally grown on the bark of trees, a material which is one of the first to absorb radiation. Luckily, Watanabe Farm had shifted to greenhouse production in 2004 - long before the earthquake - to better control growing conditions.
After the disaster, the bark of Fukushima trees was banned due to radiation fears, so they started using shredded tree bark imported from Gunma Prefecture. Adapting to consumer demand, they also diversified into green onions, recycling the materials used for growing shiitake.
Watanabe Farm, like Hibari Vegetable Garden Factory, also adheres to JGAP certification standards to rebuild consumer confidence.
"For people living here, it's taken for granted that things grown here are safe," Toshifumi said referring to the rigorous Fukushima food monitoring process.
Toshifumi elaborated on his resolve to adhere to JGAP standards, particularly because one of the categories in the certification is environmental protection. He eventually hopes that institutions such as JGAP can help restore consumer confidence in the region, leading to further rebuilding of producers' sense of pride.
In the long run, as the world recognizes Fukushima's products, his business hopes to return to the technique of growing shiitake mushrooms on Fukushima trees.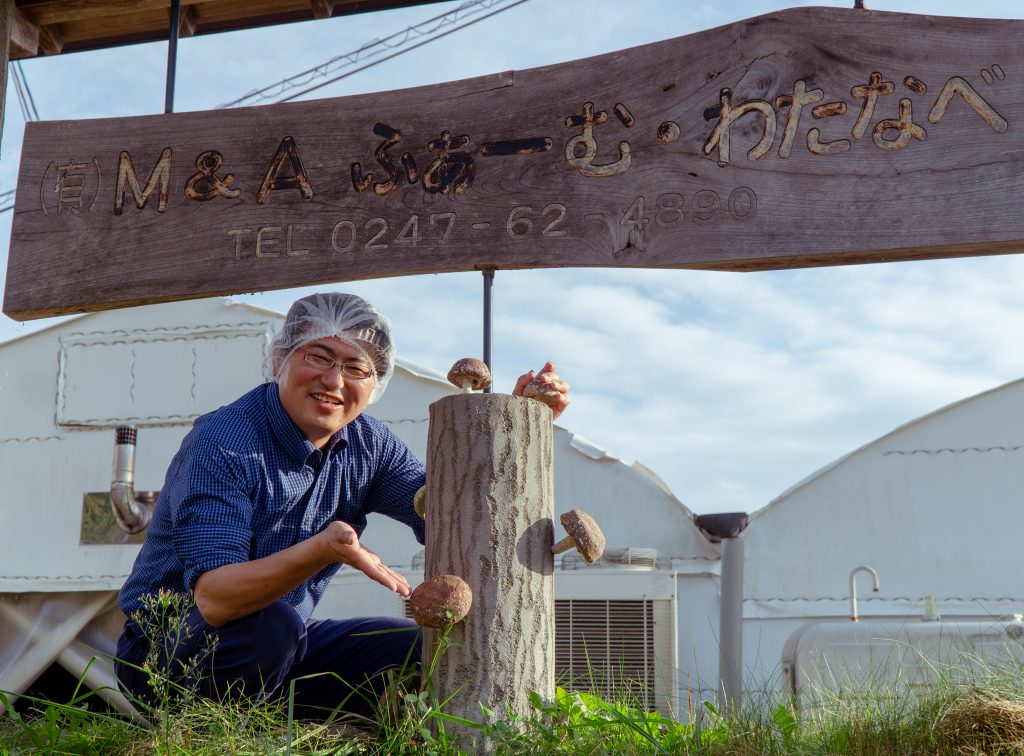 "Fukushima used to be the most prolific tree-grown shiitake-producing area before the disaster," he explained.
He also dreams of bringing his travel agency experience to the business, building travel plans for people to visit Fukushima and perhaps pick their own shiitake.
Together with the Vitamin D, there might also be heaps of creativity and resilience mixed into the fragrant shiitake of Watanabe Farm.



RELATED: Safer than Safe: Inside Fukushima's Food Monitoring System



Author: Arielle Busetto