First Institutional Solo Exhibition of Kazuko Miyamoto in New York
Japan Society presents the artist's expanding vision in "To perform a line," an exhibition of her works, on in New York from April 29–July 10, 2022.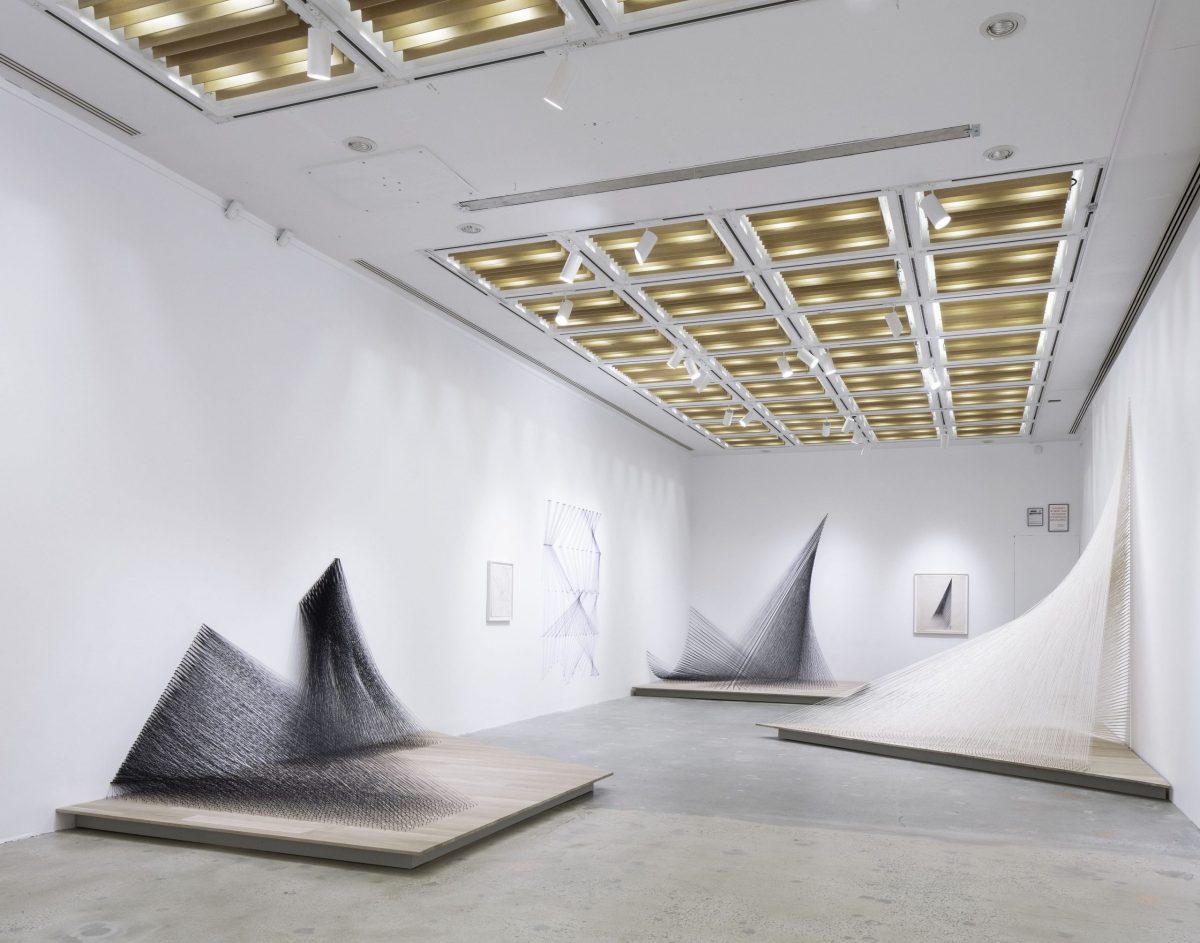 Since 1971, Japan Society Gallery has been the premier institution in the United States for the display and interpretation of Japanese art and culture in a global context. Through groundbreaking exhibitions and related programs, the Gallery cultivates a broader understanding and appreciation of Japan's contributions to global artistic heritage and celebrates the diversity of Japanese visual expression from prehistoric times to the present day.
A new installation titled Kazuko Miyamoto: To perform a line enters a canon of historic exhibitions held at Japan Society in New York.
The exhibition extends the institution's legacy of presenting not only the best of the arts of Japan, but of supporting underrepresented artists—especially women—and artists at important, often early, moments in their careers.
Through fellowships, grants, and installations, Japan Society has been an innovative platform for Japanese artists. Among them are many well-known names, such as including Shikō Munakata (1959), Yayoi Kusama (1965–66), Shigeko Kubota (1978), Ushio Shinohara (1982), Daido Moriyama (1999), and Yoko Ono (2000).
Kazuko Miyamoto: To perform a line builds upon this history and serves as a continuation of the ideas that will be explored throughout Japan Society's exhibition calendar and related programming in 2022 and beyond. The exhibition underscores the history of international modernisms by amplifying the representation of a significant artistic voice.

To perform a line
The first solo institutional survey of Kazuko Miyamoto (b. 1942, Tokyo) covers her critical contributions to the minimalism movement through early paintings and drawings from the 1960s, her breakthrough string constructions in the 1970s, culminating in her kimono series from 1987 through the 2000s.
The exhibition brings together key bodies of work which have never been shown together until now. It offers a crucial opportunity for a broad audience to encounter Miyamoto's rich oeuvre for the first time.
With a strikingly independent spirit, Kazuko Miyamoto is an artist who has never been intimidated to eschew conventions and chart her own course. Miyamoto's expanding vision for over five decades has resulted in paintings, drawing, sculptures, photographs, and performances, as well as installation and textile works that oscillate between geometric and organic forms.
Throughout her career, the presence of the artist's hand has remained a constant aesthetic sensibility, as has the use of modest, often found materials such as nails, string, umbrellas, tree branches, brown paper bags, and newspaper.
By highlighting critical moments of experimentation, the exhibition traces the conceptual complexity and visual range of an artist who has challenged and broadened the legacy of post-1960s international art.

Weaving Geometry
In Miyamoto's innovative string constructions (1972–1979) the artist plays with the parameters of abstraction, architecture, and scale. Miyamoto originally created her breakthrough string constructions in her studio in Manhattan's Lower East Side neighborhood with a few threads stretched and anchored around nails on the walls. The pieces became increasingly spatial and three-dimensional.
They were made through an intuitive and gestural process, emerging out of the artist's relationship with a given space. Undermining the rigid geometry and mechanical repetition of minimalism, she instead introduces a human factor, and with it, the possibility of error, chance, and ephemerality.
By recreating Miyamoto's historic string constructions for this installation — many of which have not been on view since they were first installed in the 1970s — exhibition designer Leon Ransmeier took cues from the avant-garde milieu and the industrial studio atmosphere Miyamoto was originally working in when she first created this series.
Keeping to the original intent and integrity of the pieces — constellations of nails driven directly into the floor and wall — Ransmeier and his team designed large hardwood platforms to display the string constructions in the gallery. This thoughtful gesture harmonizes Miyamoto's works and the architecture of Japan Society Gallery.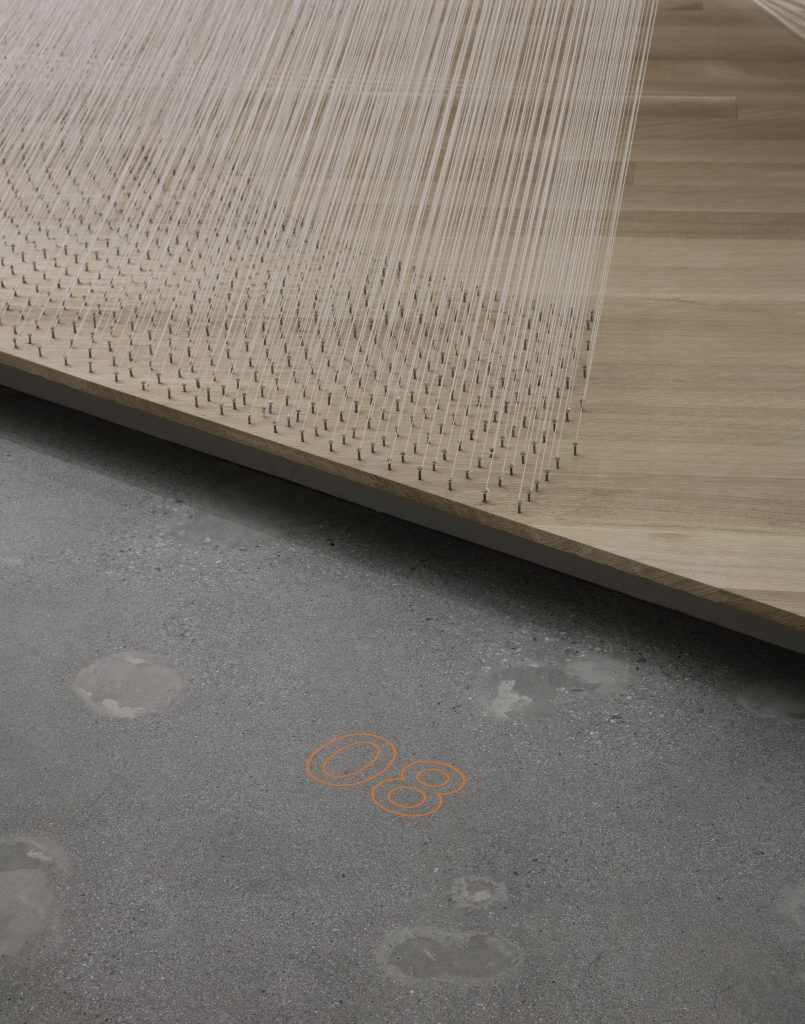 Resonance and Subversion of Minimalism
In addition to Miyamoto's string constructions, the artist's early paintings and drawings work within the vocabulary of minimalism — geometry, industrial materials, seriality, monochrome color palette. Yet they subvert its strict economy of means and mechanized production.
Her works instead feature a more free-form approach that became increasingly narrative and personal, often autobiographical.
By the late 1980s, dance rituals and performance comprised a large part of Miyamoto's practice, contributing further to her idiosyncratic visual language. Miyamoto's distinct artistic approach recast minimalist forms and strategies — repetition, geometry, the grid — by introducing handmade and subtly irregular elements.
Activating the Readymade
Since 1980, Miyamoto has infused found materials and artifacts with autobiographical and historical moments that have shaped her world. Miyamoto's kimono series (1987–2000s) is particularly notable, exploring the signification within archival traces and the pliant nature of personal identity.
The kimono has been an important and recurring motif that has served to express aspects of the artist's own history and cultural identity. From a young age, Miyamoto studied traditional Japanese dance in which she wore the kimono, a garment that she also learned to construct and sew as a child in Tokyo.
The exhibition space was designed to emphasize the kimono's sculptural qualities. Ransmeier designed elegant hanging mechanisms on which the kimono works hang, supported by (and juxtaposed with) industrial metal columns. The kimono are complemented by a display of related works on paper as well as selections of paintings and drawings from Miyamoto's oeuvre that echo the artist's formal strategies.
ABOUT THE EXHIBITION
Name: Kazuko Miyamoto: To perform a line
Where: Japan Society (333 East 47th Street New York, NY 10017, USA)
When: April 29 - July 10, 2022
For Tickets, Prices and to learn more: See the exhibition website, here.
Exhibition 3D Tour: See the exhibition's digital portal, here.
Find and follow the Japan Society on Instagram, Twitter and Facebook, and on the organization's homepage.


Author: Tiffany Lambert, Curator, Japan Society
(Click here to read the article in Japanese.)