Women Of War: Japan's Rising Attention To Women on the Front Lines
In an emotional speech at the award ceremony, novelist Touma Aisaka laments the current situation in Ukraine.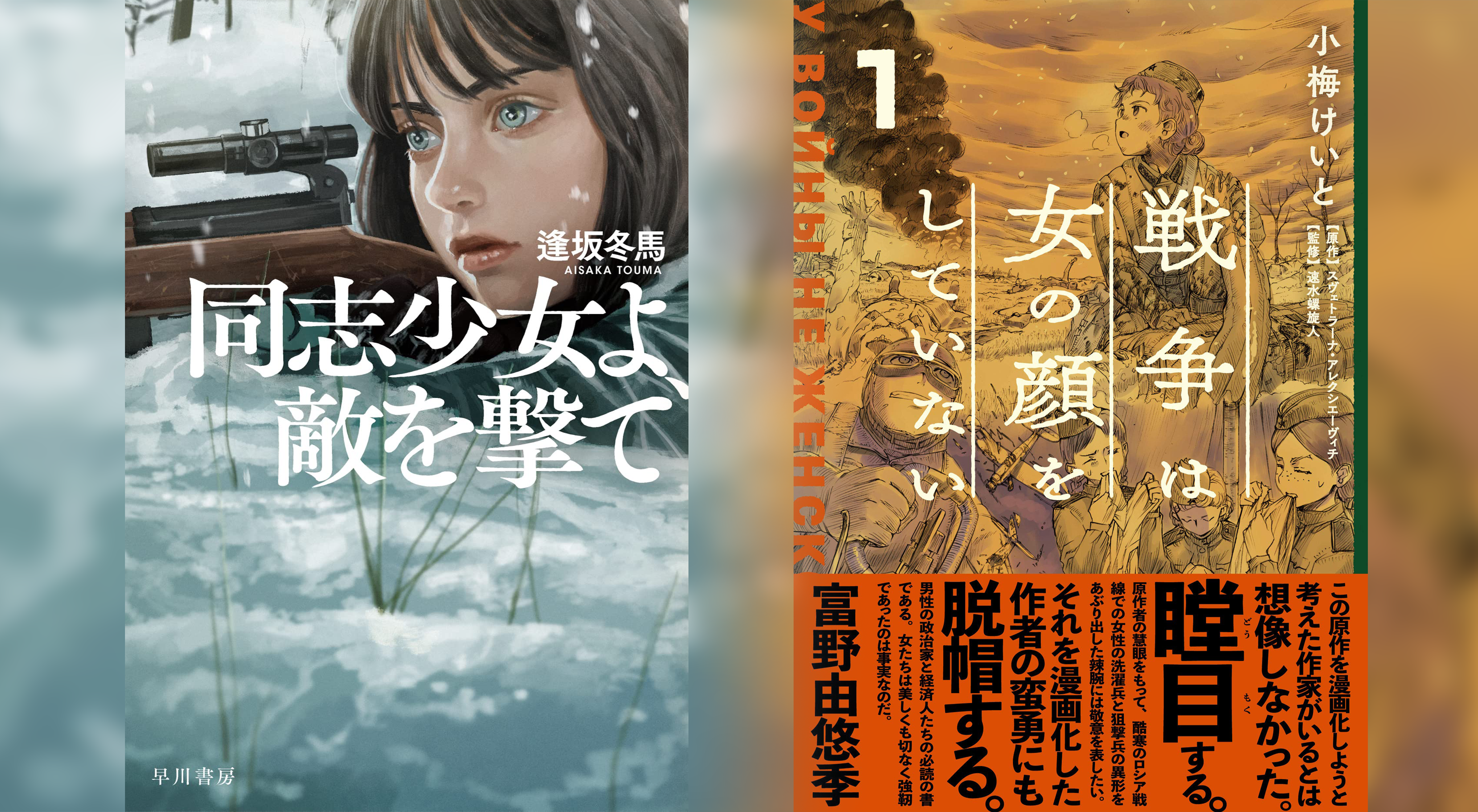 The situation in Ukraine has been occupying my thoughts since February. Young Ukrainian men and women with guns in their hands are appearing on TV and social media, as they elatedly vow to "protect their country".
The sight of these young people triggers in my mind the fervor of the days depicted in a comic. It tells the story of young women in the former Soviet Union pleading to be sent to the front during the Great Patriotic War, and I am engulfed in feelings that are indescribable.


Attention Focused on Women in Battle
Two books featuring women fighting on the battlefield, Keito Koume's manga adaptation of The Unwomanly Face Of War by Svetlana Alexievich and Touma Aisaka's Doushi Shoujo Yo, Teki Wo Ute (literally, "Young Woman Comrade, Shoot the Enemy") have been gathering much attention in Japan.
As Russian forces continue their invasion of Ukraine, these books are experiencing a timely success among Japanese readers seeking to better understand war.
"Current wars and conflicts worldwide threaten the precious lives of people and cultures that have been built up over the years." Kadokawa publishers stated in a recent press release.
In response to the growing interest in war-related books and fighting women, the KADOKAWA Group, one of Japan's leading publishers, released nine books related to war and peace for free on BOOK☆WALKER, a Japanese ebook store, for a limited time from May 10 to 16 under the title "Now is the time to think about war." Although that window of time has passed, it is still useful to review the books on their list.


'Young Woman Comrade, Shoot the Enemy'
Doushi Shoujo Yo, Teki Wo Ute (literally, "Young Woman Comrade, Shoot the Enemy") is about a young girl who lost her mother and hometown to the Germans during the German-Soviet War. It tells the story of how she survived as a sniper ー and member of an all-female sniper team on the battlefield ー in the war to regain her homeland.
The book won the Honya Taisho Award, also known as Japan's Booksellers Award, on April 6, 2022. It was selected from 10 nominated works for this year's award ceremony held in Tokyo.
Aisaka expressed his gratitude, saying, "I have been touched by how much this work has been adored by the booksellers even before it was published. I am thankful that it has been recognized with such a wonderful award despite being my debut work."
On the other hand, recognizing the current tragedy in Ukraine, he said:
"My heart has been in the depths of despair since the invasion began. I kept wondering what I should think about Russia, the country I was so passionate about in my novels.
"In the process, I have gradually come to see a Russia that is not Putin's Russia. And those who oppose the war at home are also Russia. Although their voices may be small, I want to listen to them, remember them, and amplify their messages as much as possible."
He added, "My protagonist would be sad if she saw this situation. But she would not despair. She would go to the town and do her part as a sniper. So I too will stop despairing, and when I write my novels, and in other situations, I will oppose war and make efforts to build peace.


The Book Sellers
Touma Aisaka's "Comrade Girl, Shoot the Enemy" has sold over 53,000 copies a week, soaring from No. 80 to become No. 1 in the "Oricon Weekly Book Ranking," it was announced on April 15.
Unfortunately, the publisher, Hayakawa Publishing, Inc. told JAPAN Forward that there are no plans to publish an English translation of this book at the moment.


The Unwomanly Face Of War
Another book being read in Japan recently is a manga adaptation of Belarusian Nobel Prize winner Svetlana Alexievich's nonfiction book, The Unwomanly Face Of War.
The book spotlights women who had no choice but to fight on the front lines for their freedom.
After interviewing hundreds of Soviet women ー captains, tank drivers, snipers, pilots, nurses, and doctors who had experienced the war on the front lines, on the home front, and in occupied territories during WWII ー Alexievich uncovered their buried stories.
One woman recited words of prayers for each and every soldier that passed by. Another, with a smile on her face, looked back on an incident when she ran over a dead soldier's body with a carriage. People's senses, which are capable of possessing beautiful virtues and immeasurable maliciousness, are hard to comprehend during such abnormal times.
The manga version illustrates the diversity and complexity of human emotions, as expressed by these words in the work: "A human being is greater than war", deeply touching my heart."
Originally published in 1985 in Armenian under the title War Does Not Have a Woman's Face, the book first came out as chapters in the magazine October.
It was in a censored form after the author had been repeatedly rejected by the authorities, who told her to write only about "victory" instead of "filth".


The Manga Adaptation
The manga, released by Kadokawa Corp. has sold more than 100,000 copies. The illustrations were drawn by Keito Koume, the creator of the "Spice and Wolf" manga series.
The first volume of the manga version was published on January 27, 2020. More recently, it was introduced on a Japanese TV program following the February 24, 2022, Russian invasion of Ukraine. A shortage of copies in bookstores followed.
Rather than heroic tales, the manga portrays the complicated emotions of women affected by war.
The original book is great reading material and highly recommended. At the same time, considering its volume, it may not be for the average reader. If it were not for the cute manga pictures that depict the chaos of the battle scenes, illustrations that are too realistic might also make it tough to continue turning the pages.
Both books are engaging material relevant to this time we are living in as Russia continues to send its soldiers to Ukraine. Whether you choose the engaging manga or the book versions of these stories, they will draw you right in.


Author: Eiji Homma and Shaun Fernando