Furusato Matsuri: Japan's Best Food and Culture Festival Celebrates 10th Year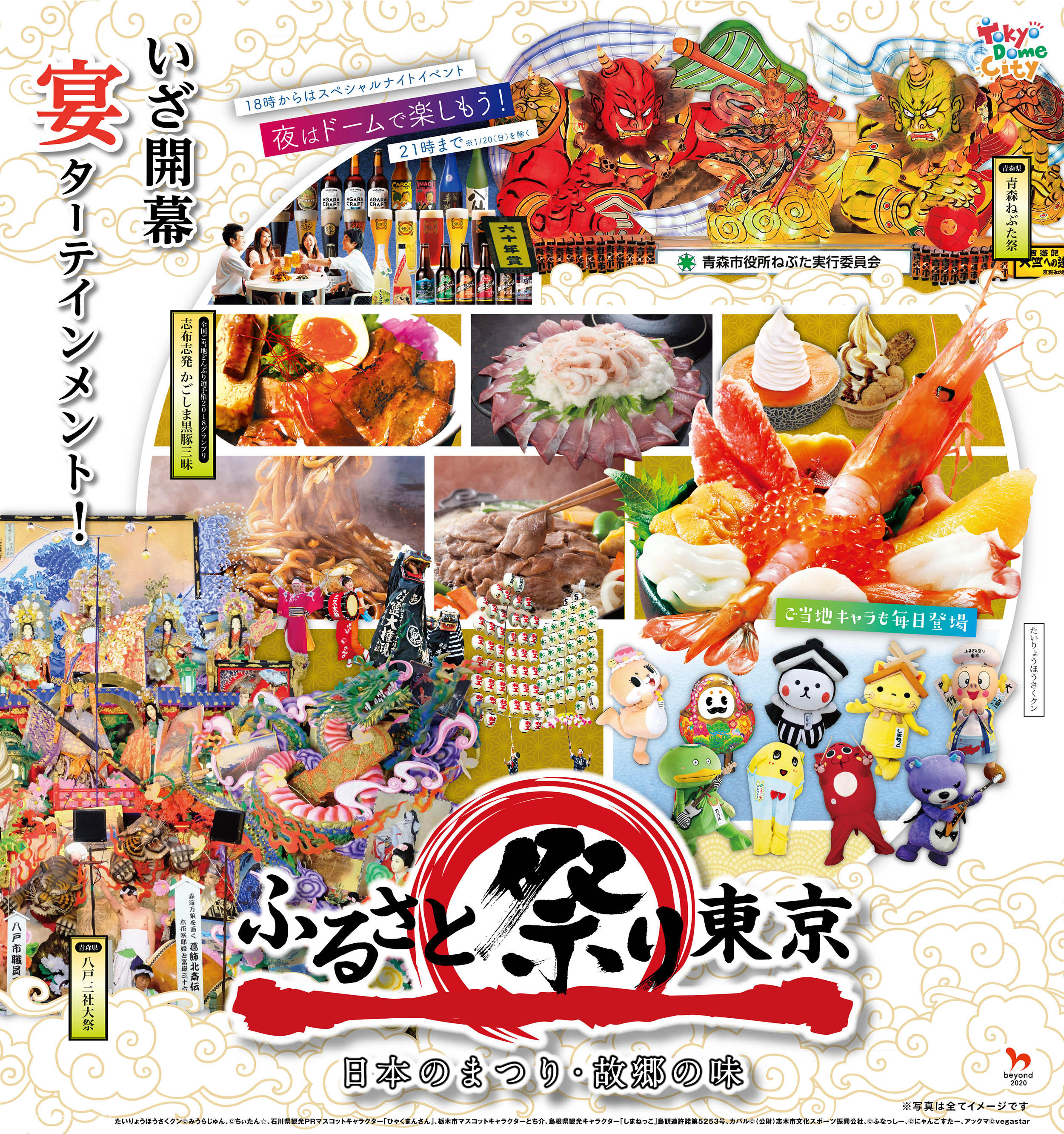 The Furusato Matsuri Tokyo (loosely translated as "hometown folk festival") kicked off at the Tokyo Dome on Friday, January 11, and will be open until Sunday, January 20, 2019.
For the 10th-year festival, the event brings together 300 businesses representing the best of Japanese food and culture from all over the country, allowing residents and visitors to the capital city to enjoy the best Japan has to offer.
In 2018, more than 340, 000 people crowded the gigantic stadium near Suidobashi Station, and this year the event aims to bring in 400,000 visitors.
Local Festivals, Right in the Heart of Tokyo
As always, Furusato Matsuri Tokyo attracts a lot of attention as a showcase for some of the most famous folklore festivals in Japan. 2019's event goers will be able to see lanterns from Nebuta Festival in Aomori right in the heart of Tokyo. Colorful lanterns in different shapes, they are mounted on carriages and normally paraded around the city accompanied by a dancing crowd.
Also from Aomori, there will be the famous cart from the Hachinohe Sansha Taisai Festival. With its beautiful colors and designs, this cart is mechanized and can open and close much like the feathers of a peacock. It brings its charm to Tokyo from northern Japan.
Again, this year, the Furosato Matsuri Tokyo will give people in Tokyo the opportunity to witness the famous Akita Kanto Festival traditional parade. A notable characteristic of this celebration is its world-famous wooden structure, upon which 46 lanterns are mounted, adding up to approximately 50 kilograms of weight. In the parade, this structure is carried by one person balancing the single central pole, a feat which requires incredible strength and balance and is sure to wow the metropolitan crowd.
Making an appearance for the first time is the Kiryu Yagibushi Festival from Gunma Prefecture.
All together, more than 15 organizations will be showcasing their culture and skills for people in Tokyo to enjoy.
A Feast for Foodies
This wouldn't be a cultural festival without mouth-watering local delicacies.
This year, 18 stalls will be competing to gain the title of "best donburi." Among the competitors will be stalls that won two titles in the past, including the luxurious ingredients of prime Kanazawa steak, marinated mackerel rice bowl, and a gourmet bowl with fish row and sea urchin.
2018's top five stalls will be battling for the top honors this year. These include a traditional "oyakodon," the much-loved donburi with eggs and chicken. Too, there are options highlighting local produce, such as the rice bowl with Kagoshima's black pork cooked three different ways. Finally, there is also something for those who seek to try the unusual, such as the donburi with beef tartare meat and a soy-based sauce.
And this is just the start of the list. The rest of the rice bowls entered in the competition include eel, wagyu, options for fish lovers and meat lovers — all guaranteed to leave you satisfied and delightfully full when you leave the event.
Although organizers wish to highlight the rice bowls, there is truly food for everyone. Ranging from local beer breweries, skewers, sandwiches, and ice-cream parfaits, the festival promises to be a feast for the eyes as well as the stomach.
Check out the stall which serves shirasu, the typical small white fish from Kanagawa Prefecture. It is prepared three ways, and the soy-sauce marinated version is an unexpected delicacy.
For those who love noodles, you will also be able to sample more than 30 types of noodle dishes, including Sapporo miso ramen and the typically thick udon from Gunma Prefecture.
An Event to Enjoy All 'Round
Although food is the guest of honor at the event, the beauty is that it has also an entertainment element. For example, after eating to your heart's content, you can stroll the aisles and buy souvenirs from all over the country.
Among its many attractions, the festival gathers a staple of popular culture in Japan: kyara. What we would normally call mascots, kyara are extremely popular and often associated with a particular territory. There is Kumamon, for example, for Kumamoto Prefecture.
With more than 80 kyara present, there will be performances every day from 3 P.M., and a special performance on January 16.
Entrance fees are ¥ 1,000 to ¥ 1,700. Foreigners with passports are eligible for the discounted ¥ 1,000 ticket.
To cater to working population who can only come in the evening, the event features a cheaper evening ticket for ¥ 1,300, which allows you to enter after 4 P.M. and enjoy the food feast.
If you are living in Tokyo and have never seen some of the festivals from other regions of Japan, or if you are just passing by and want a crash course on Japanese festivals and regional foods, make sure you visit Furusato Matsuri between January 11 and 20. Festival hours every day are between 10 A.M. and 9 P.M., except the last day, which ends early at 6 P.M.
More Information about the event can be found here.
Author: JAPAN Forward