[Hidden Wonders of Japan] Pray to the God of Good Business with a Bamboo Branch!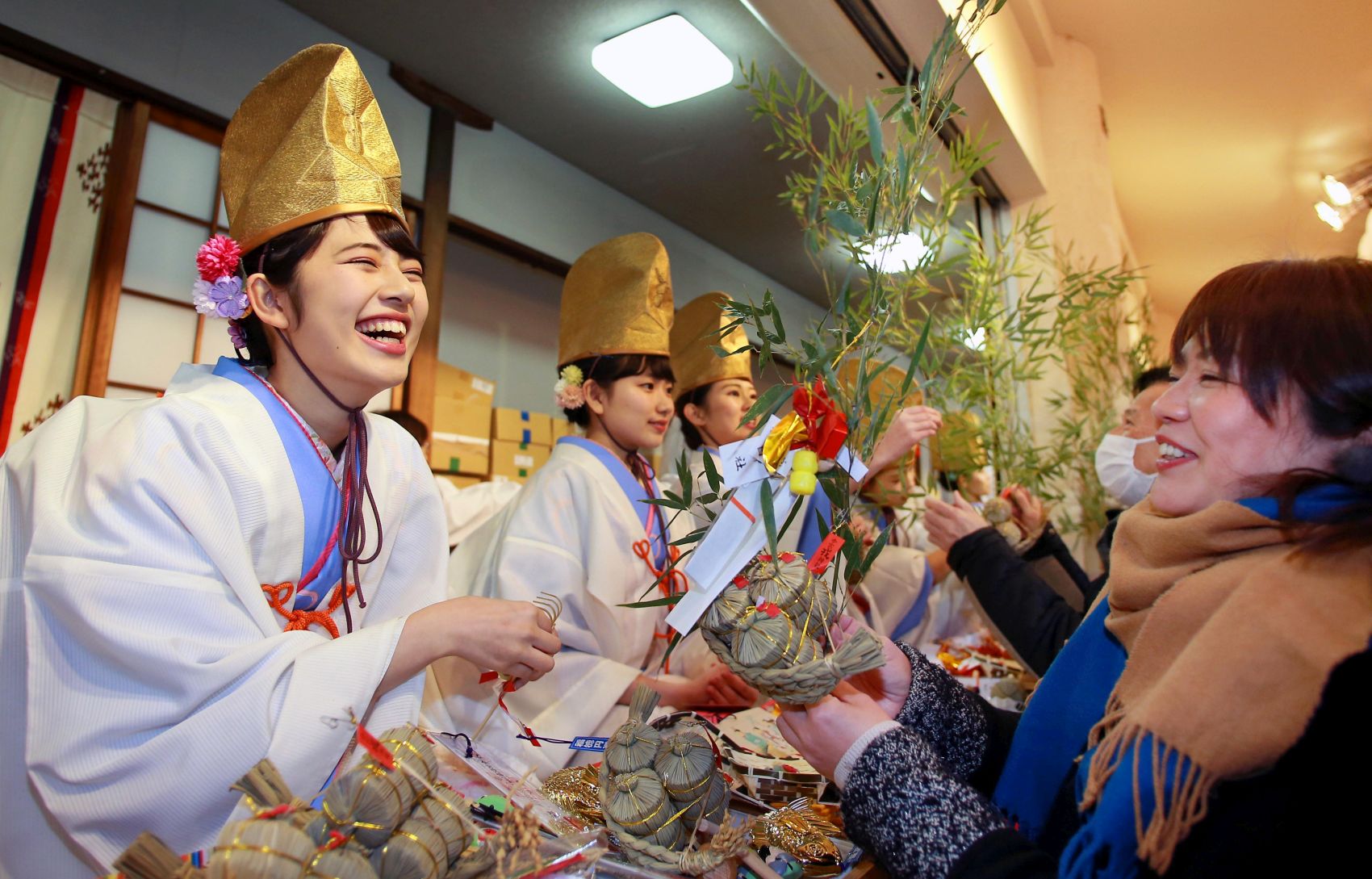 The Toka Ebisu Festival, known as "Ebessan" among the locals, has just been held at Osaka's Imamiya Ebisu Shrine.
Every year just after the first week of January, worshippers congregate here to collect a lucky bamboo branch — and pray to the god of prosperous business.
This is but one of the festivities which dot Japan at the start of the New Year, as celebrants flock to shrines to pay their first respects of the year in what is known as hatsumode.
As you entered the Imamiya Ebisu Shrine, music was playing and people were crying, "Bring good business quickly!" Welcoming celebrants were 50 young women known as fukumusume (literally, "lucky daughters"), dressed in traditional attire, which included a tall, semicircle-shaped hat.
According to the Japan Tourism Association, the position of fukumusume is much sought after, with approximately 3000 women applying every year for the 50 positions at Imamiya Ebisu Shrine. This makes the acceptance rate more difficult than most elite universities.
What is the role of a fukumusume? To hand out amulets and lucky charms. But, more importantly, these young women also hand out branches of bamboo,and tie charms and trinkets, all bringing good luck for a prosperous business year ahead.
Imamiya Ebisu Shrine's estimate was that between January 9 and 11, approximately 900,000 worshippers visited the shrine and offered their respects.
Connected to this festivity, a parade called Hoekago took place on January 10. More than 500 celebrities, fukumusume, and geisha took to the streets of Osaka, handing out lucky charms to happy watchers.
Forty-five-year-old Ryuki Nagashima from Wakayama Prefecture had been coming to the shrine every single year for 10 years since opening his business tax office. He explained why he kept coming back: "I pray for everything to work out at work and to pass a good year with no health problems."
One of the lucky women to be fukumusume, Yumi Okubo, a 22-year-old from Amagasaki city in Hyogo Prefecture, told The Sankei Shimbun: "I want to welcome worshippers with a smile."
If you are in Osaka around this time of year next year, make sure you don't miss the unusual festivities at Imamiya Ebisu Shrine!
What is your Hidden Wonder of Japan? Upload your picture here.