G7 Hiroshima Summit: Leaders Send a Message to China
As the G7 Hiroshima Summit came to a close, a key country in the focus of G7 leaders was China, including its economic opportunism and aggression.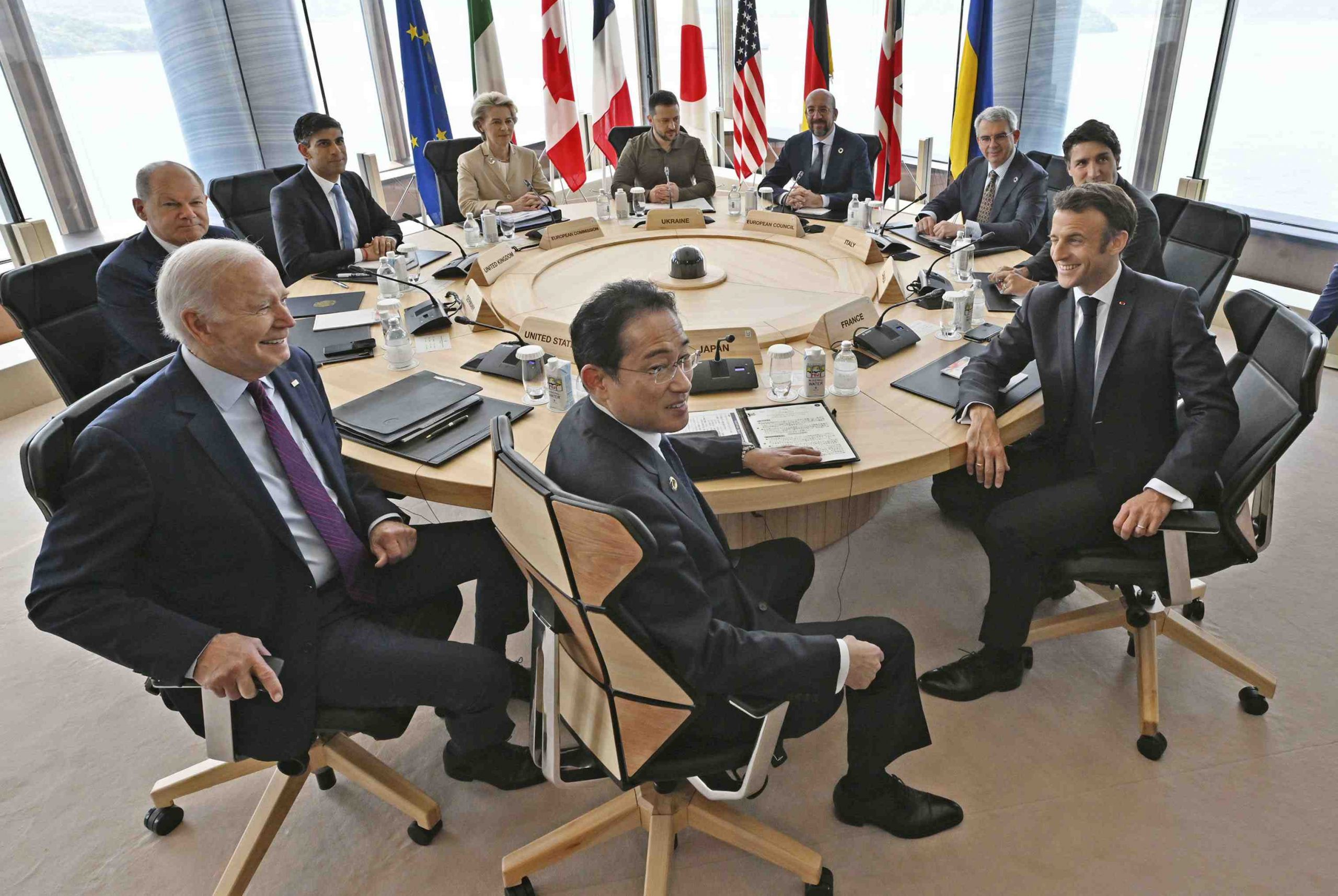 May 21 was a day full of symbolism. And more visits to the iconic scene of the atomic devastation of Hiroshima and its citizens in 1945. In addition, it was the last day of the G7 Hiroshima Summit.
Japan's Prime Minister Fumio Kishida stood in front of the A-Bomb Dome, appealing for a world without nuclear weapons.
Meanwhile, Ukrainian President Volodymyr Zelenskyy visited the Hiroshima Peace Memorial Park and Museum.
Bilateral talks took place between Ukraine and the United States. And between Ukraine and South Korea, among many others.
Ukraine was the center of the G7's attention, but it was not the leaders' only focus. Here, therefore, are some of the key things to know from the last day of this G7 Leaders' Summit.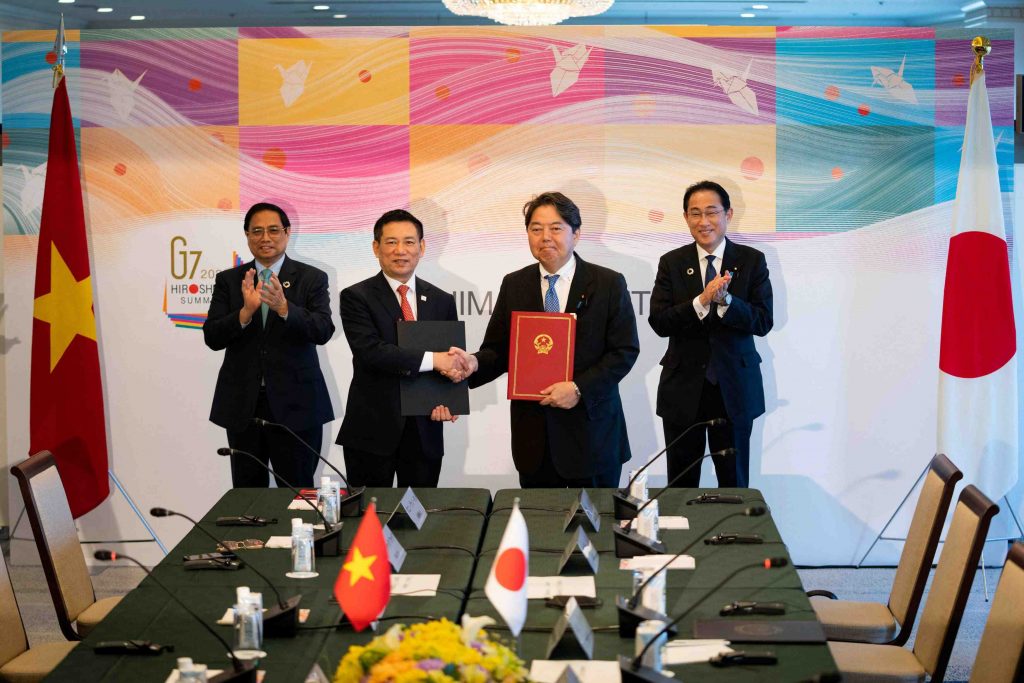 Global South, Supply Chains, Environment
Several themes linked to the Global South were brought to the fore in Hiroshima with more resolve than in previous G7 summits. In his closing address, Kishida illustrated some of them, such as food security, and transparent and fair development financing. He also touched on the issues of global health, economic security and supply chain resilience.
First, in his closing speech, the PM confirmed that G7 leaders had addressed key issues relevant to Global South countries. Representing them were invited guests such as India, Indonesia, Vietnam, the Cook Islands, Comoros, and Brazil.
With these countries in mind, Kishida noted, "The food crisis is an urgent issue that affects people's lives." He added, "We will work together to tackle this issue …. [and] support global infrastructure, and in doing so, we agreed to promote transparent and fair development finance."
Kishida also commented on the urgent problems of energy and the environment. Leaders of the G7 countries also reaffirmed the goal of "net zero" greenhouse gas emissions and resolved to "support partner countries towards energy transition."
In the field of global health, the prime minister pointed to Japan's pledge of a total of $7.5 billion USD in public and private sector contributions for public health purposes, such as providing vaccines in regions that need support.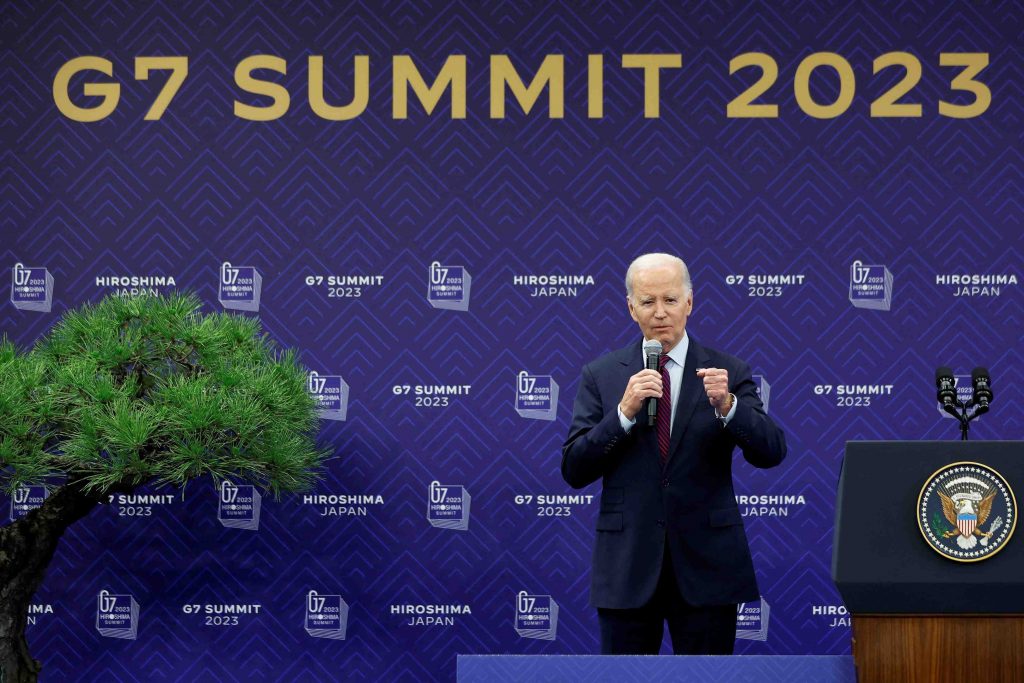 International Leaders Send Their Own Messages
In the afternoon and evening of May 21, several of the G7 leaders and invitees also held their own press conferences. In these, they shared their views on key outcomes of the G7 summit meetings.
United States President Joe Biden thanked his counterpart Fumio Kishida and his government's hospitality.
Then he noted that G7 was in a "very different situation from 5 or 10 years ago." Namely, G7 nations were more unified than ever in terms of "resisting economic coercion. And they were coming together in countering harmful practices that hurt our workers."
"We should have an open hotline," Biden said. He said he had agreed with Chinese President Xi Jinping during a G20 summit in Bali, Indonesia last year to keep communications open. "But everything changed after this silly balloon that was carrying two freight cars worth of spying equipment."
The US president also said he expected an improvement in relations with China "very shortly." Those relations were strained an incident earlier this year when the United States shot down one Chinese spy balloon that flew across the country, including over sensitive military sites.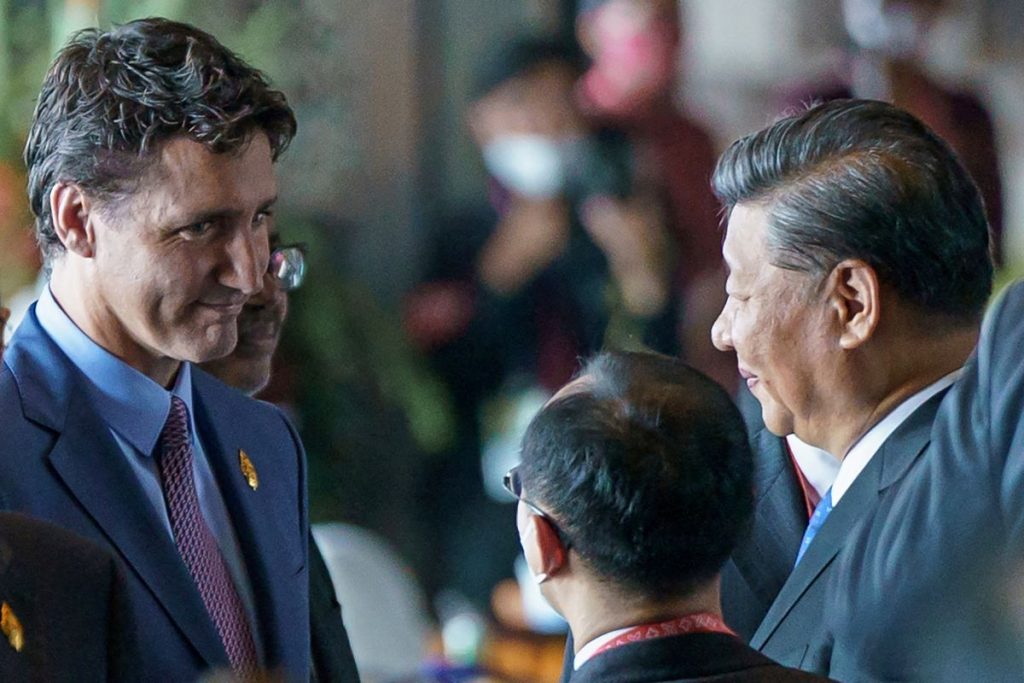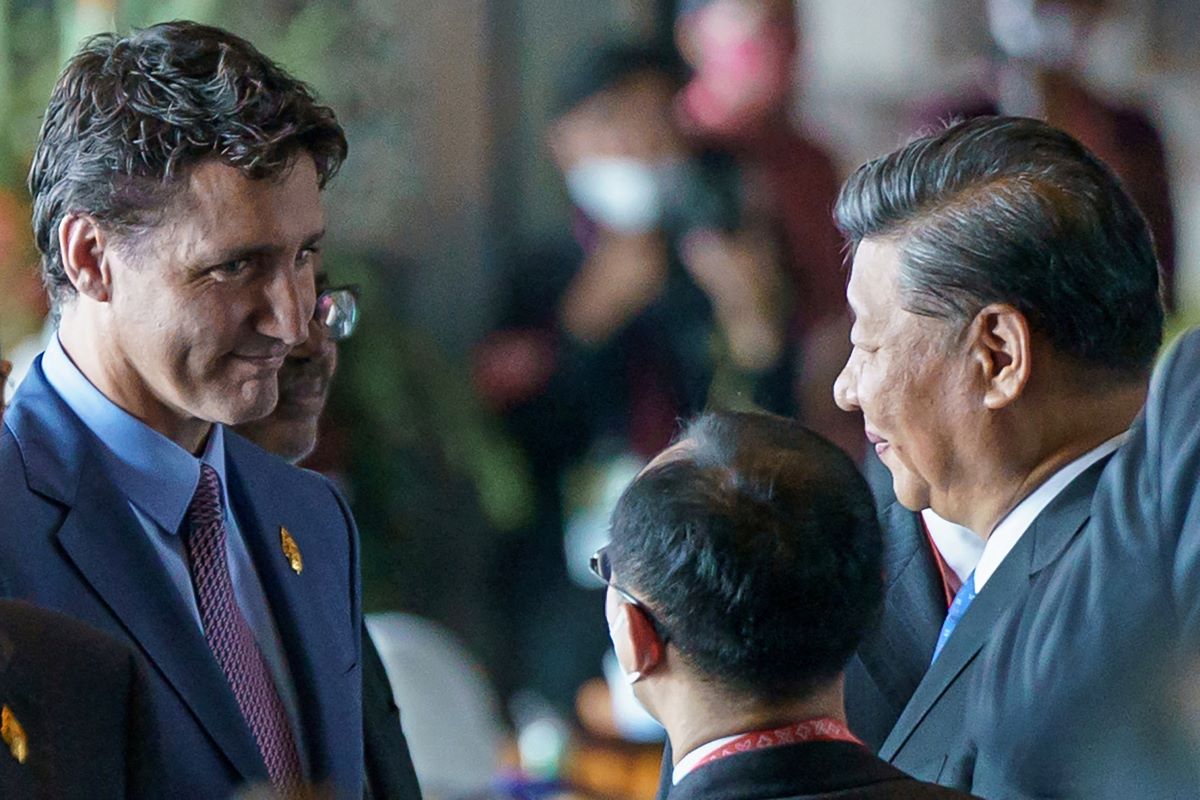 Canada Wants De-Risking from China
Justin Trudeau also echoed Biden's sentiments on the importance of de-risking from China.
First, he admitted China's role as the second-largest economy, and that it is still growing.
"We cannot simply choose to ignore China's existence, its contributions to global supply chains. Its contributions to economic success, and goods and services everywhere around the world, are significant. And we're not looking to reverse that."
He continued, "Economic security means having different options, having resilience in our supply chains. And that's something that's ultimately good for the entire world."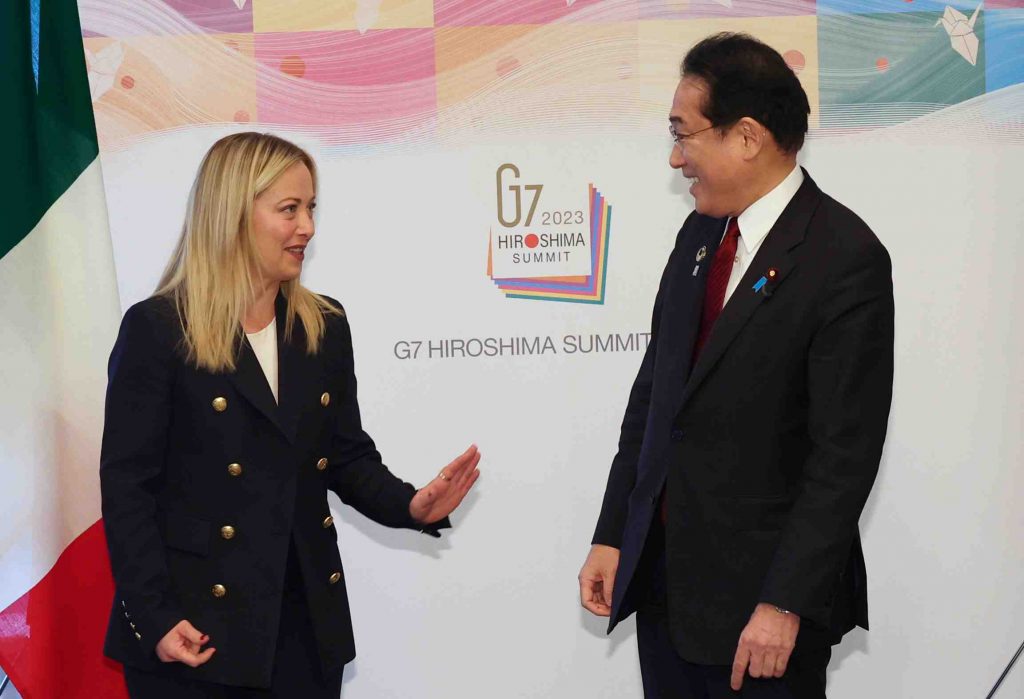 Italy's Giorgia Meloni Leaves Early Due to Flooding in Emilia-Romagna
Italian Prime Minister Giorgia Meloni held her press conference in the early hours of May 21, at about 1 AM JST.
Her reason for the late hour was to permit her return to Italy, where the region of Emilia-Romagna (in the central part of Italy) has been hit by heavy rains and flooding. The disaster has caused at least 14 deaths.
Looking back at her three days in Hiroshima, Meloni said she was satisfied with the results of the G7 summit.
She was asked whether there was any discussion with other leaders about pulling out of the Belt and Road initiative. Italy is currently the only G7 country part of the scheme.
"The memorandum will be renewed next March, so we have time to discuss what steps to take," she explained.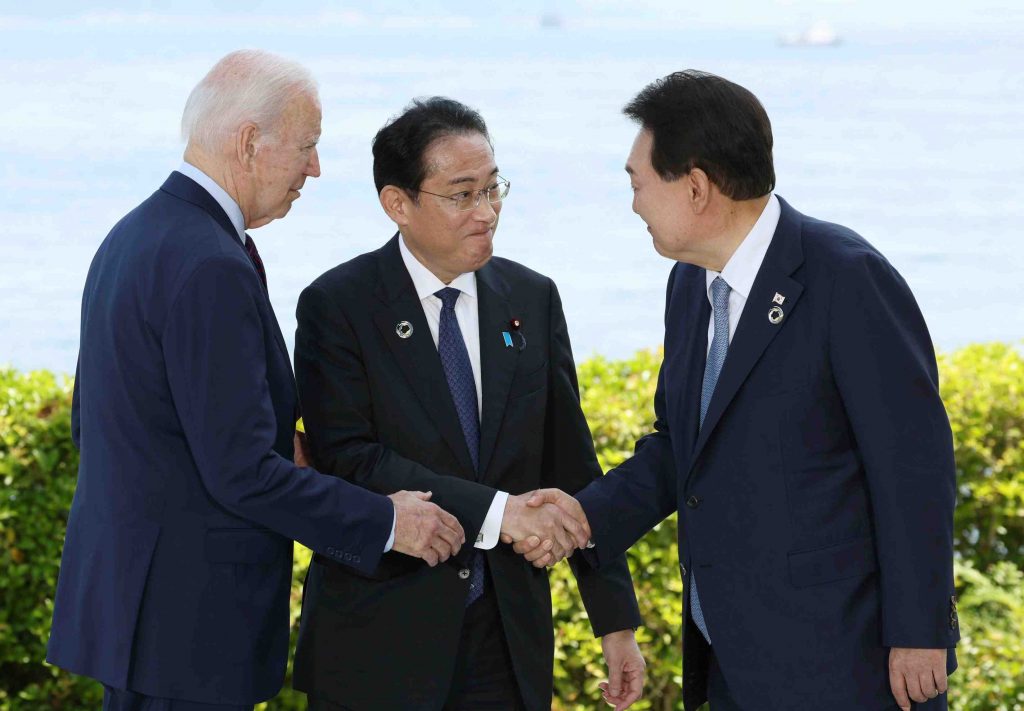 Further Thaw in Japan-South Korea Relations
Japanese Prime Minister Kishida and South Korean President Yoon Suk-yeol, together, became the first Asian leaders to visit the cenotaph of Koreans victims of the atomic bomb dropped on Hiroshima.
This was seen as signaling a further thaw in Japan-South Korea relations. This relationship has been improving since Yoon's election. More recently, on March 7, Seoul announced a proposed resolution to the dispute between the two neighbors on wartime laborers. This historical issue has been straining bilateral relations.
The leaders have met three times since March, most recently in Seoul in early May. Mr Kishida flew on a state visit in an attempt to reinstate "shuttle diplomacy between two countries," explained Cabinet Secretary for public affairs under Kishida, Noriyuki Shikata, in an recent interview with JAPAN Forward.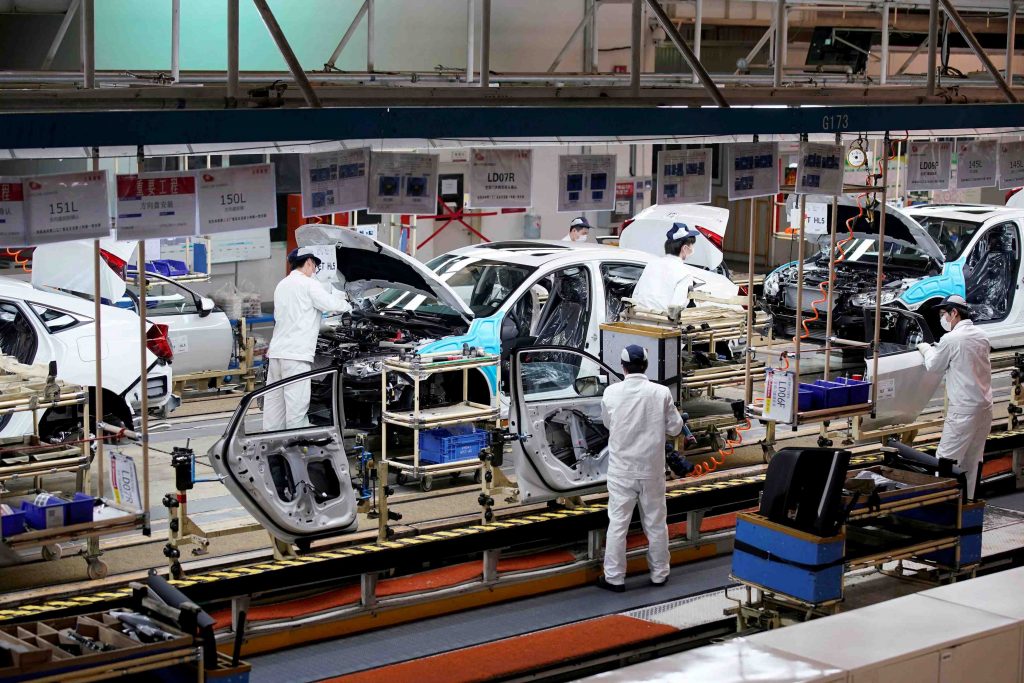 New Agenda for Economic Security
In general terms in his closing speech, the Japanese prime minister touched on the leaders' discussion of several topics related to the global economy. Moreover, they held the first ever session on economic security.
China's debt diplomacy, in particular, is seen as a threat to developing and Global South countries.
"While the importance of a multilateral trade regime will not change," said Kishida, "it is also necessary to strengthen the economic resilience and economic security of the entire international community, including the Global South," he continued.
Referring to China's practices of handing out development assistance tied to beneficial options for Beijing, there was also plenty of concern expressed.
"As G7, we are ready to build constructive and stable relations with China through dialogue," concluded Kishida.
Follow the G7 Hiroshima Summit on Twitter, Facebook, Instagram, and here on JAPAN Forward.
RELATED:
Author: Arielle Busetto