G7 Hiroshima Summit: Leaders Take Up Ukraine on First Day
Leaders attending the G7 Hiroshima summit say, "our support for Ukraine will not waver" during an early meeting hosted by Prime Minister Fumio Kishida.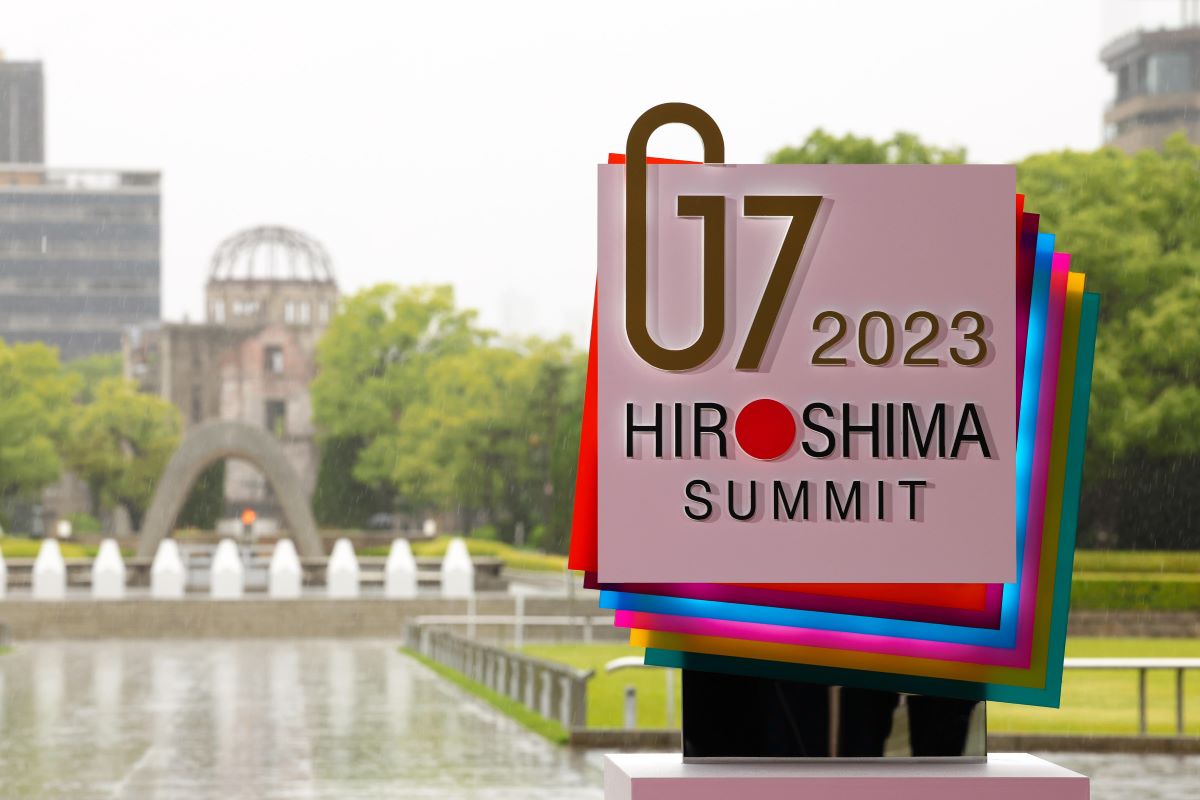 The leaders of the advanced democratic countries of the world are at the G7 Hiroshima summit, including Japan. They are determined to impede Vladimir Putin's war effort in Ukraine.
At their meeting in Hiroshima, they also unveiled new sanctions and export controls against Russia. These also include a ban on the country's diamonds.
Hiroshima's Japanese hosts presented a statement from the leaders showing they are unified on the issue of challenging Russia and supporting Ukraine.
It demands that Russia "immediately, completely and unconditionally withdraws its troops and military equipment from the entire internationally recognized territory of Ukraine".
In addition, it adds that "a just peace cannot be realized without the complete and unconditional withdrawal of Russian troops and military equipment, and this must be included in any call for peace".
The leaders say "our support for Ukraine will not waver." They emphasize that their countries "stand together against Russia's illegal, unjustifiable and unprovoked war of aggression."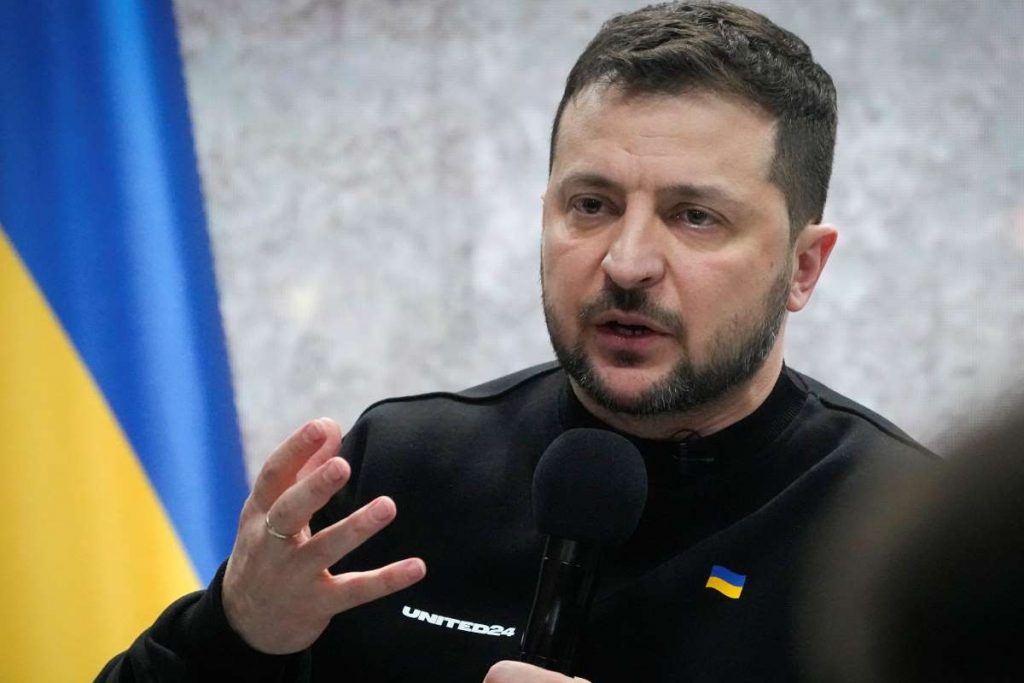 Surprise Visit
The announcement that Ukraine's president, Volodymyr Zelenskyy, intends to visit Hiroshima in person this weekend came as a surprise to the media and diplomats. Instead, they were expecting him to make an address over a video link from Kyiv on Friday May 19.
Consequently, plans were adapted on short notice. As a result, the G7 leaders could hold a meeting addressing the Ukraine issue on Friday afternoon. Another session, in which Mr Zelenskyy will be directly involved, will take place on Sunday morning May 21.
There was a further surprise with the news that Mr Zelenskyy had gone to Ryad in Saudi Arabia. There he met with Crown Prince Mohammed bin Salman on Friday May 19.
Saudi Arabia has supported a United Nations resolution calling for Russia to withdraw its troops from Ukraine. But it has held back from imposing sanctions on Russia. Mr Zelenskyy may well try to persuade the Crown Prince to change his position.
In Ryad, he will also be able to put his case to the leaders of the Arab League countries, who are attending a summit.
In Hiroshima, the G7 allies said that they would pile the pressure on Russia by "starving it of G7 technology, industrial equipment and services that support its war machine."
They added: "We will continue to shield agricultural, medical, and humanitarian products from our restrictive measures, and make every effort to avoid potential spillover impacts on third countries."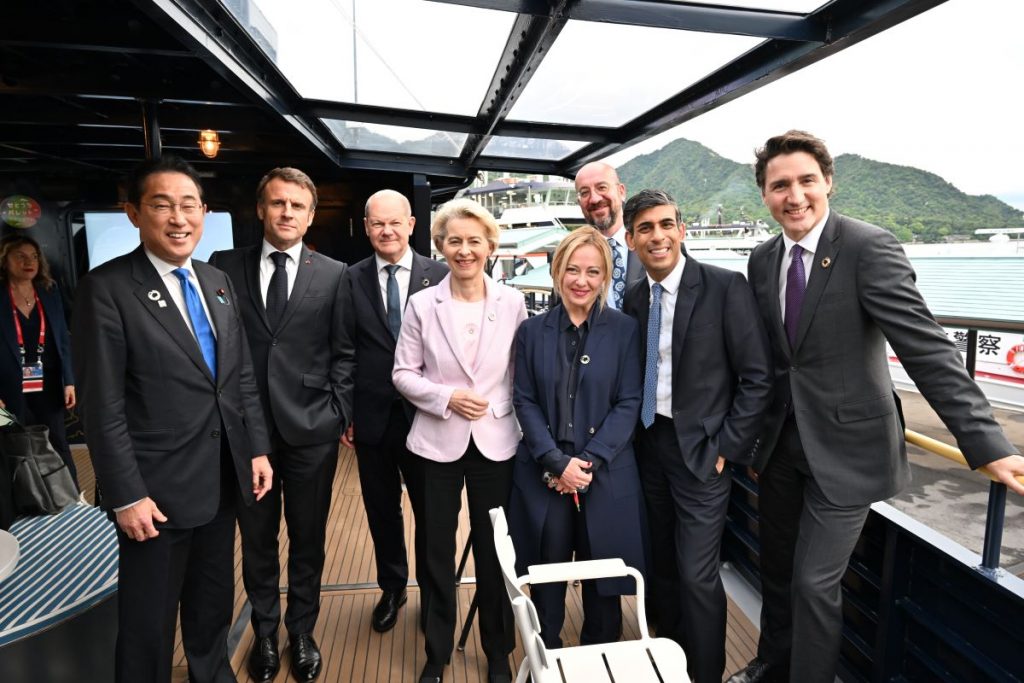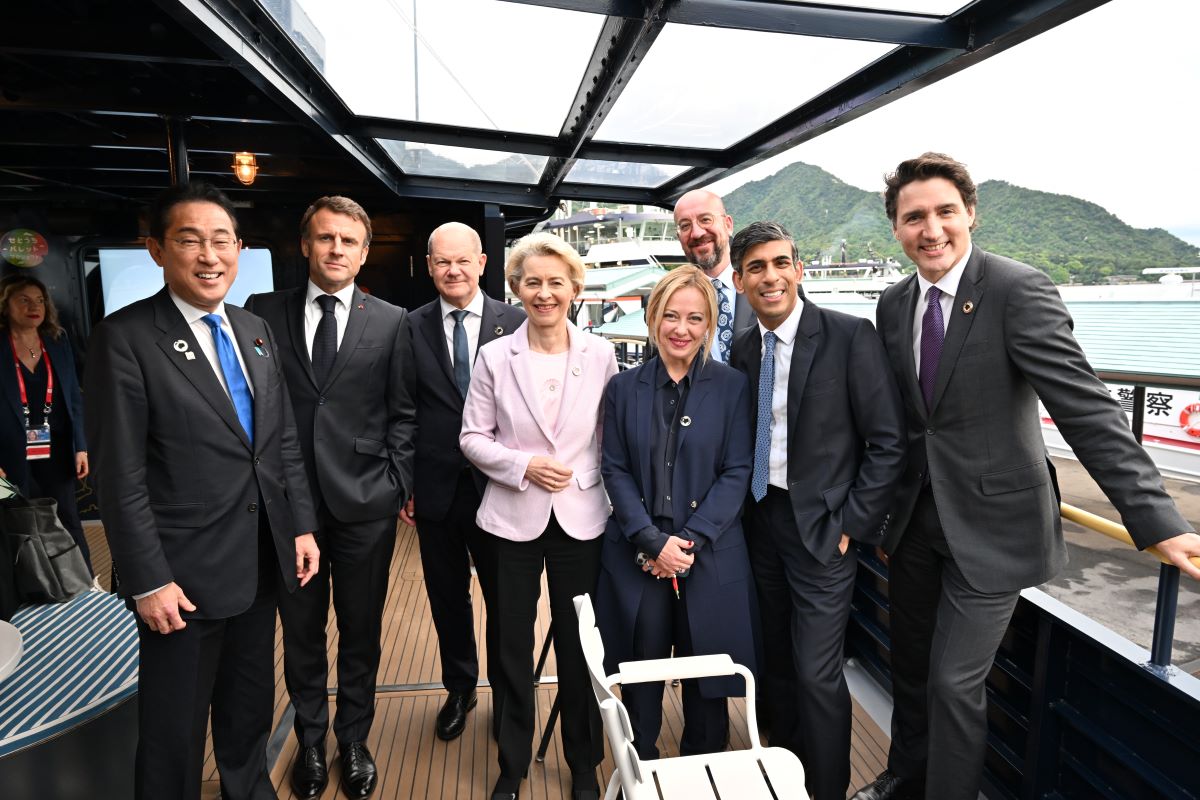 European Support
The European leaders of the G7 have all met Mr Zelenskyy recently Indeed, he just completed a whirlwind tour taking in Italy, France, Germany and the United Kingdom.
The Italian Prime Minister, Giorgia Meloni, promised to continue to supply Ukraine with weapons to fight Russia for "as long as necessary. And in Berlin, Germany's Chancellor, Olaf Scholz, announced a $3 billion USD package. It also includes 30 Leopard tanks and 200 surveillance drones.
On 14 May, President Zelenskyy and the people of Ukraine were awarded the Charlemagne Prize for their fight to defend democracy "against an unprovoked and unjustified war started by Russia."
As she presented the award, the President of the European Commission,Ursula von der Leyen, said: "Ukraine incarnates everything the European idea is living for: the courage of convictions, the fight for values and freedom, the commitment to peace and unity."
Speaking to the BBC's Political Editor, Chris Mason in Hiroshima, the British Prime Minister, Rishi Sunak said: "We've taken the lead on announcing new sanctions on Russia. I'm hopeful and confident that our partner countries will follow, as they have done when we've done this previously. That will make the sanctions more effective, and ensure that Russia pays the price for its illegal activity."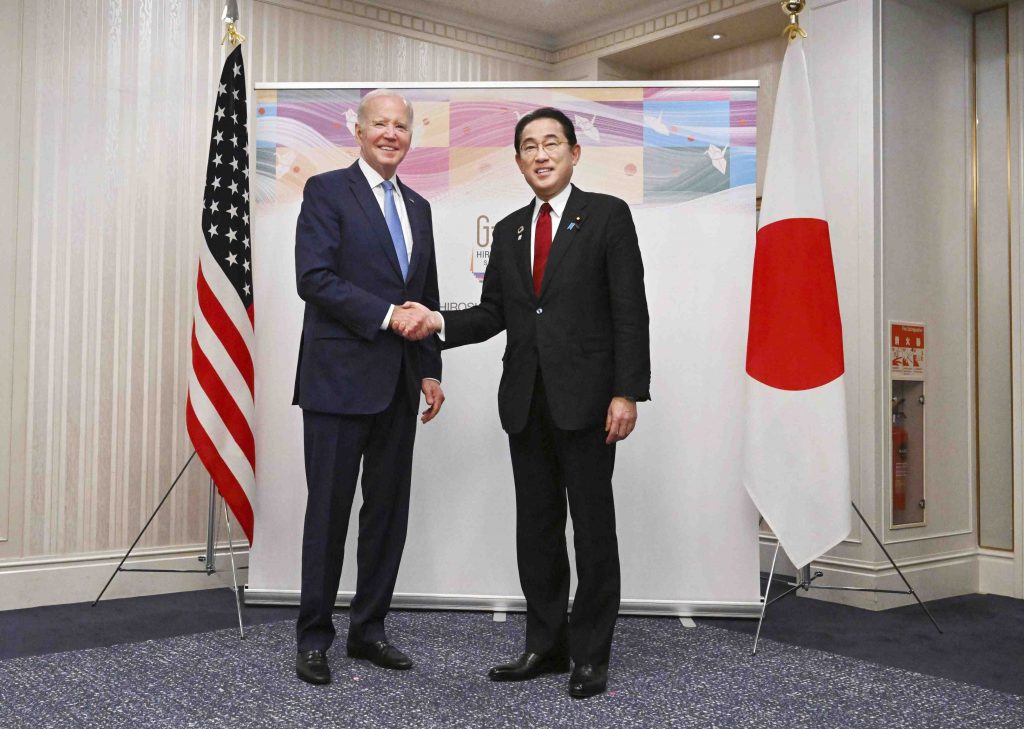 Biden Meets Kishida
President Joe Biden and Prime Minister Kishida held their own bilateral meeting in Hiroshima ahead of the G7 summit. In it, they "affirmed their resolve to continue supporting Ukraine as it defends itself from Russia's brutal and unlawful invasion," according to an official White House readout.
Mr Kishida has offered extensive diplomatic support to President Zelenskyy. He visited Ukraine in March, where he was visibly moved by an account of the brutal actions committed by Russian soldiers. For constitutional reasons, Japan is not in a position to provide military support to Ukraine in the form of lethal weapons.
For Prime Minister Kishida, the Russian attack on Ukraine relates to another grave concern: the escalation towards a potential nuclear conflict.
A communique issued in Hiroshima states that "Russia's irresponsible nuclear rhetoric, undermining of arms control regimes, and stated intent to deploy nuclear weapons in Belarus are dangerous and unacceptable."
The statement goes on to say the G7 "expressed their gravest concern over Russia's grossly irresponsible seizure and militarization of the Zaporizhzhia nuclear power plant".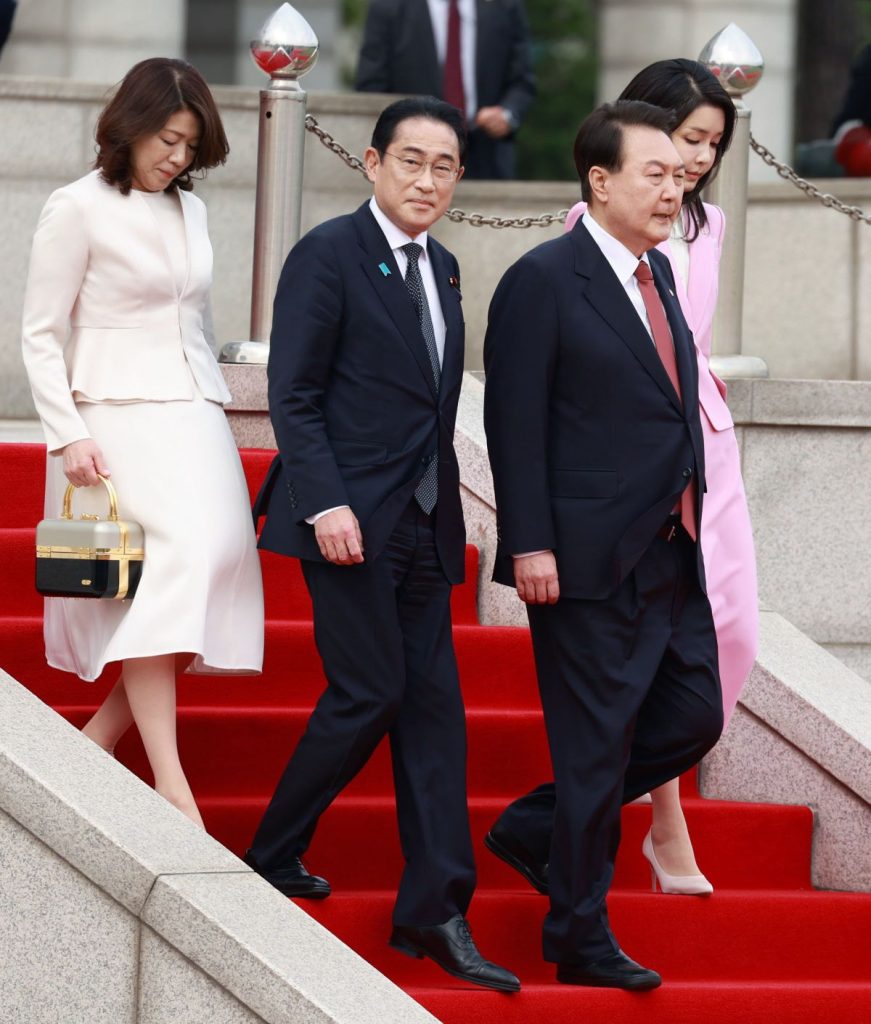 Rapprochement with South Korea
At the bilateral meeting between Mr Kishida and Mr Biden on Thursday, there was further emphasis on the importance of increasing multilateral cooperation in the Indo-Pacific region. In particular, involving Japan and South Korea, which is also known as the Republic of Korea (ROK).
The President then commended Prime Minister Kishida on his courageous efforts to improve bilateral ties with South Korea, which he said will contribute to greater regional stability and prosperity.
President Biden, Prime Minister Kishida and the South Korean president, Yoon Suk-yeol will take part in a trilateral discussion in Hiroshima on Sunday May 21.
President Biden also said he looked forward to a productive G7 Summit, under Japan's leadership.
Follow the G7 Hiroshima Summit on Twitter, Facebook, and here on JAPAN Forward.
RELATED:
Author: Duncan Bartlett, Diplomatic CorrespondentDuncan Bartlett is the Diplomatic Correspondent for JAPAN Forward and a Research Associate at the SOAS China Institute. Read his other articles and essays.