GEM Talks: Polishing In the Self-Confidence of High School Students
GEM Talks 2023 finalists came to Tokyo from high schools around Japan to present their future dreams and be judged on the quality of their speech.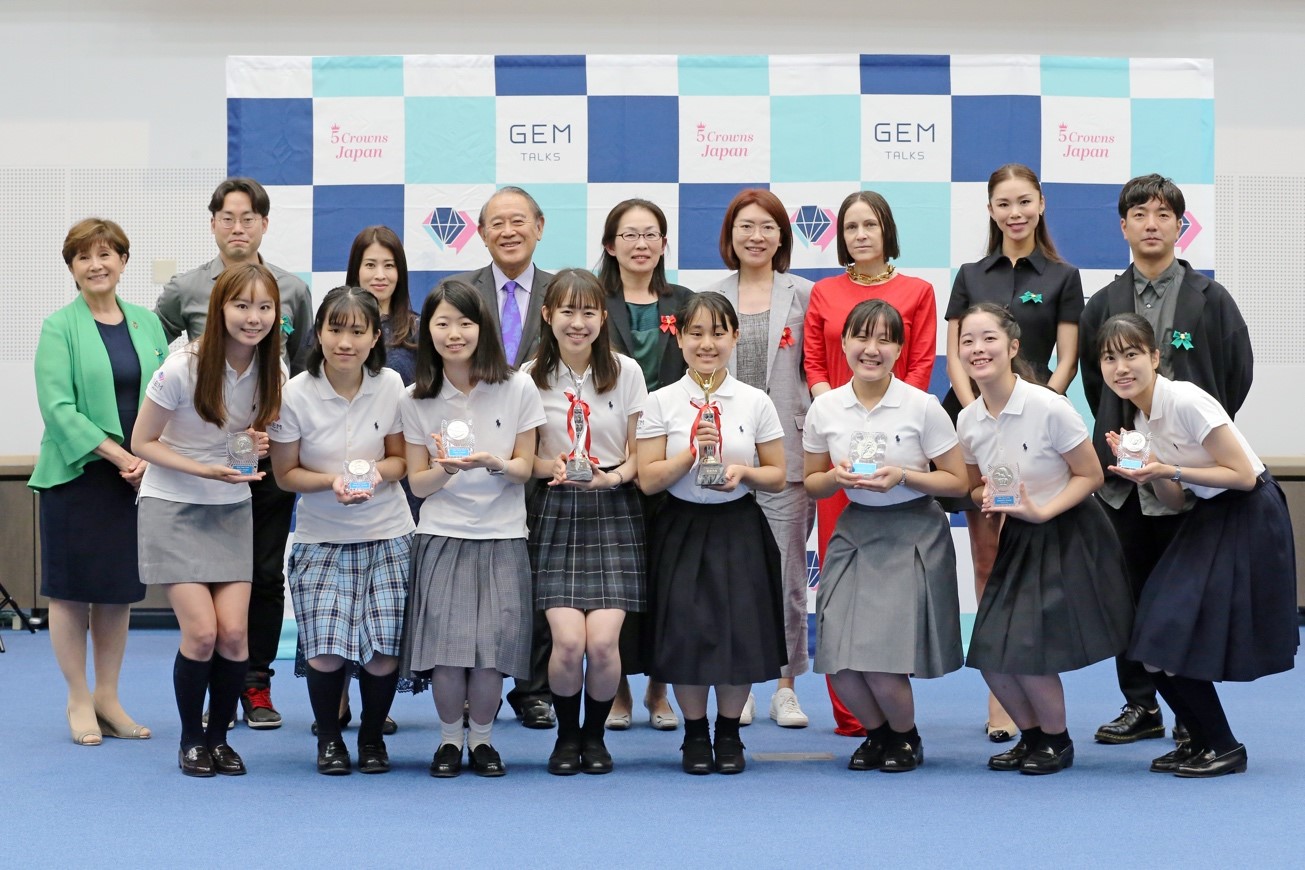 What tools do young women need to shine in their fields? For its second edition, GEM Talks brought together eight finalists from around Japan for a speech contest on June 18. Their aim: to bring confidence to a new generation of young students. Serina Abe, from Eisugakkan High School in Hiroshima, took home the top prize.
Taking place in Tokyo's United Nations University, the fierce competition was the last in a series of contest steps to select the finalists. In the final, each participant delivered a 7-minute speech in English on their vision for their future. They then responded to sharp questions from the judges.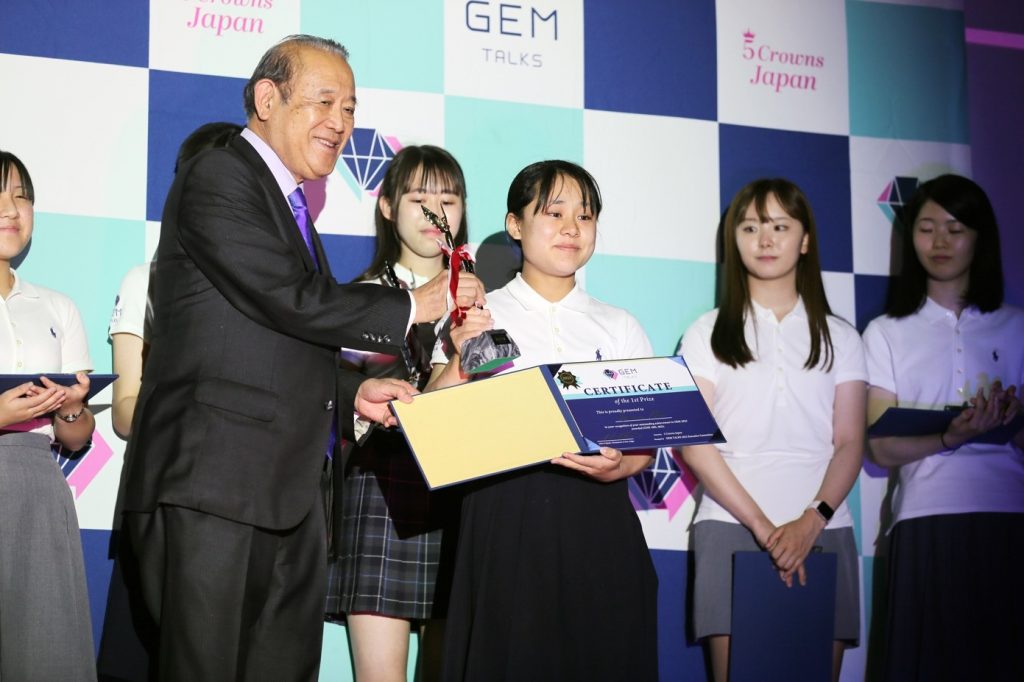 The judging panel included successful individuals from a broad variety of fields. Among them were Tiffany Godoy, head of editorial content for VOGUE JAPAN, and Mitsuharu Kurokawa, president of Toraya Confectionary. Other judges included Professor Mari Christine of Tokyo Woman's Christian University, and former Ambassador to the United States Ichiro Fujisaki, president of the American-Japan Society.
In a keynote speech, Godoy shared her advice for young women. She told them to develop their own style and trust their instincts. But most importantly, "Have fun," she exhorted. "There are things in the world that are not easy, but they are not always serious. Be kind to yourself, and smile."
Speaking to JAPAN Forward after the event ceremony, Godoy explained the importance of the initiative. "I think it's great, and I would like to keep supporting the project in the future," she emphasized.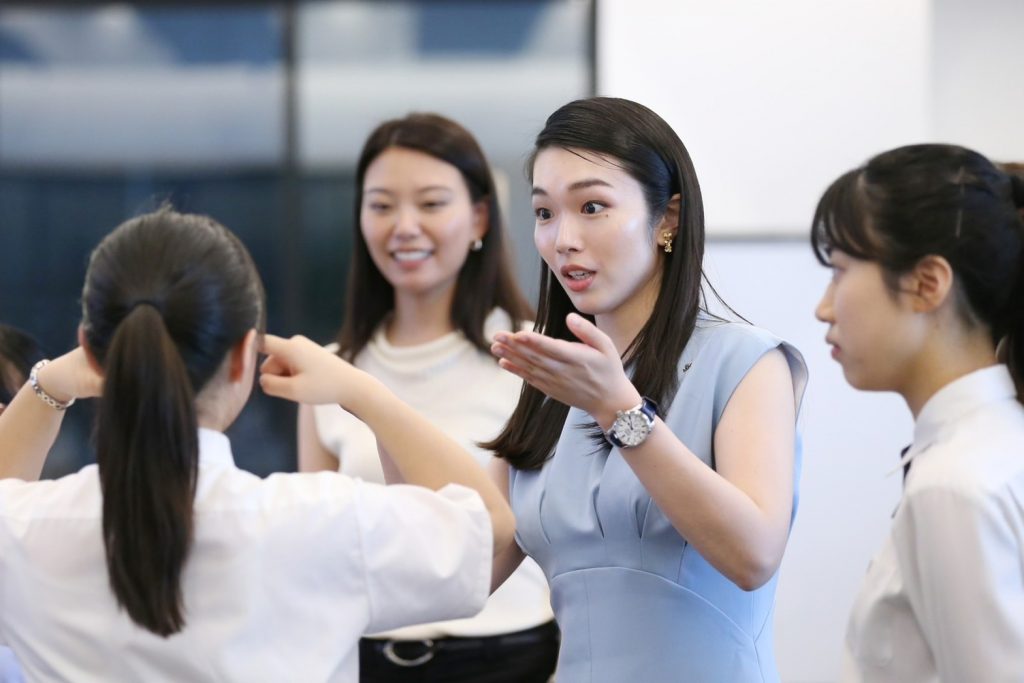 Many Steps to Victory
The final day of GEM Talks was months in the making. Aspiring participants from all over the country sent a video application to be considered. Those selected also qualified for one-on-one mentoring and participated in workshops over a two-month period. During that time, they learned to speak confidently in front of a crowd, and practiced skills such as debating.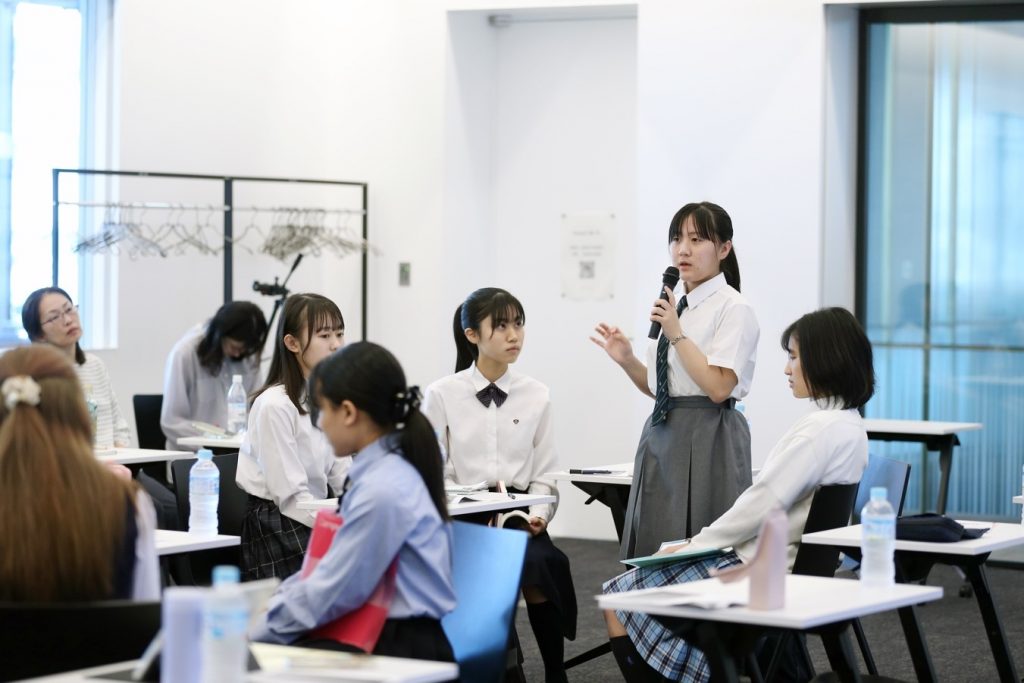 The program culminated in a weekend workshop in mid-June. There was a practice day for the students on Saturday. Then they delivered their final presentations on Sunday, June 18.
Watching the contestants on the final day, their speeches were confident. Moreover, they were filled with hope. Top prize winner Abe shared a moving account of her dream of going abroad and helping in refugee assistance efforts. Her speech was titled, "WITH REFUGEES."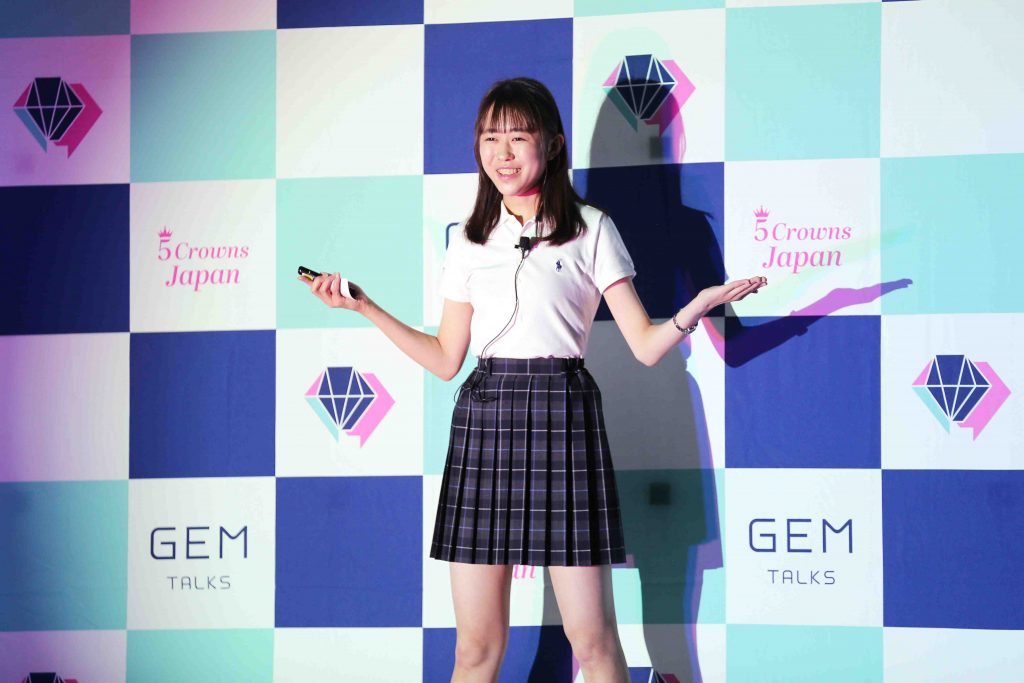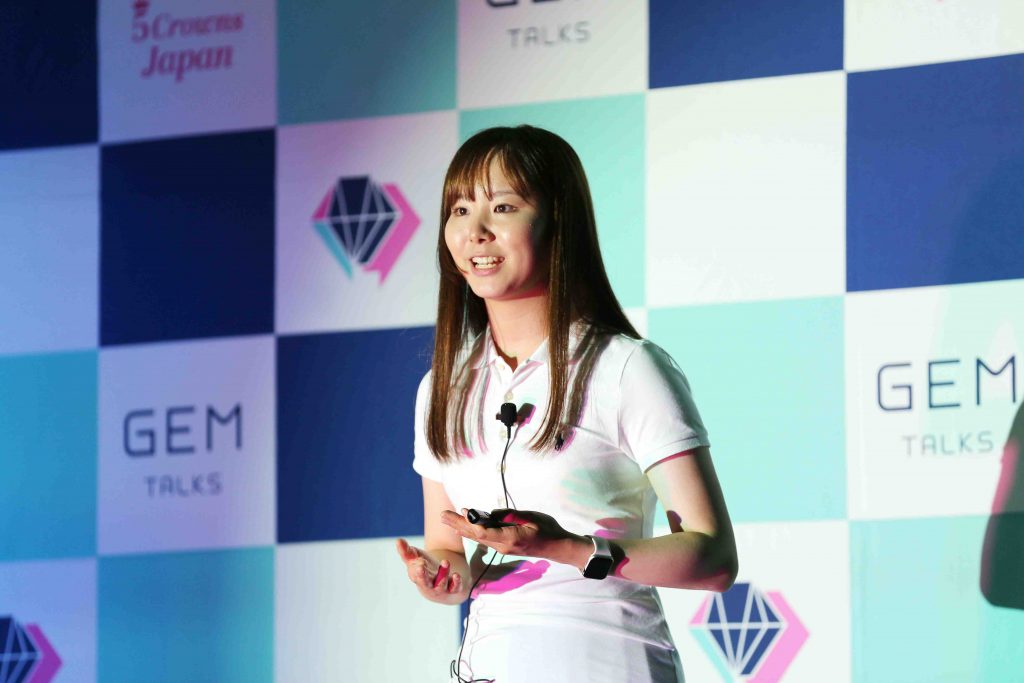 Shining a Light on Women
Kanako Date, executive producer and founder of GEM Talks, moves the organization forward.
Furthermore, Date is well placed to advise students on how to convince an audience. She is the 2018 Miss World Talent Award Winner, and talks about it as a defining experience.
"When I was at Miss World, I realized that when there are so many talented, beautiful women, the "X" factor becomes the power to communicate and market yourself," says Date.
"That's when I first realized that self-expression was key. I learned a lot through that experience."
Date explains how Japanese students, particularly women, are stereotypically thought to be shy, modest, and weak at communicating with an international audience. She particularly wants to challenge this idea.
Strategically and imbuing her words with passion, she began using her social media to connect with an audience. After bringing home her title from Miss World, Date also wanted to share the lessons learned with other women in Japan. What started as a rough idea in 2018, materialized as GEM Talks in 2022.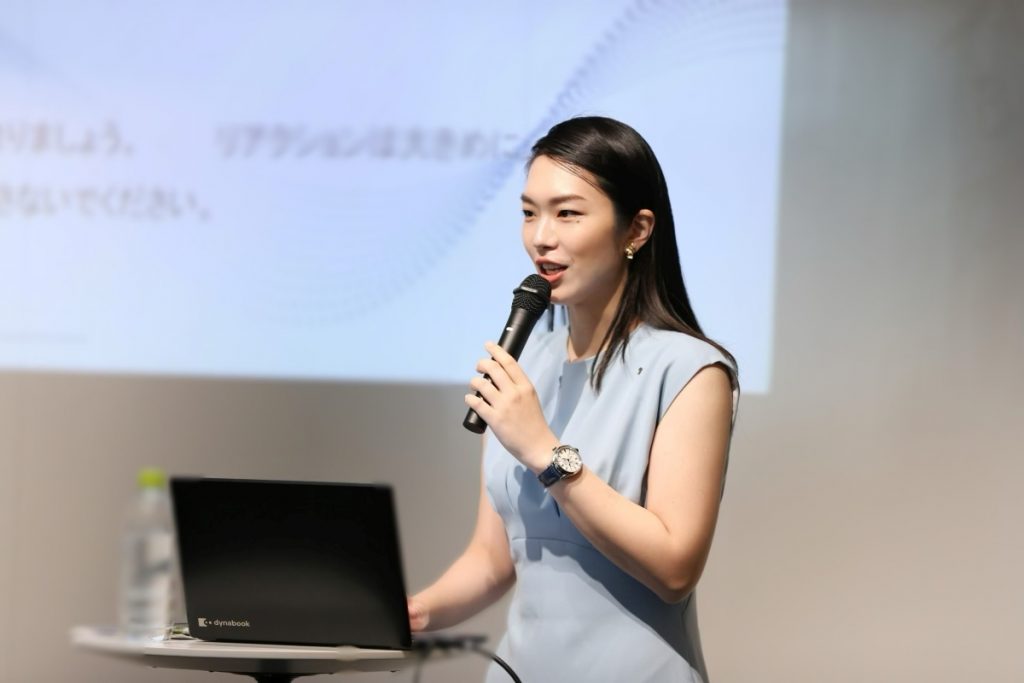 GEM Talks Going Forward
GEM stands for "Girls' Energy Manifest." The event concept reflects Date's hope that high school students will embrace their individual inherent charms. Just like gemstones in the rough, they can polish their skills toward realizing their dreams. And they can become leaders in the next generation.
Looking back on the progress of the participants, Date says she was almost moved to tears on the final day. "Imagine this. Some of the participants who sent in video applications were too shy even to look into the camera. Seeing them so confident and passionate on that stage [on June 18] was very moving."
Going forward, the event founder says she is considering adding other elements to GEM Talks. She would like to create a network with alumni and add new skill workshops.
"High school level is a good place to start," Date explains. "They can really change the course of their lives and go on and become future leaders," she concludes.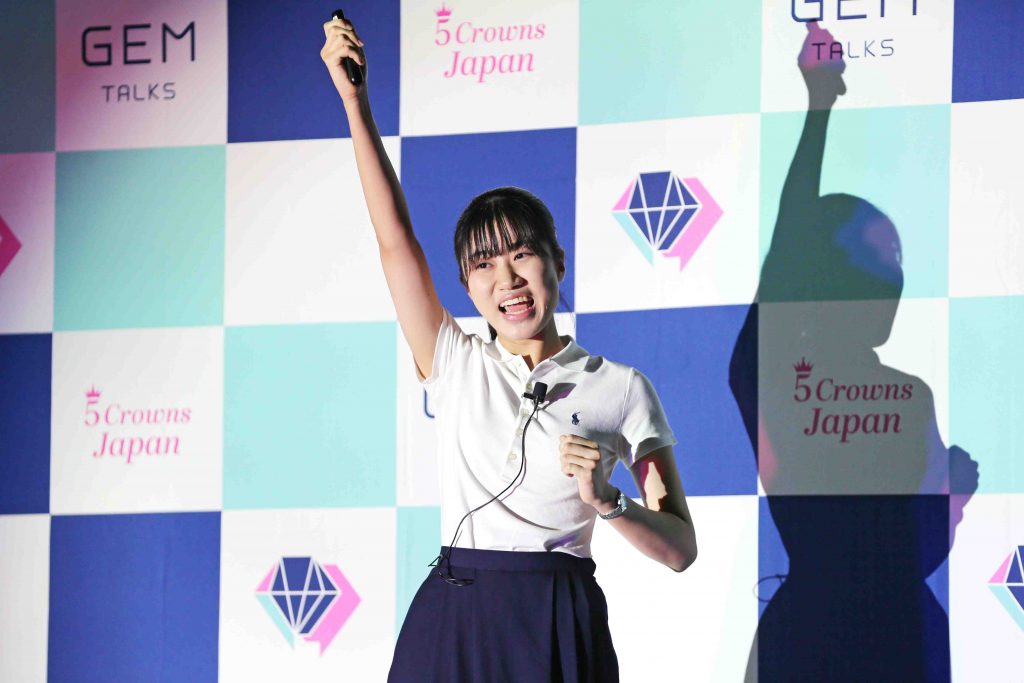 RELATED:
Author: Arielle Busetto