[FINISHED] Get Free Tickets to 'The Glass that Gallé Adored — Glass from the Qing Imperial Collection' Exhibition in Tokyo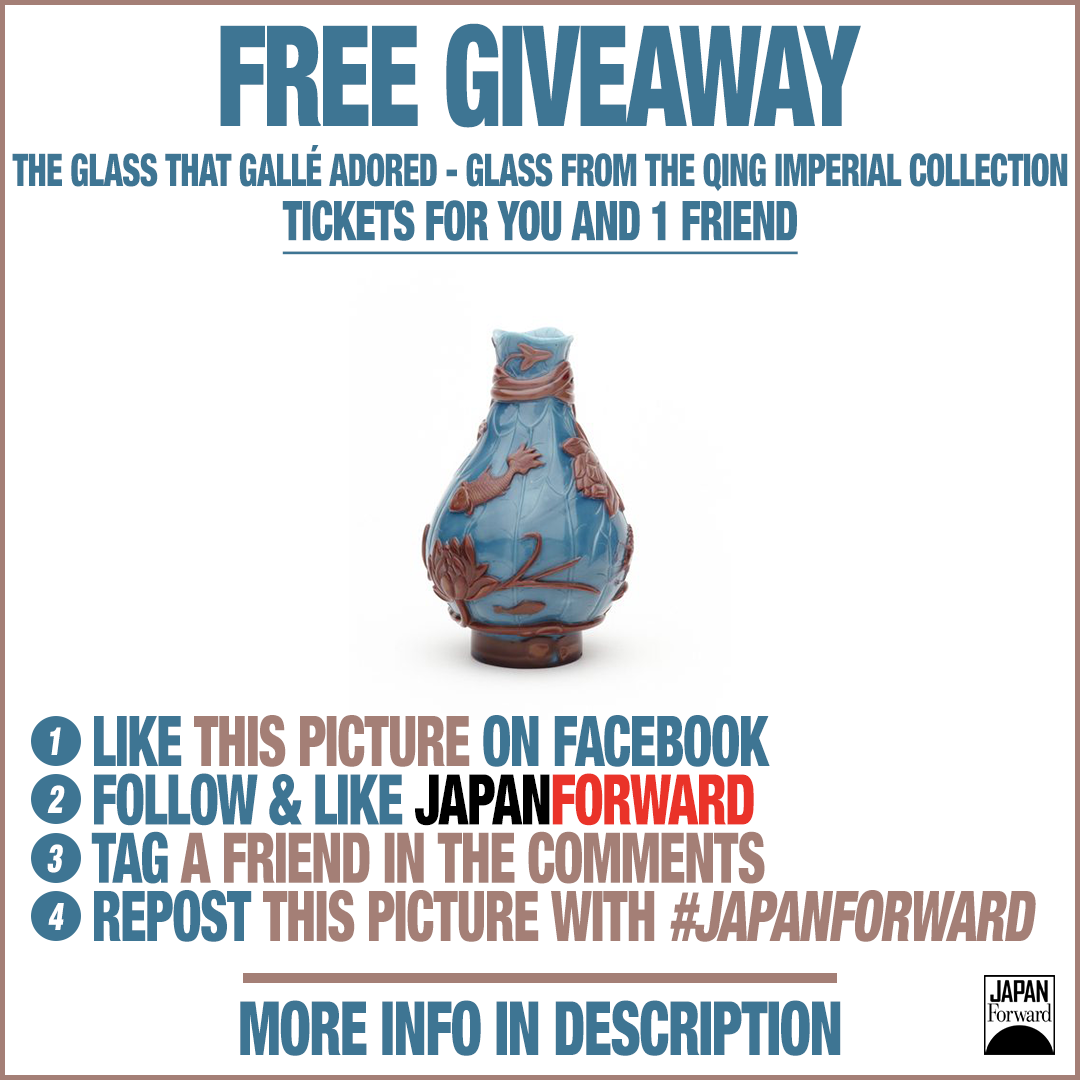 Vase with Reddish Brown Overlay on Blue Ground and Fish and Lotus Design
Inscription: qian long nian zhi
Qianlong era (1736–95), Qing dynasty
Victoria and Albert Museum, Salting Bequest, C.1525-1910
©Victoria and Albert Museum, London

This giveaway has completed. Congratulations to all our winners and good luck for our next giveway.
On April 25, The Glass that Gallé Adored—Glass from the Qing Imperial Collection opened at the Suntory Museum of Art in Roppongi.
JAPANForward is giving away a total of 10 tickets to the exhibition by picking 5 contestants who can each bring a friend along.
To join the competition right now, take these 4 simple steps:
1. Go to JAPANForward's Facebook page starting on Sunday, May 20, at 10 a.m. JST, and look for the giveaway photo above.
2. Like and follow JAPANForward.
3. Tag a friend in the comments of the giveaway photo post. This is the person you nominate to attend the exhibition with you!
4. Repost the giveaway photo on your own profile using the hashtag #JAPANForward.
The competition begins today Saturday, May 19 at 7 p.m. and ends Sunday, June 10 at 11:59 p.m. JST.
Winners will be contacted and announced the week of June 11. Good luck!
Terms and Conditions
You must reside or have an address in Japan to receive the tickets (2 tickets per winner) by mail.
JAPANForward will not pay any transportation fees to

Suntory Museum of Art

.
You can share the photo as many times as you like.
You must follow and like the JAPANForward Facebook page to be in the running for the giveaways.
Notes for Winners
Even with the special invitation ticket, waiting time could be up to 60 minutes to enter the museum.
The special invitation ticket is not for resale. The issue number has been registered.