[Hidden Wonders of Japan] Have You Seen a UFO Lately?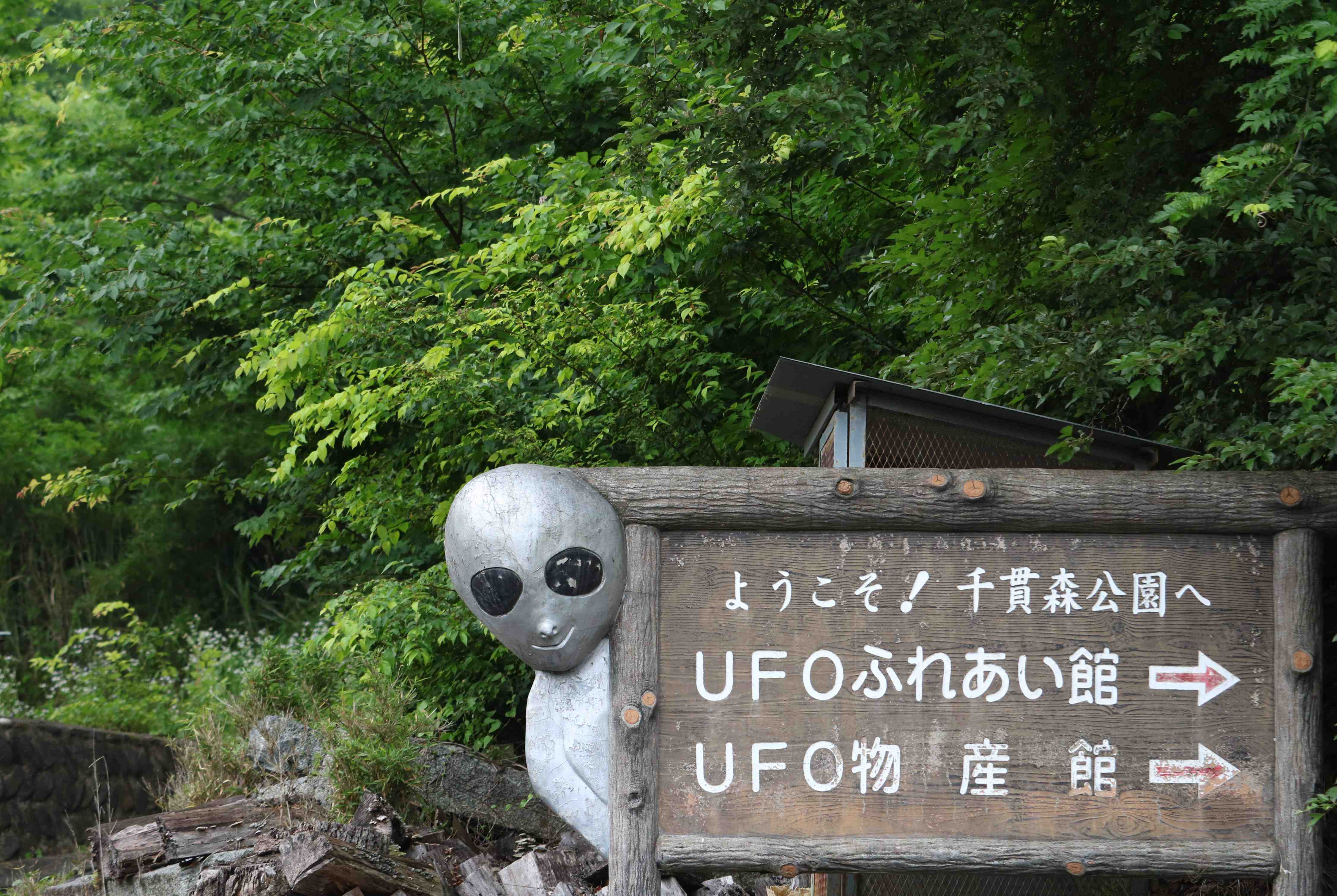 The buzz over whether a white object observed hovering in the skies over Miyagi and Fukushima Prefectures on the morning of June 17 was a UFO (unidentified flying object) or not is still fresh in our minds. When news like this gets around, a certain facility in Fukushima gets bombarded with calls about its identity.
That would be the UFO Fureaikan (UFO Friendship Center) in Fukushima's Iinomachi district, a museum dedicated to UFOs.
Thousands of UFO related materials, such as classified CIA documents containing records of UFO research, are archived at the museum. As one staff member succinctly relates, "The facility is the only one in Japan that has a collection of materials related to UFOs."
Encounter an Alien Street Guide
Traveling southeast from the center of Fukushima City on National Highway 114, the landscape gradually shifts from residential to a richly green region surrounded by mountains. After about 15 minutes on a 10-kilometer ride along a mountain road, I spot a slightly strange signboard that says "UFO-no-Sato".
Next, after getting off the highway and driving up a hill, I encounter an "alien street guide". Now, it is definitely getting peculiar. Set into the landscape as if it is a UFO that landed on the mountainside, an octagonal building enshrined on the grounds becomes visible just ahead.
The UFO Fureaikan is a public facility that opened its doors in 1992. Built by the town of Iinomachi with assistance from the "Furusato Sosei" fund, a regional development fund that granted 100 million yen to local governments throughout Japan in 1988, it became part of Fukushima when the towns merged In 2008. Today it is managed by the Iinomachi Promotion Corporation Ltd.
Plentiful UFO Sightings
So, why UFOs?
The museum is located halfway up a mountain called Senganmori (462m). Senganmori's distinctive feature is its beautiful pyramid shape, which can be viewed from all directions. As I start on the mountain trail in a light rain, the occasional gusts of wind make the tree leaves flutter. The sounds of the rustling leaves stir a commotion as I become immersed in the mysterious mood of the place.
Perhaps because of its mystical atmosphere, there is a theory that Senganmori is actually an artificially built ancient pyramid. Furthermore, there are stories of compasses not working in the area, and rumors that the mountain has a strong magnetic field.
These ignited the idea that it is a "UFO base," drawing attention throughout the country. The area is also said to have many reported sightings of unidentified flying objects.
Iinomachi's decision to focus on UFO's in the revitalization of the town is therefore quite natural. When I interviewed people on the subject in downtown Fukushima City, a woman in her twenties said with a very straight face, "Senganmori is no joke. They (UFOs) really show up in the area..."
An Authentic Collection
The museum houses exhibits on UFOs, their history, photo panels, and a 3-D virtual theater. There are a good number of interesting exhibits, including photographs and descriptions of famous UFO incidents. The 4,000 to 5,000 items in the museum's collection are quite authentic.
Roughly 3,000 of the items were donated from the collection of Kinichi Arai, a pioneer in Japanese UFO research and founder of Japan Flying Saucer Research Association (JFSA), which he established in 1955. When Arai passed away in 2002, the materials were transferred from a UFO library he had built in Gotanda, Tokyo. Famous writers such as Yukio Mishima and Shinichi Hoshi, were among the members of JFSA.
Especially noteworthy among the numerous pieces on display are the "classified CIA documents". Arai had obtained around 935 copies of the classified documents through an American acquaintance.
Bolstered by CIA Secrets
The contents of the documents are said to be detailed records of UFO sightings and research reports, including incidents such as one in 1969, when the U.S. president and more than ten other people with him witnessed a shining object just 100 meters away. Another is the September 1976 incident when a U.S. Air Force jet was unable to release a missile due to an instrument malfunction during an encounter with several UFOs flying over Iran.
Toshio Kanno, 70, director of Iinomachi Promotion Corporation, explains. "I believe the documents are real because there were what appeared to be seals and CIA symbols on them."
The full texts of the documents were on display for a limited one-day public viewing at the museum on June 24, which is World UFO Day. Although it was a weekday, more than 180 people showed up to view the exhibit, and some UFO enthusiasts were even seen translating the documents on their own.
Why June 24? Nearly three quarters of a century ago on June 24, 1947, American entrepreneur Kenneth Arnold claimed that while flying his private plane, he observed a "saucer-like" flying object. Later, the U.S. Air Force decided to call the flying object a "UFO" (unidentified flying object).
Mr. Kanno states that he was surprised at the sensation stirred by the display of the classified documents and says he hopes to plan more opportunities to exhibit them in the future.
Fun to Explore
Approximately 15,000 people visit the museum yearly. On the second floor, the museum offers a resting room and a bathhouse overlooking an amazing landscape that also serves as a popular relaxing spot for the locals.
"There are many ways, even for the non-enthusiasts, to enjoy the museum. There are those who deny the existence of UFOs and there are those who see the romance and dream in them. It's okay to have different opinions. Isn't that what's nice about it?" says Mr. Kanno.
Before leaving, I ask whether he has ever witnessed a UFO himself. Mr. Kanno firmly answers, "No, never." But then he adds, "I think they do exist. I believe in UFOs."
What is your hidden wonder of Japan? Submit your photo here.
(Read the original story in Japanese, here.)
Author: Nobuo Serizawa