[Hidden Wonders of Japan] Make Your Own Flower Paper-Inspired PPE Medical Gown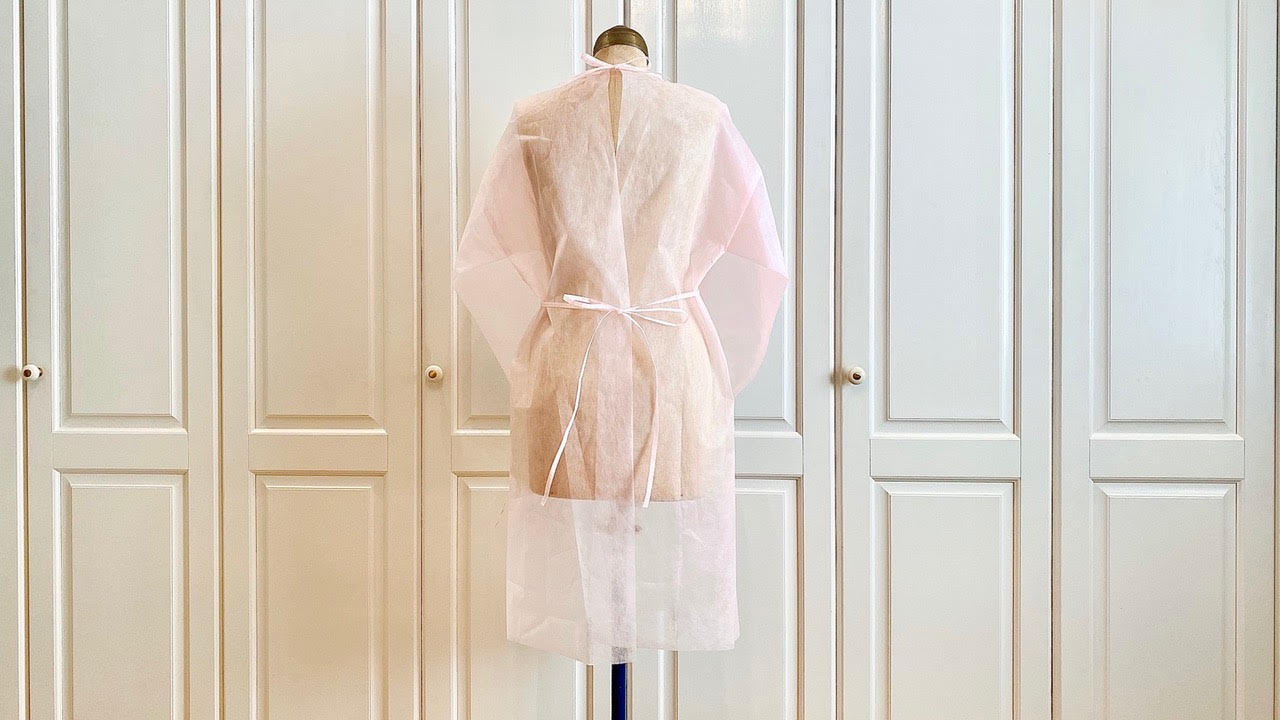 Why not add a little practical beauty to this worldwide fight against the novel coronavirus? Some countries are just now passing their peak; others are experiencing a second wave. A few have reopened local businesses and gradually resumed their pre-pandemic life, while finding a way to coexist with the virus.
Japan—globally recognized for having kept the number of cases and death toll fairly low—has just lifted the coronavirus state of emergency in 39 of the country's 47 prefectures, while encouraging continued self restraint. Other countries and regions around the globe are weaving through different phases of the pandemic, but the majority still share a common issue – the global shortage of personal protective equipment (PPE) in healthcare systems.
Meanwhile, there have been some novel approaches to solving the problem for healthcare workers in Japan. Akari Tsukiboshi, a dental hygienist in a family-owned dental clinic in Nagoya, Aichi Prefecture, says her clinic—like many others around the country—is facing a shortage in medical supplies. Her clinic was lucky enough to get a hold of face masks, but that was not the case for surgical gowns.
To protect the well being of their staff and for a safe work environment, she began to hand create surgical gowns out of polyester bonded fabricーbetter known as flower wrapping paperーand shared her tips in a how-to video online.
"I did a little research on my own before I started making my video as I had assumed that someone might have made a similar one already," she explained. "But the only ones I found were made out of garbage bags, and garbage bags are very hard to sterilize."
"I knew I would be able to come up with a slightly safer version of those gowns, and I thought that sharing how to make them online could also help everyone else in our field who is currently facing the same problem to feel safer at work, too," she continued.
The video goes into detail about the pros and cons of using polyester bonded flower wrapping fabric as the main material, explaining that it checks all the boxes for chemical resistance, heat resistance, weatherproof and water resistance. In addition, it can be sterilized and is practical. On the other hand, it is prone to static electricity and the fabric lacks breathability due to its water-resistant character, signifying that it could get hot if you keep it on for too long.
The cost of making one gown is around ¥150 JPY to ¥200 JPY ($1.40 to $1.85 USD) —similar to how much it would cost to buy them directly from a company that professionally produces medical supplies.
"I have the basics down, and it is nice to put them into use for a good cause—but in no way I thought it would be for a worldwide pandemic," she smiled.
As she hopes that her tips on handmade surgical gowns will support those who are doing their very best to allow essential medical services to stay open, she says that the clinic where she works is also applying all possible measures to run the business virus-free.
"Some of our countermeasures include asking patients to wash their hands and gargle prior to their checkups, self-report if they show any signs of fever, airing out the rooms, disinfecting chairs and door handles at least every 30 minutes, we got rid of magazines in the waiting room, changed the layouts for our waiting room chairs according to social distancing protocols, and cut back on the number of staff per shift," she said, describing how the virus has changed their operations.
However, Akari says she is also aware that there are people who believe that dental clinics should close, at least while the country is still under a state of emergency.
"It is understandable because no other job comes in so much contact with droplets and saliva" she said, "the biggest cause for contracting the virus."
"Yes, we know that closing the clinic would be the best solution. But for many, actually closing the clinic is easier said than done, especially considering that no one really knows how long this pandemic will last. I hope people understand that there are clinics out there who have no choice but to keep their business running, especially for the patients," she continued.
Amid the uncertainty of the outbreak, and as Japan's health ministry plans to allow dentists to carry out PCR tests, the handmade PPE gowns could be a life-saver for many of those working on the frontline against COVID-19.
Akari hopes that her video will help health workers in and outside of Japan to stay positive and safe, "because protecting yourself will ultimately help protect others."
What is your hidden wonder of Japan? Upload your picture here.
Author: Yukari Tanaka