HORSE RACING | Panthalassa Shines in Saudi Cup for Lucrative Payday
Sparked by a "perfect start," according to trainer Yoshito Yahagi, jockey Yutaka Yoshida and Panthalassa win the world's richest horse race.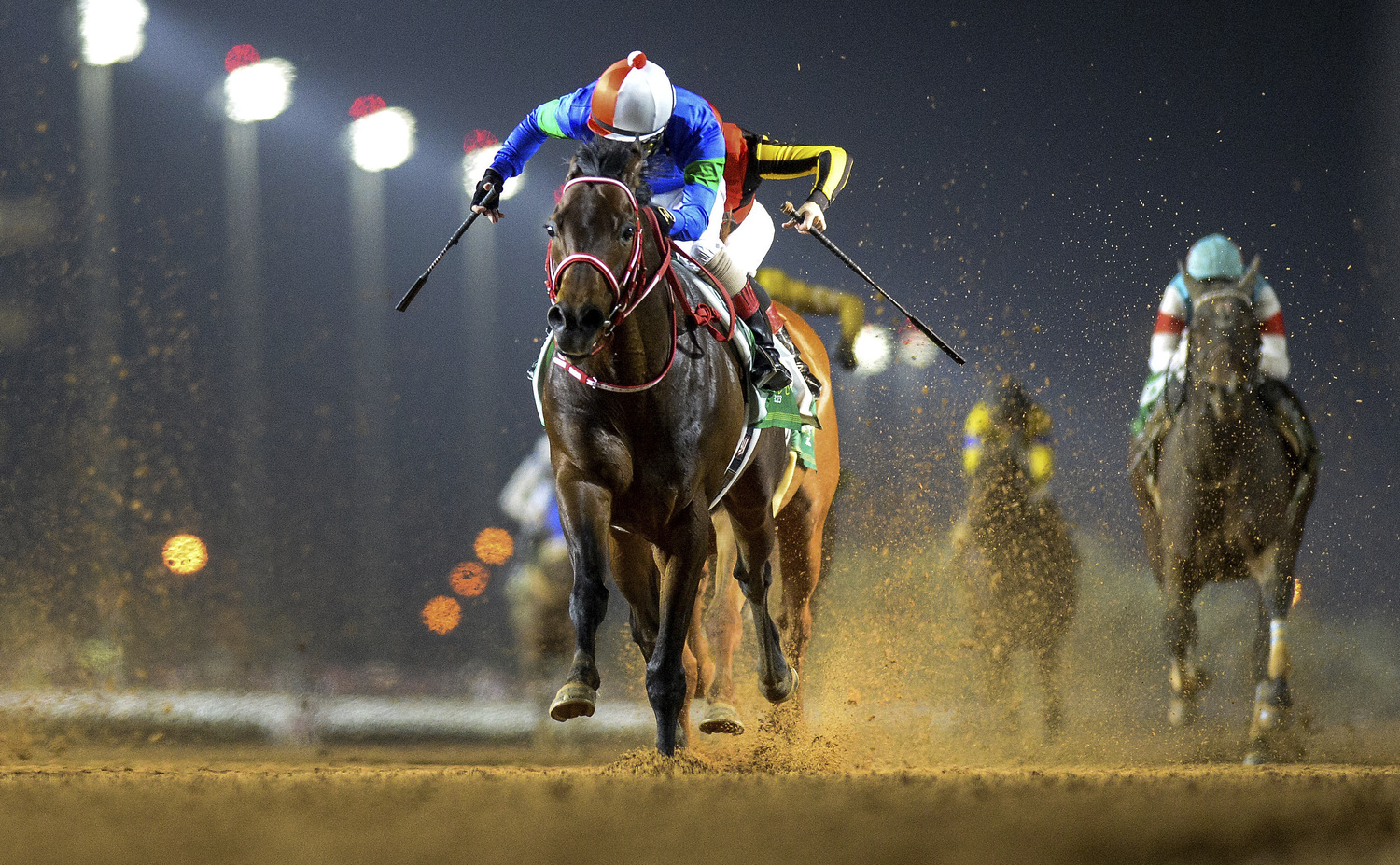 Panthalassa ran a brilliant race in the prestigious Saudi Cup on Saturday, February 25, leading from start to finish at King Abdulaziz Racecourse.

Yutaka Yoshida, Panthalassa's jockey, was thrilled with the outcome in Riyadh, where the 6-year-old thoroughbred recorded a three-quarter-length victory over Country Grammer, guided by Frankie Dettori, in the 1,800-meter Grade 1 race on dirt.

"Of course, they were coming for me in the straight, but Panthalassa always found another gear and so I kept riding," Yoshida told reporters after the race, one in which he, the Lord Kanaoloa-sired Panthalassa and trainer Yoshito Yahagi secured a $10 million USD (¥1.36 billion JPY) winner's check for Hiroo Race Co Ltd.
"It is an unforgettable moment and I am very happy to have ridden the winner."
The Saudi Cup is the world's most lucrative horse race with $20 million USD (nearly ¥2.73 billion JPY) in prizes handed out. It has been held annually since 2020.
Assigned the No 1 post for the 13-horse race, Panthalassa outclassed a talented field with a time of 1 minute, 50.79 seconds. Country Grammer, winner of the 2022 Dubai World Cup, had to settle for second in the Saudi Cup for the second straight year. (Check out the video of the race.)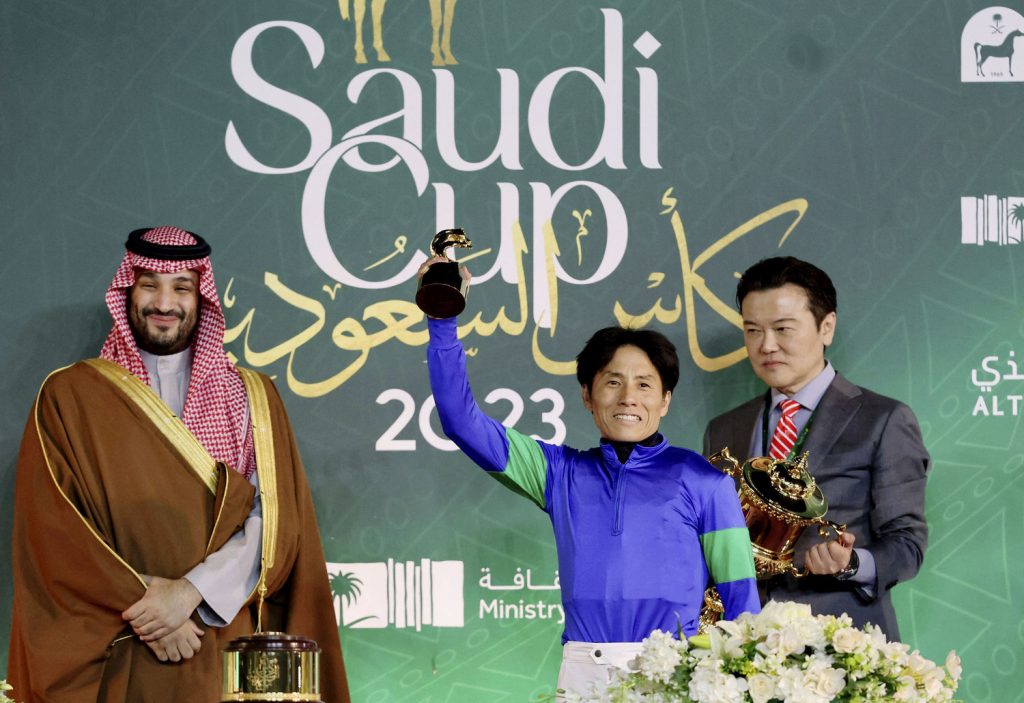 Other Japanese entrants included third-place finisher Cafe Pharoah (Joao Moreira's ride), Geoglyph (Christophe Lemaire), who was fourth, and Crown Pride (Damian Lane), who placed fifth, while Jun Light Bolt (Ryan Moore) and Vin De Garde (Mickael Barzalona) were seventh and 11th, respectively.
Race favorite Taiba, an American entrant, placed eighth.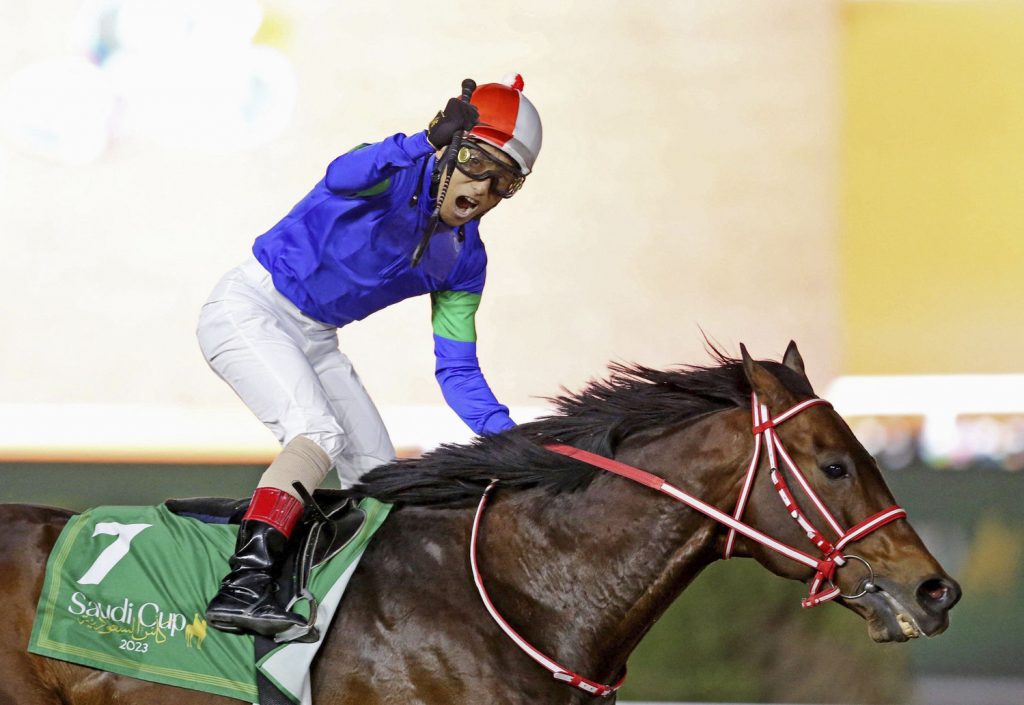 A Welcome Challenge for Panthalassa
In Japan, Panthalassa is a familiar name associated with turf races, having competed on grass in 23 of his 25 career starts. But challenging for success on the global stage ― on grass or dirt ― is Yahagi's persistent mission.
"You know this is not easy," Yahagi said after the race, according to The Associated Press. "Japanese racing tries everything to improve and develop."
Yahagi, the Japan Racing Association's winningest trainer in 2022, added, "Japanese horse racing has become more international."
In Panthalassa's most recent race, he placed 10th among 12 runners at the G1 Hong Kong Cup on December 11, 2022. Before that, he was the runner-up in the 2022 Tenno Sho (Autumn), losing the lead late to fast-charging Equinox on October 30.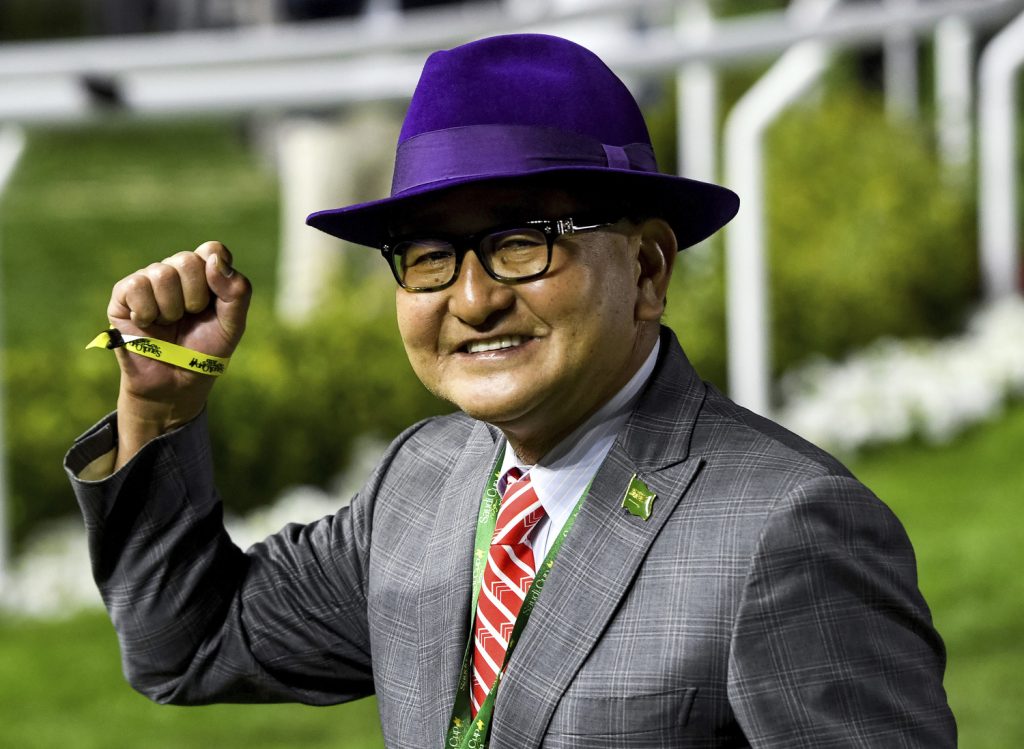 This time, Yahagi expressed complete faith in 47-year-old Yoshida and Panthalassa to get the job done.
"Panthalassa had a perfect start today," the trainer said. "I applaud Yutaka's jump, it was a masterful job from the jockey. When I drew barrier one I thought this was a big advantage to him, but it worked perfectly."
Comments from Other Participants
After placing third, 1¼ lengths behind Panthalassa, Brazilian jockey Moreira summed up Cafe Pharoah's performance this way: "The wide draw didn't help but I was able to get him into a position where he was inside and saving ground. He hit the line very strongly and we nearly won the race. I'm extremely happy with his run."
Lemaire said Geoglyph made a spirited attempt to win the race.
"He ran very well for a first try on the dirt," Lemaire said, "[and] he traveled comfortably and chased the lead smoothly. We came and attacked Panthalassa, but we couldn't get to him. It was still a very good run."

Vin De Garde's trainer Hideaki Fujiwara noted that his entrant encountered a learning experience in Riyadh.

"He got a lot of kickback on his first-time run on dirt and didn't move well," Fujiwara commented.

The trainer continued by saying, "He will run solid next time on turf in Dubai, which is where he likes."


Other Results at King Abdulaziz Racecourse
On a busy day of competition in Saudi Arabia, Japanese jockey Ryusei Sakai won the fourth of eight races on the docket, steering the Yahagi-trained and Kizuna-sired Bathrat Leon to a win by a head over Casa Creed (Luis Suarez) in the G3 1351 Turf Sprint.

On February 19, the 25-year-old Sakai and Lemon Pop triumphed in the first JRA G1 event of 2023, the February Stakes, at Tokyo Racecourse.
Six days later, after his successful performance with Bathrat Leon, Sakai said after the 1,351-meter race: "I am very grateful to the owner [Hiroo Race Co Ltd] and my boss, Mr Yahagi, and the connections who gave me the chance to ride here. My horse had the best run, he had a great trip."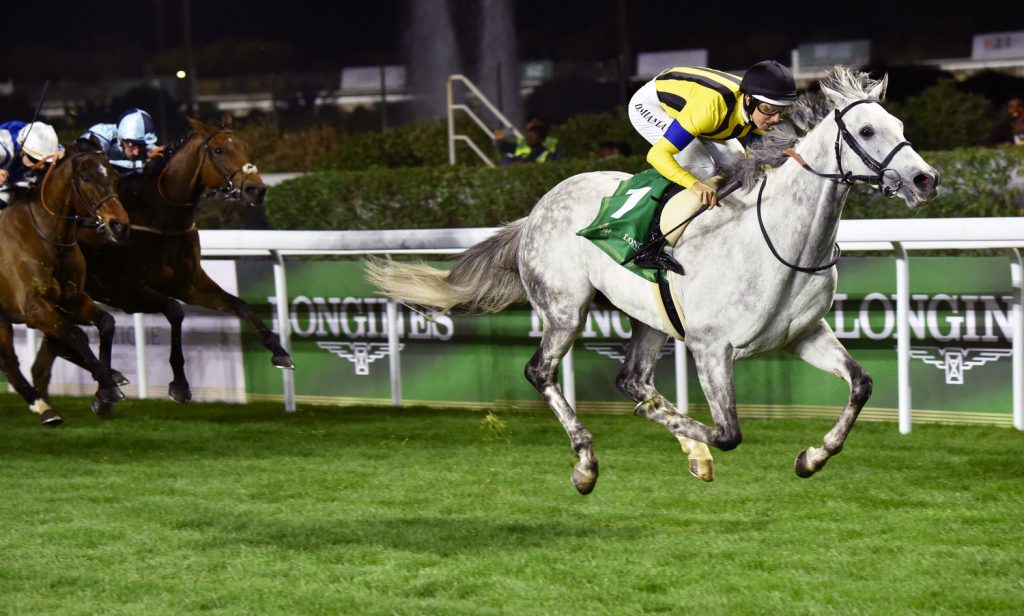 In the day's fifth race, Lane rode Silver Sonic to a 2½-length victory in the 3,000-meter G3 Red Sea Turf Handicap.

Fuma Matsukawa then earned a third-place finish aboard Derma Sotogake in the 1,600-meter G3 Saudi Derby. Commissioner King won the race, 1¾ lengths ahead of Derma Sotogake. Retiring jockey Yuichi Fukunaga, who rode Ecoro Ares, placed 12th out of 13 entrants.

In Saturday's penultimate event, the 1,200-meter G3 Riyadh Dirt Sprint, Fukunaga guided Remake to a distant third-place finish. Remake placed 5½ lengths behind the winner, Elite Power.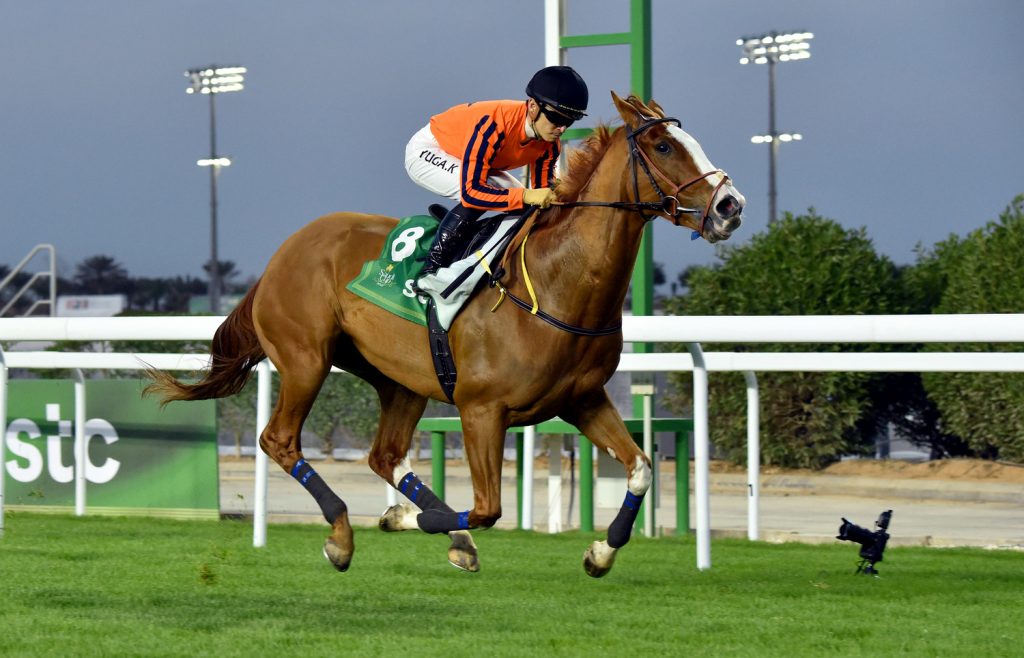 Success for Kawada
The two-day Saudi Cup extravaganza kicked off on Friday, February 24, with a full program of eight races. A four-race International Jockey Challenge was held among the day's activities. Yuga Kawada and British entry Starcat were victorious in the last of the four challenge races, holding off Luis Saez and Incumbent by 4¼ lengths in the 2,100-meter test of speed and endurance. (By placing first once and runner-up twice, Saez was crowned champion of the series.)

Visit the Saudi Cup website for full results of the two-day meet.
RELATED:
Author: Ed Odeven
Find Ed on JAPAN Forward's dedicated website, SportsLook. Follow his [Japan Sports Notebook] on Sundays, [Odds and Evens] during the week, and Twitter @ed_odeven.