Hostility Against Sankei Reveals Sinister Aspects of the Park Regime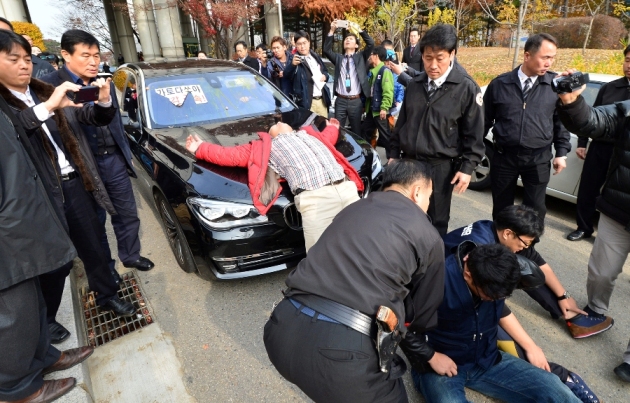 Protesters demonstrate in front of the vehicle carrying Tatsuya Kato, leaving the Seoul Central District Court after the first trial hearing on November 27, 2014 (Masazumi Onishi/The Sankei Shimbun)

The memo that Kim Young-han wrote concerning his duties as the Secretary to the Civil Affairs Chief in 2014 stated that the Sankei Shimbun would be disciplined or be punished. I remember clearly that, at the time, the Sankei Shimbun and I were the objects of the fierce resentment of the nerve center of the Korean regime.
It is not clear to what extent the memo reflected the intentions of President Park Geun-hye. However, the series of acts—including the investigation, interrogation, and prosecution by the Korean Public Prosecutors' Office—made it evident that this was an attack on media upon the direction of the regime as a whole. More than anger, this created a sense of fear.
Concerning the Secretary to the Civil Affairs Chief, the Executive Office of the President (the Blue House) is well known as the control tower or the master of the agencies of power. It operates to protect the regime, including the Public Prosecutors' Office, the Intelligence Agency, and the Police.
During the 8 months I was banned from leaving the country, I was always conscious of the shadow cast by the Police and the Intelligence Agency upon my daily life. The memo states: "A list must be made and intelligence gathered in order to carry out pursuit and make judgement" and "A team should be formed from the Police and the National Intelligence Service."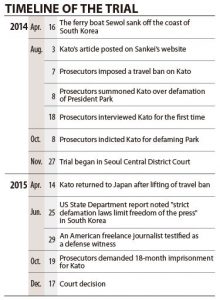 Does this mean that the Blue House created a network to monitor the Sankei Shimbun and me?
As government intervention became clear in the incident involving the defendant Choi Soon-sil, Ms. Park rarely revealed her thoughts to those around her. A handful of hangers-on speculated about her thoughts and appropriated power, saying, "It is Her Excellency's Wish." I wonder if Ms. Park gave the instruction to the secretary Kim to "discipline" me and my newspaper.
Moreover, the secretary Kim, who was familiar with investigations throughout his experience as a prosecutor, was distrusted by many countries for his violent prosecution of foreign correspondents. Wasn't he able to foresee that this would backfire on the regime? There is mystery, a sinister one, surrounding this disruptive and speculative regime.
Tatsuya Kato is the former Seoul bureau chief of the Sankei Shimbun. He is now senior staff writer at the Tokyo headquarters.
(Click here to read the original article in Japanese)