NOT GUILTY : Sankei Shimbun's Former Seoul Bureau Chief Wins Defamation Case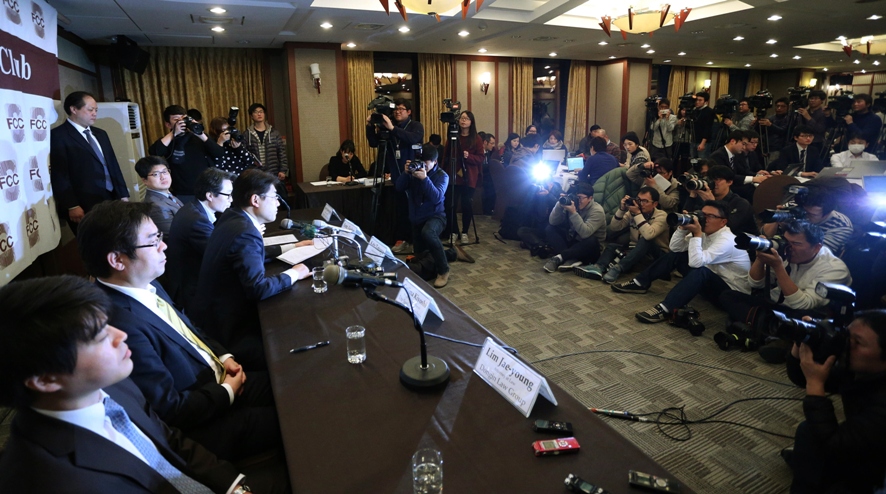 The Seoul Central District Court, led by the Presiding Judge Lee Dong-Keun, on Thursday, December 17th, 2015, handed down a not-guilty ruling for Tatsuya Kato, a 49-year-old former Seoul bureau chief for the Sankei Shimbun, who was indicted without arrest on a charge of defaming South Korean President Park Geun-hye in his article.
Prosecutors have asked for an 18-month prison term for Kato.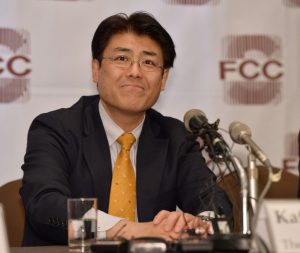 Kato's article with the headline "President Park Geun-hye went missing on the day of the ferry sinking....who did she meet?" was posted on the Sankei Shimbun website on August 3rd, 2014.
The article mentioned that on the day the Sewol ferry sank on April 16, 2014, killing more than 300 passengers, 1) there were seven hours during which the whereabouts of President Park were unknown; 2) there was a rumor that Park had a meeting with a former aide, Jeong Yun-hoe, during that time; and 3) it seems that the turning of the Park administration into a lame duck has advanced to the extent that such rumors of unknown authenticity get circulated.
In response to a complaint filed by leaders of right-wing groups that Kato had defamed Park, the Seoul Central District Public Prosecutor's Office indicted Kato without arrest on a charge of defamation of character under the Information Network Law (punishable by a jail term of less than seven years or a fine of up to KRW 50 million or about 5.3 million yen) for "spreading false facts with the aim of defaming Park" in October 2014.
In the public trial which began at the Seoul Central District Court in November 2014, Jeong and others appeared in court to refute the rumors. Presiding judge Lee acknowledged that "the rumors are false" in March 2015.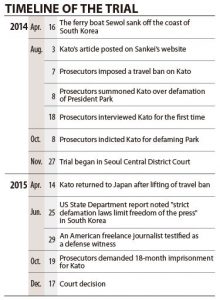 Followed by these activities, the trial's focus shifted to whether there was an intention of defamation. An American freelance journalist Donald Kirk, Yuichi Ueda, Seoul bureau chief of Nishinippon Shimbun newspaper, and Yasuhiko Tajima, a professor of media law at Tokyo's Sophia University appeared in court as defense witnesses, and testified that "Kato's article does not warrant a criminal prosecution."
Kato also emphasized that the article served the public interest in his final opinion statement, saying that "the movements of President Park on the day of the tragedy are a matter of concern, and I thought I should report it as a correspondent."
(Click here to read the article in Japanese)