How Many Escalators Does a King Need in His Luggage?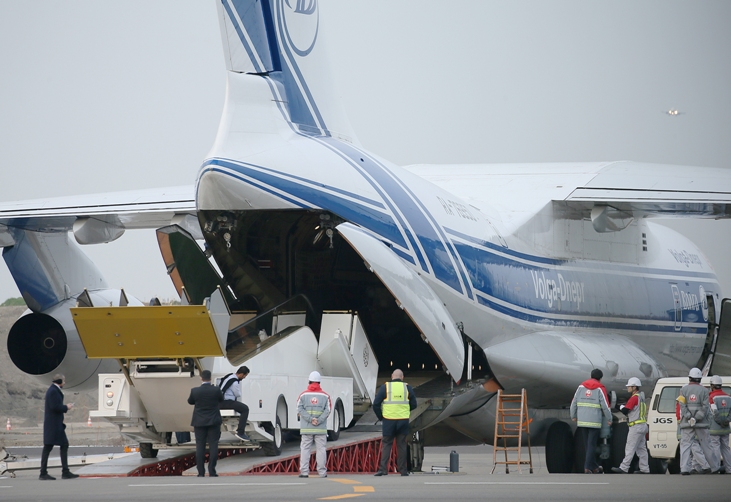 King Salman bin Abdulaziz al Saud, the leader of the royal household of Saudi Arabia, will arrive for a four-day visit to Japan on March 12. It will be the first time a Saudi king has set foot on Japanese soil since 1971, a period of 46 years. The King's visit, and his pronouncements on Saudi-Japan relations and the state of world affairs, are naturally drawing the attention of those in political and financial circles. But the focus is elsewhere, too, as the leaders of the world's largest oil-producing country plan their outlandishly extravagant visit to the Far East. Before arriving to Japan, King Salman will visit Malaysia, Indonesia, and Brunei. The BBC reports that the king touched down in Indonesia accompanied by 459 tons of luggage—including his private escalator.
The preparations for receiving the King on his Japan visit are proceeding apace. A source involved in the visit tells the Sankei Shimbun, "We have already reserved 1200 rooms at the most luxurious hotels in Tokyo" to accommodate the multiple cabinet ministers and princes that will accompany the Saudi King on his trip. His visit to Indonesia will include approximately 1500 other people. This number will likely get even bigger when one includes the members of the King's retinue that are also coming.
Outwards signs of these preparations were seen just after 3:00pm on March 5 when a Russian cargo plane chartered by the Saudi Arabian government landed at Haneda Airport. There were just a few people in the aircraft staging area as an escalator-style airplane gangway was unloaded out of the Russian plane's rear cargo hatch—an indispensable part of King Salman's equipment whenever he travels by air.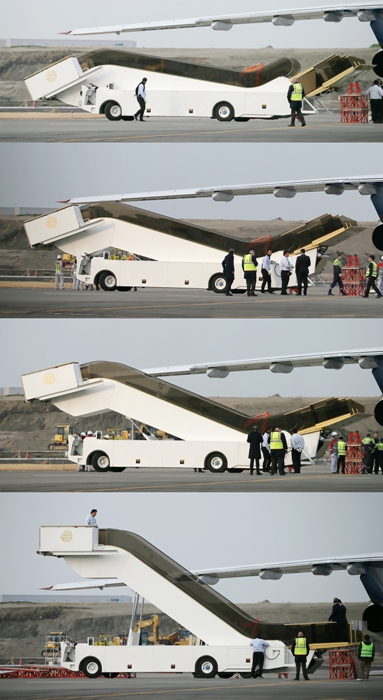 Officials with the Saudi government contacted Japanese authorities in advance of the King's arrival, asking "Do you have any movable gangways in Japan?" King Salman is 81 years old, and the greatest care is required during his tour. When it became clear that the Japanese side would be unable to provide the necessary escalator-type gangway, the Saudi government decided to bring their own.
An official with the Ministry of Foreign Affairs has said that specialists in Middle Eastern diplomacy have come to expect that when the royal families of the oil-rich Arab countries travel abroad, they do so with enormous numbers of attendees. But King Salman's Japan visit is breaking the mold even of this tradition of grand phalanxes of fellow travelers. Last September, the King's son, Deputy Crown Prince Mohammad bin Salman Al Saud, visited Japan. On that trip, he brought a group of around 500 people traveling in 13 separate planes and renting out some 200 private cars and buses.
A Japanese government official says that it is impossible to know exactly how many Arab royals will come at one time until shortly before they actually arrive. But it is expected that the King's entourage will arrive aboard as many as 40 airplanes, and arrangements have been made to hire more than 400 vehicles to transport the group once they are one the ground. A member of the car rental industry says that the Saudis have requested only high-end cars: Mercedes Benzes, BMWs, Lexuses, and other top brands. There were not enough of these in the Tokyo region, so it was necessary to expand the search all the way south to Nagoya, Gifu, and beyond.
If King Salman is spending this much money in order to visit Japan, he's probably interested in more than just a housecall. Japan depends upon Saudi Arabia for more than 30 percent of its crude oil imports and the two countries have long maintained cordial relations. The proactive approach to interactions with Japan has been especially pronounced since King Salman acceded to the throne in January 2015.
When Minister of Economy, Trade, and Industry Hiroshige Seko visited Saudi Arabia in October 2016, he and other Japanese government officials were shocked to receive the following message from the Saudi side while adjustments were being made prior to the Japanese visit: "King Salman will meet with Mr. Seko four days from now." It is doubly unusual that the Saudi king should engage in direct talks with the ministers of a foreign country and typically audiences with the Saudi king are not confirmed until the day on which they are to be held. One top Ministry of Foreign Affairs official says that the deviations from standard practice are proof that Saudi Arabia is placing a greater emphasis than before on its relationship with Japan.
Saudi Arabia's increased interest in Japan stems from its expectation that Japan will cooperate in the policies advanced by Deputy Crown Prince Mohammad bin Salman Al Saud designed to free Saudi Arabia from its dependence on oil production. At the cabinet-level council established when Crown Prince Mohammad visited Japan last September, it was agreed that Japan and Saudi Arabia would work towards cooperating in five different areas, such as personnel development, joint research, and environmental improvements, all aimed at promoting economic exchange between the two countries.
In his extended Asian travels, there are hints of the King's shrewd plan to benefit Saudi Arabia. When King Salman concludes his trip to Japan on March 15 he will proceed to China. President Xi Jinping visited Saudi Arabia in January 2016 and has been working to strengthen ties between his kingdom and China. If King Salman can help Japan and China compete with one another, then he may be able to extract the reward of greater cooperation from them both.
Koji Sugimoto is a senior political writer for Sankei Shimbun. Fumie Oyama is a photographer for Sankei Shimbun.