How to Shoot Breakdancing with Hasselblad Cameras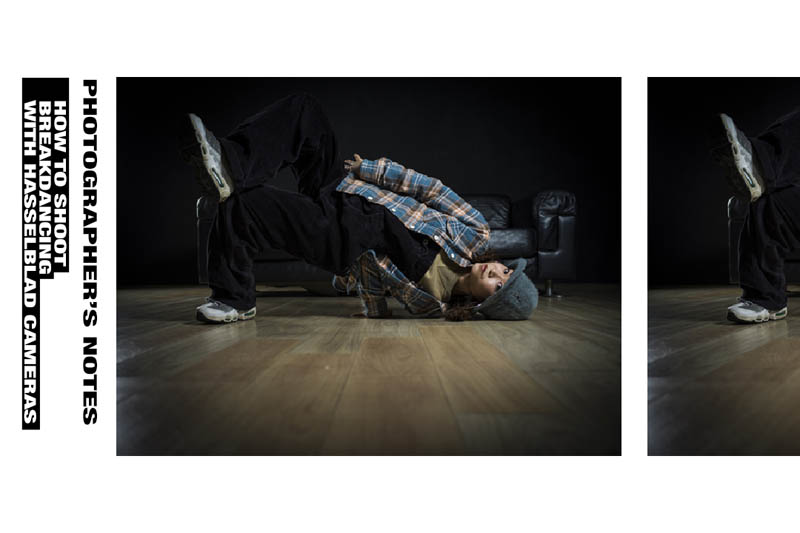 One of the best ways you can improve any skills you might have is by teaching those skills to other people.
Through teaching, you are forced to re-examine your own abilities, which in itself can be a very much-needed reflection on yourself as a professional in your given field. This is why I have always enjoyed every opportunity to hold photography workshops over the years, and plan to continue to do them as time goes on.
My latest workshop was with the amazing people at Hasselblad Japan, at their location in Harajuku, Tokyo. If you are in Harajuku and into cameras, I highly recommend checking out their store. Lots of cool stuff on display, and they have various photo exhibitions on frequently throughout the year.
The theme of the workshop was shooting breakdance with the new Hasselblad X1DII, a medium format camera that is actually about the same size as many mirrorless cameras on the market. I do not use medium format cameras in my general work, so I was excited to see what we would be able to create with the X1DII during our short workshop sessions.
Action Shots: Each Sport Has Its Own Timing
To start the workshop, I gave a short history of my work as a photographer, and talked about various concepts I keep in the back of my mind while shooting. These are very basic concepts, such as when to shoot vertical or horizontal, and how that changes your images. When to position yourself above or below your subject (I am a "lay down on the ground as much as possible" photographer myself many times), and the huge importance of timing in action sports photography.
As most of the people in attendance did not actually shoot action sports, I felt this was a really important aspect to understand. Each sport has its own timing, and it is crucial to understand this when shooting or you will never really get amazing action sports images.
Once all the talking was done, it was time to start shooting. As I wanted to give those in attendance as much time to shoot with the X1DII as possible, I made sure to limit myself and show what I would do when only given 15 minutes or so to photograph someone.
Easing In with Portraits
In these kinds of quick situations where I am using flashes (this time we had two Broncolor Siros L 800s to work with) I always start with portraits before action shots. The main reason for this is I want my subject to be able to relax while I still dial in the flashes.
This can sometimes take a few minutes, and result in several unusable shots. But if the subject is just relaxing, I don't mind using this time. If I was to start off with action right away, it could end up wasting a lot of the subject's energy and result in fewer opportunities overall during the shoot.
For this workshop I was blessed to have my good friend B-Girl Ayu join us as our model. As you can see from the pictures, she has a great B-Girl style and is always a pleasure to work with.
Once I had the flashes locked in, I started to shoot. The Hasselblad lenses I was using were all prime lenses, so no zooming, only moving. I love shooting portraits this way, though, as it forces me to move around and be creative with a space in order to get a wide variety of images in a short time. And, thanks to B-Girl Ayu, every shot was a winner.
Taking Action Shots
Now that we had our portraits in the bag, it was time to get some action shots, and this is where the X1DII shines — even though it is a medium format camera.
Traditionally, it can be very difficult to get good action shots with medium format cameras for a variety of reasons. But I found it very easy with the X1DII. The leaf shutter allows native flash sync up to 1/2000s, and there is no delay between hitting the shutter button and taking the picture, unlike other high-end medium format cameras on the market today. Thanks to this, it was a breeze to get the perfect timing and really freeze the action on all our shots.
Once my 15 minutes was up, it was time to pass the camera to the people in attendance. And this is really my favorite time of these workshops. I love helping people create an amazing image, something they may have never been able to take before, and walk out with a big smile on their face.
As the X1DII is actually super intuitive to use, this part of the workshop was not so much focused on how to "use" the camera, but how to shoot a cool breakdancing image. It was really fun to see how each photographer had their own ideas and how I was able to help mold those ideas into a cool image in the end. And to see their eyes light up when looking at the back of the camera is always a treat for me.
I think everyone really enjoyed the opportunity to photograph B-Girl Ayu, and to try using such a wonderfully simple yet amazing camera.
The X1DII's Real World Performance
After using the camera in a real world situation, I have to say it has greatly piqued my interest in medium format cameras, and the X1DII in particular. With only 2.7FP, it might not be the most practical camera to use at many of my action sports events, where I often need to shoot using 11FPS. But for slower sessions with flash where I can take my time and have control over the environment, I think it would be an amazing addition to my photo kit and something I am seriously considering investing in in the near future.
Finally, I would just like to say a big thank you to Hasselblad Japan for this amazing opportunity; to B-Girl Ayu, for your amazing skills and talent; and to everyone who was able to make it to the workshop. I hope to see you all again, and that I was able to inspire you and help you along your photographic journey.
Photographer's Information on the Shoot
Photographer: Jason Halayko
Model: [B-Girl Ayu]
Place: [Hasselblad Japan - Harajuku]
Camera: [Hasselblad X1DII]
Shutter speed: [1/2000]
Flash: [Broncolor Siros L 800s]
Author: Jason Halayko