INTERVIEW | UNIQLO's Future Is Here, and It's About Digital Retailing, Says Tadashi Yanai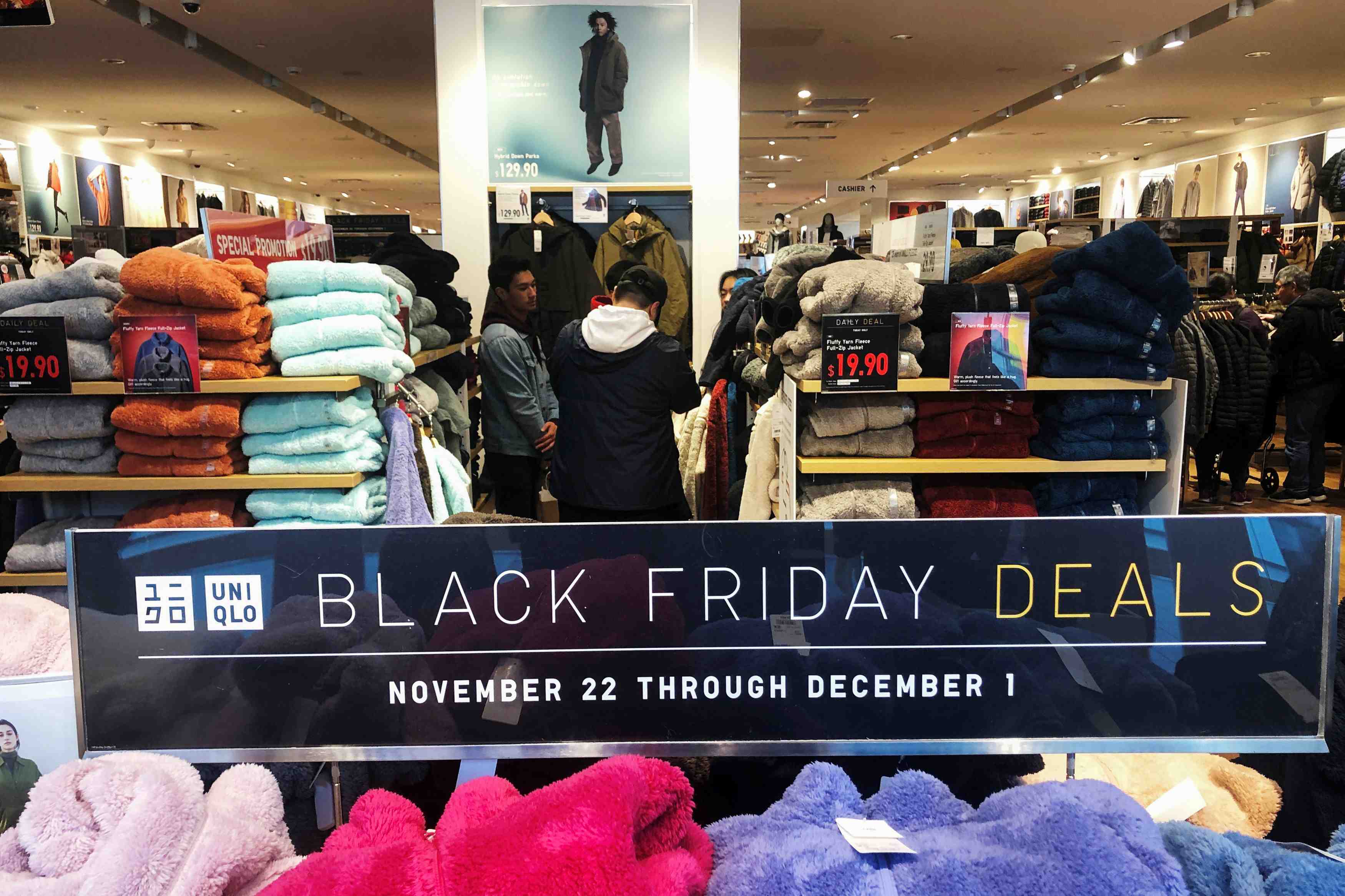 Uniqlo store during the Black Friday sales event, Garden City, New York, U.S., November 29, 2019. REUTERS/Shannon Stapleton
(Fourth of 5 Parts)
Part 1: INTERVIEW | From Hiroshima to the World: Tadashi Yanai on the Secrets of UNIQLO's Success
Part 2: INTERVIEW | UNIQLO's Tadashi Yanai on His Father, His Sons, and the Clothing Business
Part 3: INTERVIEW | Ultimate Goal: Make UNIQLO Asia's 1st Global Clothing Company — Tadashi Yanai

Fast Retailing Co. and Uniqlo have grown exponentially in the last few years, and had to change with that growth. Among the more simple changes to understand is the recent move of the company headquarters — along with about 1,000 employees — to the 6th floor of a warehouse in Ariake. Part of that is for the company's work on a new retailing project.
In the excerpts below of The Sankei Shimbun and JAPAN Forward's interview with Uniqlo founder Tadashi Yanai, we ask him what digital retailing is all about, whether there's a role for AI in the future and his secrets to keep the company moving forward so successfully in this dynamic, global environment.
How do you manage to make sure your company stays up with the times?
We've made changes in our company's structure to become a flat organization of small teams. We can now make rapid judgments, rapid decisions, and take rapid action in our work. And we're starting to see results in a variety of areas.
National borders, and borders between industries and companies, are disappearing in this modern age, as people, things, money, and information are more closely connected than ever. The development of IT has brought about an information revolution.
We relocated our headquarters and launched our "Ariake Project." Over these last two years, we've come about a third of the way up the mountain, but still have a long climb ahead.
Please tell us about the "digital consumer retail company" you are aiming for in the Ariake Project?
When people buy things, including clothes, they first get information. They read the paper, ask friends for advice, or look online. Information is the starting point.
The question of where to go to buy things is also information. That's why all information must be linked.
Customer needs and what will sell is all information. We try to get this information as quickly as possible and use it to make our products. We also have to deliver information on our products both before we sell them and while we're selling them.
In the summer of 2019, you launched a joint information-related project with U.S.-based tech giant Google.
Yes, it's part of the Ariake Project. We partnered with Google because they have global information. Most people don't think about information, but I knew that it was best to team up with a company that has it.
We can quickly find out what colors and silhouettes will come into fashion using big data and massive-scale image analysis.
Meanwhile, we can make efficient use of enormous amounts of information possessed by Uniqlo and GU (our low-price brand) to design products our customers want and efficiently execute highly precise business plans.
The ultimate goal of becoming a "digital consumer retail company" is to eradicate waste by ensuring we make, transport, and sell only what is necessary.
How do you use IT for production management?
Because unit sales for Uniqlo and GU are so high, we have to supplement during seasons with additional production. Decisions on the timing of additional production significantly impact our business. If too late, additional production results in lost sales opportunities.
With the Ariake Project, we have improved the accuracy of sales predictions and reduced the time between design and production. We've also shortened production lead time (time between orders placed and received).
Revolutionizing our logistics has solved problems like these. We'll be stepping up new programs in artificial intelligence (AI) and algorithms in the near future.
I'd like to hear more about how you are "revolutionizing logistics" to create a seamless supply chain from factory to warehouse to store.
One major achievement that has come out of the Ariake Project is the revolutionizing of our logistics. We've collaborated with Daifuku Co., a major Japanese manufacturer of material-handling equipment, and in less than two years have installed the latest in automated equipment and systems in our Ariake Warehouse.
The Ariake Warehouse, which became fully operational in the autumn of last year, is Uniqlo's automated warehouse used exclusively for online shopping.
This is just the beginning of revolutionizing our logistics in the Fast Retailing Group. Because all of our products have IC tags, all work processes that take place at the Ariake Warehouse — from unloading and sorting to extracting products and inspection — is carried out almost entirely by automation. Products are shipped within an hour of receiving orders, solving the problem of delays in shipping due to personnel shortages during busy times.
We plan to invest a total of about ¥100 billion JPY over the next three years to introduce automated warehouses at Fast Retailing locations around the world.
Every year on New Year's Day, you send an email out to all employees in multiple languages, sharing a theme for the coming year. Did you do it this year, too?
This year I wrote about changing our ways of working. We already have the tools, like smartphones and IT. So now we have to focus on how we use them.
We have to change our work — all of it. We should do tomorrow's work today. What do you think we could do tomorrow, we can already do today.
Smartphones have brought our daily lives into a super-information society. Fifth generation (5G) mobile communication systems are coming. Semiconductors will be in everything, and everything will be online. Maybe even in the human brain?!
(In Part 5: Mr. Yanai talks about playing a role in the opportunities at hand for Asia.)
Interview by: Hideki Yoshimura, The Sankei Shimbun