[ICE TIME] Ilia Malinin a Clear Favorite for Title at US Championships
The only skater who has ever landed the quad axel, the 18-year-old Ilia Malinin finished third at the 2022 Grand Prix Final in Turin, Italy.
Read the full article on SportsLook - [ICE TIME] Ilia Malinin a Clear Favorite for Title at US Championships
American Ilia Malinin, who finished third behind Shoma Uno and Sota Yamamoto at the Grand Prix Final in December 2022 in Italy, will attempt to win his first senior title at the US Figure Skating Championships in San Jose, California.
Other contenders competing for the men's crown will include Camden Pulkinen, 2020 bronze medalist Tomoki Hiwatashi, Jimmy Ma and Liam Kapeikis.
Malinin, 18, sounded ready and confident in a recent conference call with the media ahead of the event. The men's competition will get underway on Friday evening, January 27 with the short program at the SAP Center, home of the NHL's San Jose Sharks.
"I'm definitely preparing and always making sure that I'm healthy and that I'm staying on track practicing my program and everything is going to plan," he stated.
Malinin, who is based in Vienna, Virginia, was asked about his recent trip to California to work with coach Rafael Arutunian and choreographer Shae-Lynn Bourne.
"My main focus going into that week in California was to look at the programs just to see if everything is working out," Malinin commented. "With Shae-Lynn, we did a little bit of some corrections in the programs just to make everything feel a lot more fluid and more comfortable for me."

He added, "With Raphael, we did a lot of work technically and just a lot of focus on jumps and mental training to be prepared for nationals."
Malinin is using "I Put A Spell on You," for his short program this season and "Euphoria" for his free skate.
Beijing Olympic champion Nathan Chen won the last six titles (2017-22) at the US Championships, but is taking this season off to focus on his studies at Yale University.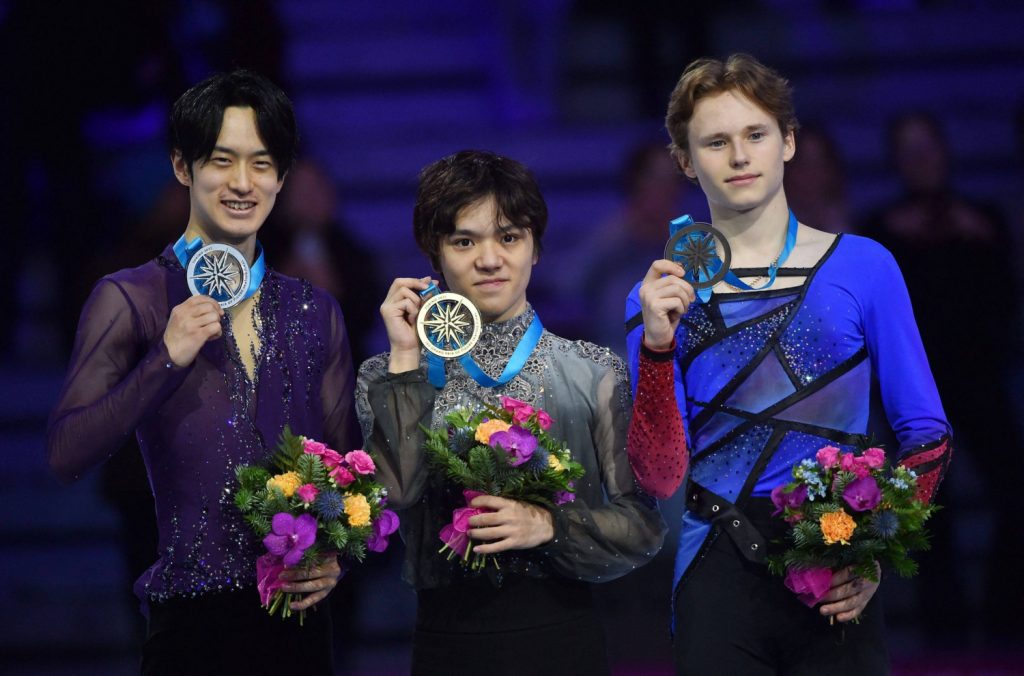 Grand Prix Final men's champion Shoma Uno (center), silver medalist Sota Yamamoto (left) and third-place finisher Ilia Malinin. (Massimo Pinca/REUTERS)
Ilia Malinin Draws Inspiration from Chen
Malinin talked about his admiration for Chen after seeing him train up close.
"When I visited him when he was preparing for worlds, I've seen how much he was putting into practice," Malinin remarked. "He was doing a lot of programs and he was working as hard as possible just to perfect every little detail.
"I'm feeling like I took inspiration from him and I'm trying to focus that on myself, especially even with these next years just to make sure that I'm picking every detail that I need to work on."
Malinin made history when he successfully landed a quadruple axel at the US International Figure Skating Classic in September 2022. He was questioned on whether the jump has become a burden for him.
"I think some people might think that, but to me my priority is to just focus on what I have been practicing and stick with what I have been doing," Malinin noted.
He continued by saying, "I am planning to attempt it there (at the US Championships), but again it all depends on the situation. It's always a huge risk to go for it when I'm not feeling my best.
"My main focus is to prioritize the rest of the program, just to stick with making sure that everything else is consistent and as clean as possible," Malinin continued. "We will see how that week goes with all the practices, and hopefully I'll be feeling pretty confident going into the free skate."
Read the full story on SportsLook.
Author: Jack Gallagher
The author is a veteran sports journalist and one of the world's foremost figure skating experts. Find articles and podcasts by Jack on his author page, and find him on Twitter @sportsjapan.