[ICE TIME] Janet Lynn Reveals the Story Behind Her Iconic Smile at the Sapporo Olympics
Decades after slipping and earning the bronze medal, Janet Lynn said she found peace on the ice and delivered a performance that still resonates 51 years later.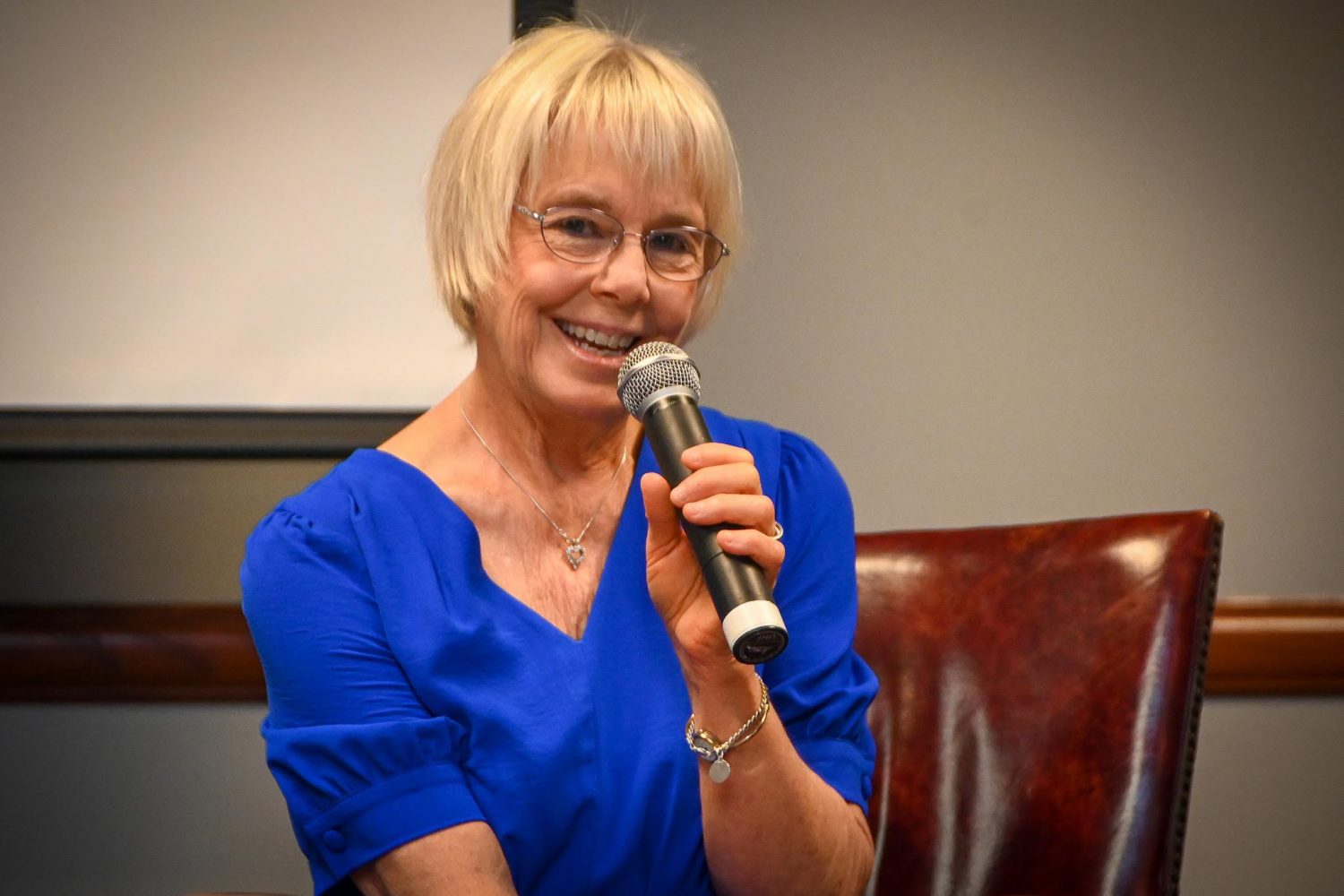 Sometimes in life, things line up just the way you want, which was the case when skating legend Janet Lynn returned to her hometown of Rockford, Illinois, to speak at the Midway Village Museum about her life and skating career.
When Ice Time learned that Lynn, who has stayed out of the limelight since retiring from pro competitions and shows decades ago, would be appearing on June 10, I took it as an opportunity. I sent an email to museum executive Alex Gary requesting that he ask Lynn about her enduring popularity in Japan more than 50 years after she earned the bronze medal the 1972 Sapporo Olympics.
After Lynn's 90-minute presentation at the museum, she sat down for a question-and-answer session. Gary moderated the Q&A and opened it by asking Ice Time's question. Lynn then proceeded to give an emotional five-minute response that revealed the true story about a moment that is etched in time in Japanese skating annals.
Janet Lynn, a five-time US champion and two-time world medalist, is now 70. But in the minds of a great many Japanese people, she is still the 18-year-old blonde with the pixie haircut that flashed a smile after falling on a sit spin in Hokkaido.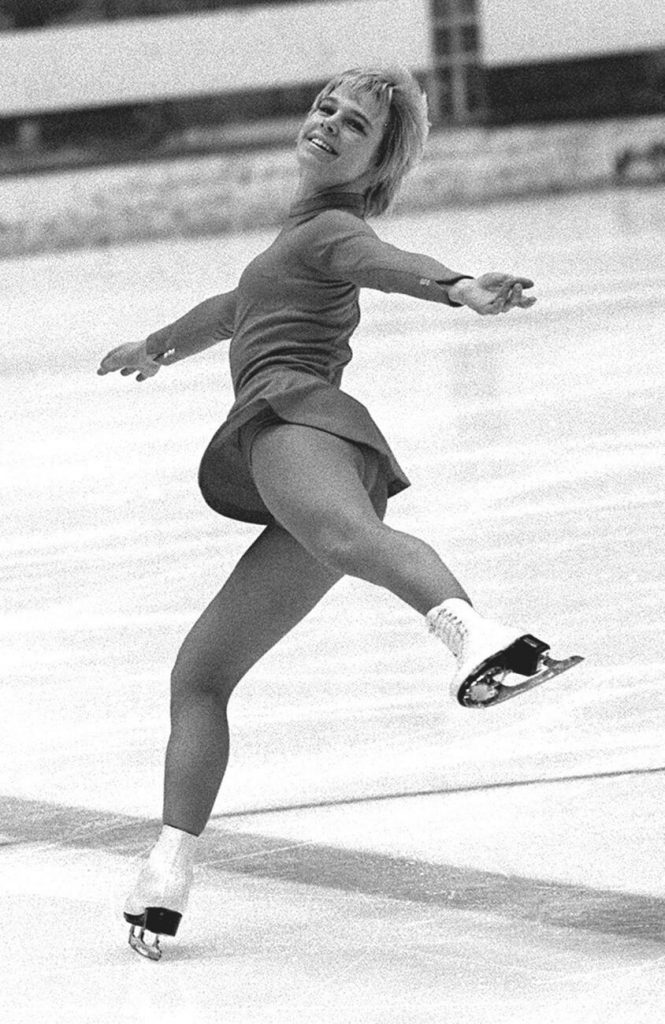 Janet Lynn: One of the Favorites to Win Gold in Sapporo
After finishing ninth at the 1968 Grenoble Olympics, Lynn came into the Sapporo Games as one of the favorites for the gold medal. She had just won her third straight US title and hoped to follow Peggy Fleming, who won the gold in France, as the next American Olympic champion.
Lynn was in fourth place following the compulsory figures (which the ISU eliminated in 1990) behind Austria's Beatrix Schuba, American Julie Lynn Holmes and Canada's Karen Magnussen.
Despite winning the free skate, Lynn was only able to move up to third and claim the bronze. But in the final analysis, it hardly mattered, and Lynn, who is a devout Christian, explained why.
"I was completely surprised by the response of the Japanese people to me," Lynn stated. "The story behind it was that when I competed in that final competition, I was pretty sure I could not win the gold medal. At the Olympic Village I was crying, it had been my goal, and praying. I asked God why it turned out this way. In my mind, something shifted during that prayer.
"What shifted was that it no longer mattered if I won or even won a medal," Lynn continued. "The only thing that mattered to me at that point, was to go and try to show God's love through that performance. That was what was in my heart and spirit when I stepped onto that ice."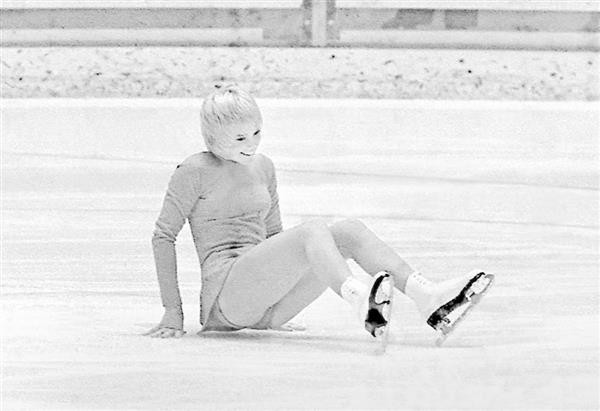 Reaction to Her Fall
Lynn then spoke about the reaction to her fall in the free skate.
"I have been back to Japan many times after that," Lynn noted. "Immediately after that performance when I fell, it turns out that I smiled while I was sitting on the ice, and the Japanese press and Japanese people could not understand why.
"They started asking me then how I could do that, and it was because of how I had been trained, but also because of the purpose I had made for that performance."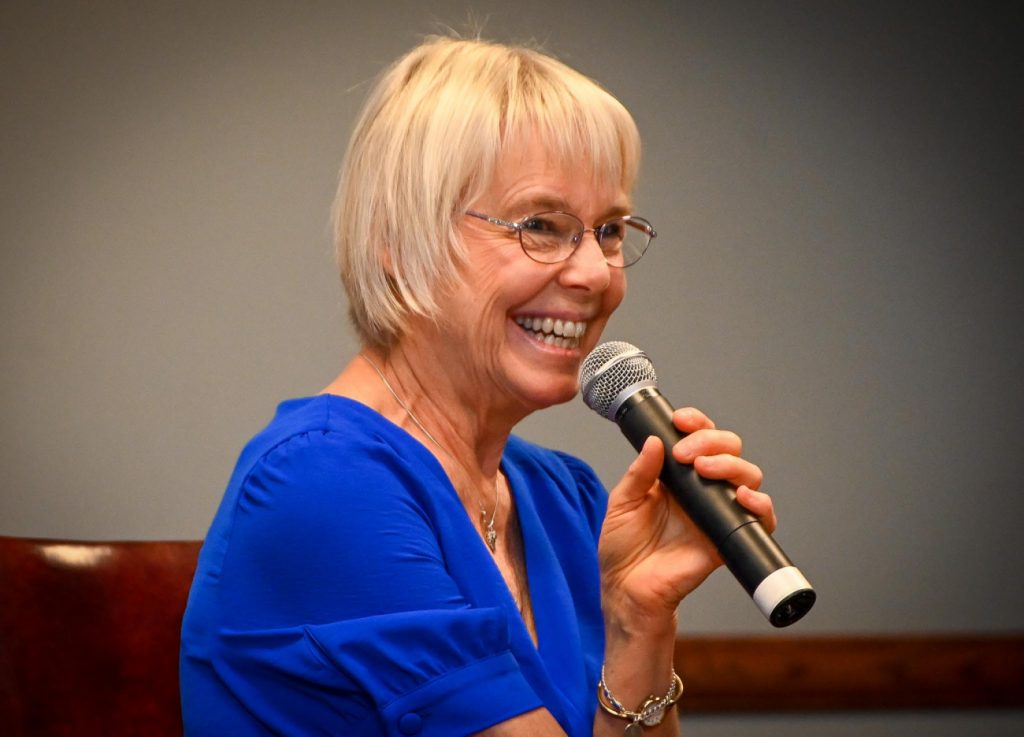 Recollections of 1996 Visit to Japan
Lynn then recounted a trip to Japan back in 1996.
"I had been asked to be an ambassador two years before the Nagano Olympics for the Nagano Olympic Organizing Committee. And we were back in Japan and they took me to Sapporo to introduce the Nagano Olympics to the world," Lynn commented.
"Every time they took me to Sapporo, they took me to the Makomanai Ice Arena, even if it didn't have ice. And they made me sit down where I had fallen and smile," Lynn said with a laugh.
"On this one occasion, they had media talk to me afterwards. And it occurred to me while I was there that the man that was interviewing me wasn't even born when I skated in Sapporo. I asked him, 'How old are you?' Then I said, 'How do you know what happened?'
"He said, 'Oh, everybody knows!' It is passed on generationally.' "
When Lynn heard that, she lost her composure.
"I just literally started crying and couldn't finish the interview, because I couldn't believe how God had answered my prayer. I couldn't believe it," Lynn remarked. "They still ask me to this day, 'How could you keep smiling when you had fallen in the Olympics?' I guess this is something that they are still asking."


Janet Lynn and Sapporo Linked Forever
Lynn then told a moving tale about just how much she is linked with Sapporo.
"This past year (2022) was the 50th anniversary for the Sapporo Olympics, and they were having a big celebration," Lynn stated. "They asked me if I would write something, which I did. I was so very honored to be able to write that story for the Japanese people, which will now forever be in the museum of the Sapporo Olympics in Sapporo, Japan."
Added Lynn, "I received a beautiful, heartfelt letter from the mayor of Sapporo also that said, 'We will always be bonded.' "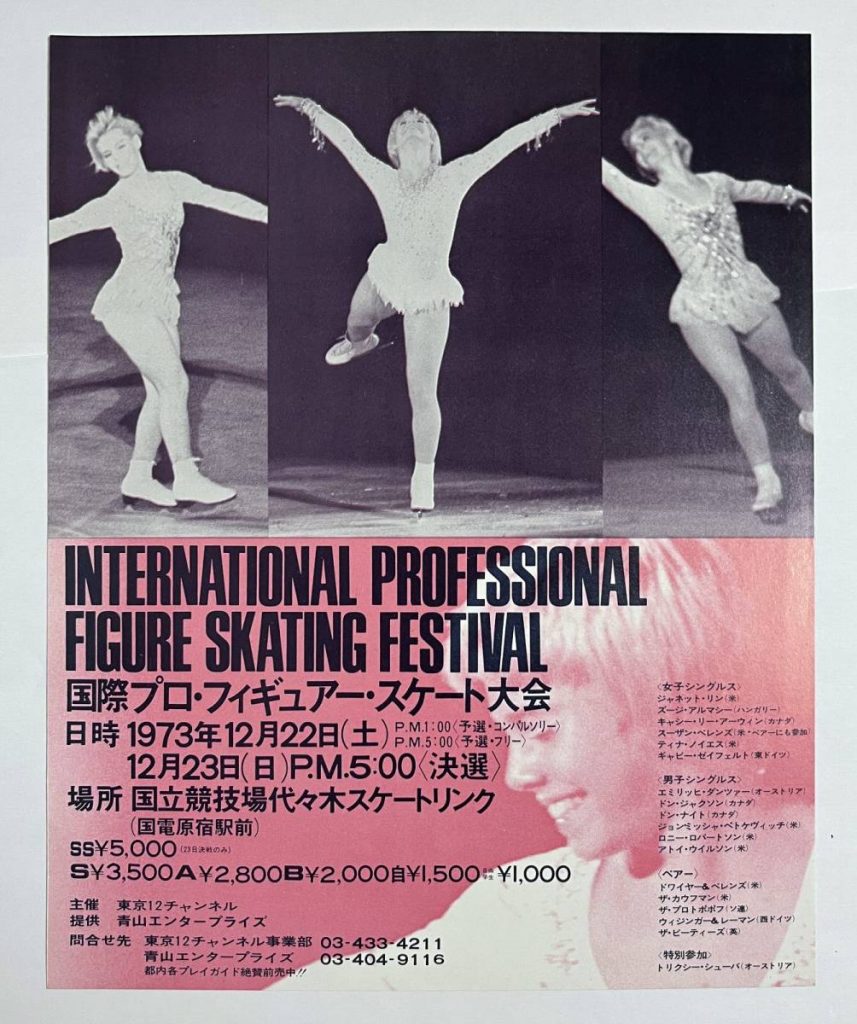 Competing in the Years After the 1972 Olympics
Following the Sapporo Games, Lynn became such a huge star in Japan that a competition was created just so she could skate in front of Japanese fans again. Retired two-time Olympic champion Dick Button, who was then a promoter and skating analyst on TV, created the World Professional Figure Skating Championships. So great was the demand to see Lynn, that the flyer promoting the event featured four photos of just her.
The first event was held at Tokyo's Yoyogi Stadium in December 1973, with Lynn winning the women's crown. Meanwhile, fellow American Ronnie Robertson won the men's title. Lynn won a second title in 1983.
When Ice Time interviewed Button a few years ago, I asked specifically about why the first pro championship was held in Japan.
"Because the Japanese wanted to see Janet Lynn skate again," Button replied.
In the wake of her huge popularity, Lynn was featured in numerous Japanese magazines and books. And a record was actually produced with the audio of her English autobiography Peace and Love, which was published in 1973.
The fervor to get close to Lynn was so great that photos from the time show many Japanese police officers protecting her from the crush of admirers when she was in public.
To this day, memorabilia featuring Lynn is still for sale on Japanese auction sites.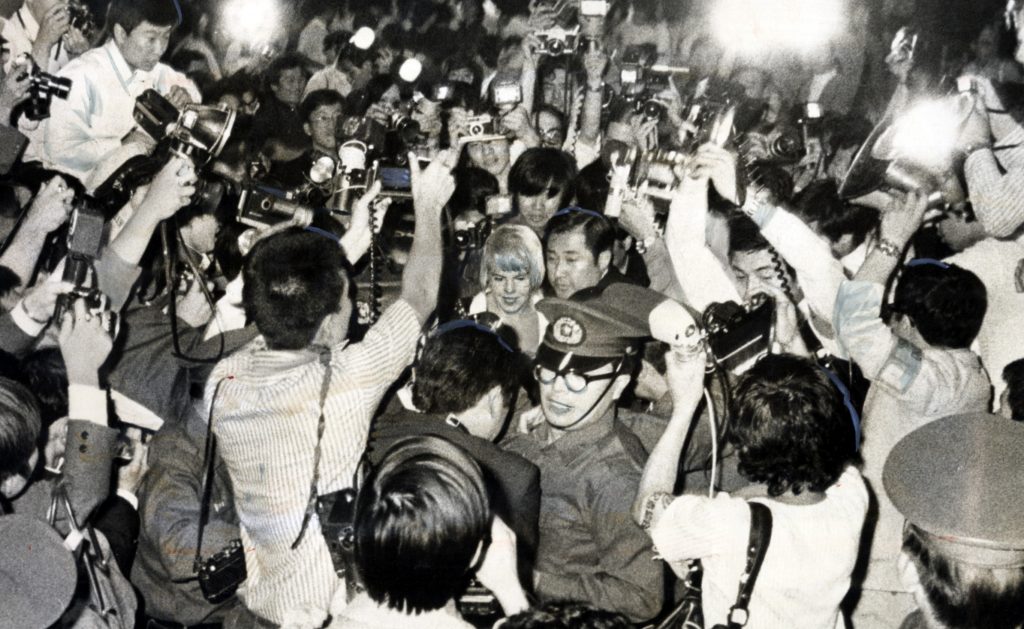 An Advocate For the Return of Compulsory Figures
After answering Ice Time's question, Lynn later addressed her feelings about compulsory figures and how she believes their return would be good for skating.
Lynn credited figures for her strength and balance as a skater during her career.
"From the time I met (longtime coach) Slavka (Kohout) I practiced figures 4-6 hours a day, six days a week, until the age of 19," Lynn recalled. "I would like to make a statement and correct the record for something that has been said for decades, that I didn't like figures. That is what has been said, [but] that's not true.
"Did I think going around in circles for 4-6 hours a day was more boring than jumping and spinning?" Lynn asked. "Yes, I thought that was more boring. But without the figures, there were over 60 varieties of figures, and they were taught in a developmental system. It was a developmental system that was exquisite."
Lynn said she has been unable to find out who developed the system of figures, but had high praise for their creation.
"It was genius, whoever developed it," Lynn proclaimed.
'The Foundation of My Skating'
As Lynn then pointed out, many skaters today have no idea what compulsory figures are.
"The younger skaters don't even know very much that they ever existed," Lynn commented. "This was the foundation of my skating. It was the foundation of everything I did."
Lynn admitted that she had never been questioned about her thoughts on the subject.
"Nobody has ever asked me in the past 52 years about getting rid of figures," Lynn noted. "I completely disagree with that decision and I think it was wrong."
She added, "I think there is an increase in injuries. Consider how strong the body would become if you were gliding on one foot or the other, for 4-6 hours a day, in the exact position you need to be in to take off from a jump and land a jump in a way that is non-impactful.
"How strong would that make your body? It would make it very strong."
Lynn concluded by saying that today's skaters are missing out on a part of skating history that could enhance their abilities and performances.
"I would like to see them returned, because I think the skaters are being shortchanged," Lynn said. "They are losing out on an entire dictionary and language that would give so much more depth and opportunity."
Follow figure skating coverage throughout the year on SportsLook.

Author: Jack Gallagher
The author is a veteran sports journalist and one of the world's foremost figure skating experts. Find articles and podcasts by Jack on his author page, and find him on Twitter @sportsjapan.