[ICE TIME] World, Olympic Medalists Shoma Uno and Yuma Kagiyama Share Mutual Admiration
The Japanese skaters credit their recent success to a deep friendship that drives them both on and off the ice.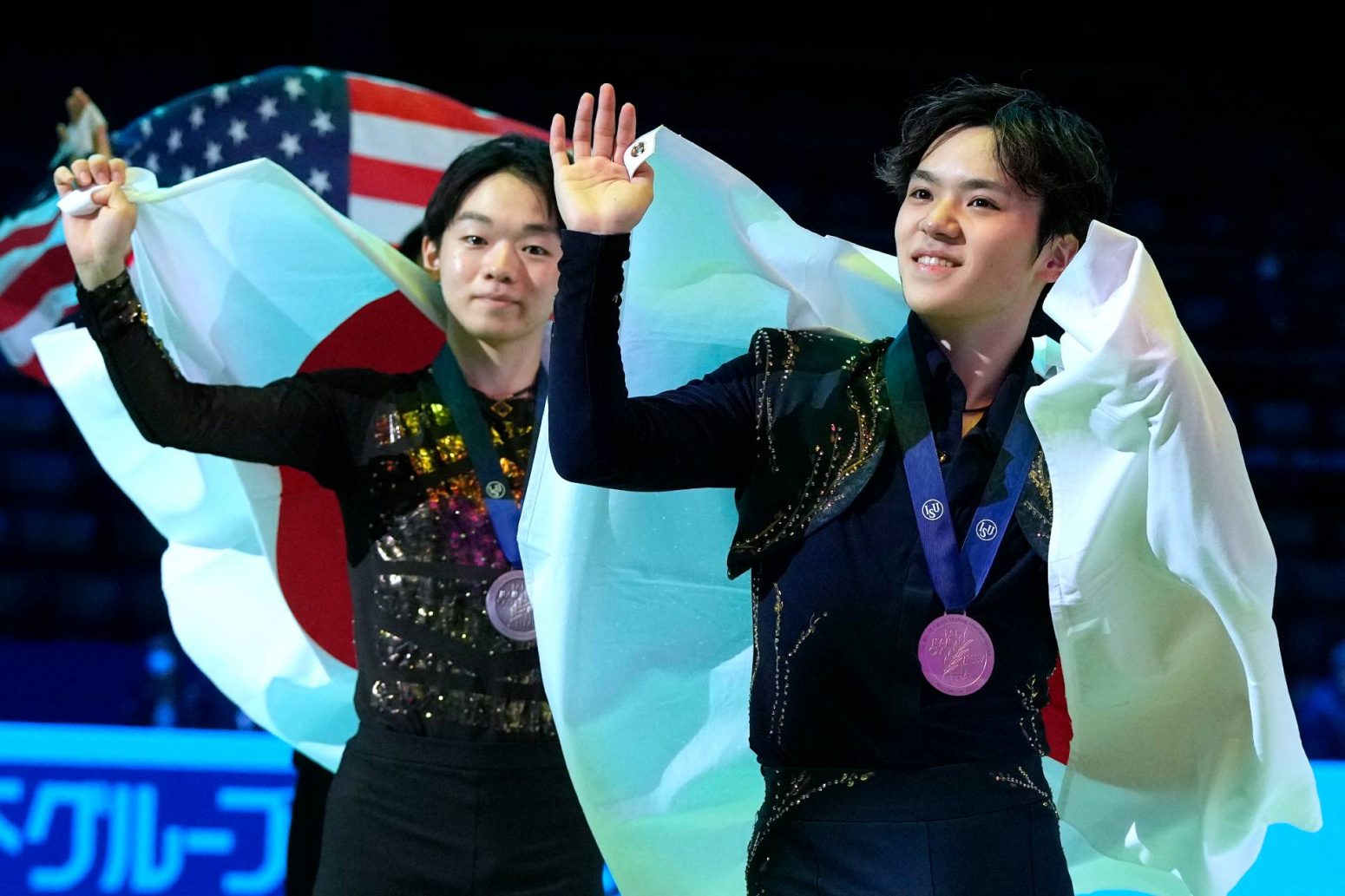 The impressive 1-2 finish by Shoma Uno and Yuma Kagiyama at the recent world championships in Montpellier, France, burnished their reputations as among the top skaters on the planet. It also revealed something else: the two share a deep mutual admiration.
Though that may not have been a well-known fact, the duo spoke about their friendship and shared respect at the press conference following the men's free skate on Saturday, March 26.
"Yuma has been a major presence for me this season," Uno stated. "I am back here, and with this result, thanks to his influence. In the past I might have said I want to be a skater he can aspire to. But this is more mutual. We do stimulate each other. We do grow together as skaters."
Though there is a six-year difference in their ages, Uno, 24, said there is no generation gap with the 18-year-old Kagiyama.
"Although our ages are a bit apart, I think we are good friends," Uno continued. "I think we are always able to better each other and better ourselves."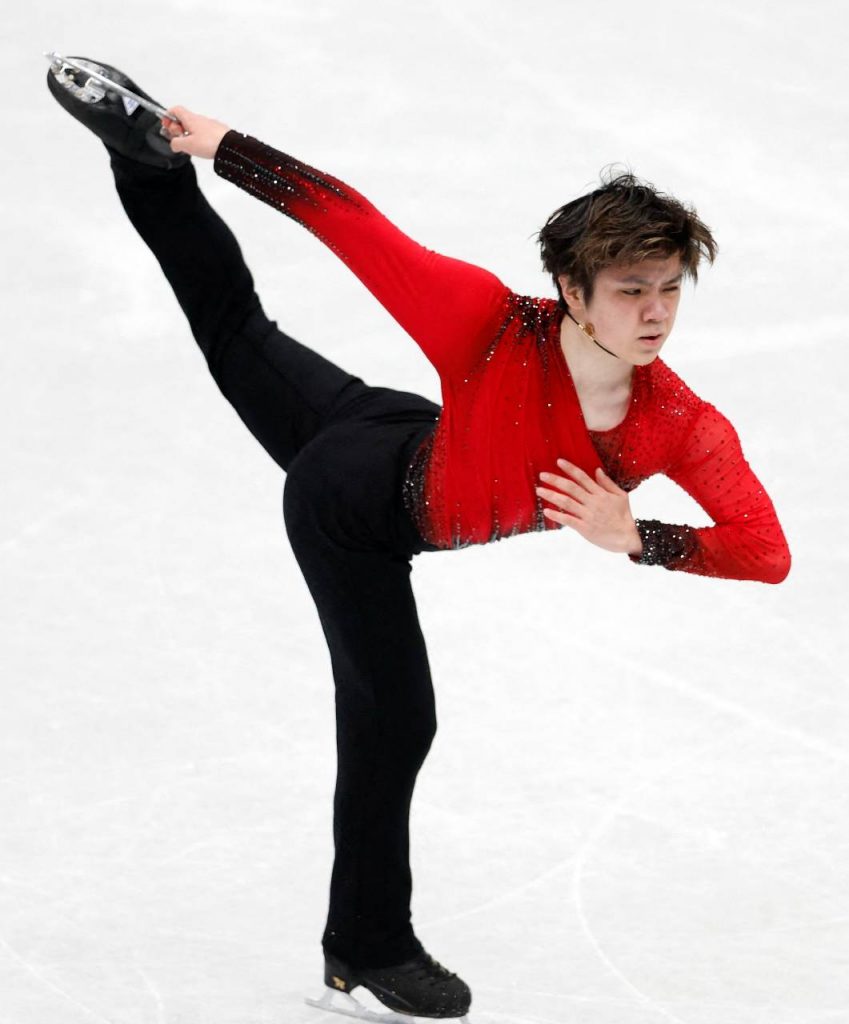 In an exclusive interview with Ice Time shortly before the Beijing Olympics, where Kagiyama captured the silver medal and Uno the bronze, Yuma revealed that he idolized Uno.
"When it comes to my ideal skater, the one I would like to be, that is Shoma Uno," Kagiyama declared. "He has great points that I don't have.
"You can say we are opposite types as well," Kagiyama continued. "He has an expressive power that is by far the best, as well as great skating capabilities, so he is someone I adore."
Though Kagiyama thinks they may be different, Ice Time sees a commonality between the two. Kagiyama (161 cm) and Uno (158 cm) are nearly the same height, both possess quiet, reserved personalities, and they are passionate about their profession. It makes sense that they would be friends.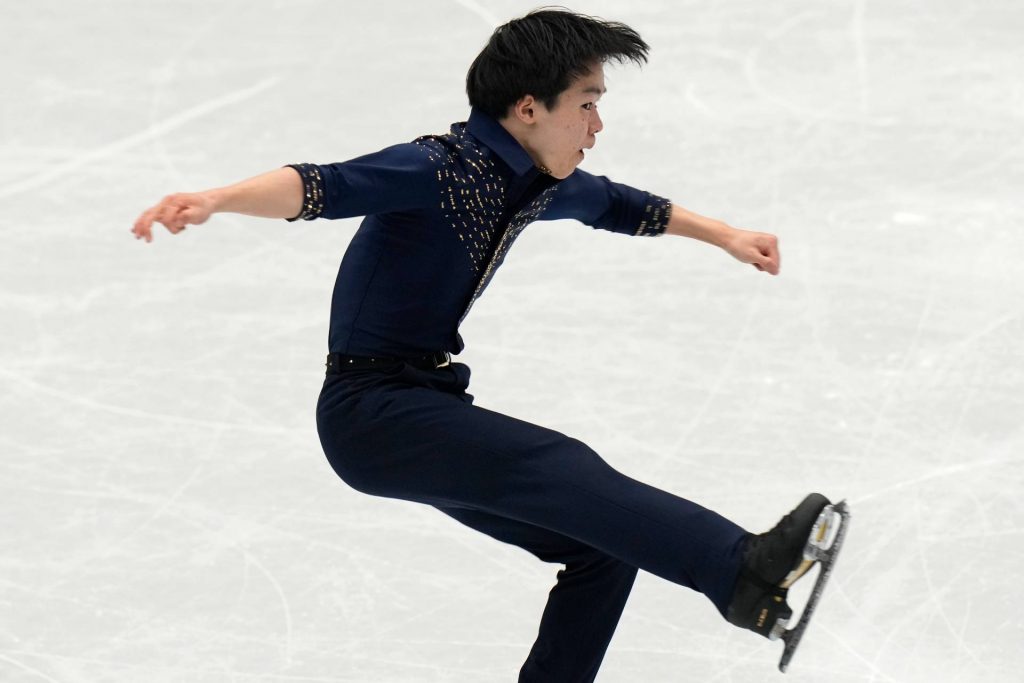 After earning his second straight silver medal at the worlds, Kagiyama discussed his appreciation for Uno.
"I got a glimpse of him looking happy at the kiss and cry. I've never seen him so happy and full of emotions," Kagiyama noted. "So that made me realize he put on a very good performance. I know this victory must mean a lot and a be a great joy for him."
Though Kagiyama and Uno are peers, Yuma said he relishes every chance when they can train together.
"Every time I am on the ice practicing with him, I am overwhelmed by his skating," Kagiyama stated. "Every time I see that I renew my resolve to follow in his footsteps and try to catch up to him. I'm already looking forward to my next competition where we get to compete together. Because I get to know how much growth I have achieved and how close I am to Shoma. I'm eager to go back to practice and compete with him again."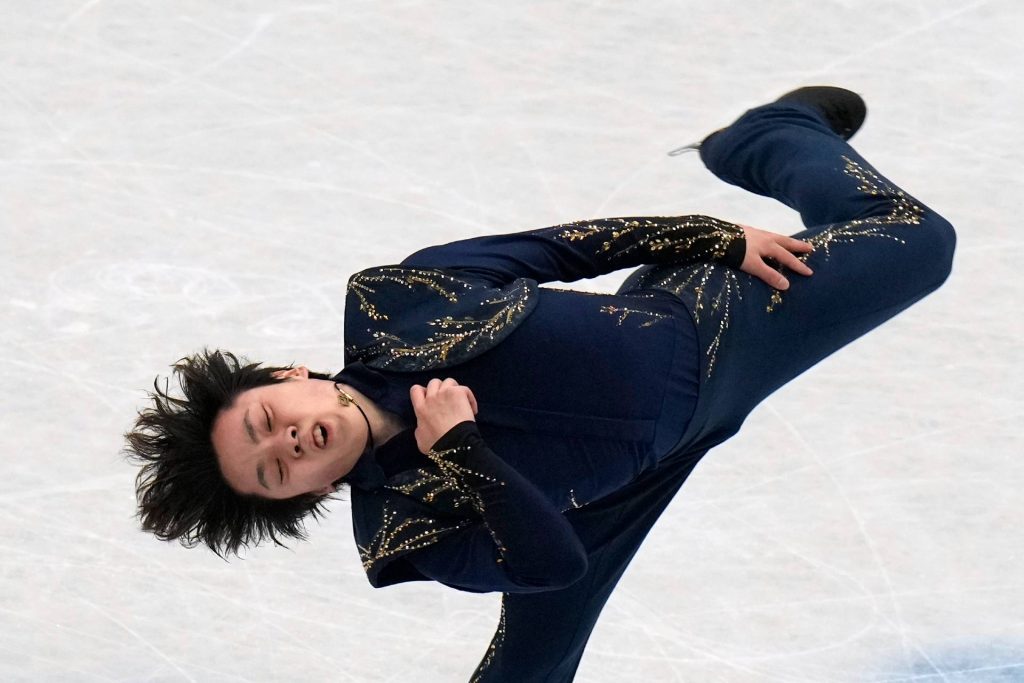 Uno Ponders the Road Ahead
Now Japan's most decorated Olympic figure skater with three medals, Uno was asked after winning the world title if he will continue on and try to compete in a third Olympics in Milan in 2026.
"To be honest, I have never aimed or skated as having the Olympics as my goal," Uno replied. "I myself do not know what my goal is at this moment. All I know is I want to attain more growth next year and the year after that."
Uno said he would not rule out skating in another Olympics.
"Along the line of conceptual years or growth, I'm hoping that maybe there could be the possibility that the Olympics might be there for me too," Uno commented. "I'm not sure. My mind might change in this year or in the next few months, so at this moment I cannot say anything definite."
Uno then turned philosophical with his thoughts.
"Maybe along the line there will come another moment where skating becomes tough for me and I don't know how I will face that moment and how I will face the challenge in my skating," Uno said. "All I know is that I want to attain that growth."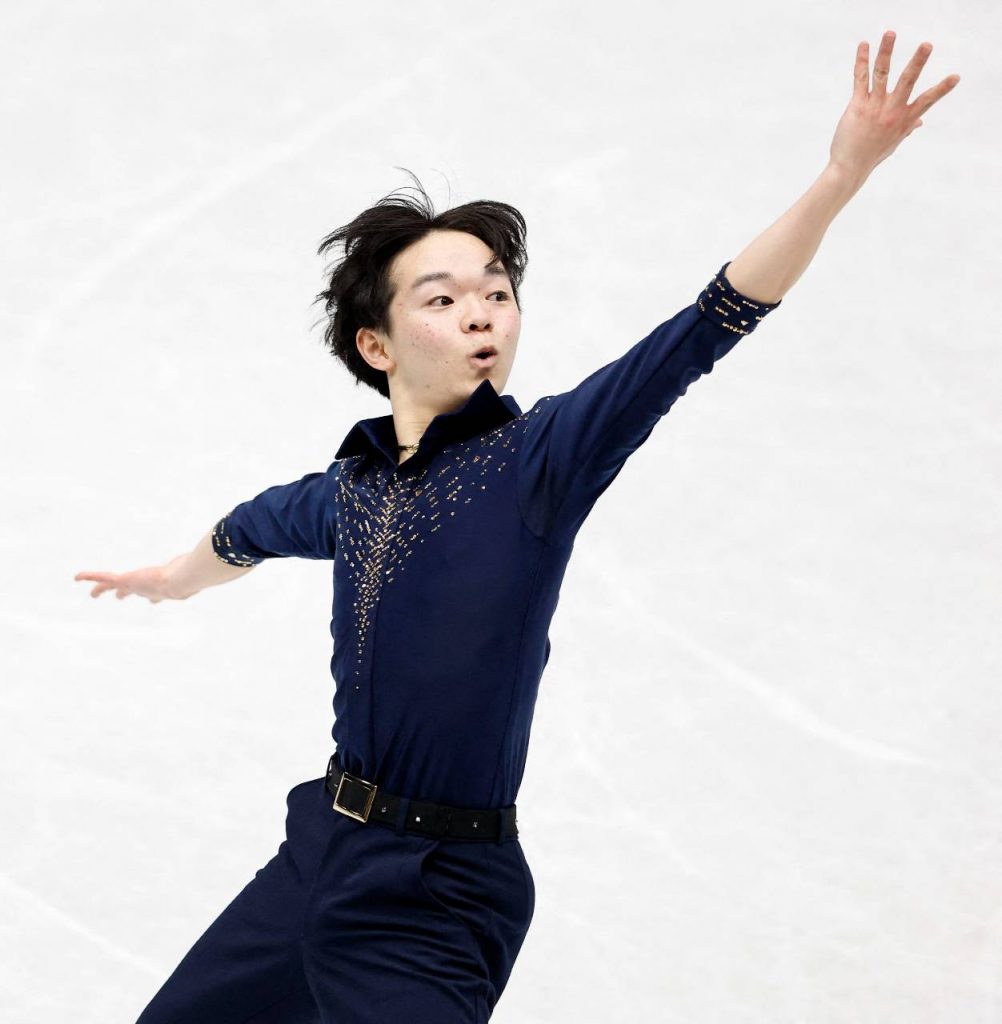 Kagiyama's Greatest Season Came with Challenges
"Last year I won the silver medal without having much thought," Kagiyama remarked in France. "I was just there and of course I was happy to win. I wasn't thinking much about winning or delivering good results. This season, however, has been a very long and dense season and during the beginning nothing went well for me."
Kagiyama discussed how he was able to reset himself in the midst of the push toward the Olympics.
"I lost my own way of skating and I was struggling with my jumps and I was kind of lost in this whole process, but then throughout the season I started to realize what I needed to do and I was able to have a clear vision of my goal," Kagiyama noted. "I was able to revisit that goal and step by step I was able to overcome a lot of obstacles and at the end here is the silver medal."
Kagiyama wondered if, despite his incredible success, he might have done more.
"Of course, there are a lot of regrets. Maybe I could have done better," Kagiyama stated. "But then at the same time I have a sense of achievement of what I have done. I think it is a new step forward for next season.
"Every season I try to push and go beyond the limit and set a higher hurdle for myself," Kagiyama continued. "So that challenge is not going to change next season."
Kagiyama cited his jumps as an area where he believes fell short.
"This season I aimed for a clean quad loop, but I ended the season on a note without landing it cleanly," Kagiyama mentioned. "So I need to focus, train more, and land a clean quad loop. Maybe a flip or lutz, I might try another quad. Even in the short program, the jumps might be the same, but the combination may change. Within what I can do, I know I am going to push myself harder."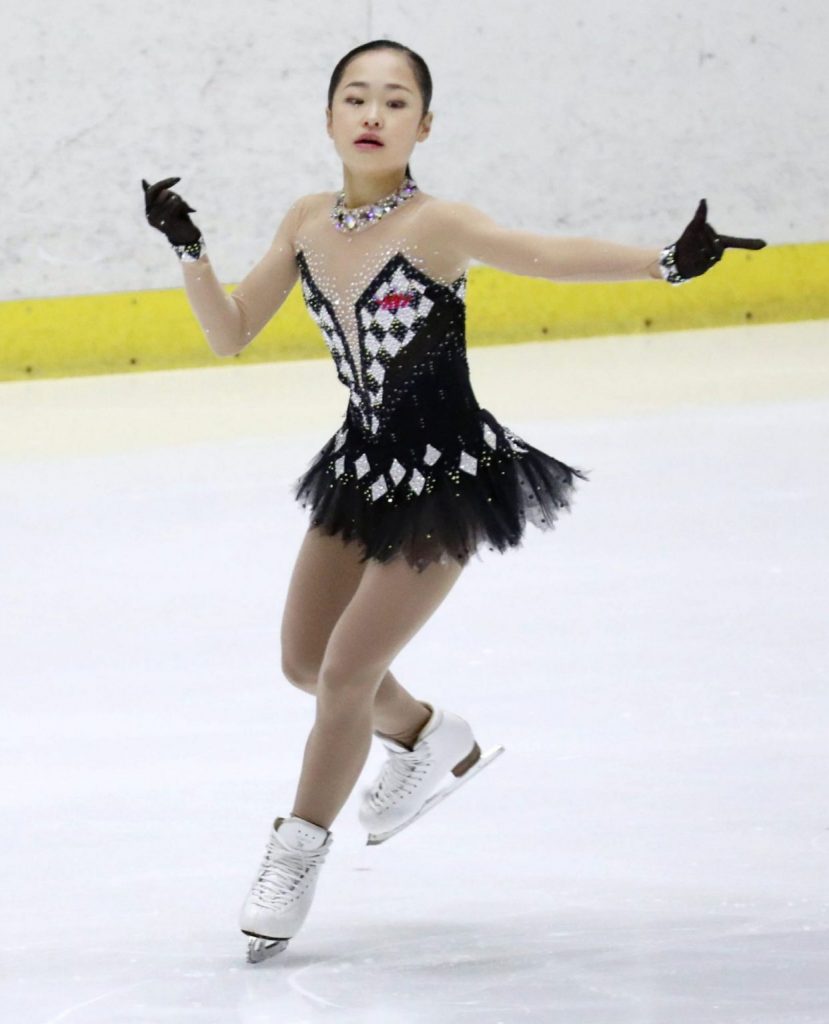 Mao Shimada Set for International Debut
Japan junior champion Mao Shimada will compete in her first event outside the country when she travels to Italy to compete in the Egna Spring Trophy (April 7-10), the Japan Skating Federation announced recently.
The 13-year-old phenom from Tokyo already possesses both a quadruple toe loop and a triple axel. She is entered in the Advanced Novice category in the event, which she should win handily.
The JSF is also sending six other skaters to Egna: Sena Miyake (senior men); Hana Yoshida and Mone Chiba (senior women); Takeru Kataise, Nozomu Yoshioka (junior men); and Azusa Tanaka (junior women).
New Grand Prix Hosts Needed
Russia's Match TV reported this week that next season's Grand Prix events in Russia and China will both be relocated. The reasons given were the war in Ukraine and the situation with COVID-19 in China.
If this comes to pass, both competitions will require new hosts. Looking ahead to this possibility, Ice Time exclusively reported earlier this month that the Finnish Figure Skating Association is ready to step up again as it did in 2018, when China bowed out of hosting its Grand Prix. Helsinki was the site of that event won by Yuzuru Hanyu.
In response to an email inquiry from Ice Time about possibly hosting the Rostelecom Cup, FFSA secretary-general Outi Wuorenheimo wrote: "I'm honored to host this competition, and if the ISU organizes an open bid, Finland will definitely be interested."
If Helsinki takes over the Rostelecom Cup, the question becomes where does the Cup of China move to?
Turin, Italy, played host to a GP last season after the Cup of China was moved due to COVID-19 concerns, so with the next Winter Olympics in Milan, the country could again be a logical choice.
Another possibility could be Estonia, which skating owes a great debt of gratitude to for its cooperation this season. When no other country would take on the Four Continents, after it was moved from Tianjin, China, Tallinn played host to the competition in January.
Estonia then answered the call again last month, when it agreed to take on the world junior championships in April, after the event could not be staged in Bulgaria as originally planned.


Author: Jack Gallagher
The author is a veteran sports journalist and one of the world's foremost figure skating experts. Find articles and podcasts by Jack on his author page, here, and find him on Twitter @sportsjapan.