International Food Machinery Exhibition: Japanese Technology at Its Best
FOOMA, one of the largest food machinery exhibitions in the world, revealed the latest advancements in robotics, AI, automation, and labor-saving solutions.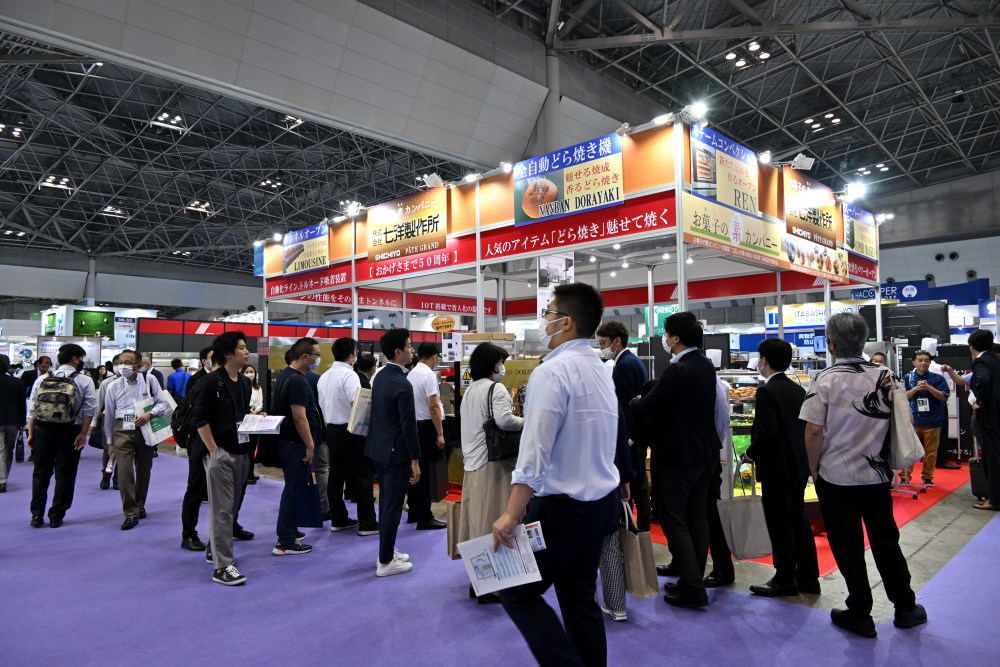 Taking place from June 6 to 9 at Tokyo Big Sight in Koto-ku, Tokyo, FOOMA JAPAN 2023 attracted a crowd of 100,000 visitors over the four-day duration. This remarkable exhibition boasted the record-breaking participation of 969 companies, presenting an extensive array of food manufacturing solutions. The showcased food machinery offered various solutions in food processing, packaging, and hygiene control systems. The event revealed advancements in food machinery that were closing the gap toward emulating the skills of professional chefs.
Renowned for its groundbreaking concepts and cutting-edge advancements in robotics, AI, labor-saving solutions, and automation, the Japanese food machinery industry has been garnering attention from global buyers.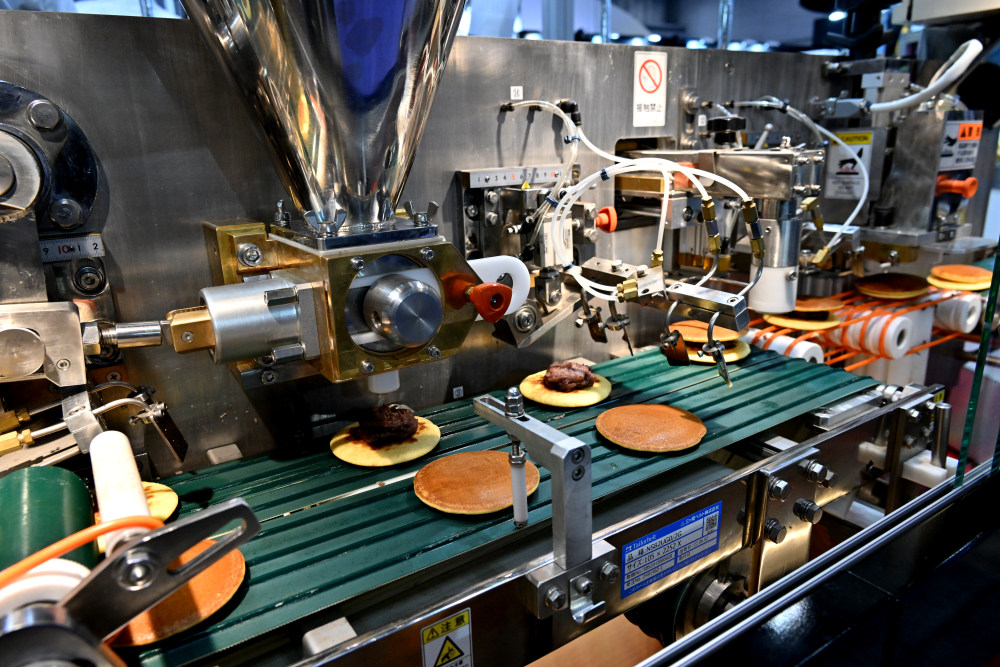 Bullish Forecasts for Japanese Exports
According to 2021 statistics published by the exhibition's organizer, the Japan Food Machinery Manufacturers' Association, the export value of Japan-made food machinery totaled ¥42.9 billion JPY (about $390 million USD), a 13.6% rise from 2020.
The regions that saw notable growth in sales were China, the United States, Central and South America, South Korea, Thailand, and Taiwan. Export figures to China and Asia were especially strong, owing to the numerous food processing factories in these regions. Additionally, there has been an increasing demand in the US, driven by the growing popularity of Japanese cuisine.
Although the statistics for 2022 have not been published, industry experts remain optimistic about robust export numbers, even taking into account the impact of Russia's invasion of Ukraine. The weak yen and the diminishing effects of the pandemic are factors contributing to the positive forecasts. During the FOOMA JAPAN 2023 exhibition, there was a noteworthy presence of overseas buyers.
Japanese Craftsmanship
One notable exhibit was a large fried rice machine presented by Nakai Machinery, headquartered in Osaka. This impressive device incorporates advanced features such as induction heating (IH) with high heating power and two selectable stirring functions. It effectively replicates the cooking techniques of professional chefs. Induction heating minimizes heat transfer to the surroundings, resulting in optimal efficiency.
In Japan, convenience stores and supermarkets offer a diverse range of cooked meals. These are often mass-produced in "central kitchens" before being distributed to individual stores.
By utilizing advanced machines capable of executing intricate cooking techniques, the reliance on manual skills and labor can be significantly reduced.
The demonstration of the fried rice machine at FOOMA attracted considerable attention from Chinese buyers. They expressed their amazement at the machine's capabilities, exclaiming, "Bang!" ("amazing" in Chinese). Although fried rice is a beloved Japanese dish, its origins can be traced back to Chinese cuisine.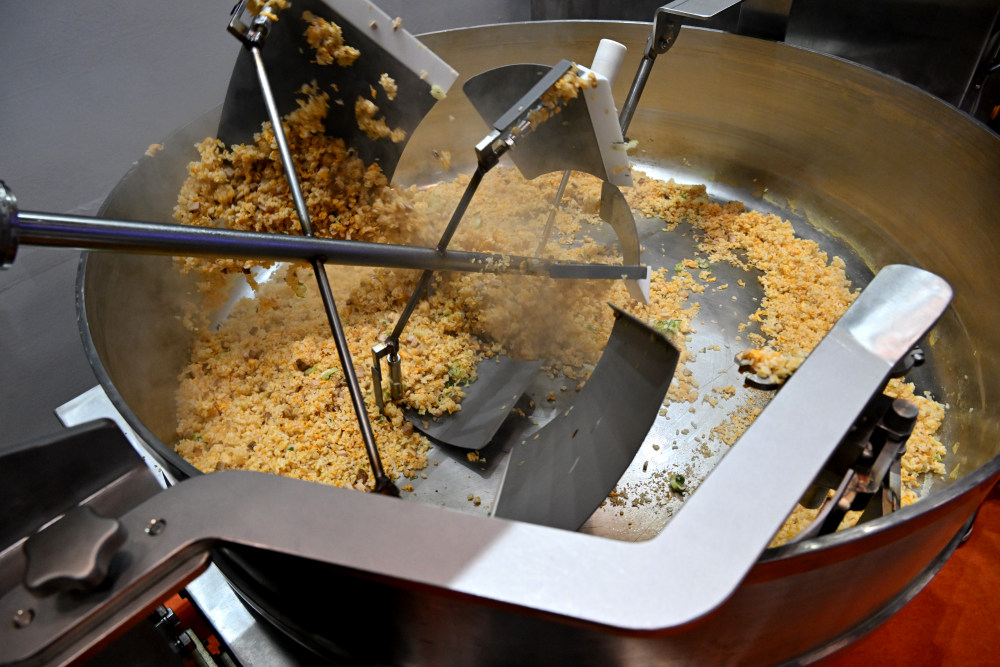 Quick-Freezing Technology
Over the past few years, there have been significant advancements in Japan's freezing technologies. Day Break, a Tokyo-based company, has designed specialized freezers capable of quickly freezing fresh foods and cooked meals without compromising the quality of the ingredients. These cutting-edge freezing technologies have wide-ranging applications across industries such as agriculture, fishery, livestock, and the food and beverage sector.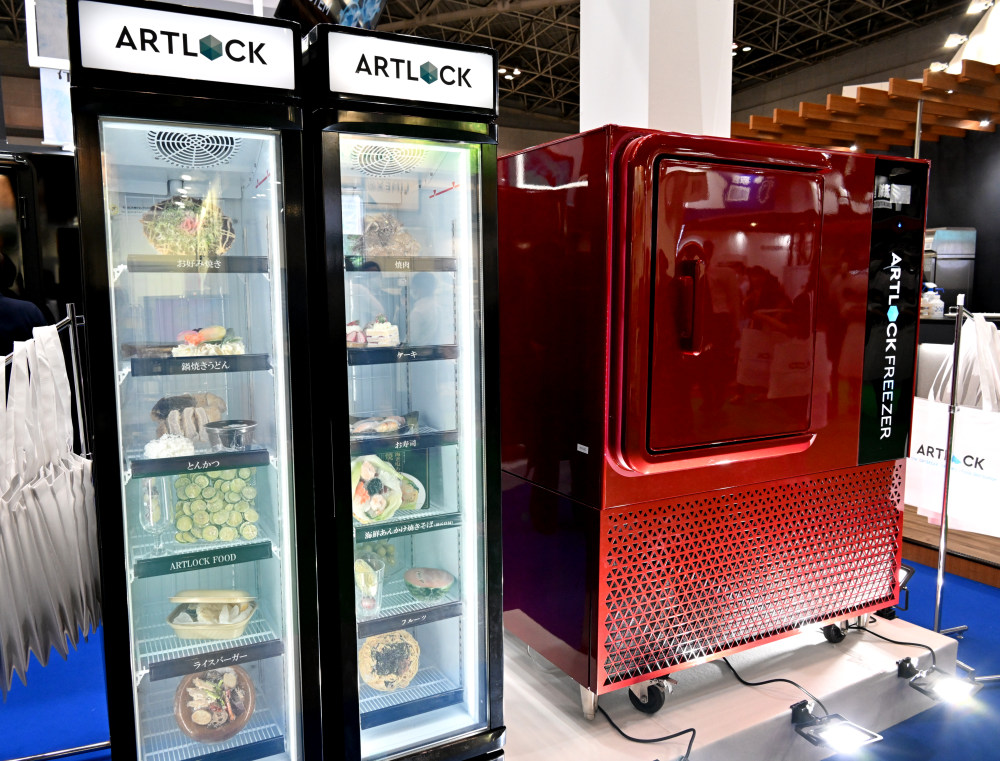 The implementation of quick freezing methods has resulted in a remarkable reduction in the time needed to freeze meat. With quick freezing, meat only takes 30 minutes to freeze instead of the usual 6 hours. This allows the meat to maintain its original quality and texture even after defrosting. This significant advancement in quick freezing techniques has sparked various business innovations. They have enabled the online sale of fishery products and efficient storage of various ingredients as well as sushi and sweets crafted by skilled chefs.
A man who runs a fishery company gave his seal of approval, saying, "This tastes just as good as fresh fish." A Day Break representative also remarked how technology has allowed restaurants in remote areas of Japan to enlarge their business by selling their cuisine online. Japanese quick freezing techniques also contribute to the global trade of Asian ingredients and processed foods, creating new opportunities for food logistics.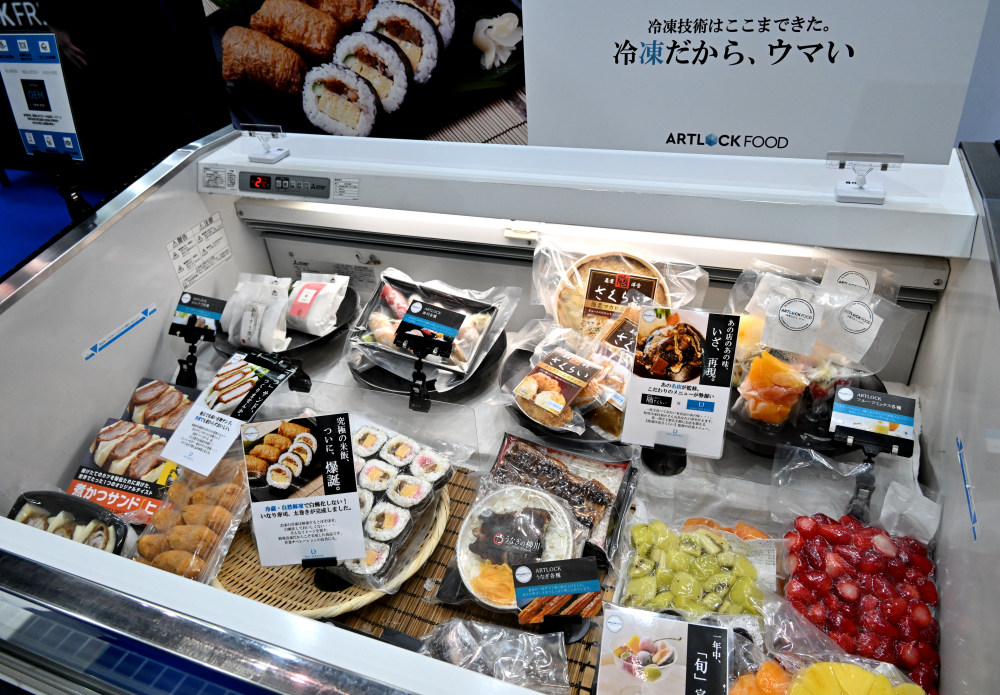 The Sushi Robot Pioneer
In 1981, Suzumo Machinery, based in Tokyo, pioneered the world's first sushi robot. Specializing in rice processing machines, the company has developed robots capable of shaping rice for sushi, placing the fish toppings, preparing maki sushi and gunkan-style sushi with nori seaweed, as well as making and wrapping rice balls.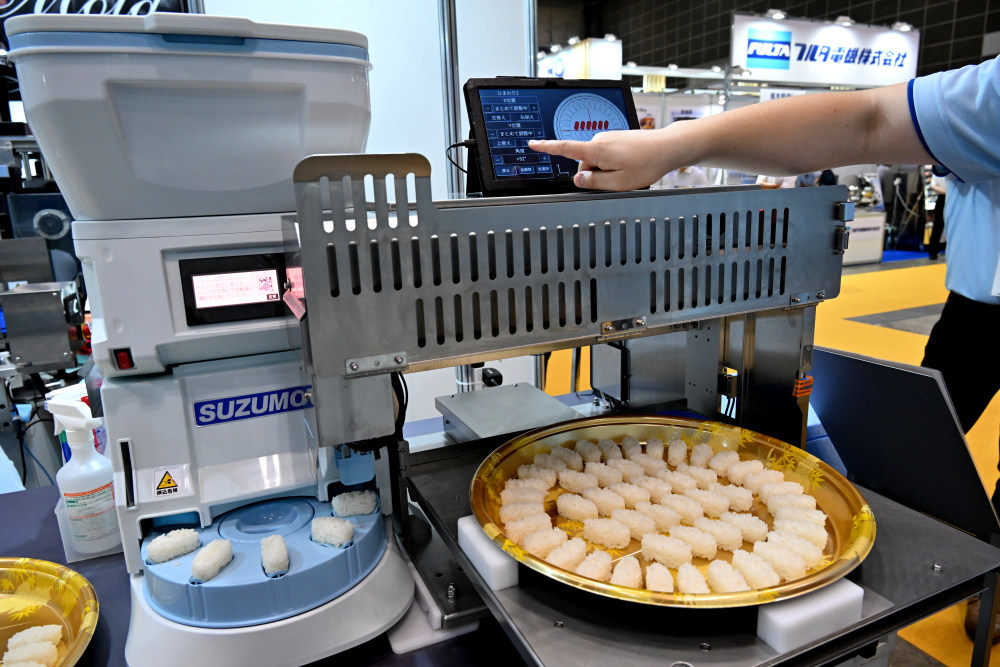 Currently, Suzumo is working on creating an uramaki (inside-out) sushi robot specifically designed for the international market. This robot will handle the challenging task of rolling sushi with seaweed on the inside, which is difficult to accomplish by hand. The latest model from Suzumo can even be controlled via a mobile phone app. This allows users to choose how the sushi rice is arranged on the serving plate.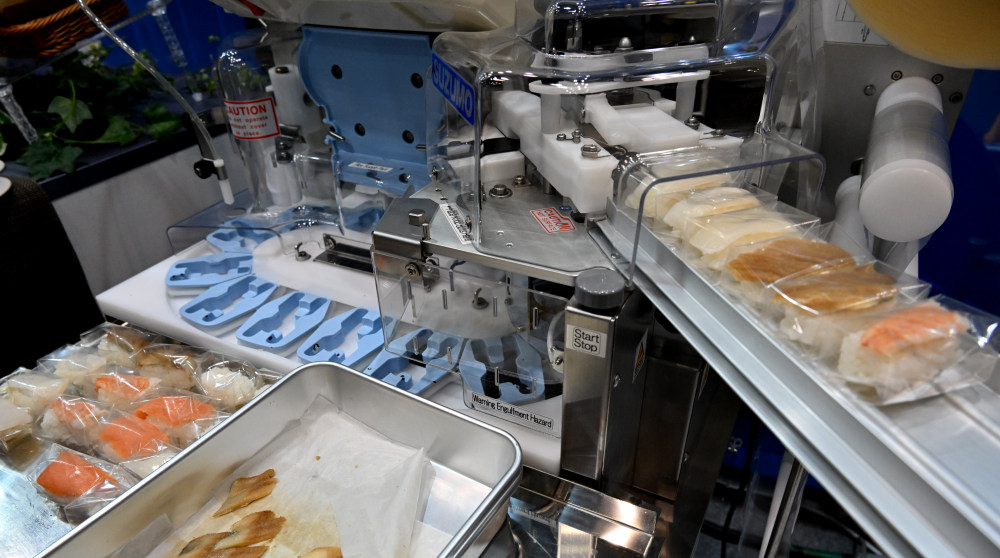 Sweets and Snacks
Dorayaki is a well-loved confection in Japan, and Shichiyo from Fukuoka Prefecture has introduced a fully automated dorayaki machine. Designed with the concept of providing an "entertaining kitchen performance," customers can watch the key steps of dorayaki production while purchasing freshly baked dorayaki at shops where the machines are installed. It boasts impressive productivity, capable of making 800 dorayaki per hour.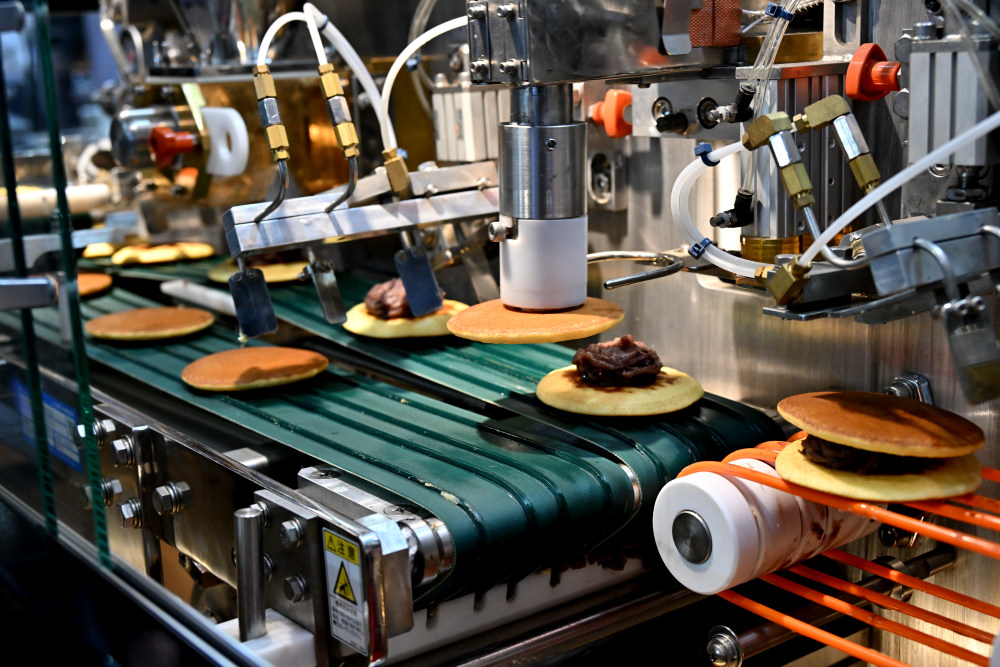 Lastly, the automatic wrapping feeder created by Mie Prefecture's Koken is another marvel of technology. This machine is specifically designed to individually wrap rice crackers and other snacks. It employs advanced inspection cameras and sensor technology to detect the size of each piece, eliminate any cracked or damaged products, and wrap the snacks in convenient portions of two or three. This process, previously done manually, can now be seamlessly taken over by the machine, thanks to its precision.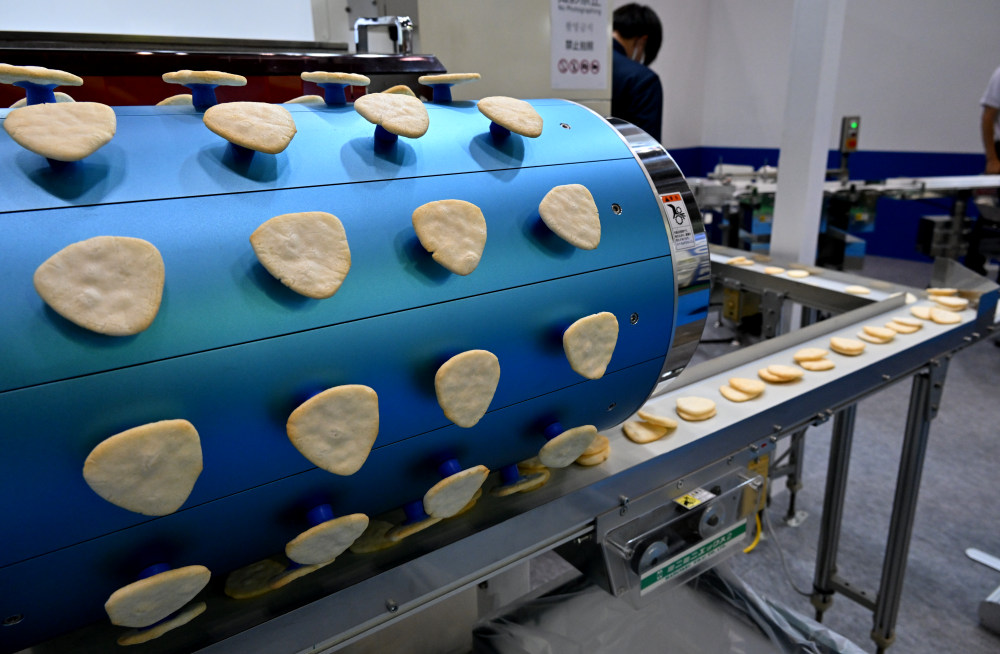 As the global population continues to grow, especially in developing countries, there is a pressing need for innovative solutions in food manufacturing. Many Japanese food machinery manufacturers possess exceptional technical expertise and are diligently working on addressing the industry's challenges through labor reduction, hygiene control, and providing additional value. Their dedicated efforts towards mechanization are aimed at meeting the evolving needs of the industry.
RELATED:
Author: Hidemitsu Kaito
(Read the article in Japanese.)