INTERVIEW | 'Bonds Between People': American Dancer Puts Kizuna Centerstage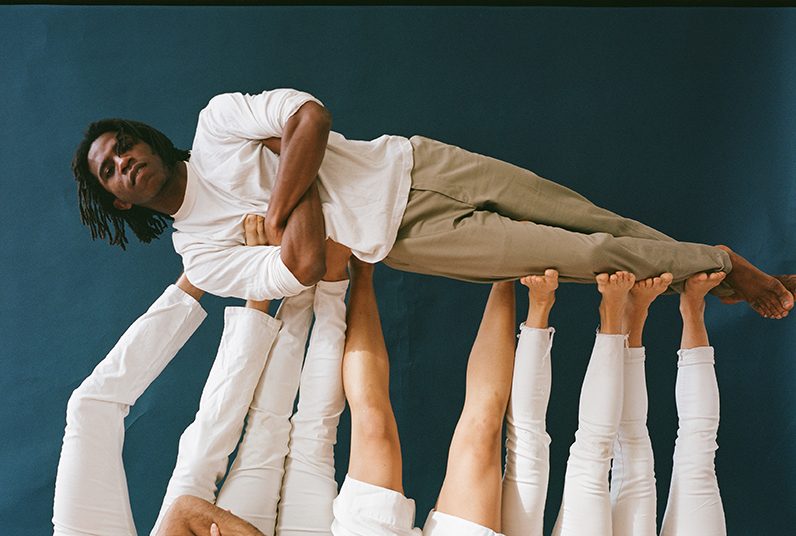 Cameron McKinney is an up-and-coming star in the field of artistic dance. He has also consciously shaped his career around the concept of kizuna, the Japanese word for bonds between people.
McKinney is thus an American dancer who has chosen to root much of his art in the cultural traditions of Japan.
JAPAN Forward recently sat down with McKinney — a creative artist fellow for 2019-2020 with the U.S.-Japan Friendship Commission (USJFC) — to ask him some questions about dance, his background, and his attraction to Japan.
Please tell us a little bit about your background, where you grew up and when you first became interested in dance and in Japan. How did the two things become connected for you? What was the moment or who was the person that/who got you to think about doing what you're doing now?
I grew up in Memphis, Tennessee. When I was 13, I heard music by Utada Hikaru, a famous J-pop artist. That was my first introduction to Japanese music, and the sound of it baffled me.
In Memphis as a young person, there wasn't all that much to do. So I went to the library and got a few introductory Japanese language books to start teaching myself hiragana, katakana basic words — and some kanji. It started as a hobby. But when my mom was telling her friends about it, one of them told her about Concordia Language Villages (CLV) in Minnesota.
The summer before my freshman year of high school, I attended the Japanese summer intensive program at CLV (Mori no Ike) and fell in love with the language and culture. Learning Japanese became my driving force from that moment on, all the way through college.
It wasn't until I got to Middlebury College in 2010 that I started training in dance. The program at Middlebury was so incredibly welcoming for people interested in dance at any level.
While I trained in modern dance there, I was also continuously pushed to discover my own artistic voice and to realize its validity, even without the years of [ballet] training that some of my colleagues had.
I was also fortunate that the hip-hop troupe on campus, Riddim, took me in during the fall semester of my freshman year. With them, I started learning how to teach and pick up choreography.
Japan was always in the background, though. Originally, I went to college with the goal of studying international politics and eventually becoming the United States ambassador to Japan. Once I started dancing, however, that focus definitely shifted.
In the end, I wanted to focus on the parts of my life that moved me most, and where I felt I could contribute most — Japanese and dance.
Why kizuna? Do you have a kizuna with Japan in a special way, or maybe with some Japanese people/things you encountered in the U.S.?
I chose the word "Kizuna" for my company because it means "the bonds between people."
During my time at Middlebury, I had the honor and pleasure of working with several teachers who were prime examples of community builders: Christal Brown, Tiffany Rhynard, Penny Campbell, Catherine Cabeen, and others. What I experienced through working with them and in the dance department at Middlebury was that my work could be so much more impactful for both the performers and the audience if more time was spent within the creative process on fostering a deeper sense of community between the dancers.
When the dancers get on stage as part of an artistic community, it's not just another professional they are throwing themselves into, and off. It's someone they know deeply, someone they have seen in his or her moments of glory and episodes of weakness or defeat. The shoulders that move during the dance are the same shoulders that other dancers have cried on, or nodded off onto during plane rides.
The relationship that is built between dancers when they have time to get to know each other, both offstage as people and onstage as artists, culminates in an almost tangible feeling of trust that touches the entire audience.
That's why I chose "Kizuna" — because a strong community makes for a strong performance, and community is what kizuna is all about.
What are your plans for your USJFC fellowship year? What projects are you working on now, and what's coming for you in the future?
For the USJFC fellowship, I will be collaborating with choreographer Toru Shimazaki for most of May 2020 to create a new dance work. I will then take that work back to New York City (NYC) and set it on my company, Kizuna Dance.
Both companies will perform together in Japan for events in August 2020. I've met with Mr. Shimazaki a couple of times and have even met some of his company members — I'm very excited to get into the studio with him and discover how our approaches to movement can align.
For now, my company is based in NYC and we are continually working and rehearsing. As a repertory company, we tour an evening-length program of mixed dance pieces. We are preparing for tours to Boston in March, Mexico in April, and various smaller shows in NYC in the spring. We also just began rehearsals for a new work I'm thinking will go up in 2021.
Do you plan to stay based in the U.S., or have you perhaps considered moving to Japan?
For now, I plan to stay in NYC. In the future, I'd like to spend at least a few months a year working artistically in Japan and develop enough relationships to travel back and forth regularly.
Besides dance, what other elements of Japanese culture or art do you find compelling? What about U.S. culture and art do you think meshes best with Japanese counterparts?
There are so many parts of the Japanese culture that continue to mystify and enthrall me. It's a constant learning experience, in terms of both the culture as it continues to evolve and the language. This makes it one of the best sources of inspiration, in my opinion.
In the past, I've made works centered around Zen Buddhism, Japan's art deco movement, and physical interpolations of the animated film AKIRA. We've even used kanji characters to create movement and patterns in space.
Then there's Japanese dance. Recently, I was awarded a fellowship from the Asian Cultural Council to travel and study in Japan. The center of my research was a continuation of my college thesis on the intersections of butoh, the avant-garde Japanese dance form, and street dance.
To me, these two styles actually represent an interesting potential intersection of Japanese and American culture. They both come across as dances born from a sense of revolution, with hip-hop coming from the sociopolitical revolution of Blacks and Latinos in the Bronx fearing the erasure of their culture, and butoh coming from a similar fear from Japanese artists in the wake of the U.S. occupation following WWII.
I would argue that both styles are "dances of the people." The exploration of where these two styles could overlap on the physical, psychological, and historical fronts has been really exciting.
Do you have any final thoughts for our readers?
Being so heavily invested in Japanese language and culture has changed my life for the better. It has directly resulted in all of my most powerful life experiences — discovering dance, living in Japan, and more. So I very much look forward to continued study and exploration.
ABOUT THE ARTIST:
Cameron McKinney is the artistic director of Kizuna Dance. He is creative artist fellow of the U.S.-Japan Friendship Commission for 2019-2020, and recipient of the 2018 Asian Cultural Council Individual Fellowship Grant. He was a participant in the 2017-2018 Alvin Ailey Foundation New Directions Choreography Lab.
Click here for information about Kizuna Dance's Performance Schedule.
Click here for information on dance classes with Kizuna Dance.
Follow this link to learn more about Kuzuna Dance.
Interview by: Jason Morgan