Japan As 21st Century World Leader: Interview with LDP's Toshimitsu Motegi
Toshimitsu Motegi, 61, is considered a sharpest observer of the political world, and he can be frank with his views that Japan possesses strengths that can land it a major role on the world stage—or to reclaim its position as a "peerless global economy."
In his talk with JAPAN Forward on May 29, the LDP Policy Research Council chairman and Abe administration supporter emphasized that Japan will play a role in creating a new order in international society. Japan, he said, is also poised to take a leading position in robotics technology and in the health and medical fields, as wherein people around the world enjoy longer lifespans.
How is the Abe administration promoting Japan overseas now in terms of foreign policy, economics, and culture?
If one were to sum up Prime Minister [Shinzo] Abe's vision, it would be of a society where there is an opportunity for everyone to make an active contribution. In fact, this is exactly what is meant by "A Society in which All Citizens are Dynamically Engaged, A Society in which Women Shine, and A Society which Aims to Reform the Way We Work, including Diverse Styles of Work."
Moreover, from the perspective of enhancing Japan's creativity, I believe it is important to build a diverse society which encompasses diverse values. Of course, Japan has a wonderful history and culture. However, I think that culture is not just there to be preserved—it is also something to be created.
The Abe administration has pursued diplomacy which takes a panoramic perspective of the world map, and has now reached its fifth year of advancing "Abenomics." Japan has established the most stable political base among the major countries. I think that the continuation of the Abe administration has great merit in terms of increasing our presence on the international stage, and also in terms of carrying out bold reforms.
Take the Japan-US relationship for example. Prime Minister Abe has had numerous phone conversations with President [Donald] Trump since their February summit meeting, building a strong relationship of trust with him. I think that this, in turn, shows Japan and the world just how solid the Japan-US Alliance is.
Furthermore, even at last week's G7 Summit, Prime Minister Abe acted as a bridge between President Trump and the European Leaders. This, I think, shows that Japan is very dependable and trustworthy.
While expectations of Japan are thought to be rising within the international community, what is the role that Japan should play in the world? What are the strengths that Japan should be utilizing?
One, as I have just said, is that Japan is not a newcomer. Rather, it has a central role in the international community, and its stable government is an asset. As such, I think Japan must play a leading role in various dimensions, including creating a new order in the international community.
In addition, from here on out, for example even in terms of economic relations, a range of negotiations will proceed, such as the Trans-Pacific Partnership, the Japan-EU Economic Partnership Agreement, and the Regional Comprehensive Economic Partnership. New, twenty-first-century rules for trade and investment, including intellectual property, will be established.
Therefore, I believe that Japan needs to forge a way forward in creating order in the international community and rule making, and to fulfill its role by standing at the forefront of these changes and drawing in other countries as co-partners.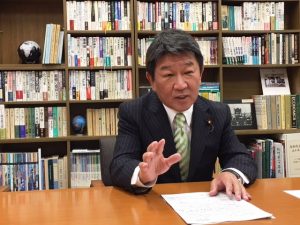 Japan boasts of a proven record in state-of-the-art technologies and knowledge in a range of areas. Specifically, which are the areas in which you think Japan will lead the world?
I think there are three main areas. The first is an area where Japan can play to its strengths, namely, next generation cars, and autonomous cars in particular. Japan has long had the best car production technology in the world, so I think that Japan could lead the world even in the area of autonomous cars.
The second area is robotics and drones, where Japan is number one globally in terms of both production and active devices. These technologies can be applied not just in factories but in a range of areas, such as distribution and care for the elderly.
Third, as the country with the longest-lived population in the world, wherein more and more citizens are joining the ranks of the elderly, Japan has accumulated a wide range of health care data. By utilizing this big data, I think Japan can lead the progress in health promotion and preventive medicine.
In addition, there is one more perspective: problem solving. For example, Japan is far superior in environmental technology. Facing the oil shock of the '70s and resolving our pollution problems has allowed Japan to become a world-renowned major power for its energy efficient technology. This has been accomplished through the efforts of the government and corporations.
Similarly, as I just mentioned, with health care, by finding solutions for various societal problems, I think that Japan could become a model case for the problems facing developed countries. In other words, there are areas in which Japan can demonstrate its strength. At the same time, there are also areas where Japan will become a model for the world.
What is most important is that we assess these areas and focus on priority areas. Almost 40 years ago, in 1979, Harvard University Professor Ezra Vogel wrote Japan as Number One. At that time, Japan was a peerless global economy. However, with the development of information technology and the advent of the Internet, Japan and America traded places.
But as we progress into "The Fourth Industrial Revolution," I think that, if we make use of artificial intelligence (AI), robotics, autonomous cars, and big data, then there is a chance for Japan to once again reverse the situation.
Toshimitsu Motegi is a member of the House of Representatives and the chairman of the LDP Policy Research Council. First elected in 1993, Motegi, a former political journalist with the Yomiuri Shimbun in Tokyo, is a graduate of the University of Tokyo and the John F. Kennedy School of Government at Harvard. Motegi has been Vice-Minister for International Trade and Industry, Senior Vice-Minister for Foreign Affairs, and Minister of Economy, Trade and Industry, among other high-ranking government positions.
Interviewer: Mayumi Ogawa, a staff writer of Sankei Shimbun, Political department