JAPAN Forward Streams The King's Singers' 'Finding Harmony in Japan' Starting October 24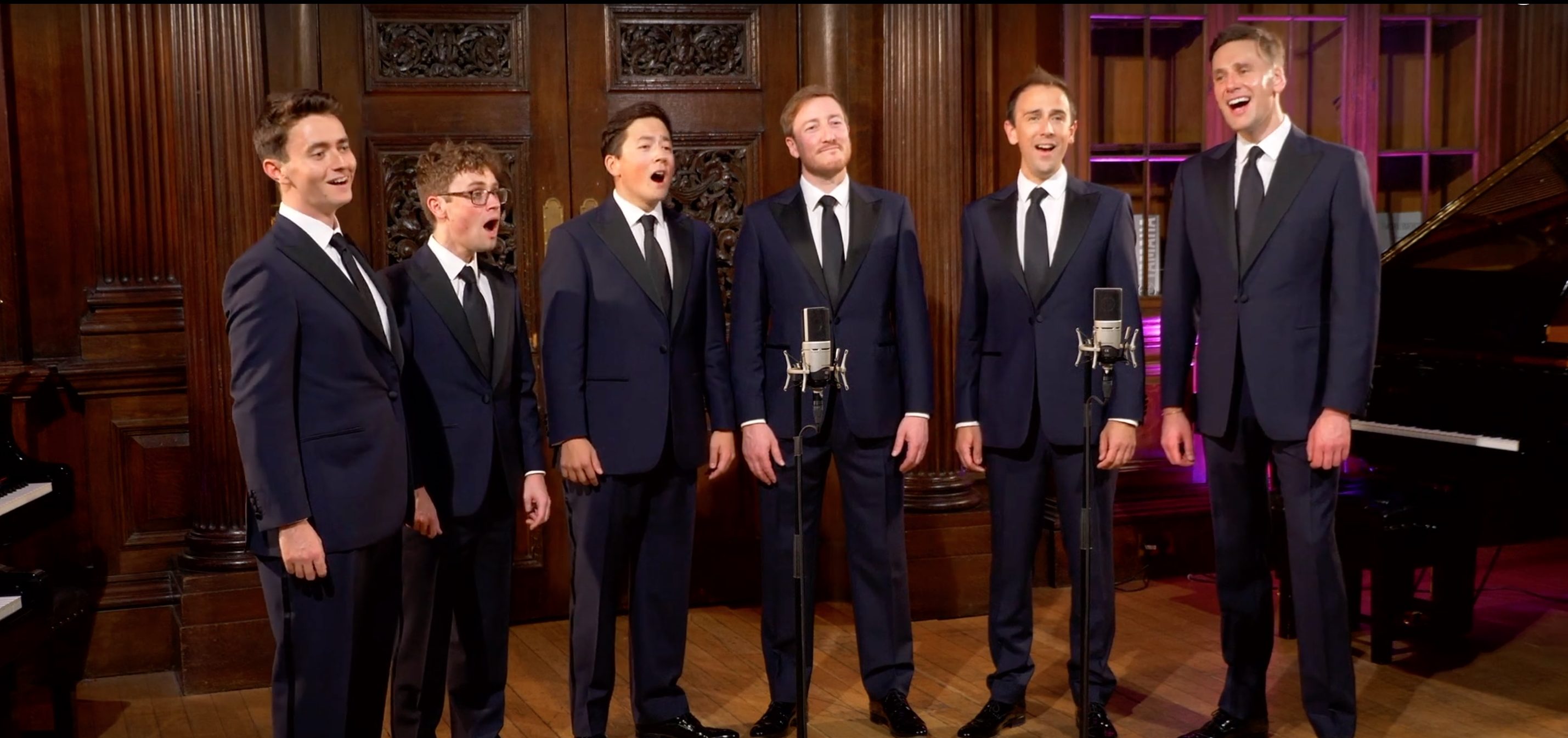 The King's Singers Stream 'Finding Harmony in Japan: Heiwa' ー Music with a Message for their Fans.
"Finding Harmony in Japan: Heiwa" — the series of concerts in Japan that could have kicked off the world tour of The King's Singers this autumn — may have been cancelled due to the COVID-19 pandemic. But the British a cappella group is making sure its fans in Japan will not be completely disappointed.
Starting on Saturday, October 24, at 7 P.M. JST, the internationally renowned sextet will stream a specially recorded concert for their Japanese audience and fans around the world on the platform e+.
Hosted by JAPAN Forward, with the support of Sankei Shimbun, the concert streaming will be available until 7 P.M. JST on October 31.
Tickets go on sale at 12:00 Noon on Wednesday, October 14, and can be purchased here for those inside Japan, and here for those in designated countries outside of Japan.
New Music by Japanese Composers
The title for this year's Japan tour, "Finding Harmony in Japan: Heiwa," has a special meaning to The King's Singers. The word heiwa, which roughly translates as "peace," best represents the underlying idea of the tour, which is "uniting people through music."
This program has been especially tailored for the Japanese audience, to kick off with the Japanese National Anthem, "Kimi Ga Yo," as arranged by the group's baritone, Christopher Bruerton.
The concert will include first-ever performances of new music by famous Japanese composers, as commissioned by The King's Singers.
One particularly moving piece that will be premiered is by the eminent teacher and composer Eisuke Tsuchida, winner of the Music Competition of Japan and Hasegawa Prize, among others, and professor at Toho Music University. In his song called "Shinda Onnanoko" (sometimes called "The Girl From Hiroshima"), The King's Singers will sing the words of a young girl who loses her life in the atomic bombing of Hiroshima in August 1945.
"The piece is very moving, the words are from the perspective of the little girl, so in themselves quite childlike and innocent. But the music is in a way quite spooky," said Julian Gregory, the leader of the group.
Another world premiere will be "Ashita no Uta" (or "A Song for Tomorrow"), composed by Makiko Kinoshita. It is a nice contrast to the piece by Tsuchida, as it's all about the hope for a better tomorrow, Gregory told us.
Gregory elaborated on how these pieces fit in the framework of the program: "Both commissions were in line with 'finding harmony,' which is all about bringing people together through music in spite of the difficulties of the world."
The group will also sing "Nemunoki no Komoriuta," which was composed as a musical tribute based on the poem of Empress Emerita Michiko.
Other music the sextet has chosen for the program include a couple of songs by popular composer Toru Takemitsu, and the ever-popular "Furusato," originally a children's song talking about the nostalgia of living far away from one's hometown. This time, the sentiment is more likely linked to the feelings of families and friends who have had to limit travel to avoid spreading the virus during the pandemic.
Plans for Post-Pandemic Christmas Tour of Japan
"It's really sad that we are not able to do the concerts [this year], and, in fact, in 40 minutes' time we would have been starting the first concert of the tour in Hiroshima," said an almost dejected Gregory when we spoke on the evening of October 9.
It's especially sad that the last leg of the tour was canceled, as it was to include a charity concert in Fukushima in collaboration with a local children's choir. All proceedings would have gone to support the local recovery from the 2011 Great East Japan Earthquake.
Thinking about the fans that have come out for the group over the years and ways to bring the group closer to their Japanese audience, Bruerton also sent an exclusive message to the Japanese fans when he spoke to us on October 9.
"I really hope that [the fans] enjoy this concert. Japan is so important to us, we wanted to make sure that one of the four concerts that we are giving online was dedicated to them and to the Japanese culture, which forms the cornerstones of the program. There are some other lovely songs in there which I hope they will enjoy…. We love Japan, and we can't wait to come back!" he said.
Gregory told us that there is a possibility, albeit slim, that the group might be able to squeeze a couple of concerts in Japan at the start or the tailend of their tour in other parts of Asia in autumn 2021. If it doesn't happen, the next possibility would be an end-of-year Christmas tour in 2022.
"It is our deep wish [to visit Japan in 2021], but it looks like our next tour in Japan will be in December 2022, which will be our Christmas tour in Japan, which will be really cool," Gregory said.
Bruerton added: "The next opportunity to go back will be all the more special because we haven't been able to come this time. Let's look forward to that. I hope that everyone in Japan is safe, and, well, we love our Japanese fans, and we can't wait to see you soon."
Stay tuned on JAPAN Forward for updates on the online concert.
EVENT INFORMATION
Who: The King's Singers
What: "Finding Harmony in Japan, Heiwa" (online concert)
When: October 24, from 7 P.M. (streaming available until 5 P.M. JST on October 31)
Price: ¥ 3,000 JPY
Buy Tickets Inside Japan: : Here (https://eplus.jp/thekingssingers/) (from 12:00 Noon on Wednesday, October 14)
Buy Tickets Outside Japan: Here (https://ib.eplus.jp/thekingssingers) (from 12:00 Noon on Wednesday, October 14)
Countries ticket sales are available: Japan, Taiwan, Thailand, Korea, Singapore, Australia, Canada, U.S.
Hosted by: JAPAN Forward
Additional Support: The Sankei Shimbun and the Japan-British Society
Backed by: Yamaha Music Europe, Yamaha Music London
In Collaboration with: Tempoprimo, Chorus Company, the U.K. Japan Music Society

*Japan Information and Culture Centre, Embassy of Japan in the U.K.
Author: Arielle Busetto
Click here to read this article in Japanese.