Japan in 2020: Foreign and Security Policy From Caution to Candor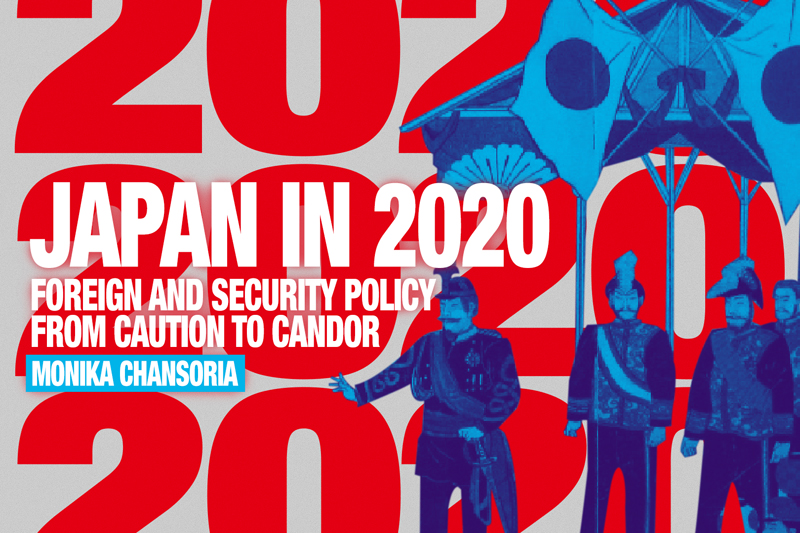 As the New Year 2020 begins, Rei (令) – the first character of the Reiwa era (dedicated to Japan's new Emperor Naruhito) – has been chosen as the kanji of the year through a voters' poll conducted over 1,600 locations nationwide. Rei, on its own, means 'order' or 'command', and on some levels has relevance for Japan's foreign and security policy thinking and approach in 2020.
Shinzo Abe recently became Japan's longest-serving post-war Prime Minister in November 2019. However, the tasks ahead of him before completion of his term as president of the ruling Liberal Democratic Party (LDP) in September 2021 are complex and monumental, to say the least.
A myriad of significant political challenges lie ahead, which are likely to cast a shadow on Japan's overall foreign and security policy architecture. Most outstanding among these, of course, is the issue of revising the Constitution.
Constitutional revision has been a long-cherished goal of the LDP ever since its establishment in 1955. It is one which, successive LDP administrations before Abe chose to evade, given the complexities involved. However, revision of Japan's pacifist constitution has been a key agenda for Prime Minister Abe.
Abe has stated on the record his determination "not to back down from my cause" of constitutional revision. In the said reference, the proposed revision to the National Referendum Law – a required step in the revision process - is aimed at making it more conversant with the existing Public Offices Election Law. Abe is cited to have said, "There can be no other choice but to do the legislation during the current session of the Diet."
Revisiting Article 9 of the constitution and recognizing the legitimacy of the Japanese Self-Defense Forces will have long-term implications for the Self-Defense Forces as well as the overall defense posture adopted by Japan within Asia. Although strategic uncertainty makes it difficult to predict future threats with precision, long-standing territorial disputes are an ugly reality – and a reminder that will push for possessing a capability-based military force.
This year is likely to keep the focus on working toward a democratic, rules-based, inclusive world order. One which respects the sovereignty and territorial integrity of nations and ensures the rule of law, freedom of navigation, and overflight. It is also one which ensures unimpeded lawful commerce, and seeks peaceful resolution of disputes with full respect for legal and diplomatic processes, in accordance with the universally recognized principles of international law (including the UNCLOS) – without resorting to threat or use of force.
Japan will have to be proactive in its foreign policy pursuits by engaging many regions and nations to ensure that it remains a vital pivot to reach a global and regional order as stated above. Regionally, ASEAN unity and centrality will remain at the heart of the Indo-Pacific concept.
Asia and Africa shall continue to be impacted by the development of connectivity via infrastructure, and other projects. Japan and its key partners, including India, should keep the focus on collaboration to provide quality infrastructure and build regional capacities for shared prosperity. That requires carrying out bilateral and multilateral projects in an open, transparent and non-exclusive manner that is based on international standards and transparent debt financing practices.
The above-mentioned synergies have been embodied in collaborative projects in the Indo-Pacific region, including in Sri Lanka, Myanmar, Bangladesh, Africa. And they need to expand further.
Notwithstanding that developments on the Korean Peninsula shall continue to be in the news, the larger issue of North Korea's complete, verifiable, and irreversible dismantlement of all WMDs and ballistic missiles of all ranges needs to be pushed towards a logical conclusion. More importantly, vitally related issues such as North Korea's proliferation linkages, and the abduction of Japanese nationals, should be taken up more vehemently.
Japan needs to expand its global collaborations towards achieving Sustainable Development Goals. Simultaneously, Japan must commit itself along with its partners to strengthening environmental partnerships in areas such as pollution control, sustainable biodiversity management, chemical and waste management, climate change and wastewater management.
2020 should be heavily directed towards concerted global action to combat climate change. That will require strengthened cooperation on sustainable and clean forms of energy, including nuclear and renewables.
In the trade agreement with Donald Trump, Abe could not win back the phase-out of tariffs achieved in the TPP on Japan's top exports to the U.S., namely automobiles and auto parts. However, he swiftly and skillfully was able to placate the Diet by insisting that his administration would hold up for better-than-TPP access to Japan's agrarian market.
More significantly, in reaching a trade deal with Trump, Abe, apparently has succeeded in carving out a silver lining – getting Trump back on the track of global and regional rulemaking, and pulling his attention towards the U.S.-Japan alliance, and managing a belligerent and assertive China.
As the U.S.-China trade war continues to intensify, Japan is looking to find a balance somewhere and break free from deflation. The U.S.-China trade war has cast a gloom for Japanese manufacturers (especially automobiles). The mood for business among big manufacturers has sunk to a seven-year low. With companies expecting conditions to remain unchanged, or even worsen in the coming months, the fallout of the U.S.-China trade conflict is hurting broader sectors of Japan's economy.
Be it the territorial issues with China or the dispute with Russia, Japan will have to be pragmatic and farsighted in the long run and not miss the forest for the trees.
Any short-term arrangement with China, be it politico-diplomatic, or economic, should not make Tokyo lose sight of how China envisages and plans its long-term security policy, especially when it comes to territorial consolidation.
Next year, 2021, marks the centennial year of the Communist Party of China from when it came into being in 1921. This period is a crucial test for the political legitimacy of the Party, especially in the backdrop of the violent Hong Kong protests. China will go all out to announce and assert for its territorial claims in the South China Sea, East China Sea, and the Himalayan borderlands – thereby upsetting the power balance in these regions.
In an increasingly globalized world, the security challenges and dependencies will remain transnational. That renders it difficult to crack a workable, cooperative security framework in the Indo-Pacific at the moment, even though areas such as maritime security cooperation, higher frequency of bilateral and multilateral naval exercises and expansion of maritime domain awareness in the Indo-Pacific will continue to remain center-stage.
Author: Monika Chansoria
Dr. Monika Chansoria is a Senior Fellow at The Japan Institute of International Affairs in Tokyo and the author of five books on Asian security. The views expressed here are those of the author and do not necessarily reflect the policy or position of The Japan Institute of International Affairs or any other organization with which the author is affiliated.