INTERVIEW | Ex-President Chen Shui-bian: With No Action, Taiwan Will Be Swallowed by China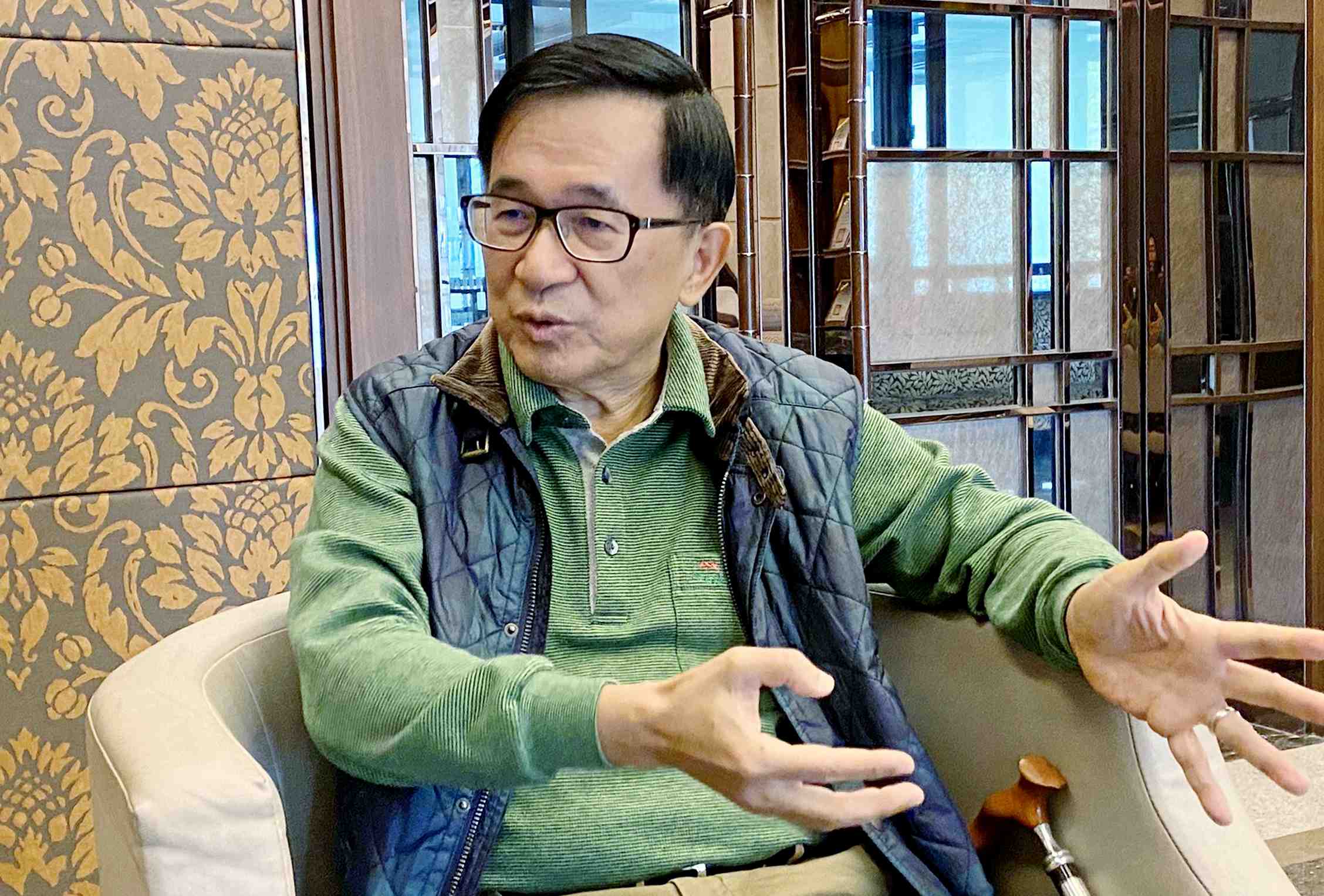 Former Taiwan President Chen Shui-bian talks about the risks China poses to Democratic elections in Taiwan
Chen Shui-bian, president of Taiwan from 2000 to 2008, observes that China has, in various ways, been interfering in the presidential election in Taiwan, scheduled for January 11, 2020, even ramping up military pressure.
In this exclusive interview with The Sankei Shimbun (held on December 20, 2019, in the city of Kaohsiung), Chen says that this is the most precarious time in the history of Taiwan. Japan, Taiwan, and the United States should act in tandem with each other to defend democracy and cope with the hegemonism of China, he says.
Beijing has interfered in presidential races in Taiwan in the past, but Chen points out that, in addition to threats using military strength, China has resorted to maneuvers involving monetary bribes. He adds that ploys by China to interfere in Taiwan's elections have been diversifying at an alarming pace in recent years, including cyberterrorism and misinformation.
Chen blasts Chinese leader Xi Jinping as a "man of insidious character with the nerve to engage in sinister ploys," in reference to Beijing's suppressive moves against Uighur people in Xinjiang, Northwestern China, and Hong Kong.
"I am dreadfully afraid of the possibility of Chinese President Xi behaving recklessly, without consideration of the consequences, because of his lack of understanding of Taiwan," Chen says. He emphasizes the need to keep a stricter watch on the future conduct of Beijing.
Following are excerpts of the interview.
What do you think of Taiwan's forthcoming presidential election?
If the election for the presidential race was to be held tomorrow, President Tsai Ing-wen would be re-elected to a second term by a large margin. The ruling Democratic Progress Party (DPP), too, would likely win a majority of seats in the elections for the Legislative Yuan, or national legislature, that will be held concurrently with the presidential contest.
But we have still three weeks to go before election day. There can be no doubt that both the largest opposition party — the Nationalist Party (Kuomintang) — and China will mount an array of hostile tactics against President Tsai and the DPP. Unlike a simple arithmetic calculation like "one plus one equals two," electoral bouts are like chemistry in which a single element could cause a massive change. We must never be caught off guard.
What do you think is the reason Tsai leads over other presidential candidates?
That's the threat from China, of course. The opposition party has failed to select the right person to run for the presidential election. Many eligible voters have backed away from supporting the Kuomintang-backed candidate Han Kuo-yu, because in voters' minds he has projected too strongly the image of a proxy for China.
What the people of Taiwan are most worried about now is how to keep what has been happening in Hong Kong from taking place someday in Taiwan. Those who feel they cannot entrust Taiwan's future to the hands of Mr. Han, who has been reiterating remarks in defense of China's position, have thrown their support behind Ms. Tsai in one whack, I believe.
The United States has expressed its view in favor of Ms. Tsai, hasn't it?
Yes, Ms. Tsai is far luckier than I was for various reasons. When I was at work in the political arena, the U.S. support for Taiwan was conditioned on "not irritating China." When I tried to call a referendum on Taiwan's relations vis-a-vis China, it was Washington that cautioned Taiwan not to hold the plebiscite.
Now, in contrast, the administration of President Donald Trump has come out almost entirely in support of Taiwan. Japan's pro-Taiwan government of Prime Minister Shinzo Abe, for its part, has remained stable.
In Taiwan, the DDP has secured a majority of seats in the Legislative Yuan. A solid, golden trilateral collaboration between Japan, Taiwan, and the United States for the cause of safeguarding freedom and democracy will surely hold China's hegemonism and expansionism in check.
Taiwan, for that matter, should use this opportunity to the fullest. But the moves taken so far by the Tsai administration cannot help but be called insufficient. If she is returned for a second term, she should act more proactively.
Has there been Chinese interference in Taiwan's elections?
There is a long list of China's efforts to intervene, going back many years. Prior to the victory of Mr. Lee Teng-hui in the 1996 presidential election, China employed menacing military tactics against Taiwan's electorate, but that ended in failure. Subsequently, China changed its approach to pandering with bribes.
When I was the president of Taiwan, a man who identified himself as a senior officer of the Chinese People's Political Consultative Conference, an advisory body to the Chinese government, offered me a bribe for a behind-the-scenes meeting. That man let me know he was willing to pay $50 million TWD (about $1.7 million USD) to me if I accepted the offer. I flatly turned down the offer, but was surprised that a Chinese agent dared outright to try bribing a Taiwanese president.
I suspect that China is most likely engaged in similar maneuvers now. Recently, China's ploys seem to have diversified even further, such as cyberterrorism and fake news.
What is your view about military threats from China?
The Chinese military has become willing to do anything, regardless of appearances. To be honest, it causes a feeling of dread.
When I was president of Taiwan, Chinese fighter jets came just short of flying across the median line of the Taiwan Strait, indicating Beijing's intent to avoid a military clash. Now, Chinese fighters frequently cross the line as a provocation. And in a show of its ability to launch military operations against Taiwan at any time, China's aircraft carrier sometimes sails all the way around the main island of Taiwan.
While Ms. Tsai makes a point of saying she wants to see the status quo maintained in Taiwan-China relations, China in fact has been changing the status quo almost every day. As things stand, if there is no action, Taiwan is destined to be swallowed by China.
There has been no time in the long history of Taiwan when the situation has been more dangerous than it is now, in my view.
What do you think about President Xi of China?
In light of what has been taking place in the Uighur Autonomous Region in Xinjiang, there can be no room for denying that, compared to his predecessors, he is a man of insidious character with the nerve to engage in sinister ploys. I also think Mr. Xi is not very competent in the exercise of political maneuvering. For instance, he hinted at using China's military might when he delivered a speech in January [2019] to the effect that his administration will push ahead with encouraging the "One Country, Two Systems" formula in Taiwan.
However, his speech backfired every way. Instead, it served to boost the Taiwan people's support for President Tsai.
He has billed himself as an expert in Taiwan issues simply because he was in Fujian Province adjacent to the Taiwan Strait for a long time. But actually I think he is little informed of the state of affairs in Taiwan. I am dreadfully afraid of the possibility of Chinese President Xi behaving recklessly, without consideration of the consequences, because of his lack of understanding of Taiwan.
(Click here and here to read the original articles in Japanese.)
Author: Akio Yaita
Akio Yaita is a Deputy Foreign News Editor at the Sankei Shimbun.