[JAPAN SPORTS NOTEBOOK] INAC Kobe Leonessa Make History in WE League's First Season
Manager Kei Hoshikawa's squad captures the women's soccer league's inaugural title.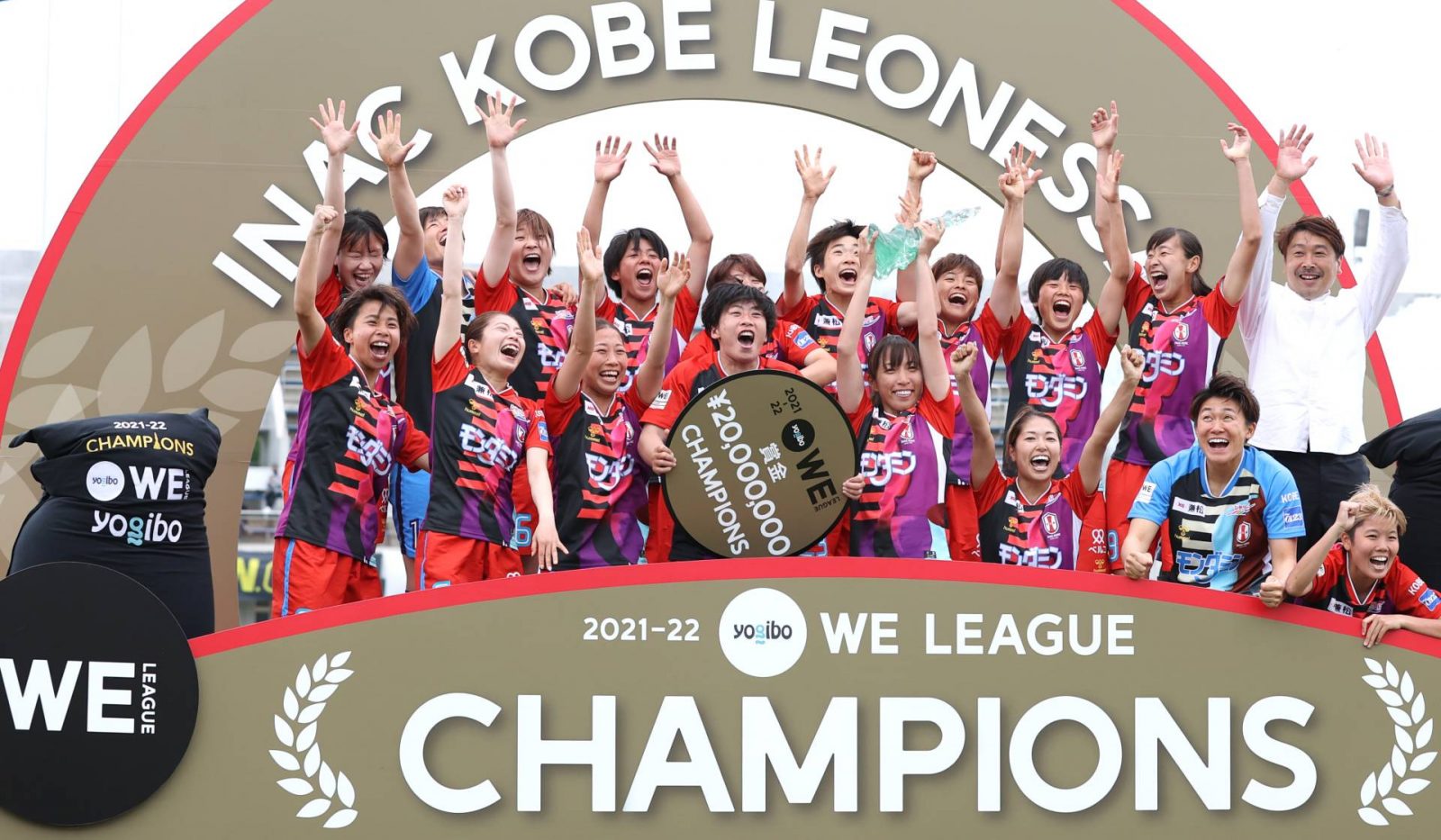 There's a first time for everything.

When a new professional sports league is established, there's always something special about first-ever games, the first season as a whole and, of course, the accomplishments of the first champion.

For the WE League, Japan's first fully fledged women's pro soccer circuit, INAC Kobe Leonessa will forever be listed in the record books as the title-winning club in its inaugural season.

Manager Kei Hoshikawa's team secured the title with two matches remaining on its schedule. A 3-0 triumph over Nojima Stella Kanagawa on Sunday, May 8 at Sagamihara Gion Stadium in Kanagawa Prefecture clinched the top spot in the 11-team league.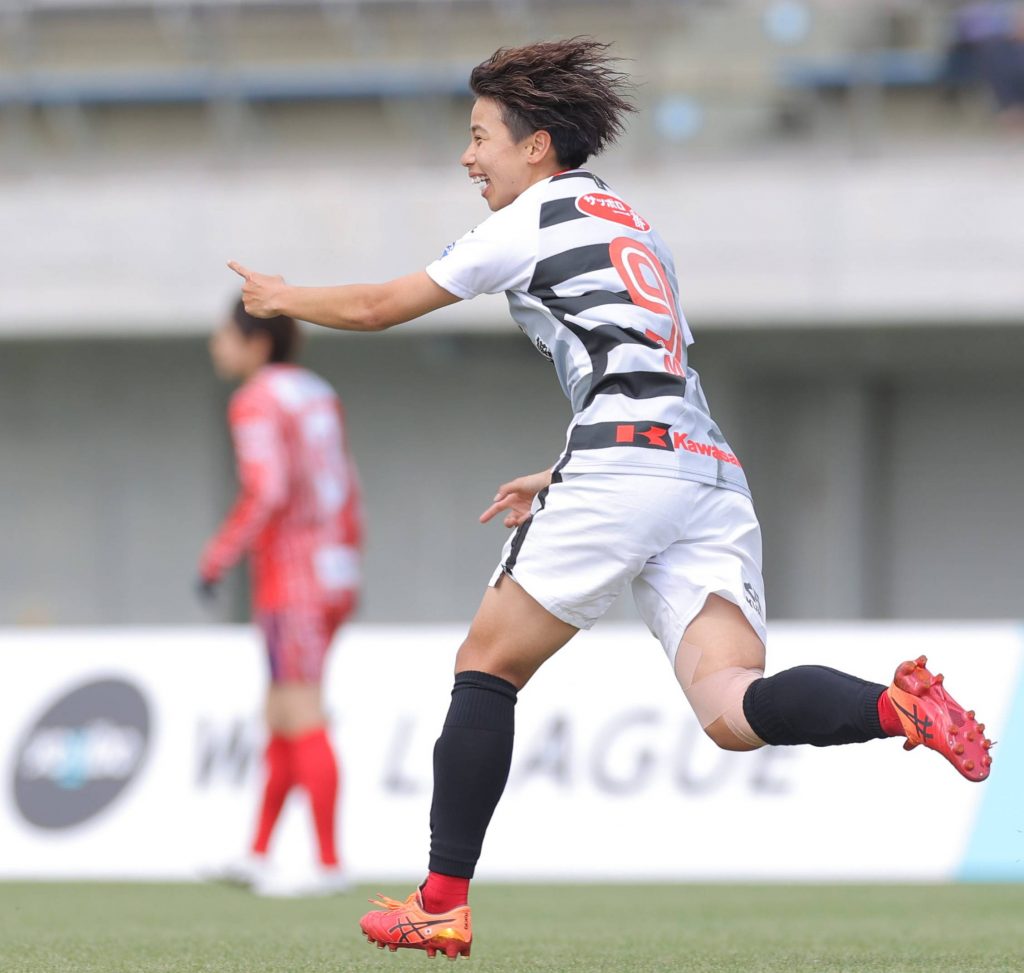 Mina Tanaka scored in the eighth and 78th minutes. Yui Narumiya provided the second goal in the 72nd. (Watch match highlights here.)
The Leonessa have 47 points (15 wins, two draws, two defeats) through May 14. The second-place Mitsubishi Heavy Industry Urawa Reds Ladies have 41 points (13-2-4).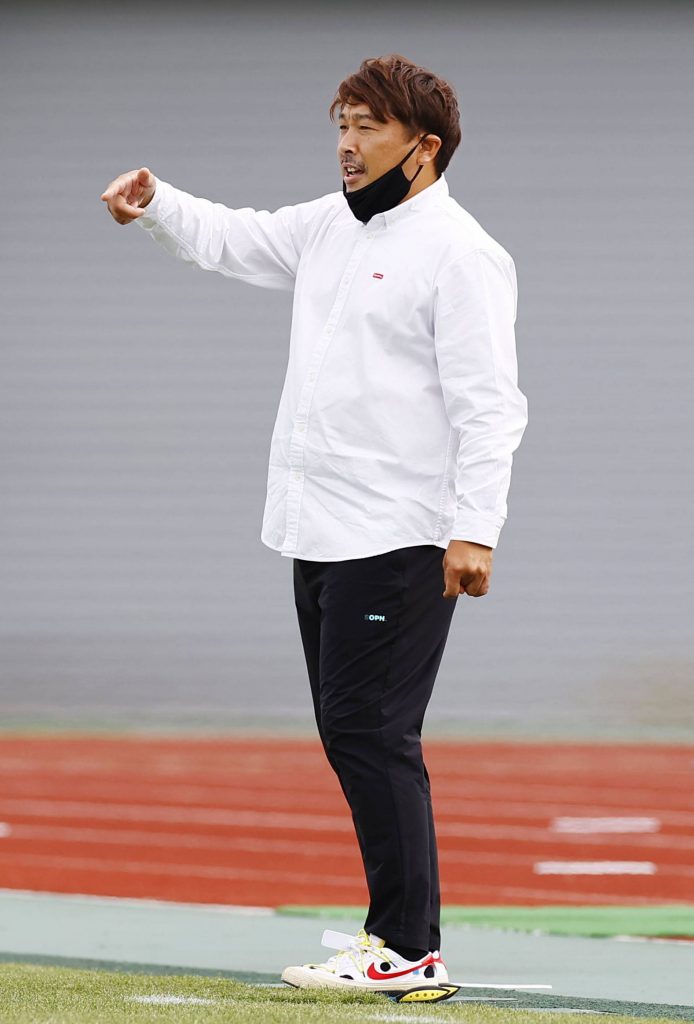 "It's been a long season, but I'm very happy to be able to finish [as champions]," said Hoshikawa, who directed the Latvian men's team FK Auda from 2018-20 before joining the Leonessa.

The season wraps up on Sunday, May 22. The champions will be away for their final match, playing Omiya Ardija Ventus in Saitama.

Before the launch of the WE League, the Nadeshiko League operated as the top flight of Japanese women's soccer. The Nadeshiko League, however, consisted mostly of amateur players.

The Leonessa captured the Nadeshiko League crown in 2013.

Nine years later, WE League Chairman Kikuko Okajima reflected on the team's 2022 title and the league's first season.

"INAC Kobe Leonessa's momentum and strength was visible from the beginning of the season, when Megumi Takase scored the opening goal of the WE League," Okajima said on May 8.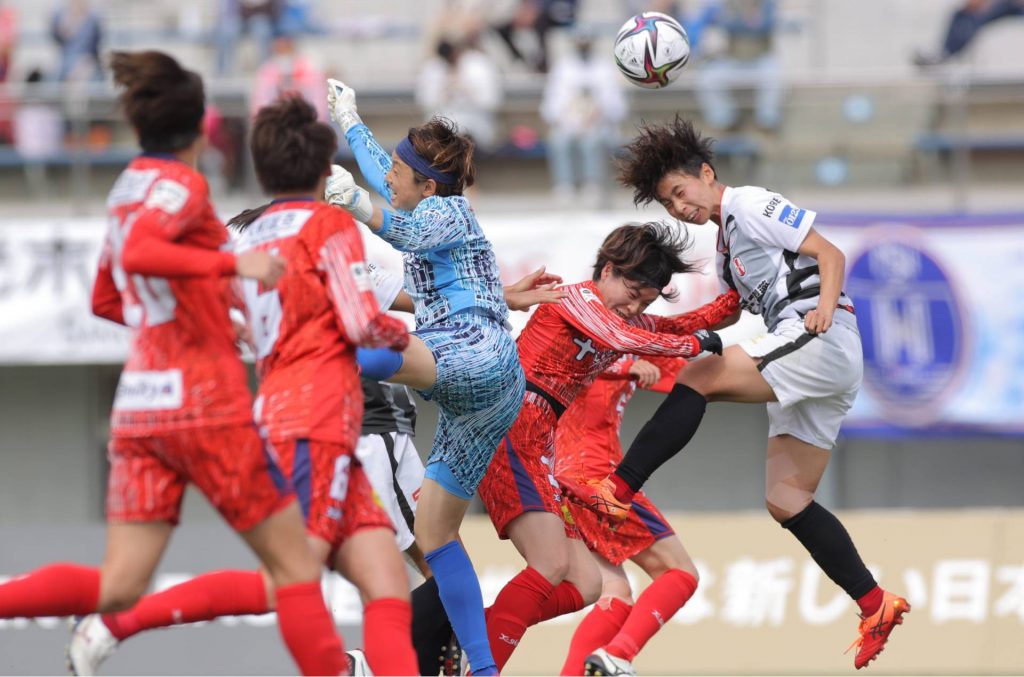 Okajima cited the Leonessa's 16-match win streak and eight shutouts as examples of the team's exceptional play.
"Even at times when they had less possession of the ball in a match, they managed to conjure up and seize opportunities to seal the match with match-winning goals," Okajima said.
"I would like to give a big round of applause once again to all the players, staff and everyone involved," she added.
"I hope that as the first league champions of the WE League, the club will only continue to entertain football fans and empower spectators with their thrilling play."
Tanaka has a team-high nine goals, trailing only Urawa's Yuika Sugasawa, who has 12. Narumiya is the Leonessa's second-leading scorer (five).

RELATED:

Japanese Quartet Shares Thrill of Scottish Premiership Title
Kengo Furuhashi, Daizen Maeda, Reo Hatate and Yosuke Ideguchi have all made contributions to Celtic's splendid season in the Scottish Premiership.

Manager Ange Postecoglou's side clinched the title with a 1-1 draw against Dundee United on Wednesday, May 11. Celtic held a four-point lead over the Rangers heading into the final weekend of the season.

An unbeaten run of 31 matches, including domestic tournaments, propelled Celtic to the top of the table.
Furuhashi has had the biggest impact of the four Japanese newcomers, scoring 18 goals in all competitions for Celtic this season.

Former Yokohama F. Marinos boss Postecoglou credited the Japanese quartet for helping their new team achieve greatness this season.

"They've been great," Postecoglou was quoted as saying by Kyodo News. "Obviously for them it was a big challenge coming from the other side of the world, different country, different culture, and they've all been outstanding."
Celtic, which now owns 52 Scottish League titles, will be in the spotlight more frequently in the coming months by virtue of a berth in the UEFA Champions League for the 2022-23 campaign.
RELATED: [ODDS And EVENS] Kyogo Furuhashi Thriving In Starring Role For Celtic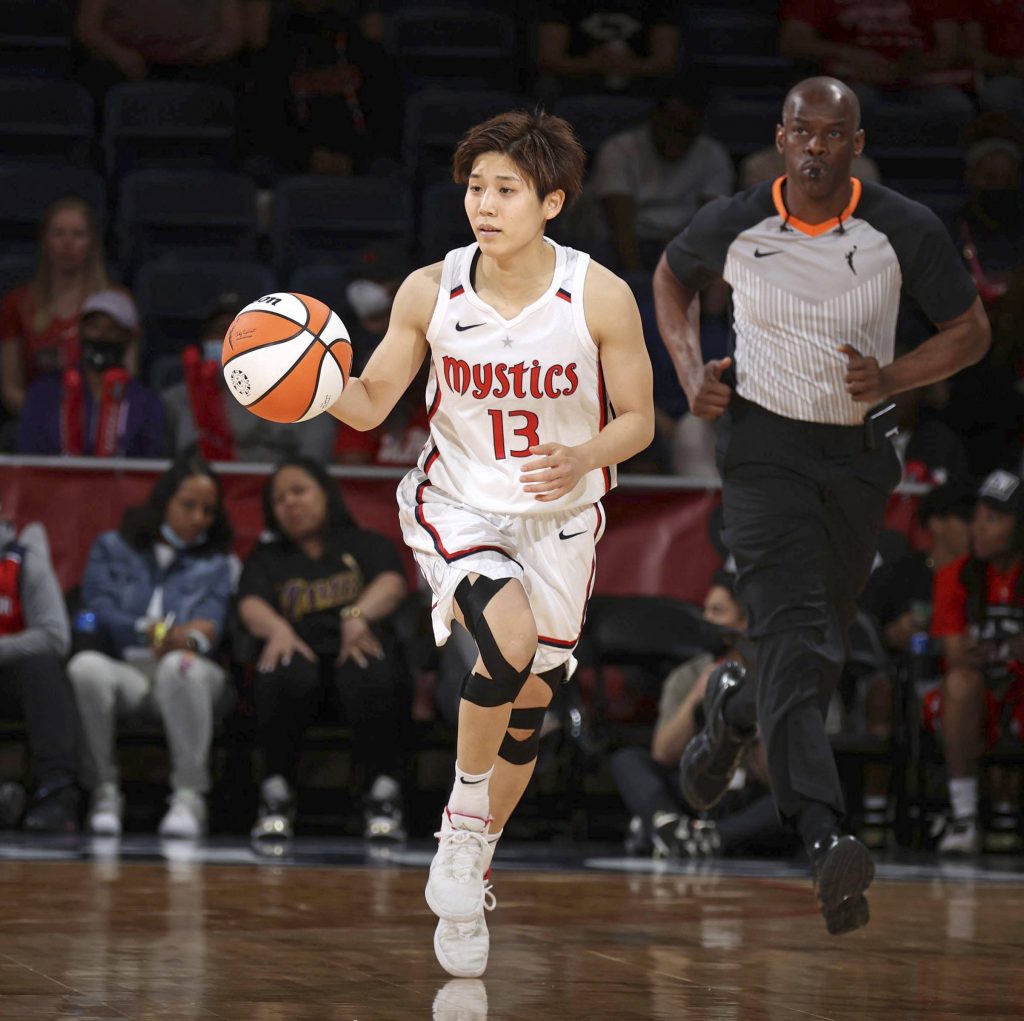 Basketball
Mystics Are the First WNBA Team with Three Wins
In her first season in the WNBA, point guard Rui Machida is enjoying her team's successful start to the 2022 campaign.

The Washington Mystics improved to 3-0 on Tuesday, May 10 by beating the visiting Las Vegas Aces 89-76.

Washington became the first WNBA team with three wins.

Against the Aces, Machida made her first start of the season, playing 29-plus minutes. She finished with nine points on 4-for-8 shooting from the floor, including a finger-roll layup to open the third quarter, and four assists. She had one turnover.

The Mystics overcame a 13-point halftime deficit and dominated the third quarter, outscoring the visitors 24-7.
RELATED: Rui Machida Makes Winning Debut In WNBA



Rugby
Playoff Fixtures Set in League One
The Japan Rugby League One's inaugural season has wrapped up, with a quartet of teams advancing to the first-division playoffs.

The Tokyo Suntory Sungoliath (14-2) and Toshiba Brave Lupus Tokyo (11-5) will meet in the first semifinal on Saturday, May 21.

A day later, the Saitama Panasonic Wild Knights (14-2) and Kubota Spears Funabashi-Tokyo Bay (12-4) are scheduled to play.

The third-place match is set for May 28 and the championship match to be held the next day.

RELATED: [JAPAN SPORTS NOTEBOOK] Damian McKenzie Racking Up A Plethora Of Points For Title-Chasing Sungoliath



Surfing
WSL's Murakami Featured in Documentary
Shun Murakami, a 25-year-old competitor in the World Surf League's men's qualifying series, is the subject of a recently released documentary, which was produced by Rakuten.

The 17-minute film, Shun Murakami: The Documentary, debuted on Rakuten Sports' YouTube channel in February.


For Tobias Memmott, who directed the documentary, highlighting Murakami's commitment to his craft was a top priority.

"From the first meeting with Shun we knew that his dedication to his sport went far beyond the competitions and sponsorships that being a professional surfer envelopes you in," Memmott said in a press release. "Shun is surfing for a much greater goal and purpose. To Shun, surfing is his past, present, and future and that's the story we set out to tell."
In its description of the documentary, Rakuten Sports introduces the project his way:
The documentary follows Shun Murakami, one of Japan's leading professional surfers on his lifelong quest to find the perfect wave. Surfing helps him nurture his powerful connection with the ocean, which in its fascinating unpredictability draws him to explore its myriad waves. The more difficult the wave, the greater his motivation to ride it.
In late March, Murakami finished runner-up at the Asia Open in Ichinomiya, Chiba Prefecture. Compatriot Reo Inaba outscored Murakami 13.50-8.85 in the final.



Baseball
Marines' Sasaki Improves to 4-0
Nearly two months into the season, Roki Sasaki is still unbeaten.

The Chiba Lotte Marines hurler picked up his fourth victory on Friday, May 14 against the Orix Buffaloes, the team he threw a perfect game against on April 10.
Lotte won the series opener 4-1 in Osaka, with Sasaki scattering six hits and allowing one run in seven innings. He had seven strikeouts and issued one walk in his seventh start of the season.
"Even though they hit me, I was able to pitch well...and just hang on enough to get through seven innings," Sasaki said, according to Kyodo News.
Sasaki, who has fanned 78 batters in 49 innings, was named the Pacific League's Pitcher of the Month for March and April. He was 3-0 with a 1.50 ERA in five starts by the end of April.


Angels' Ohtani Receives AL MVP Plaque
The Los Angeles Angels held a pregame ceremony on Tuesday, May 10 at Angel Stadium to present Shohei Ohtani with his 2021 American League MVP plaque.
A ceremony had been scheduled for January in New York, but it was called off due to the global pandemic.

Instead, Ohtani received an MVP plaque and the Commissioner's Historic Achievement Award at his team's ballpark.
Before the first pitch was thrown, 25,000 of the fans in attendance (39,313) received a souvenir: an Ohtani bobblehead upon entering the stadium.

Also this week, Sports Illustrated highlighted the popular superstar's jokester antics in a story entitled "Angels Star Shohei Ohtani Is a Legendary Hitter, Pitcher and Prankster."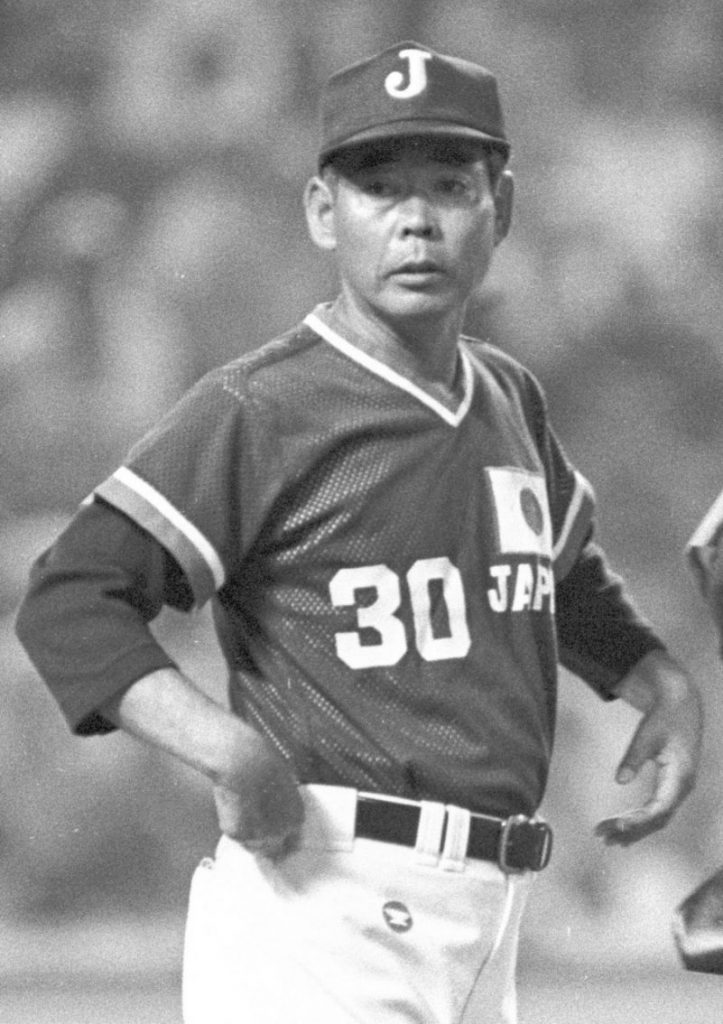 Reiichi Matsunaga, Manager of Japan's 1984 Olympic Squad, Dies at 90
Japanese Baseball Hall of Fame inductee Reiichi Matsunaga, who guided Japan to a gold medal at the 1984 Los Angeles Olympics, died on May 12 at a hospital in Yokohama. He was 90.

Matsunaga managed at the high school, collegiate and industrial league levels.
He took over as Hosei University dugout boss in 1964. While managing at his alma mater, he led the school to six Tokyo Big6 titles and the 1968 All-Japan University Baseball Championship Series title.
Between 1971 and '80, Matsunaga piloted the Sumitomo Metals to a pair of Japan Amateur Baseball Championship titles.
He served as Team Japan's skipper, starting in 1980.

Baseball was a demonstration sport at the 1984 Summer Games. The final was held at Dodger Stadium. Japan defeated the United States 6-3 in the gold-medal game.

On August 7, 2014, the Japanese Baseball Hall of Fame and Museum held an event to celebrate the 30th anniversary of Team Japan's Olympic gold.

On the exact day 30 years later, slugger Katsumi Hirosawa, who belted a three-run homer against Team USA, recalled Matsunaga's pregame pep talk with his players.

"Dodger Stadium, where we had the final against Team USA, was packed," Hirosawa said. "People sang the Star-Spangled Banner out loud together. We knew Team USA was very good and they looked so relaxed that day. We, on the other hand, were so tense. I got cold feet. Then Manager Matsunaga called us together and said, 'Being relaxed doesn't always help you play well. Just do your best. There are a lot of things you can achieve only when you are tense.'
"He made me think it's OK to be nervous. I felt relieved. Today people often ask me, 'What can I do when I feel overwhelmed with pressure?' I borrow Manager Matsunaga's words and say, 'It's OK to feel pressured and get nervous. There are things you can do only when you are tense. There's nothing wrong with being nervous. It's not your enemy.' I believe that Manager Matsunaga's words led us to the victory over Team USA."
Matsunaga was the final speaker at the anniversary event, and spoke with pride about the growth of baseball on a global scale.
"Today 108 countries are members of the International Baseball Federation," Matsunaga said. "We must not forget all the painstaking efforts and contributions that people have made for baseball to have developed into a worldwide sport. We, who once led Team Japan in the Olympics, will work together in order to realize our nation's dream to bring baseball back to the Olympics for our younger generations."
Since their 30th anniversary gathering, the landscape of international baseball has changed. The International Baseball Federation joined forces with the International Softball Federation to form a new global governing body, the World Baseball Softball Confederation.

Both sports were added to the Olympic program for the 2020 Tokyo Games after being off the program in 2012 (London) and 2016 (Rio de Janeiro). Neither sport will be played at the 2024 Paris Games, but both are set to be played at the 2028 Los Angeles Olympics.

Matsunaga was born in Kitakyushu, Fukuoka Prefecture.

In 2007, he was inducted into the Japanese Baseball Hall of Fame.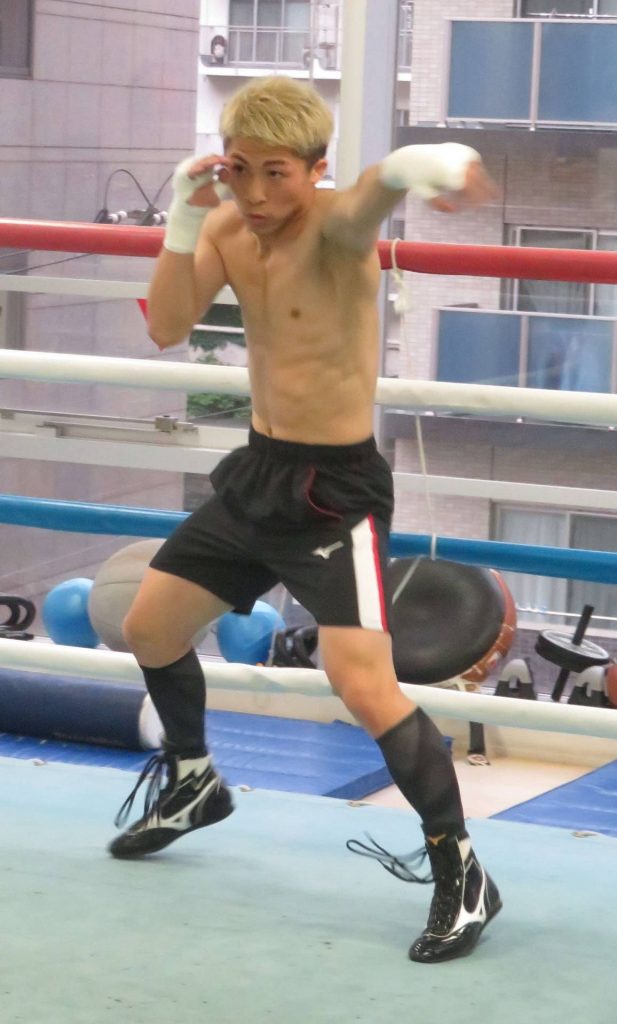 Boxing
'Monster' Inoue Preparing for June 7 Title Defense
Naoya Inoue, the unbeaten WBA and IBF bantamweight champion, is busy getting ready for his next fight.
"The Monster" (22-0, 19 knockouts) meets Filipino challenger Nonito Donaire on June 7 at Saitama Super Arena in a rematch of their November 7, 2019, showdown in the World Boxing Super Series final.

Inoue won the fight by unanimous decision (116-111, 117-109 and 114-113).

This time, Inoue said he's determined to have a better performance against Donaire (42-6, 28 KOs).

"I won't make it into a drama this time. I will do everything I want to do and win unilaterally," Inoue said in a recent interview with Boxing Magazine, a monthly Japanese publication.

Author: Ed Odeven
Follow Ed on JAPAN Forward's [Japan Sports Notebook] here on Sundays, in [Odds and Evens] here during the week, and Twitter @ed_odeven and find him on JAPAN Forward's dedicated sports website, SportsLook.