[JAPAN SPORTS NOTEBOOK] Kojiro Shiraishi Completes Epic Sea Journey, Honors Late Mentor in Vendée Globe
Shiraishi sails around the world in 94 days, 21 hours and 32 minutes aboard DMG MORI Global One.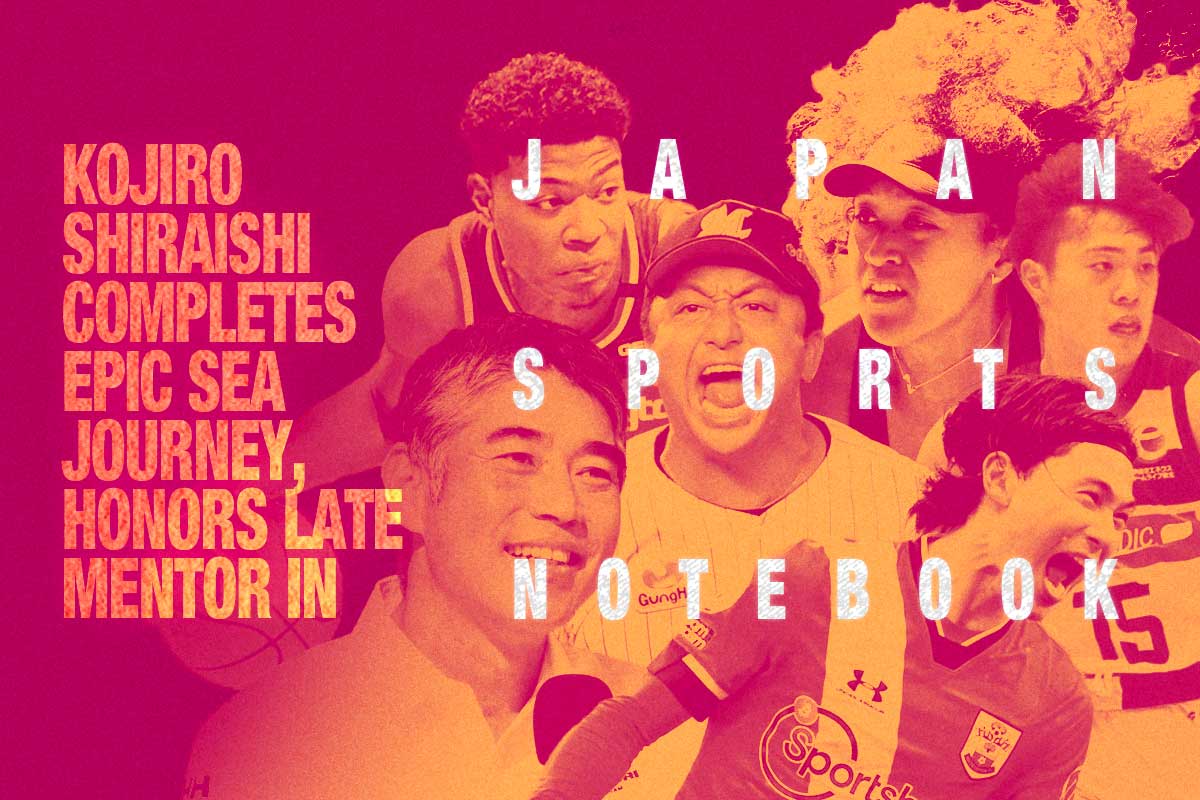 ~~

The traditional tie that binds a master and a pupil is a powerful thing.
It's not something we knowingly witness dozens of times a day, but it's there. It remains a tangible part of modern society, as traditions are passed on ー maybe even refined ー from generation to generation.
You may not consider sailing as an obvious case study in the working relations between older and younger individuals involved in the same discipline. But the continued dedication that sailor Kojiro Shiraishi displays for his life's work is a moving tribute to his late mentor Yukoh Tada, who triumphed in the Class 2 (for boats 32-44 feet long, or 9.7-13.4 meters) in the BOC Challenge solo circumnavigation world race in 1982-83.
It was on display day after day during Shiraishi's 94-day, 21-hour, 32-minute solo around-the-world journey in the ongoing Vendée Globe extravaganza. The DMG MORI Global One skipper reached Les Sables d'Olonne, France, on Thursday, February 11, becoming the 16th sailor to complete the global odyssey that began on November 8 at the same place.
The Vendée Globe, recognized as the world's toughest sailing race, was launched in 1989 and is held every four years. For much more information on this year's race, visit the official website.

When Shiraishi reached the French seacoast town, he was overcome with emotion, gratitude and a sense of achievement.
"It was truly wonderful, and a longer adventure than originally planned!" the Kamakura, Kanagawa Prefecture, native told the gathered crowd. But finishing and seeing all these familiar faces and people here is really very heart-warming.
"It is a miracle; I really did not think that my mainsail would hold, and it is truly incredible that it pulled through and I have been able to complete this wonderful adventure.
"To finish was my primary objective, but to also please my sponsor, my team and all the fans who have encouraged me throughout the race is what makes me the proudest."
Completing the race was a victory in and of itself for the 53-year-old, whose first Vendee Globe experience in 2016 ended on the 27th day due to a damaged masthead that December. In disappointing circumstances, Shiraishi was forced to navigate Spirit of Yukoh into Cape Town, South Africa.
This time, he experienced significant challenges early on in the race.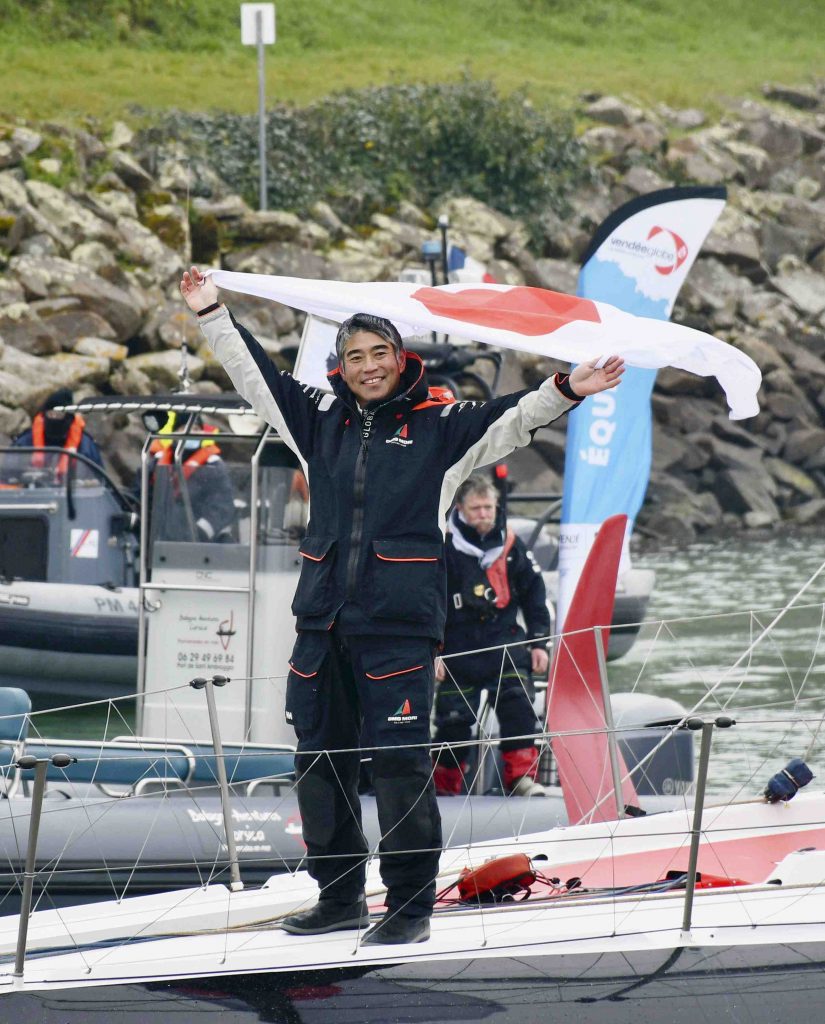 Navigating A Crisis
Six days into the epic journey, his vessel's mainsail was torn. Repairing an essential piece of his ship alone at sea no easy task. Time, patience and expertise honed from years of marine life were required.
As a result, he was also forced to sail with one reef in the mainsail, according to the Vendée Globe website.
Reflecting on the obstacles he overcame, Shiraishi commented: "When the mainsail tore and it took me a week to repair and I hoisted it up, that was the most marvelous moment of this Vendée Globe."
Shiraishi was never a front-runner in the race, which began with 33 sailors.
Simply put, he persevered and kept his focus on completing his journey. In doing so, he became the first Asian to complete the Vendée Globe. He climbed several spots in the overall standings as well after the necessary repairs were made. (As of 5 p.m. JST on February, 13, six of the 25 sailors who remained were still on the open seas.)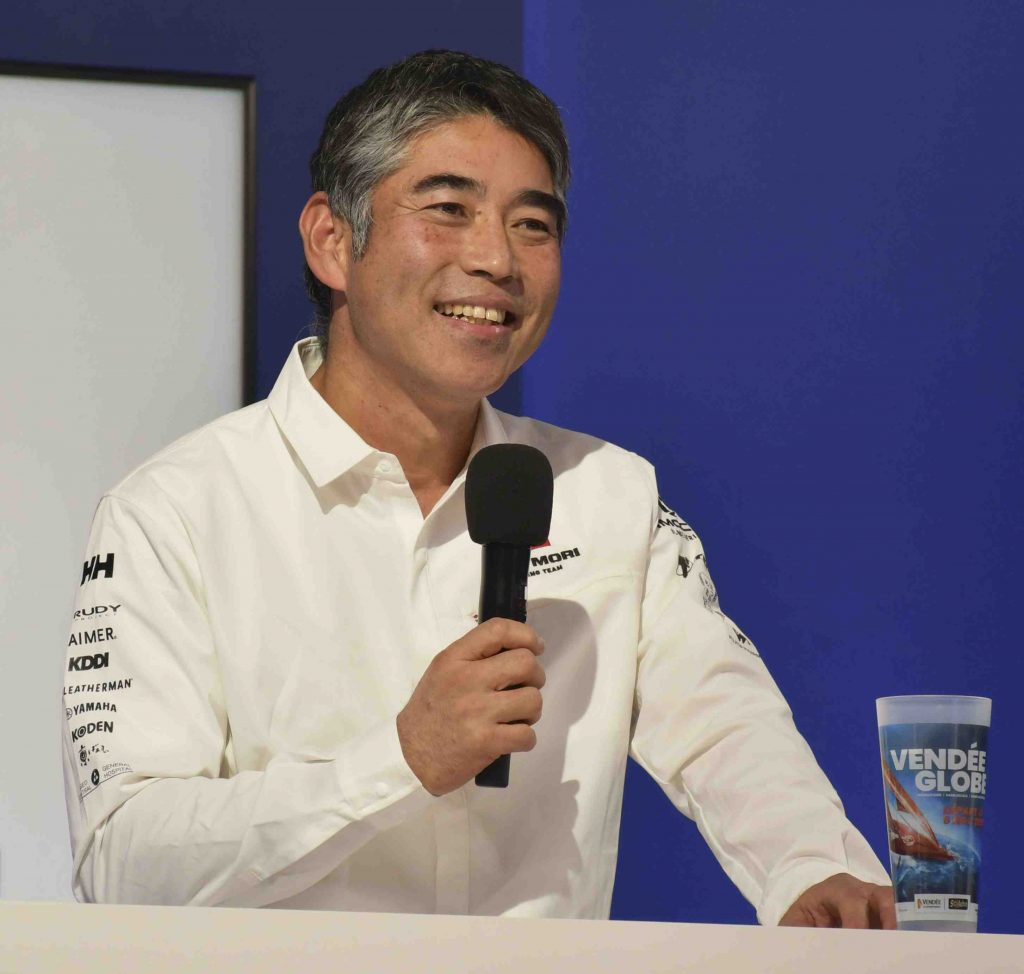 There were, of course, no guarantees that the repairs would hold up, which Shiraishi acknowledged toward the end of January.
"I'm glad the repairs are holding," he said at the time. "It's almost a miracle. On board DMG MORI Global One, miracles happen every day. It holds up well in squalls, storms and other hazards. ... Every day I am on the water and sailing, I am the happiest person in the world."
Expressed through his words and his smiling face, Shiraishi was beaming with pride about that fact.
"The biggest satisfaction I have now is when you go on Google in Japan, when you type my name it comes up with Vendée Globe, and so I am so very proud of that," he admitted. "And now I hope other young Asian skippers will do the race."
At the press conference, one of the more interesting questions Shiraishi was asked centered on "his being in total harmony" with his boat.
And he didn't let the opportunity slip away.
"The first thing I want to say to the boat is thanks for bringing me back to Les Sables," he said. "It worked hard a lot, it suffered a lot and I thank it.
"I want to say sorry to it for not being able to exploit its full potential because of this mainsail problem."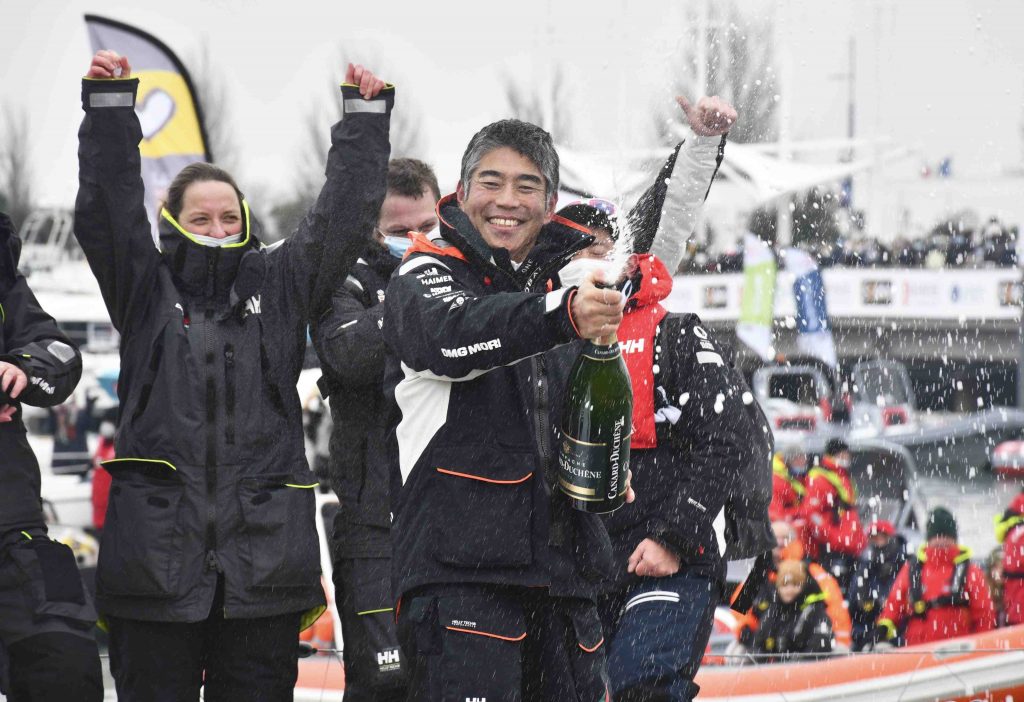 The backstory of Shiraishi's close ties to his mentor would make a compelling movie plot.
Initially, Shiraishi was enchanted by Tada's victory in the BOC Challenge and repeatedly tried to contact him by telephone before finally getting through. Tada was hard to get a hold of due to his night job as a taxi driver, according to multiple accounts of their friendship.
Eventually, Tada helped Shiraishi learn to sail, then the former went on to work for the veteran sailor as his assistant.
Tada was 61 when he committed suicide in 1991 in Sydney, following a series of misfortunes, including multiple capsizes, in another BOC Challenge race. From the Australian city, Shiraishi performed the duty that was one of the defining acts of his life. He got on board Okera VIII, Tada's boat, and steered it back to Japan.
Ever since, Shiraishi has honored Tada by naming his various ships in honor of him ー calling them Spirit of Yukoh, with his current vessel being the fifth iteration.
A few pertinent facts about Shiraishi's latest sea adventure. He traveled 29,067.67 miles at an average speed of 12.76 knots.
On November 27, he was in 31st place at the equator on the outbound trek. On December 11, he was in 25th at Cape of Good Hope.
On January 13, he was 21st at Cape Horn (Chile), and on January 27, he was 18th on the return passage through the equator.
"For over 30 years I have been dreaming of doing this Vendee Globe, ever since Philippe Jeantot invited my master Yukoh Tada to compete in it," Shiraishi said on February 11. "It has taken 30 years to complete the circumnavigation and I am proud to have been able to fulfill what Yukoh Tada wanted to do."
RELATED COVERAGE:
[ODDS and EVENS] Kojiro Shiraishi Preparing to Embark on Epic Odyssey in Vendée Globe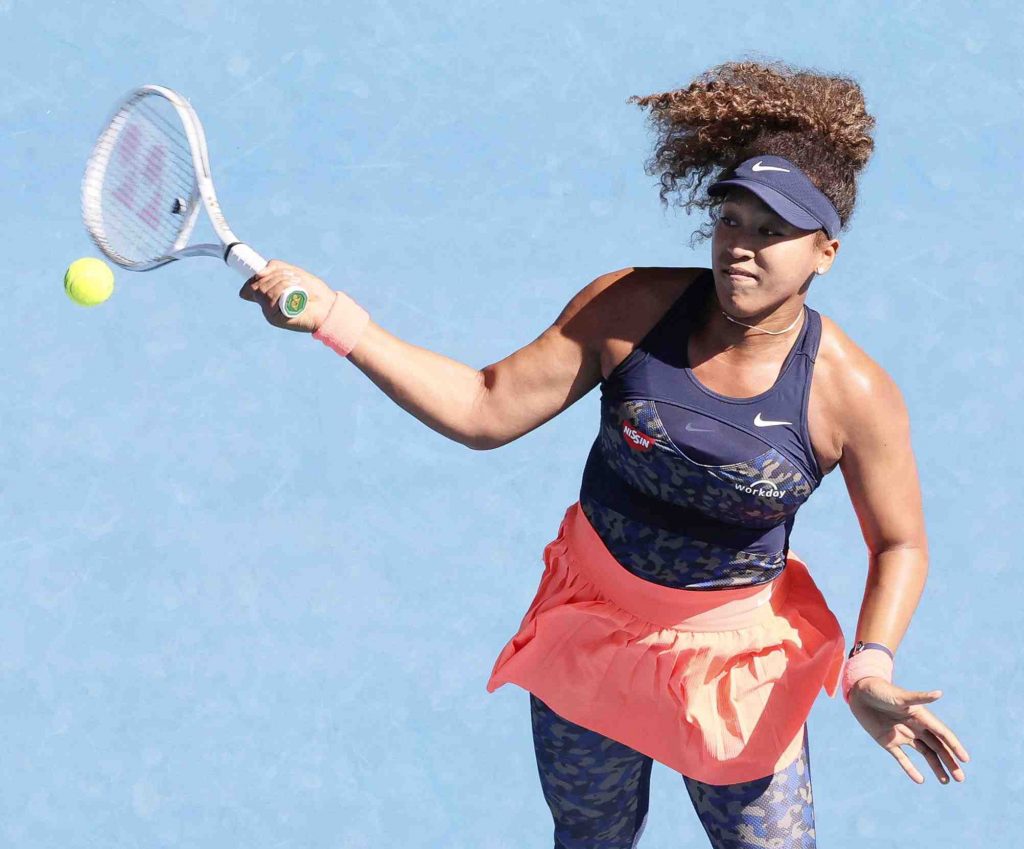 Tennis
Osaka Reaches Australian Open Fourth Round
Targeting her fourth career Grand Slam singles title, Naomi Osaka advanced to the fourth round of the Australian Open by eliminating No. 27 seed Ons Jabeur 6-3, 6-2 on Friday, February 12.
The third-seeded Osaka made quick work of her Tunisian foe, wrapping up the match in 78 minutes in Melbourne.
Up next: Osaka faces No. 14 seed Garbine Muguruza, a two-time Grand Slam winner, in the round of 16 on Sunday, February 14.

Osaka didn't help her cause with 27 unforced errors against Jabeur, whom she faced for the first time.
"I was really nervous and scared because I didn't know if she was going to hit a drop shot on any ball," Osaka was quoted as saying by ESPN.com.
Osaka began her title quest Down Under with a 6-1, 6-2 win over Russia's Anastasia Pavlyuchenkova in the first round.
She defeated France's Caroline Garcia 6-2, 6-3 in the second round.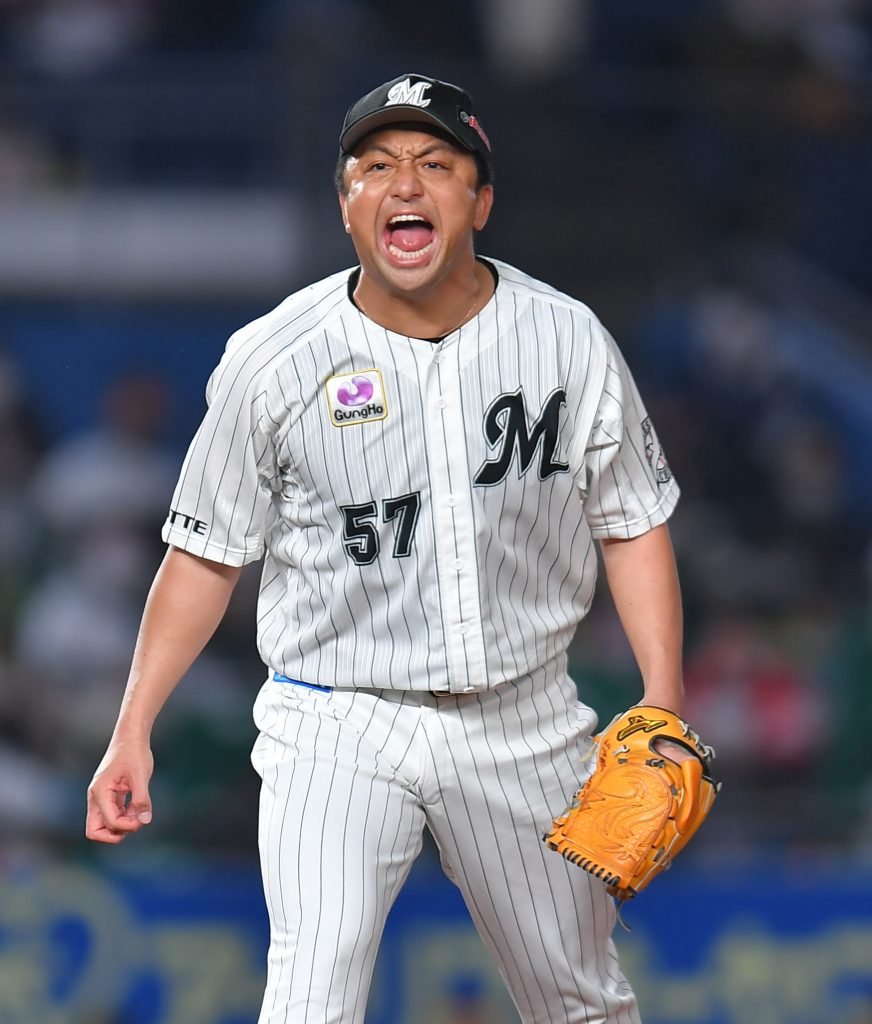 Baseball
Sawamura Joins Red Sox
The Boston Red Sox have finalized a $2.4 million USD (about ¥252 million JPY), two-year deal with free-agent reliever Hirokazu Sawamura, according to a Sankei Sports report this week.
Starting in 2011, the 32-year-old Sawamura played for the Yomiuri Giants until being acquired by the Chiba Lotte Marines during the 2020 season.
Sawamura appeared in 22 games for the Marines. In 21 innings, he had an 0-2 record, a 1.71 ERA and 29 strikeouts.
Originally a starter, he won a career-high 11 games as a rookie. Since 2015, the Tochigi Prefecture native been used exclusively as a reliever.
Sawamura owns a 48-52 career record with a 2.77 ERA and 75 saves in 352 NPB games.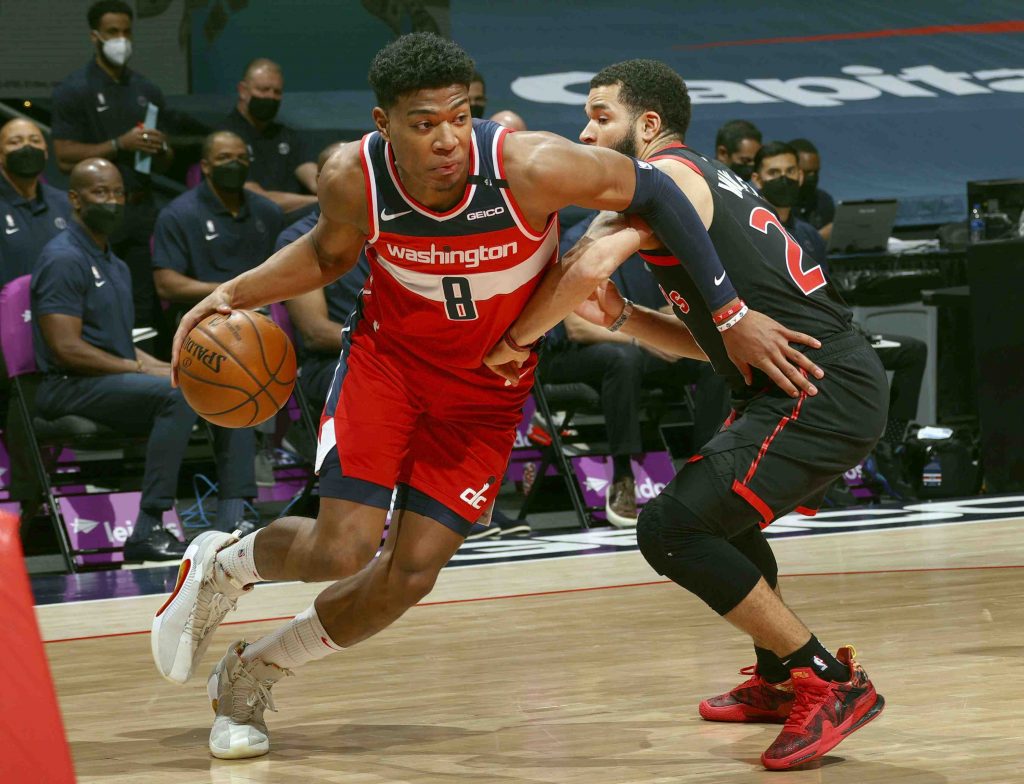 Basketball
Hachimura Notches Double-Double on 23rd Birthday
Rui Hachimura helped the Washington Wizards collect a win on his 23rd birthday. The pride of Toyama provided 19 points and 10 rebounds in 36 minutes in the Wizards' 105-101 road victory over the Chicago Bulls at the United Center.
For Hachimura, a second-year pro, it was his fourth career double-double.
"We just won the game. That's what I needed," Hachimura said with a laugh in a post-game interview session with reporters.
The Wizards had dropped their two previous games ー 122-95 to the Miami Heat on February 5 and 119-97 to the Charlotte Hornets on February 7 ー on the road before heading to Chicago for a contest on Hachimura's birthday.
"We just want to be aggressive. We just want to be positive," Hachimura said of the team's mindset after back-to-back losses.
He added: "We've just got to be aggressive at both ends [of the floor], especially defensively. Today, we focused on the defense for sure..."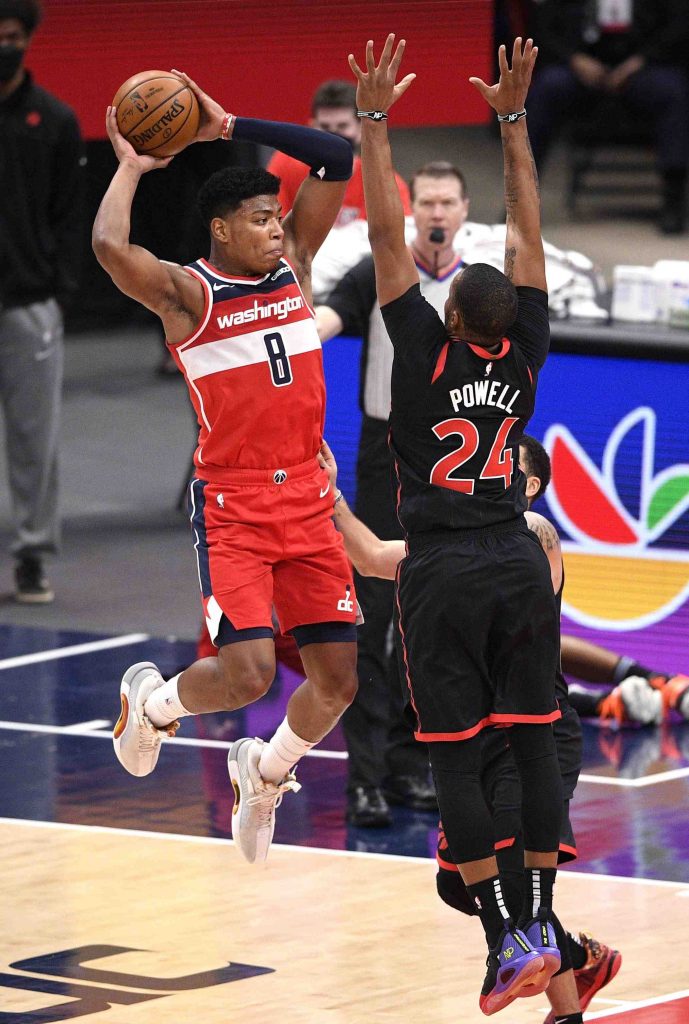 Most notably, for Hachimura his defensive effort in forcing an offensive foul against the Bulls stood out in his mind after the game. "I feel like that was the first time I took a charge, actually, in my basketball career, so that was a big step for me," he stated.

Wizards coach Scott Brooks is looking for ways to improve his struggling team's performance, and one example occurred after the aforementioned loss to the Heat, when he held a film session with just two players, Hachimura and rookie Deni Avdija, NBC Sports Washington reported.

What was Brooks' basic message to the two young forwards?
"...Be focused on the personnel, be focused on your job and just keep working," Brooks was quoted as saying by the website. "When you have a young frontline, you've gotta get them to realize that every minute is important. You can make some mistakes, but it can't be mistakes of not running back and matching up."


89ers Halt Crane Thunders' Historic Win Streak
The Sendai 89ers outlasted the visiting Gunma Crane Thunders 99-93 in overtime on Saturday, February 13, ending their 33-game win streak. (To put the Crane Thunders' remarkable run in context, remember this: In the 1971-72 season, the Los Angeles Lakers won an NBA record 33 consecutive games.)

Gunma (35-3) trailed 59-46 midway through the third quarter and mounted a spirited comeback.

The score was knotted at 88-88 after four quarters, forcing overtime in the B. League second-division match.

Sendai improved to 21-15.

Eric Jacobsen, a former Arizona State forward/center, paced the 89ers with 18 points.
Trey McKinney-Jones led the Crane Thunders with 23 points.
Gunma used a 12-0 run capped by a pair of Michael Parker free throws to pull within 61-60 late in the third quarter.
"It was a game that left me with remorse that we showed a completely different team in the first half and the second half of the game," Crane Thunders coach Fujitaka Hiraoka said. "[We] could not stop Sendai's fierce defense and inside attack."

89ers head coach Dai Oketani recently tested positive for COVID-19, the team announced on Wednesday, February 10. He is not with the team this weekend. In Oketani's place, team president Takehiko Shimura served as acting head coach.
"We played really well in the first half," Shimura told reporters after the game.
RELATED COVERAGE:
[ODDS and EVENS] Gunma Crane Thunders' Epic Win Streak Accentuates Team Chemistry, Talent | JAPAN Forward (japan-forward.com)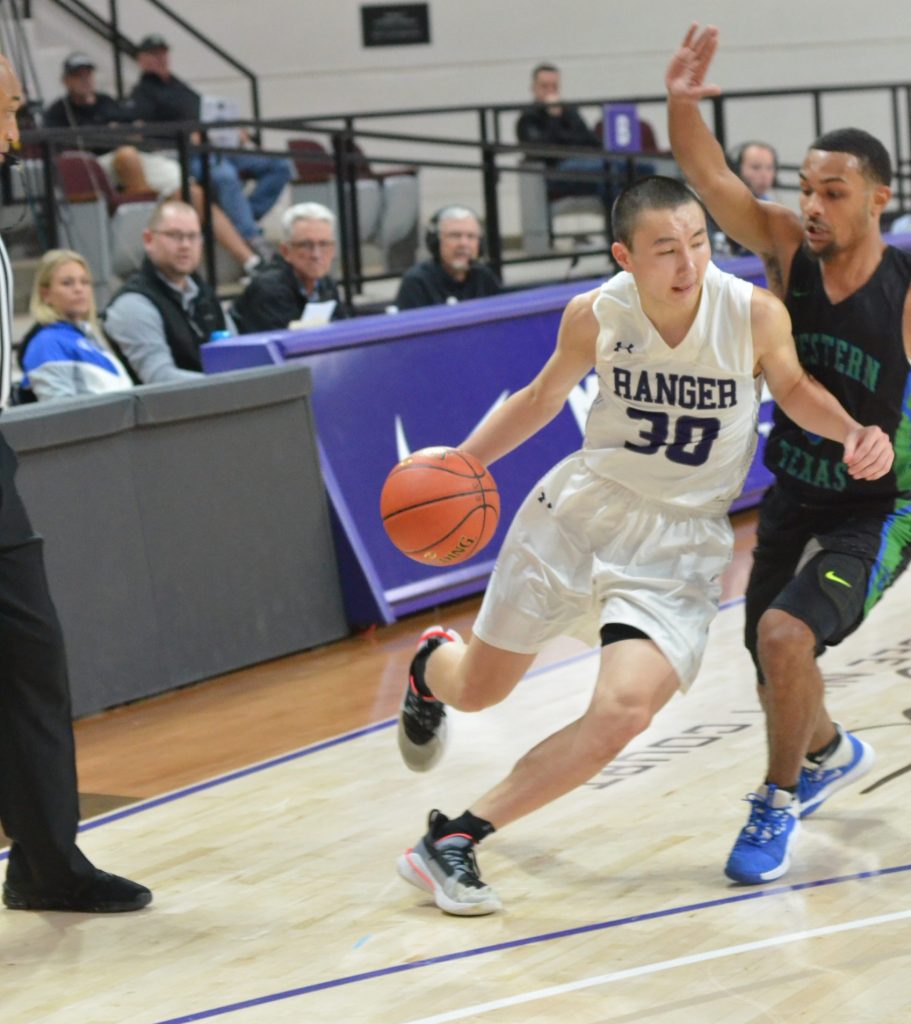 Ranger College Sharpshooter Tominaga's Season Impacted by Pandemic
Before transferring to the University of Nebraska for the 2021-22 school year, Ranger (Texas) College sharpshooter Keisei Tominaga is working to improve his all-around game during his pandemic-shortened sophomore season.
Through Friday, February 12, the National Junior Collegiate Athletic Association school had only played four games this season, which was delayed for several months due to the COVID-19 crisis. Tominaga is averaging 9.8 points for the junior-college school.
A year ago, Ranger College went 28-3, while the 6-foot-2 Aichi Prefecture native made a major impact, averaging 16.8 points.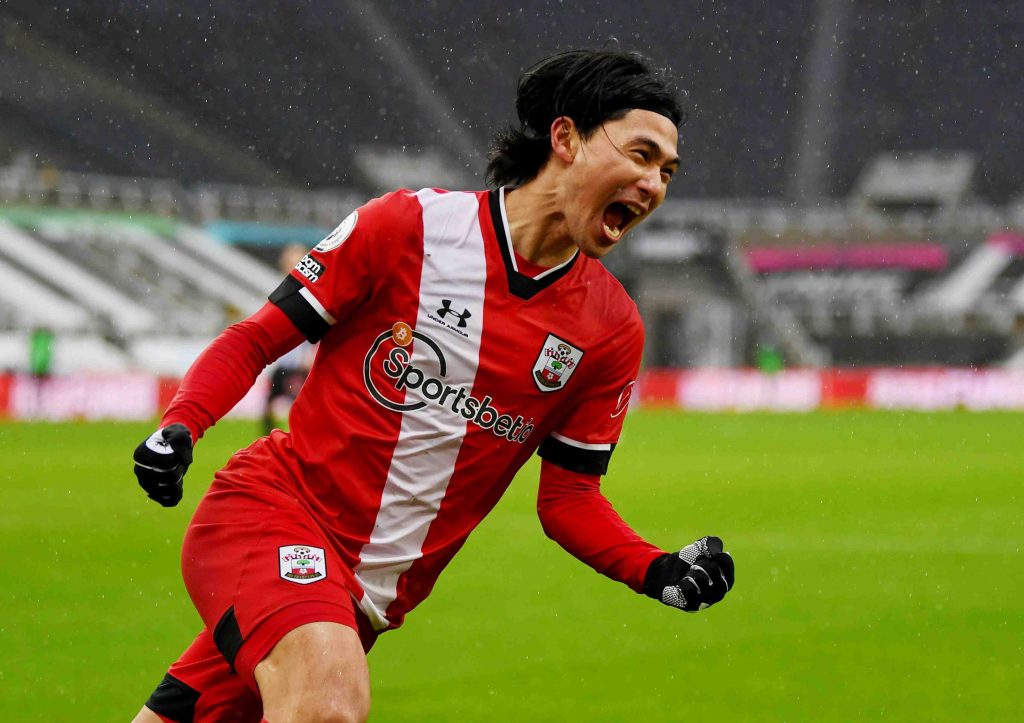 Soccer
Minamino Scores in Southampton Debut
A change of scenery gave a boost to Takumi Minamino in his Southampton debut on Saturday, February 6. The midfielder found his target in the 30th minute, booting the ball past Newcastle United goalkeeper Karl Darlow from close range.
The hosts defeated Southampton 3-2 in the English Premier League match.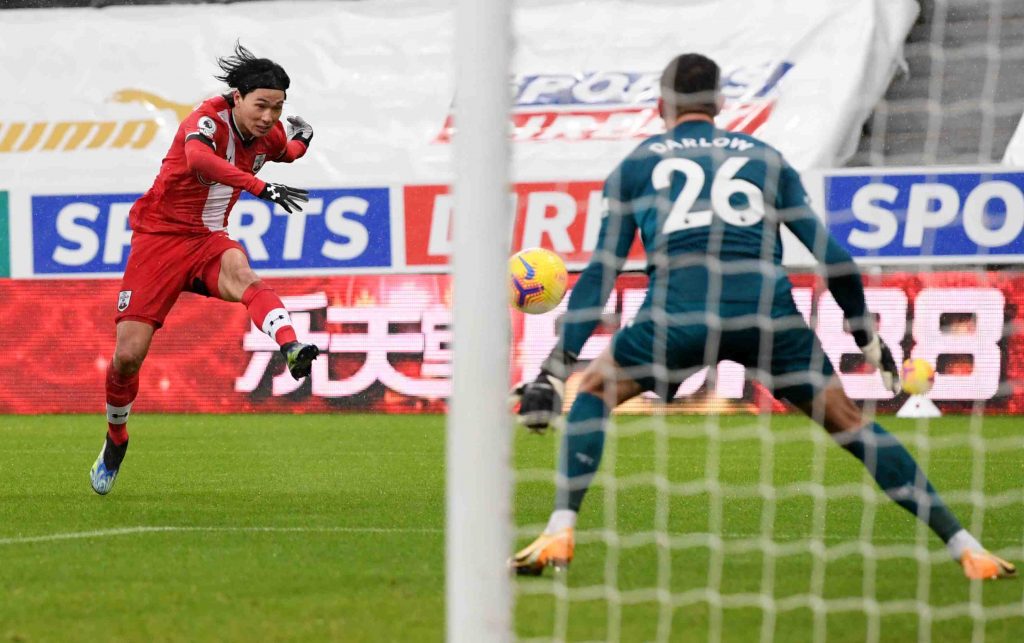 Minamino joined Southampton on loan from Liverpool on February..
Suzuki Tallies 13th Goal for Sint-Truiden
Though his team fell 3-1 to Belgian League foe Oostende on February 6, Yuma Suzuki scored Sint-Truiden's lone goal in the 90th minute. It was his 13th goal of the season.
The 24-year-old striker began his pro career with the J. League's Kashima Antlers in 2015 before a move to Sint-Truinden four years later.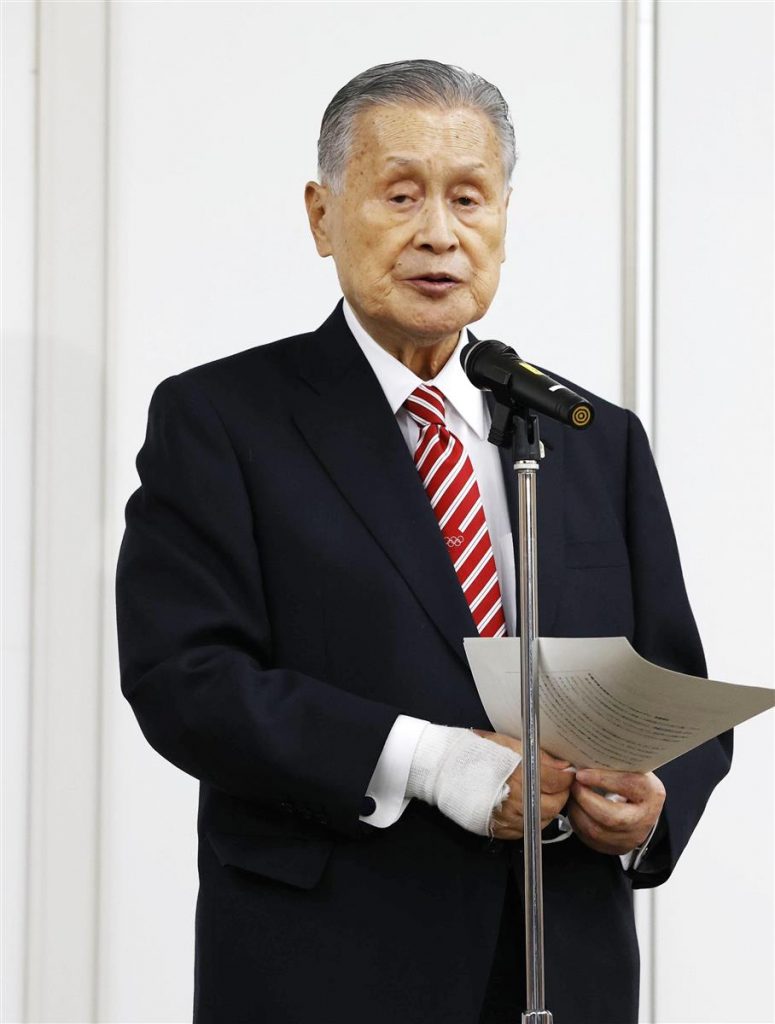 Tokyo Olympics
International Perspective on Mori Fallout
Four days before former Prime Minister Yoshiro Mori stepped down as the Tokyo 2020 Olympic Committee president on February 12, JAPAN Forward reached out to Donna Furlong Stelling, an international sports adviser specializing in sports diplomacy and sport for development, for her perspective on the issue.
Mori's comments, widely labeled as sexist, stated the view that women talk too much at official Tokyo 2020 meetings and that meetings would go on too long because every female committee member would feel the need to speak.
Stelling, a former director of the Asian Games and a former director of Olympic sponsorship, has been deeply involved in international sports for two-plus decades. The Australian native also observed the chain of events that follow insensitive remarks and inflammatory statements by public figures time and again.
"Mori's comments are disappointing but they are also revealing. Comments which are usually made behind closed doors can make international headlines," Stelling noted. "The international community and the sports industry have been given a glimpse into the daily reality faced by many women in Japan, and the challenges for women in sport. The global solidarity has been incredible. Diplomatic missions including Germany, Ireland, Portugal, Finland, Sweden, the European Union and the U.N.'s Japan office have taken to social media with hashtags #DontBeSilent and #GenderEquality. A stark contrast to the IOC's response who quickly considered the issue closed."

Stelling views the Olympic movement as something that "should be a catalyst for social change."
There's always room for improvement, she believes.
"Whilst the IOC has taken action in recent years to promote gender equality, it's a missed opportunity that Tokyo 2020 should have done more," Stelling told JAPAN Forward. "Dentsu have been successful with commercial partnerships that create value for the [Tokyo] Organizing Committee. But the future of sport also lies in building social partnerships that create value for society from Gender Equality, Human Rights to Climate Action. With [less than] 200 days to go until the Games, there's still time for Tokyo 2020 to do more and put the right foot forward."

Editor's note: Interested in submitting a news item for possible inclusion in the Japan Sports Notebook? Send an email with relevant information to e.odeven@japan-forward.com, or JAPAN Forward's comment's page or Facebook page and look for future editions of Japan Sports Notebook on our website.


Author: Ed Odeven
Follow Ed on JAPAN Forward's [Japan Sports Notebook] here on Sundays, in [Odds and Evens] here during the week, and Twitter @ed_odeven.