[JAPAN SPORTS NOTEBOOK] Lionel Messi Entertains Fans During PSG's Japan Tour
Fittingly, the Argentine legend scored the first goal in the French club's tour-opening win over Kawasaki Frontale.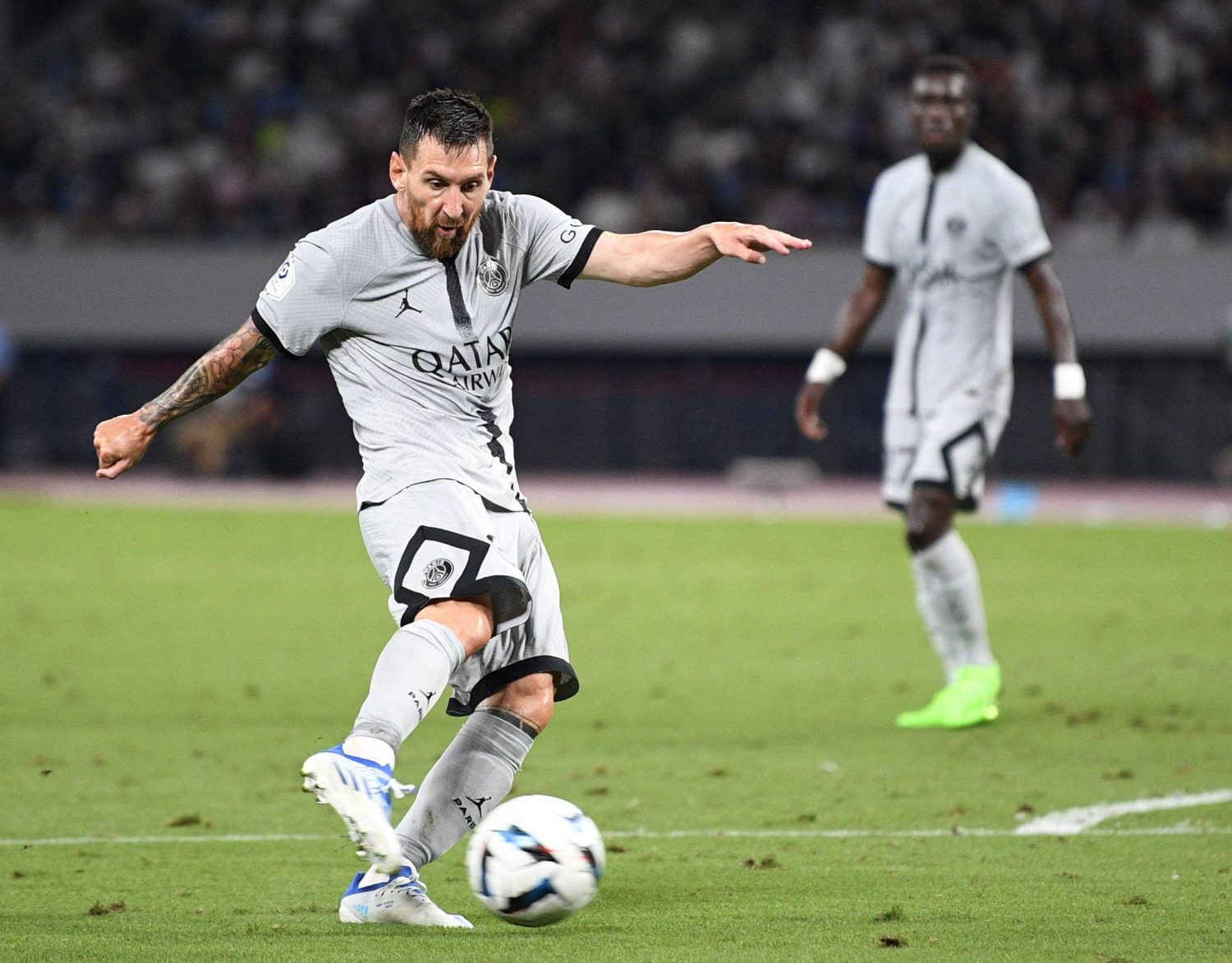 UPDATED: on July 25, 1:40 AM JST.
Argentine soccer maestro Lionel Messi captivates the audience whenever he steps on the field.

One of the sport's all-time greats, he's providing fans and media in Japan a rare opportunity to see his otherworldly skills on display during Paris Saint-Germain's three-match preseason exhibition tour this month against J.League squads.

Like Pele and Diego Maradona in the past, Messi is a generational talent.

Messi netted PSG's second goal in a 2-1 triumph over two-time reigning J.League champion Kawasaki Frontale on Wednesday, July 20 at National Stadium in Tokyo. Nearly 65,000 spectators attended the match.

The fleet-footed Messi, who played for Barcelona from 2004-21 and scored more than 470 goals in 520 matches for the La Liga side, turned 35 in June. As his career is likely winding down over the next couple years, this may be the final opportunity for fans in Japan to see him play here.

So consider it a Christmas gift in July for die-hard soccer fans in Japan to see Messi in person and against J.League clubs.


Messi provided the first goal against Frontale, finding his target in the 32nd minute on a ball that deflected off a Kawasaki player.

PSG manager Christophe Galtier delivered a thoughtful, analytical breakdown of his team's performance after the match.

"Of course winning was important, and I thought we showed some real positives going forward, with lots of presence in the opposition's box, lots of movement, lots of attempts, some excellent things that paid off, and others that didn't," Galtier commented in an interview on PSGTV.

"But it was also interesting to see us react quickly when we lost the ball, to maintain pressure on this Japanese side who are in the middle of their season and are therefore well-oiled, with rhythm and physically in shape."


On Saturday, PSG was back in action against Urawa Reds at Saitama Stadium. The French Ligue 1 squad scored twice in the opening half en route to a 3-0 victory before an announced crowd of 65,000.

Messi entered the match as a substitute in the 59th minute.
PSG got goals from Pablo Sarabia (16th minute), Kylian Mbappe (35th) and Arnaud Kalimuedo (76th).

Only Mbappe started against Kawasaki and Urawa, as Galtier opted to give a slew of younger players an opportunity to start.

PSG's website summarized the dynamic teamwork of Messi and Neymar over the last 30 minutes of the match this way: "The two virtuosos continued to find each other, during an enjoyable and open final half an hour where every player that came on off the bench had a role to play."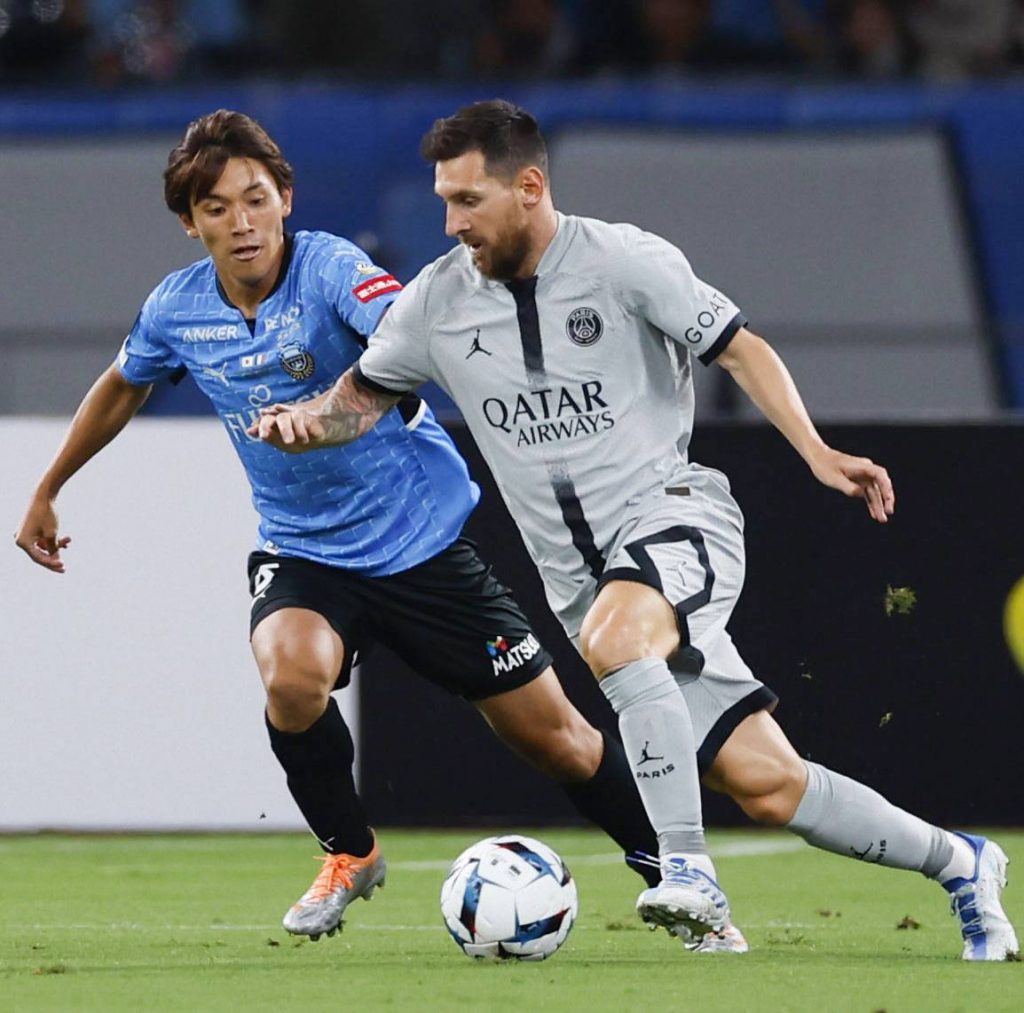 PSG's first-ever Japan tour is scheduled to wrap up against Gamba Osaka on Monday, July 25 in Kansai.
During PSG's visit to Tokyo, Messi and fellow stars Mbappe and Neymar participated in a coaching clinic on July 18.

On the same day, Galtier outlined his team's goals for the Japan tour.

"Japanese football is at a very high level, with players with good technique and speed. I hope these matches will be good preparation for the French Super Cup in Tel Aviv," the new PSG boss declared.

Messi also spoke at a news conference and commented on general observations he's seen in Japanese soccer in recent years.

"They're very organized and competitive," Messi told reporters. "They have become much more physically competitive."
RELATED:
Fencing
Emura Captures World Title in Women's Sabre
Misaki Emura became Japan's first individual sabre champion in an officially recognized global championships meet on Wednesday, July 20.

The 23-year-old Oita native claimed the gold in the women's competition at the Fencing World Championships in Cairo, wrapping up her title with a 15-10 decision over world No. 1 Anna Bashta of Azerbaijan. (Watch a short video with highlights from the final interspersed with comments from Emura, posted here.)

Emura, this year's Asian champion and a member of Japan's winning team at the 20022 Asian Fencing Championships in Seoul, reached the title match by beating Spain's Araceli Navarro 15-5 in the semifinals.
"It's like a dream," said Emura, who joined men's 2015 foil gold medalist Yuki Ota as Japan's title winners at the world championships. "It's the first world [sabre] medal for my country."
She added: "It might have looked easy, but for me it was very difficult, and I was nervous before the games — but now I'm relaxed and feel wonderful."


On Tuesday, Kazuyasu Minobe earned a runner-up finish in the men's individual epee competition.

In related news, Japan, the Tokyo Olympic men's team champion in 2021, claimed the bronze in the men's team epee event on Friday. Minobe, Masaru Yamada, Koki Kano and Ryu Matsumoto teamed up to place third.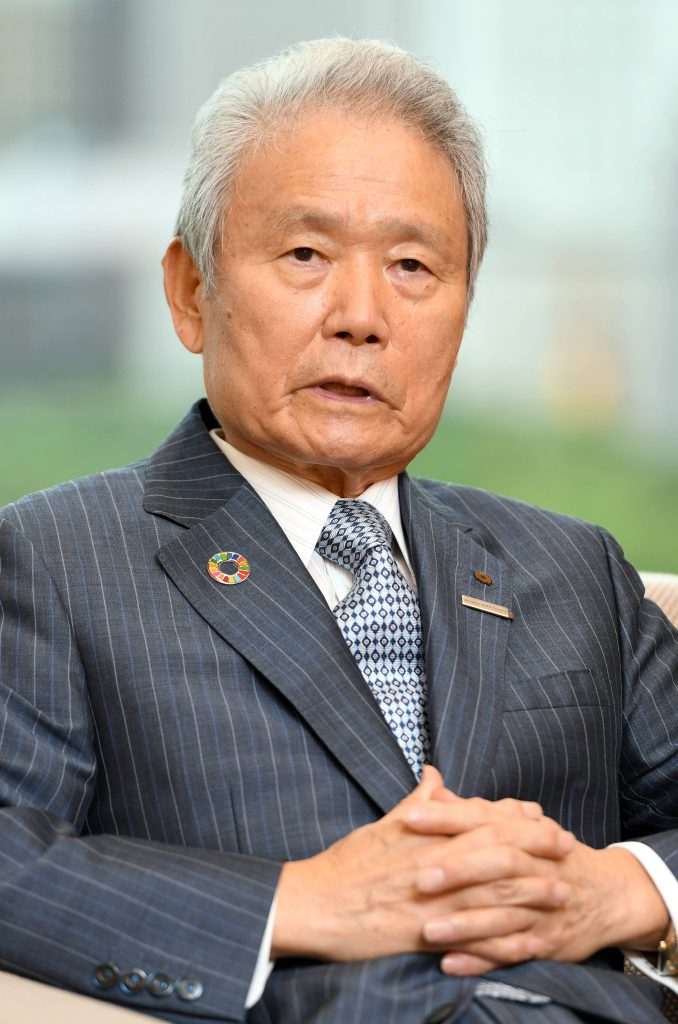 Baseball
Business Leader Sakakibara to Become NPB Commissioner
Sadayuki Sakakibara, the chairman of KEPCO, has been selected to be the next commissioner of Nippon Professional Baseball.

NPB's 12 team owners voted without dissent on Thursday, July 21 to offer the job to Sakakibara, a former Toray Industries president.
Sakakibara, 79, also previously served as the chairman of the influential Keidanren, also known as the Japan Business Federation.

The current NPB commissioner, Atushi Saito, 82, took over the post in December 2017.

Sakakibara will become the 15th commissioner in NPB history.
An owners meeting is set for November 2022, according to published reports, to officially finalize the process of making Sakakibara the new commissioner.
Sawamura Has Short Stint in Blowout Loss
The Toronto Blue Jays pounded the Boston Red Sox on Friday, July 22, scoring a franchise-record 28 runs on 29 hits.

The Red Sox, who lost 28-5, used seven pitchers. Veteran reliever Hirokazu Sawamura, their sixth pitcher, worked a scoreless eighth inning. He didn't allow a hit and struck out one.

Including his latest mound appearance in the blowout loss, Sawamura has pitched in 35 games this season for the Red Sox. He is 1-1 with a 2.48 ERA in 36⅓ innings.


Golf
Furue Takes Early Lead, Falls Out of Contention in Later Rounds at Evian Championship
Ayaka Furue got off to a terrific start at the Evian Championship on Thursday, July 21, carding an opening-round best 8-under par 63 in the the fourth women's major of the year.

"I like the course, and with the good vibes from last year I thought I would play good, and I played very well today," the 22-year-old told reporters.

Furue, who turned pro in 2019, finished the first round with nine birdies. She had one bogey in Evian-les-Bains, France.
"I had a good rhythm," said Furue. "I hit it close a lot. My putting was very good also today."

Furue shot a 1-over 72 in the second round and slipped to seven shots off the pace in a four-way tie for 11th place, which included Nasa Hataoka. Furue had three bogeys on Friday.

"My shots and my putting [weren't] on today and it wasn't very good," Furue told reporters.
Canada's Brooke Henderson entered the weekend with a three-stroke lead at 14-under 128. She held a two-stroke lead at 17-under 196 through three rounds.
In the third round, Furue carded an even-par 71 and was tied for 22nd at 7-under 206 heading into the final round. Following her tourney-best 65 in the third round, compatriot Mao Saigo was in a seven-way tie for 15th place at 8-under 205.
Henderson, who carded a 71 in the fourth round, claimed the title at 17-under 267.

American Sophia Schubert finished a stroke behind the Canadian champion. Saigo, who shot a 7-under 64 in the final round, was two strokes off the pace in a five-way tie for third.
Nasa Hataoka and Yuna Nishimura were tied for 15th at 11-under 273.
Furue finished tied for 19th at 10-under.
RELATED:
Skateboarding
Olympic Champion Horigome Wins SLS Tour Top
Yuto Horigome delivered a dynamic performance in the Street League Skateboarding Championship Tour's season-opening event on Sunday, July 17 in Jacksonville, Florida.

Horigome received 28.1 points to place first in the men's competition, edging compatriot Sora Shira (27.8) and Gustavo Ribeiro of Portugal (27.1).
Last summer, Horigome became the first Olympic men's skateboarding gold medalist, winning the inaugural street event at the Tokyo Olympics.

Twelve months later, he was pleased with his performance in Florida during the two-day tour stop.

"I was really, really happy. The [technical] level of skateboarding is constantly evolving and you can't win without getting high scores," Horigome said, according to Kyodo News. "I was a bit nervous but I'm glad I was able to show my own style."

The skateboarding tour moves to Seattle for its next round of competition on August 13-14.


Track and Field
Kitaguchi Collects Bronze in Women's Javelin at World Championships
Haruka Kitaguchi was in fifth place before her sixth and final attempt in the women's javelin final at the 2022 World Athletics Championships on Friday in Eugene, Oregon.

A strong effort on her final throw secured Kitaguchi a bronze medal. Kitaguchi's pole traveled 63.27 meters at Hayward Field. She became Japan's first javelin medalist since 2009, when Yukifumi Murakami was the men's bronze medalist in Berlin.

Kitaguchi, the world's sixth-ranked female javelin thrower when the meet began the previous week, is Japan's first-ever medalist in a women's field event at a world championships.
"I'm happy to have won a medal," Kitaguchi said, according to Kyodo News. "(But) this is not the goal. I'll do my best from here, aiming for gold."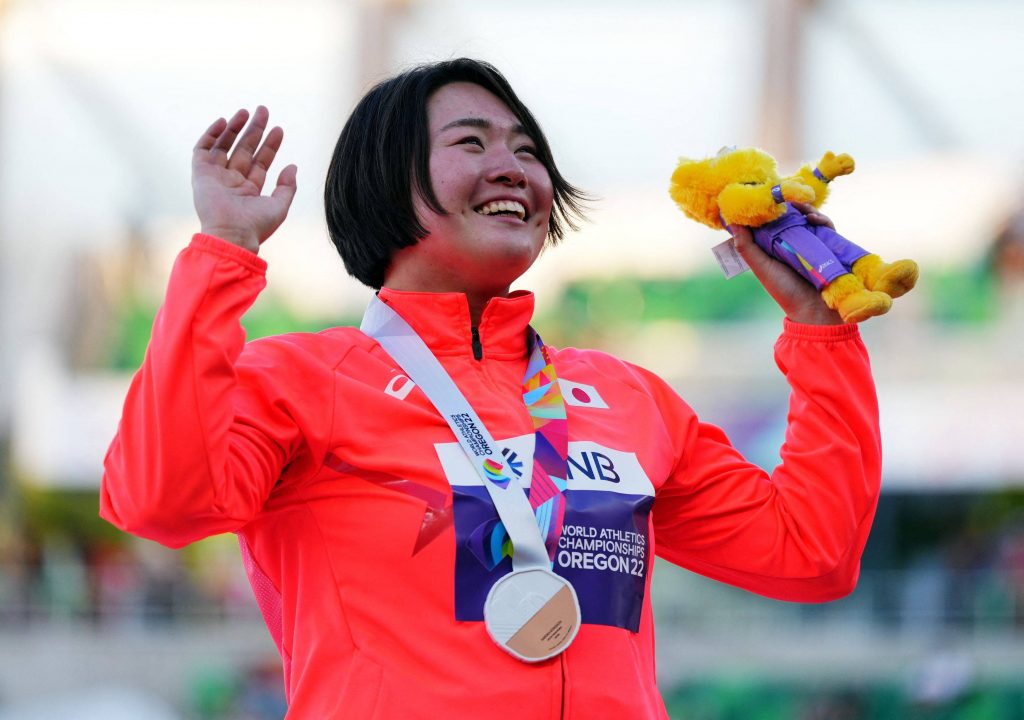 The gold went to Australia's Kelsey-Lee Barber, who had a top throw of 66.91 meters. Kara Winger of the United States was the runner-up (64.05).

Kitaguchi, a Hokkaido native, earned a breakthrough victory (63.13 meters) in the Diamond League meet on June 18 in Paris, exhibiting her talents on the global stage.

Then, in qualifying on Wednesday, Kitaguchi had a season-best mark of 64.32.

She was 12th at the Tokyo Olympics last summer.


Dean Places Ninth in Men's Javelin Final
Genki Dean, who represented Japan at the 2012 London Olympics, booked a spot in the men's javelin final at the World Athletics Championships by placing eighth in qualifying on Thursday, July 21.
Dean, whose father is British and mother is Japanese, had a season-best throw of 82.34 meters at Hayward Field in Eugene, Oregon.
Two days later, Dean finished ninth in the final (80.69). Grenada's Anderson Peters won the gold (90.54).

The 30-year-old Kobe native placed first (81.02 meters) in the 106th Japan Championships in Osaka on June 12.

Basketball
Williams Launches Coaching Career
Jawad Williams, a well-traveled star in European pro leagues who also made his mark in Japan as a title-winning player for the Alvark Tokyo, is starting his coaching career in the 2022-23 season.

The University of North Carolina alum will serve as an assistant coach for the Nagasaki Velca, the B.League team announced earlier this week.

The Velca earned promotion to the B.League second division from B3 after their spectacular inaugural season.

Williams, 39, retired after playing for the B2's Yamagata Wyverns last season. He also played alongside LeBron James on the Cleveland Cavaliers earlier in his career.
RELATED:
Author: Ed Odeven

Follow Ed on JAPAN Forward's [Japan Sports Notebook] here on Sundays, in [Odds and Evens] here during the week, and Twitter @ed_odeven.