[JAPAN SPORTS NOTEBOOK ] Longtime Caddie Daisuke Shindo Pursues Other Opportunities Connected to the Sport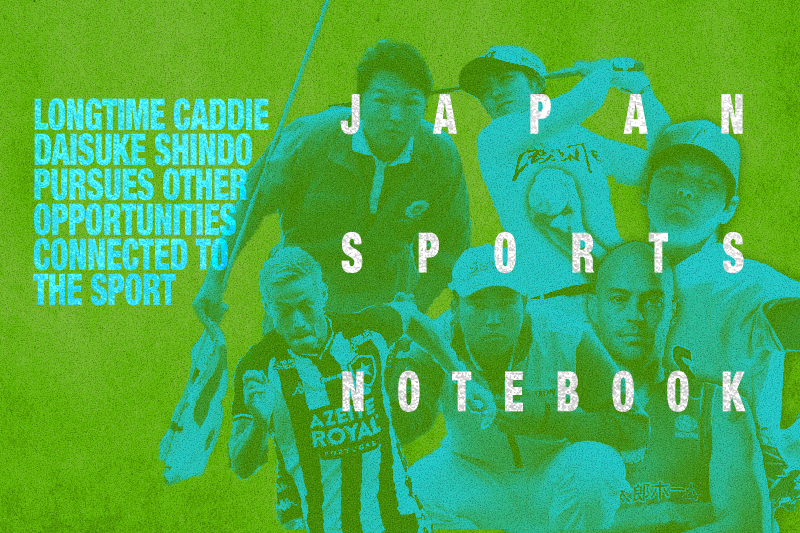 Throughout his adult life, the golf course has been Daisuke Shindo's home away from home.
A professional caddie since making his debut with Yusaku Miyazato in 2003, Shindo supported Hideki Matsuyama's rise to stardom, witnessed the PGA star's greatest moments and saw his frustrations on display over the past decade.
Now, as the COVID-19 pandemic alters the global sports landscape, Shindo is adjusting, too. Weekly work as a caddie isn't a part of his schedule these days.
Instead, he's staying busy with various golf-related projects away from the pro tour.
For Shindo, who turned 40 on Friday, it's a challenge that he's eager to embrace.
In a recent interview with JAPAN Forward, the native of Maizuru, Kyoto Prefecture, explained how the launch of his new Yokohama-based company, Tier1 Inc., channels his passion for golf.
Serving as a golf commentator and lecturer, Shindo has a visible presence on the airwaves and through in-person appearances as a lecturer about golf. The Tohoku Fukushi University alum's appearances on Fuji TV, the Golf Network, AbemaTV (live streaming), and NHK, as well as the popular YouTube channel UUUM GOLF, which has more than 488,000 subscribers, have raised his profile in the golf community. In April, Shindo's book about being a golf caddie, whose title translates as "Perfect Golf" in English, was published in paperback.
"I enjoy being able to share my caddie life experiences and have them for their reference," Shindo said about work as a golf commentator, while admitting he's "still learning on a daily basis."
Holding the Taiheiyo Masters trophy in November 2016, Daisuke Shindo (right) basks in the glory of the moment.
Hideki Matsuyama and Daisuke Shindo celebrate the golfer's victory on December 1, 2013, at the Casio World Open.
In the movie Loopers: The Caddie's Long Walk, narrator Bill Murray, described the work of a caddie this way: "Golf is the only sport in the world where an assistant, an ally, a coach, a therapist, a family member ー definitely a friend ー is allowed on the field of play with the athlete."
Which is why Shindo has unique perspectives to share during live golf broadcasts and other programs about the sport.
For instance, he told JAPAN Forward, "I can talk about the terrain of the golf courses I've been around as a caddie, and I can use my experience as a caddie to explain the terrain."
While speaking on the air, descriptions of how wind and weather conditions affect golfers is also useful to explain, he said.
Currently, Shindo does not have a contractual obligation to work with Matsuyama, whom he began working with in 2013. (The PGA Tour veteran competed in the Rocket Mortgage Classic at Detroit Golf Club, starting on Thursday.)
Instead, Shindo's passion to educate people about golf is on display.
"I'm interested in the development of juniors who will be the future of golf," he admitted. "I would be happy if my experience can help them in any way possible."
Shindo established Tier1 Inc. last December, with plans to launch golf tours as one of his core projects. But travel restrictions due to the global pandemic have altered his plans.
"I have been planning for some time to do a travel business focusing on PGA tours, but due to the impact of the COVID-19, we have been forced to change our business," Shindo stated.
After years of frequent travel, Shindo has stayed put in Japan since March. He described it as a "period of restraint." And during this time, "I have more time to think, to spend with my family, and to see my kids grow up, which is very meaningful," he said.
Does Shindo miss the social bonds and personal friendships of the PGA Tour?
"Sometime I miss it," he said, "but now at Tier1, which I founded, I am able to be involved in the golf world from a different angle, and I spend my days learning more and more every day."
In addition to the aforementioned programs and broadcast outlets, Shindo has been filming the Hideki Matsuyama x Ryo Ishikawa Project. Episode No. 1, posted on the project's YouTube channel on June 8 has more than 400,000 views. The 8-minute, 42-second episode shows the two golfers swinging their clubs, taking and also demonstrating social distancing on the golf course. The words "new normal," appear on the screen during the episode.
"Both professionals created this project with the intention of bringing the fun of golf to golf fans in the absence of a game," Shindo said.
Videos were filmed in late May, and there's no definitive end in mind at this time. Shindo cited that "the project is (still) in progress."
Watanabe Wins Earth Mondahmin Cup in One-hole Playoff
Ayaka Watanabe won the JLPGA's Earth Mondahmin Cup title on Monday at Camellia Hills Country Club in Chiba Prefecture.
Watanabe, who hails from Atami, Shizuoka Prefecture, captured the title by sinking a birdie on the first playoff hole. She shot an 11-under 277 in the four-round tournament, as did Ai Suzuki. Watanabe collected ¥43,200,000 JPY ($401,525.56 USD) as the tourney winner.
Mizuki Tanaka and Miki Sakai both carded 10-under 278s.
The event was the first for the Japan LPGA Tour since March due to the COVID-19 pandemic. Spectators weren't permitted to attend the tournament.
Ayaka Watanabe hits her tee shot on the 17th hole during the final round of the Earth Mondamin Cup at the Camellia Hills Country Club on June 29, 2020 in Sodegaura, Chiba, Japan. (Photo by Ken Ishii/Getty Images)
Ayaka Watanabe celebrates winning the tournament through the playoff during the final round of the Earth Mondamin Cup at the Camellia Hills Country Club on June 29, 2020 in Sodegaura, Chiba, Japan. (Photo by Ken Ishii/Getty Images)
BASEBALL
Angels' Ohtani to Pitch, Play DH This Season
As Major League Baseball gears up for spring training 2.0, the Los Angeles Angels are preparing to use Shohei Ohtani at pitcher and designated hitter in this shortened season.
New Angels manager Joe Maddon stated that he wanted to give Ohtani, who turns 25 on July 5, about one start each week, while using him at DH "in 3-4 games between starts," The Associated Press reported.
Likewise, Billy Eppler, the Angels' general manager, envisions Ohtani joining the pitching corps this season.
"Just watching how he responds on a day-to-day basis will help guide us to how much we can push down on the gas pedal on him," Eppler was quoted as saying by AP earlier this week. "We're expecting him to be on the mound and stay on the mound and roll through spring training."
In 2019, Ohtani hit .286 with 18 homers and 62 RBIs in 106 games. He didn't pitch last season after undergoing Tommy John surgery in October 2018. Ohtani made 10 starts two seasons ago and also spent time at designated hitter (.285 average with 22 homers and 61 RBIs) and earned the 2018 American League Rookie of the Year Award.
Who's Hot Among NPB Hitters?
Ten games is a nice round number to use as a litmus test for the new season.
Through Tuesday's 10th game of the 2020 campaign, Yomiuri Giants infielder Kazuma Okamoto was the Central League's top hitter (.475) with 19 hits in his first 40 at-bats this season.
In the Pacific League, Tohoku Rakuten Golden Eagles outfielder Stefen Romero had the best batting average (.444) through the same day. Romero rapped out 16 hits in 44 at-bats to open the season, including seven doubles. The 31-year-old spent the past three seasons with the Orix Buffaloes.
SOCCER
Honda Questions Wisdom of Staging Games During Pandemic
Keisuke Honda has often been in the spotlight throughout his overseas career (with stops in the Netherlands, Italy, Russia, Mexico and Australia), with his offensive skills often the focal point.
Last Sunday, Botafogo midfielder Honda was in the spotlight for a different reason, as he and his Brazilian club teammates took part in a high-profile protest. With Honda at the front of the pack, they carried a banner ("A good protocol is one that respects lives.") to protest the decision to start playing matches again while the COVID-19 pandemic is ravaging the nation.
More than 1 million people in Brazil have contracted COVID-19, with more than 57,000 deaths to date.
On June 16, nearly 1,300 people died from COVID-19. A day later, Honda was quoted by media outlets as saying, "Am I crazy that I want to know a logical reason why we restart the league?"
Many of the Botafogo players also posted a message on social media channels before the match, according to published reports. "Football is our life, but we understand the moment is not ideal to put new lives at risk," the message said.
Botafogo defeated Cabofriense 6-2 in a Rio state league match on Sunday at Nilton Santos Stadium. It was Botafogo's first game since March, when competition was suspended due to the pandemic.
Honda, a three-time World Cup participant, scored in his Botafogo debut on March 16 against Bangu.
SKATEBOARDING
Nishimura Among Pros Featured in Tony Hawk's New Video Game
American Tony Hawk popularized skateboarding in the 1980s and '90s and remains one of the most influential practitioners of the sport.
Hawk, 52, is a cultural icon, and his video games introduce his talents to new generations of fans. See the Tony Hawk episode of Legends Of Sports, here.
Activision Blizzard recently announced it was remastering its original video game featuring the skating legend. "Tony Hawk's Pro Skater 1 + 2" will feature a cast of present-day and past stars, including Hawk, with up-and-coming star Aori Nishimura among them.
The remastered game is set to be released September 4.
Nishimura, who turns 19 on July 31, said she hopes the game will spark increased participation in skateboarding.
"You don't have to be able to skate or know skateboarding to play a skate video game, so I think that's the beauty of this," the Tokyo native told Variety through a translator. "I want this to become their first contact ー if they've never had any connection with skateboarding, through this video game, I want them to be encouraged to be like, 'OK, I played the game and it was fun. Now I wonder what it actually feels like to get on the skateboard and try it out.' "
In January 2019, Nishimura captured the World Skate Street League Skateboarding Tour's women's title in Rio de Janeiro. She's set to represent Japan in the delayed Tokyo Games' first Olympic skateboarding competition. See Nishimura's video on the Olympic Channel, here.
BASKETBALL
High-energy Forward Parker Joins Gunma Crane Thunders
The Gunma Crane Thunders have signed veteran forward Michael Parker to a contract for the 2020-21 season.
The B. League second-division team, which went 34-13 last season, made the announcement on Friday.
For more than a decade, Parker has been a star for pro teams in Japan. A naturalized Japanese citizen, he joined the bj-league's Rizing Fukuoka (now called the Rizing Zephyr Fukuoka) in the 2007-08 season. An accomplished scorer, defender and rebounder, Parker remains a dynamic player at age 38. He suited up for the Chiba Jets Funabashi from 2016-20.
The Evergreen (Washington) State alum averaged 12.7 points, 8.5 rebounds, 1.6 assists, 1.5 steals and 1.0 blocks in 37 games (22 starts) last season.
Editor's note: Interested in submitting a news item for possible inclusion in the Japan Sports Notebook? Send an email with relevant information to odevened@gmail.com, or JAPAN Forward's comment's page or Facebook page and look for future editions of Japan Sports Notebook on our website.
Author: Ed Odeven
Follow Ed on JAPAN Forward's [Japan Sports Notebook] here on Sundays, in [Odds and Evens] here during the week, and Twitter @itsjapanforward.