[Japan Sports Notebook] New National Stadium Showcases Talented Runners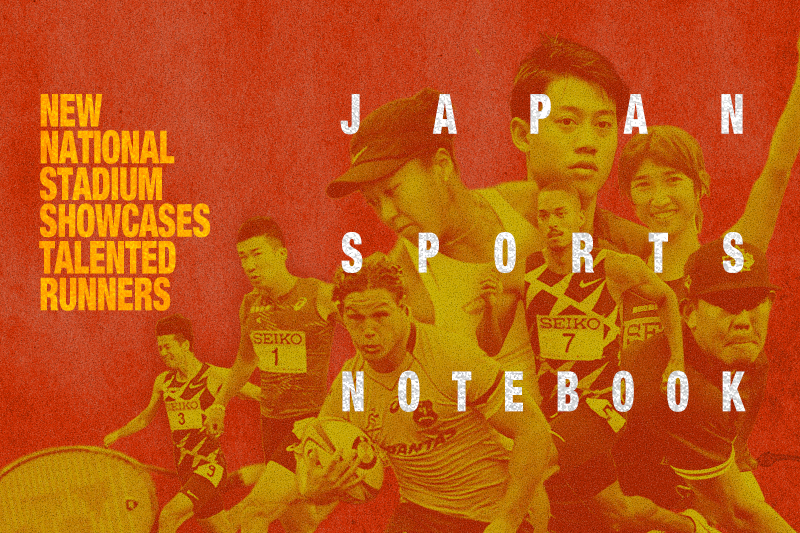 The new National Stadium provided a dramatic backdrop for the first big track meet of 2020 in Japan. In doing so, it also hosted an athletics meet for the first time.
On Sunday, August 23, the Seiko Golden Grand Prix showcased the sprinting skills of Yoshihide Kiryu in the men's 100 meters in a much-hyped showdown with fellow Olympian Aska Cambridge.
The new National Stadium is the centerpiece venue for the 2020 Tokyo Olympics.
Kiryu reached the finish line first in 10.14 seconds. It wasn't his best showing in track's glamour race. Kiryu became the first Japanese to run the 100 in under 10 seconds (9.98) in a September 2017 meet in Fukui Prefecture.
Cambridge placed second in 10.16 seconds, Ippei Ikeda finished third (10.30), Akihiro Higashida was fourth (10.31) and Hiroki Yanagita took fifth (10.36).
Earlier, Kiryu and Cambridge, members of Japan's 4x100-meter relay silver-medal finishers at the 2016 Rio de Janeiro Olympics, were the top runners in the third and final qualifying heat while competing in a cavernous facility without spectators. Kiryu was clocked in 10.09 seconds and Cambridge in 10.11.
After edging Cambridge in the final, Kiryu expressed joy.
"I am very happy to win," he told reporters. "I am very confident."
Kiryu also issued a challenge to himself in his post-race comments: "I just want to focus on every run, try my best and improve myself."
The euphoric moment of victory also highlighted Kiryu's anticipation for the delayed Olympic Games in 2021.
"It is great to run here and I look forward to the Olympic Games," the 2018 Asian Games 100-meter champ told reporters.
Kiryu's closing speed proved to be a determining factor, and it was a focal point for him. The 24-year-old mentioned that after he failed to advance from the 100 semifinals at the 2019 world championships he was committed to "stabilizing my speed from the middle of the race," according to The Yomiuri Shimbun.
In preparation for the delayed Tokyo Games, Kiryu said his maturation as an athlete is something that he's noticed.
"I'm getting stronger mentally and physically," he was quoted as saying by The Yomiuri Shimbun. "I have acquired the ability to concentrate fully on each race."
In another big highlight from the Seiko Golden Grand Prix, Nozomi Tanaka shattered the national record in the women's 1,500. In the run-up to the race, the confident 20-year-old spoke about her target of breaking the record.
Runner Nozomi Tanaka leads the pack in the women's 1,500 meters at the new National Stadium on August 23.
In July, Tanaka delivered a performance that indicated she was a serious candidate to topple Kobayashi's record, winning the 400 meters in 4:08.68 on July 4 at the Hokuren Distance Classic in Shibetsu, Hokkaido Prefecture.
And then she did it. Tanaka triumphed in 4 minutes, 5.27 seconds. Yuriko Kobayashi held the previous record (4:07.86), which was set in 2006. Ran Urabe finished second in 4:11.75 last Sunday.
Tanaka, who hails from Ono, Hyogo Prefecture, ran the first lap in 66.42 seconds. She kicked it up to a faster gear for the final lap, racing it in 63 seconds.
"I thought about all kinds of race plans, but I also knew that if I thought about it too much, I'd get anxious," Tanaka told reporters after her record-breaking performance. "So today I decided not to be too conscious of the time and to just run. I've been confident with my finish in training, so I just gave everything I had. I realized in the final 100 meters that I was going to break the national record.
She continued: "I'm very excited that I finally broke the national record that had been held by Yuriko Kobayashi. With my performance today I was able to show my appreciation to the people who have supported me."
Tennis
Nishikori Withdraws from U.S. Open
Kei Nishikori will skip this year's U.S. Open, he announced on Wednesday, August 26.
Nishikori twice tested positive for the coronavirus in recent weeks. Resting and self-quarantining, he then tested negative for COVID-19, he confirmed on August 26.
Now, the world's 31st-ranked men's singles player faces a road to recovery in preparation for top-notch competition.
"After such a long break I feel that returning in a best of 5 long-match setting is not smart until I am fully ready to do so," Nishikori wrote in a post published on his mobile app. "It's disappointing as I love the U.S. Open and have great memories there. I will start on the clay. Thank you."
RELATED COVERAGE: TENNIS | Kei Nishikori Tests Positive for COVID-19, Withdraws From U.S. Open Tuneup Event
Instead of timing his comeback for the upcoming U.S. Open, Nishikori said he's preparing to get ready for clay-court events that precede the French Open, which begins on September 27.
After Nishikori's second positive test last week, Nishikori said he experienced "very minimal symptoms."
The U.S. Open starts on August 31.
Osaka Protests Jacob Blake Shooting, Reaches Tourney Final
Naomi Osaka reached the final of the Western & Southern Open women's singles semifinals after saying she was pulling out of the tournament on Thursday, August 27 to protest the Jacob Blake shooting in Kenosha, Wisconsin earlier in the week.
A white police officer shot Blake, a black man, seven times in the back outside as his children watched the scene from inside their father's vehicle on August 23. Blake, who was unarmed when he was shot, is now paralyzed from the waist down.
A day later, Osaka's match was rescheduled. All August 27 matches were pushed back a day as the WTA joined several pro sports organizations, including the NBA and MLB, in postponing events earlier this week.
"As you know, I pulled out of the tournament yesterday in support of racial injustice and continued police violence. I was [and am] ready and prepared to concede the match to my opponent," Osaka said in a statement. "However, after my announcement and lengthy consultation with the WTA and USTA, I have agreed at their request to play on Friday. They offered to postpone all matches until Friday and in my mind that brings more attention to the movement. I want to thank the WTA and the tournament for their support."
Initially, Osaka explained on Twitter why she had decided to pull out of the tourney.
"Before I am an athlete, I am a black woman," Osaka tweeted. "As a black woman I feel as though there are much more important matters at hand that need immediate attention, rather than watching me play tennis."
In the rescheduled semifinals, Osaka defeated Elise Mertens 6-2, 7-6 (7-5) on August 28. The final was scheduled to be played the next day, with Osaka awaiting an encounter with Victoria Azarenka.
2020 Olympics
Is a COVID-19 Vaccine Needed to Stage Tokyo Games?
As the global pandemic continues to impact all corners of the globe, many people have expressed doubts that the delayed 2020 Tokyo Olympics will be held next summer.
Within the medical community, some experts think a COVID-19 vaccine is necessary to ensure that the Tokyo Games can take place.
Inside the Games, which chronicles the global sports landscape, reported on this issue earlier this month.
The website published an article on Professor Yoshiharu Matsuura of Osaka University's Research Foundation for Microbial Disease, featuring comments he made to Sky News that shed light on the national government's efforts to develop a vaccine.
"In Japan, the government is putting a large emphasis on vaccine development and medicine for the virus because of the Olympics," Matsuura was quoted as saying, according to Sky News.
"They want to push ahead with the Olympics next year and they are saying the only way for that to happen is the vaccine."
With less than a year until the planned start of the Tokyo Games on July 23, 2021, is there enough time for normal vaccine development protocols to be followed?
"The safety of the vaccine needs time to prove itself," Matsuura told Sky News. "A regular vaccine development takes 10 years and they are saying to do it in a year. This is scary.
"So it's really warp speed, [a] super express train—I find it slightly unnerving."
Baseball
Blue Jays' Yamaguchi Earns First MLB Victory
Veteran pitcher Shun Yamaguchi had struggled earlier this summer for the Toronto Blue Jays.
But in his eighth appearance on Wednesday, August 26, Yamaguchi demonstrated how effective he can be in the majors. Yamaguchi toiled for four innings in long relief in the Blue Jays' 9-1 triumph over the Boston Red Sox.
Yamaguchi earned his first MLB win in the rout, which took place at Toronto's 2020 home ballpark in Buffalo, New York. He allowed two hits and a run, walked two and struck out two.
"I've struggled since the start of the season as I couldn't quite adjust to American baseball, but I'm finally seeing the results of my efforts," the 33-year-old Yamaguchi, who improved to 1-2, told reporters.
Yamaguchi, who spent the previous three seasons with the Yomiuri Giants, has yielded one run and fanned 10 batters in 7 2/3 innings (five appearances) in August.
Nomura Advocates a Pan-Asian League
In a recent appearance on JapanBall's "Chatter Up!" online event, influential agent Don Nomura talked about his longtime involvement in the game on both sides of the Pacific Ocean in a wide-ranging discussion on August 13.
JapanBall, which organizes baseball tours, hosted the event on Zoom.
In one interesting moment during the conversation, Nomura gave his views on how Nippon Professional Baseball can improve its marketing and visibility overseas, while also enhancing the quality of competition in Japan.
First, some context.
Here's what Nomura was asked: "Although the internet has definitely helped matters, most fans still aren't even aware of NPB in North America—until they have an import join their MLB team like an Ohtani [Shohei] or an Ichiro [Suzuki] or even someone like Shun Yamaguchi. All of a sudden, everyone in Toronto was googling Yomiuri Giants and Hanshin Tigers. What would you do to better market the Japanese game in North America?"
Nomura responded by saying, "First of all, I wish I knew. I really don't. But I have an idea, a couple ideas. I think NPB, in order to survive and to get better, I think they have to start a new league with Korea, China and Taiwan. And have this Asian Major League and market that, within Asia, strongly imports more players from the United States, exports more players from Japan, and really has an international market, where the U.S. and Japan can share and someday have the true World Series.
"Probably the best place would be Honolulu … and Japan. If Japanese baseball does not go international, I think they'll never see the light in promoting themselves in the United States. They'll always be secondary. I think having a quota for foreigners should be taken out. They should bring [in] more foreigners to be more competitive, they should have more teams. And like I said, they should have this league formed within Asia to be more competitive, and so they can play against Major League Baseball."
The full transcript of Nomura's question-and-answer session on "Chatter Up!" is here.
Rugby
Wallabies Captain Hooper to Join Toyota Verblitz
Wallabies captain Michael Hooper will play for the Toyota Verblitz next season.
The announcement, which was made on Wednesday, August 26, means that the 28-year-old flanker will compete for the Japan Rugby Top League club for a maximum period of six months.
"This is a great opportunity for me to learn in a new rugby environment and develop a different perspective on the game," Hooper, captain of Super Rugby's Waratahs, was quoted as saying in a statement posted on the Australian Rugby website.
For Australia, Hooper has earned 99 caps, including at the 2019 Rugby World Cup in Japan. He scored two tries and amassed 10 points at the 2019 RWC. He made 29 tackles in Japan.
With the Wallabies competing on the world's biggest stage, teammate Jack Dempsey said he's in awe of Hooper's commitment to his craft.
"The biggest thing that always sticks out about 'Hoops' is not just that he looks after his body so he can play every week and play for 80, but the level he plays at consistently is pretty amazing in Super Rugby and at test level," Dempsey was quoted as saying in October 2019
Soccer
J. League Crowds—Clapping Allowed
The J. League is keeping its maximum crowd size at 5,000 spectators per match through the end of September, it was announced on Tuesday, August 25.
A day earlier, the national government said it is still limiting crowd sizes to 5,000 for sporting events and other public gatherings due to the COVID-19 pandemic.
Meanwhile, the J. League announced that fans can start clapping at J. League venues on September 7. But, the league announced, high-fives and cheering remain banned activities this season.
Editor's note: Interested in submitting a news item for possible inclusion in the Japan Sports Notebook? Send an email with relevant information to e.odeven@japan-forward.com, or JAPAN Forward's comment's page or Facebook page and look for future editions of Japan Sports Notebook on our website.
Author: Ed Odeven
Follow Ed on JAPAN Forward's [Japan Sports Notebook] here on Sundays, in [Odds and Evens] here during the week, and Twitter @itsjapanforward.