[JAPAN SPORTS NOTEBOOK] University of Oregon's Rikuu Nishida Selected in 11th Round of MLB Draft
Rikuu Nishida set single-season records in runs and stolen bases for the Pac-12 Conference school before being drafted by the Chicago White Sox.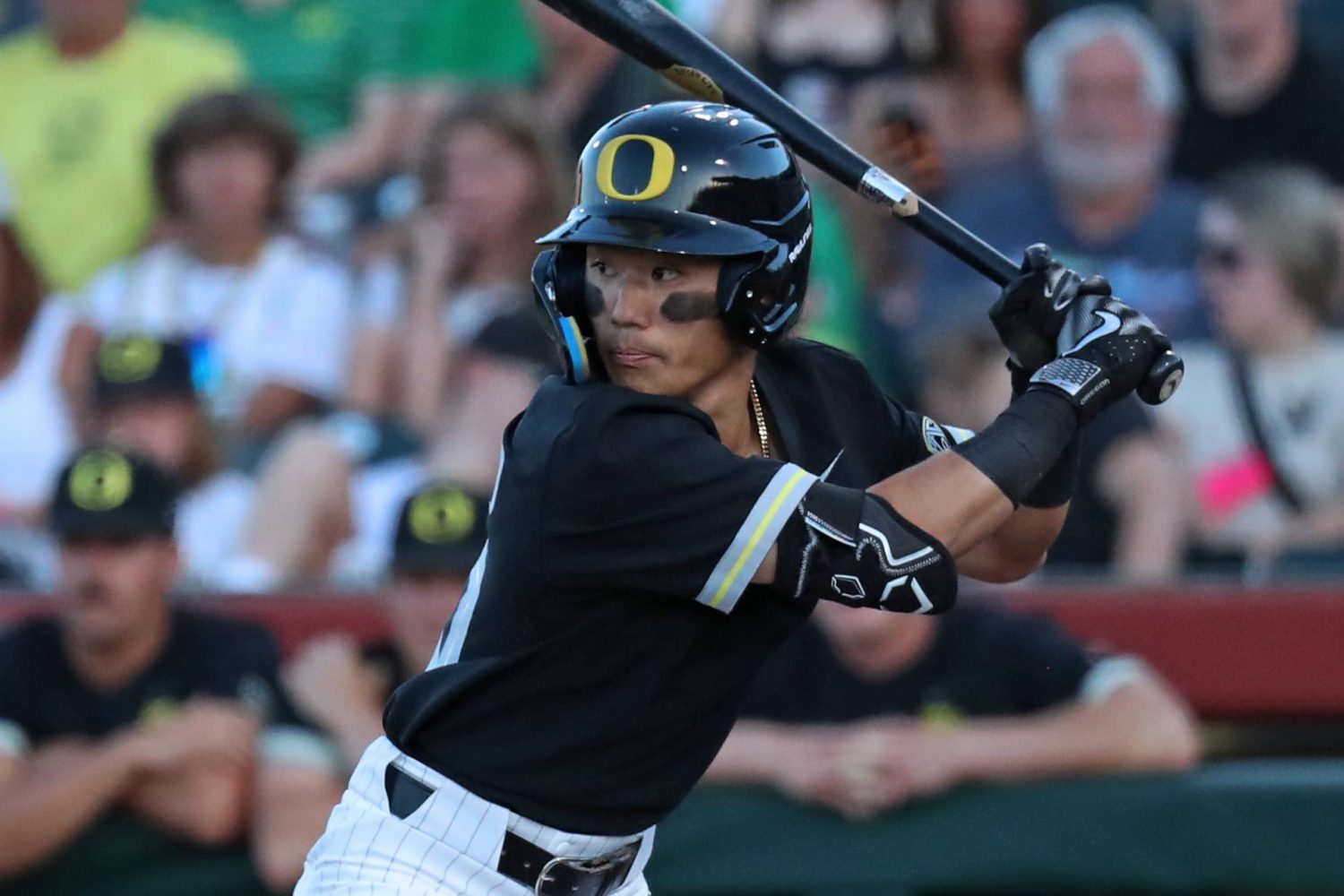 Read the full story on SportsLook - [JAPAN SPORTS NOTEBOOK] University of Oregon's Rikuu Nishida Selected in 11th Round of MLB Draft
Osaka native Rikuu Nishida fulfilled a dream by being drafted in the 11th round (329th overall pick) of the MLB Draft on Tuesday, July 11.

The Chicago White Sox selected the University of Oregon junior, who demonstrated versatility by starting 44 games in right field, 14 at second base and five at designated hitter in the 2023 college baseball season. Nishida made his biggest impact on defense in right field, wowing fans with diving catches and impressive overall play.

Nishida, who bucked convention while at Oregon by using a wood bat (almost everybody uses an aluminum bat in college baseball), batted .312 with five home runs and 37 RBIs in 63 games. He had 23 multi-hit games for the Ducks. What's more, Nishida set single-season school records for runs (67) and stolen bases (25).

Before Nishida was selected by the White Sox, California-born Gosuke Katoh, who now plays for NPB's Hokkaido Nipponham Fighters, was the last Japanese player to be chosen in the MLB Draft (second round in 2013 by the New York Yankees).

"I was excited to watch the draft, so I'm relieved anyway," Nishida, 22, was quoted as saying by The Hochi Shimbun.

By all accounts, the 5-foot-6 (168-cm) Nishida was an offensive catalyst and team leader for the Ducks this past season. His clutch hitting helped them advance to the NCAA Super Regionals. Before that, they won the Pac-12 Tournament and the Nashville Regional. Nishida was the MVP of the Nashville Regional.
Before enrolling at the University of Oregon, Nishida, a graduate of Sendai's Tohoku High School, played baseball at Mt Hood (Oregon) Community College in 2021 and 2022. He had a combined batting average of .383 and showcased his lightning-quick speed with 91 stolen bases in his two seasons in a Saints uniform.
Insights on Rikuu Nishida
In June, the University of Oregon athletics website published a feature on Nishida. It described him as a player "who slaps balls into the ground and also opposite-field home runs, who ignites chaos on the basepaths and also joyous celebrations when a teammate succeeds."

The Daily Emerald, a University of Oregon student newspaper, also highlighted Nishida's throwback style, which reminds decades-long baseball observers of players from another era.

"Rikuu's game is a trip," Ducks head coach Mark Wasikowski told the Daily Emerald. "Just the way he plays baseball, slaps the ball all around the field, hard to defend, loves to steal bases, tremendous feel of the game."

In the same article, which was published in February, reporter Mojo Hill, noted that Nishida's bat control and hand-eye coordination are quite impressive. The reporter cited Nishida's successful stints playing in collegiate summer baseball leagues for the Cowlitz Black Bears of the West Coast League in 2021 and the Cape Cod Baseball League's Hyannis Harbor Hawks in 2022.

Wrote Hill: "When he steps in the batter's box, he crouches down even lower. He wiggles his bat steadily in the air, then slaps the bat at the ball, [and] he nearly always makes contact. In 79 summer league games, he's only struck out 33 times compared to 46 walks; that kind of ratio is almost unheard of in today's game."
Continue reading the full story, which includes news items on Shohei Ohtani, Nadeshiko Japan's final match before the 2023 FIFA Women's World Cup and much more, on SportsLook.
Follow baseball coverage throughout the year on SportsLook.

Author: Ed Odeven
Find Ed on JAPAN Forward's dedicated website, SportsLook. Follow his [Japan Sports Notebook] on Sundays, [Odds and Evens] during the week, and Twitter @ed_odeven.