Japanese Baseball Hall of Famers Shigeru Sugishita and Manabu Kitabeppu Die in a Five-Day Span
Sugishita, recognized for his brilliant mastery of the forkball, and Kitabeppu for his control were pitching stars in different eras of Japanese pro baseball.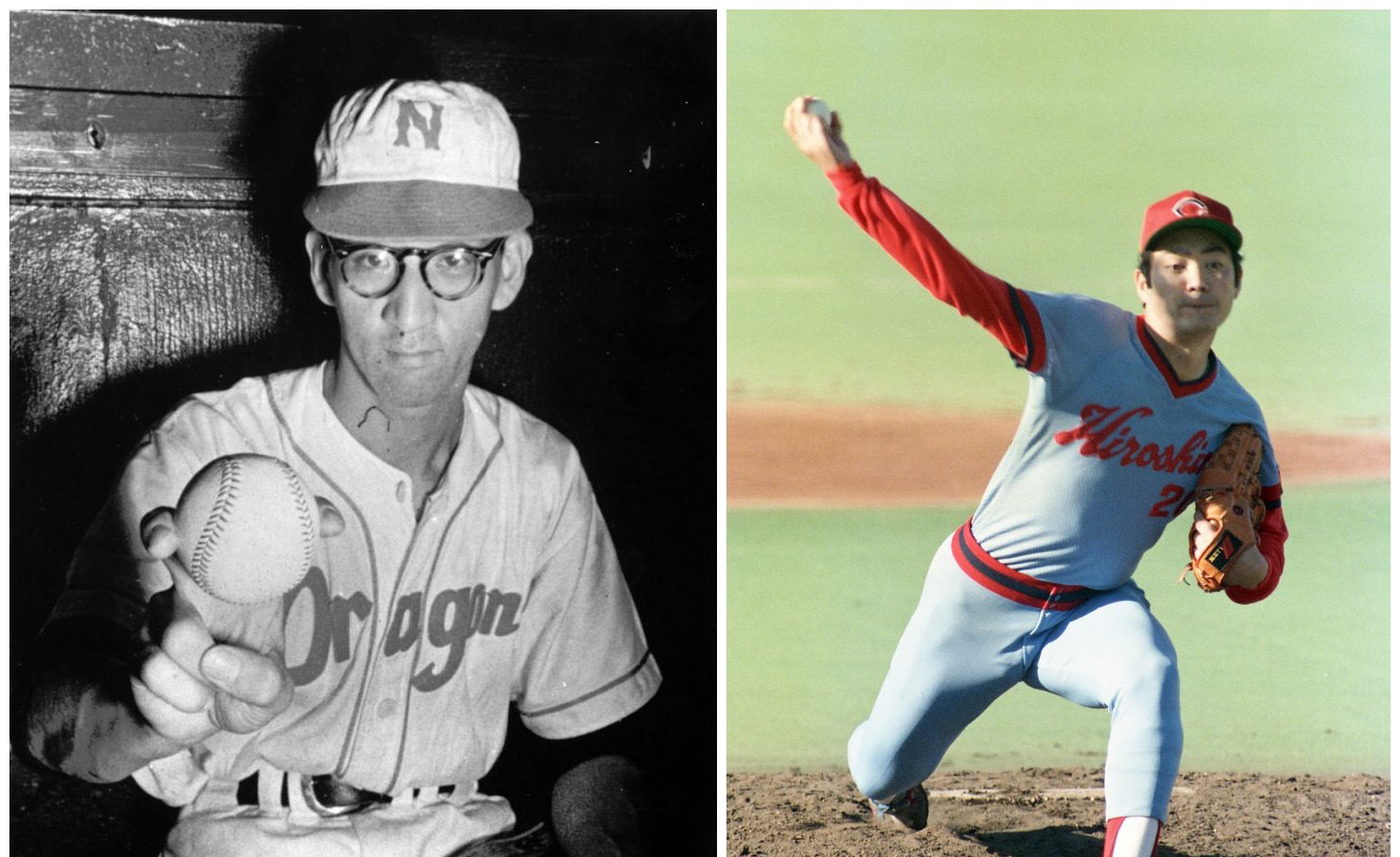 Legendary NPB pitchers Shigeru Sugishita and Manabu Kitabeppu, dominant stars on the mound in different eras of Japanese pro baseball, passed away within days of one another, it was widely reported by Japanese media outlets on Friday, June 16.

Sugishita was 97 when he died on Monday, June 12 at a Tokyo hospital. The cause of death was pneumonia.

Kitabeppu was 65 and died on June 16 at a Hiroshima hospital after a long battle with leukemia.

Inducted into the Japanese Baseball Hall of Fame in 1985, Sugishita, who was known as the "God of the Forkball," retired for the first time in 1958 when Kitabeppu was still an infant.

Sugishita won 215 games in his illustrious career and was the losing pitcher 123 times. He had a sparkling 2.23 ERA with 1,761 strikeouts in 2,841⅔ innings. Sugishita pitched 170 complete games and was used as both a starter and reliever throughout his career.

In 1949, the Tokyo native made his debut with the Chunichi Dragons. He had an 8-12 record as a rookie.

A year later, Sugishita began a six-season run of brilliance on the mound, winning 23 or more games in all of them, going 27-15, 28-13, 32-14, 23-9, 32-12 and 26-12 in succession.

At age 32, he retired after the 1958 season to become the Dragons manager, a job he held for the 1959 and '60 seasons.

Sugishita played for the Daimai Orions in 1961 and had a 4-6 record in 32 games (four starts). Then he retired for a second time at age 35.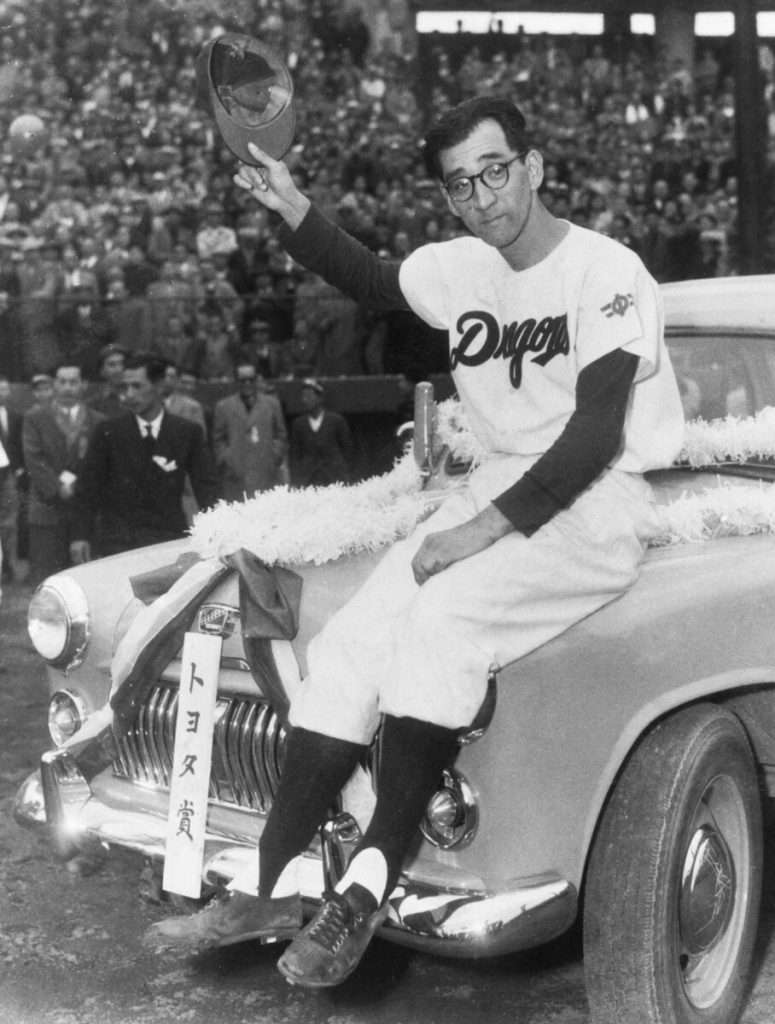 More Highlights of Sugishita's Baseball Career
Sugishita received the Eiji Sawamura Award (the NPB award for the best pitcher each season) in 1951, 1952 and '54 with 2.36, 2.33 and 1.38 earned-run averages in those years.

In 1954, he pitched a career-high 395⅓ innings and fanned a career-high 273 batters. Selected as the Central League MVP, Sugishita pitched four games in the Japan Series against the Nishitetsu Lions. He earned three victories, including in Game 7, to play a pivotal role in the Dragons' title-winning performance. He was named Japan Series MVP.

Sugishita tossed a no-hitter on May 10, 1955, against the Kokutetsu Swallows.
He later managed the Hanshin Tigers in 1966 and returned to be the dugout boss of the Dragons in 1968.

Starting in 1969, Sugishita served as a baseball commentator on game telecasts for decades. He penned a baseball column for the Chunichi Sports newspaper and worked as a pitching coach for the Seibu Lions in 1993-94.


Remembrances of Sugishita
Former Saitama Seibu Lions catcher Tsutomu Ito (1982-2003), who also coached and managed the team after retiring as a player, recalled meeting Sugishita in 1993 when the latter was employed by the Lions as their pitching coach.

In that season, Sugishita gave helpful advice to the team's pitchers, Ito recalled, according to NHK.

"Mr Sugishita had big hands. He was the first person to throw a forkball in Japan, and at the time it was like a magic ball," Ito was quoted as saying by NHK. "I think it's an achievement that has been passed down to the current Japanese pitchers."
Yomiuri Giants legend Sadaharu Oh, NPB's all-time leader in home runs (868), remembered Sugishita's impressive forkball as something that defined his pitching career. But Oh also pointed out that Sugishita used his intellect on the mound.

"I heard that he was a very intelligent pitcher," Oh said, according to NHK.

Oh's former teammate Shigeo Nagashima, who was quoted in the same NHK article about Sugishita, recalled being intimidated by the God of the Forkball during his playing days.

"When I was playing against Mr Sugishita, I was impressed by the forkball that made me give up, thinking that I could not hit it," said Nagashima, who retired in 1974. "I remember being terrified at the time."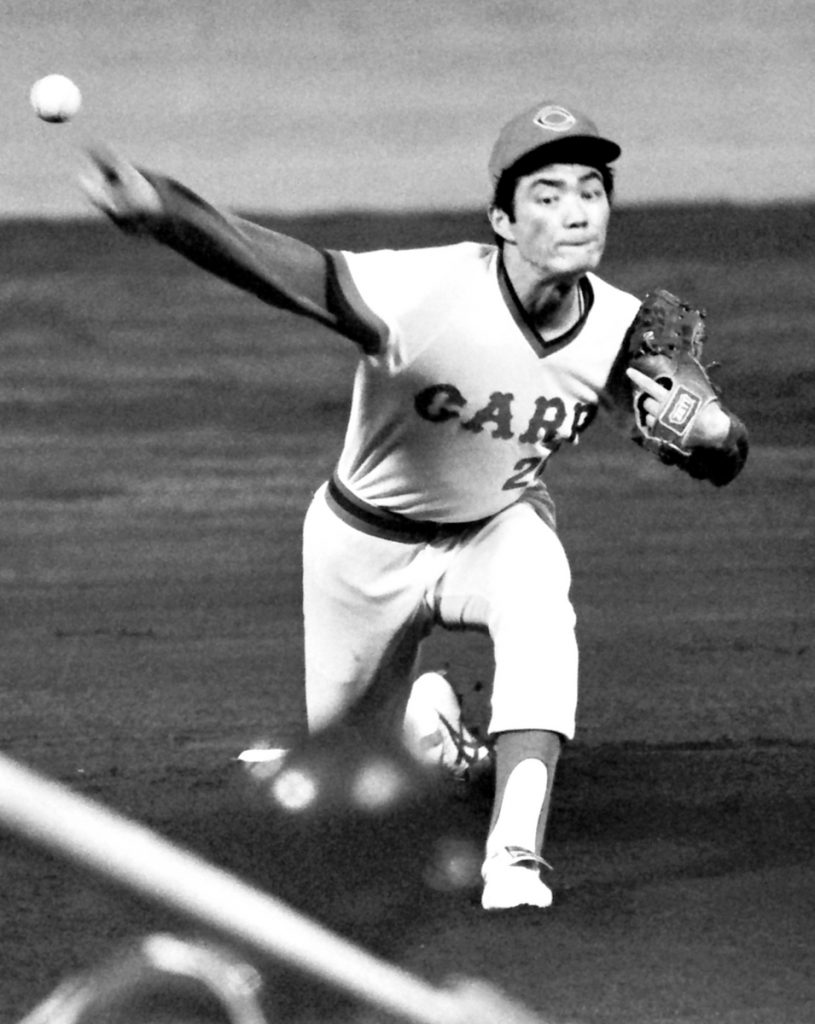 Highlights of Kitabeppu's Baseball Career
From 1976-94, Kitabeppu pitched for the Hiroshima Carp. He finished with a 213-141 record with a 3.67 ERA and 1,757 strikeouts in 3,113 innings. He had 28 shutouts.

Since Kitabeppu's retirement, only one pitcher, Kimiyasu Kudo (who retired in 2010 with 224 victories), has reached the 200-win milestone in NPB.
The following numbers help illustrate Kitabeppu's durability as a starter: 135 complete games in 460 career starts.
Kitabeppu won 10 or more games each season from 1978-88. He led NPB in wins in 1982, when he went 20-8, and 1986, when he had an 18-4 record. And he received the Sawamura Award after both seasons. He also was named Central League MVP in 1986.
The Kagoshima Prefecture native was a seven-time NPB All-Star. As a tribute to his successful career, the Carp retired his number 20 jersey.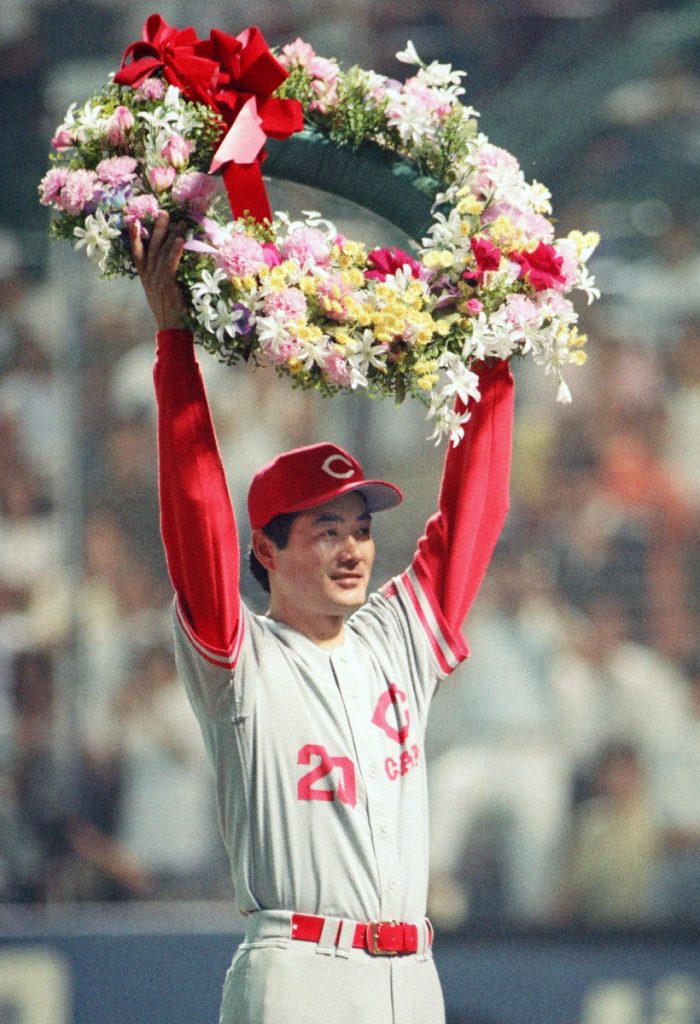 Like Sugishita, Kitabeppu worked as a baseball announcer after his retirement. He also served as Carp pitching coach from 2001-04.

Kitabeppu helped lead the Carp to Japan Series titles in 1979, 1980 and '84.

He was inducted into the Japanese Baseball Hall of Fame in 2012.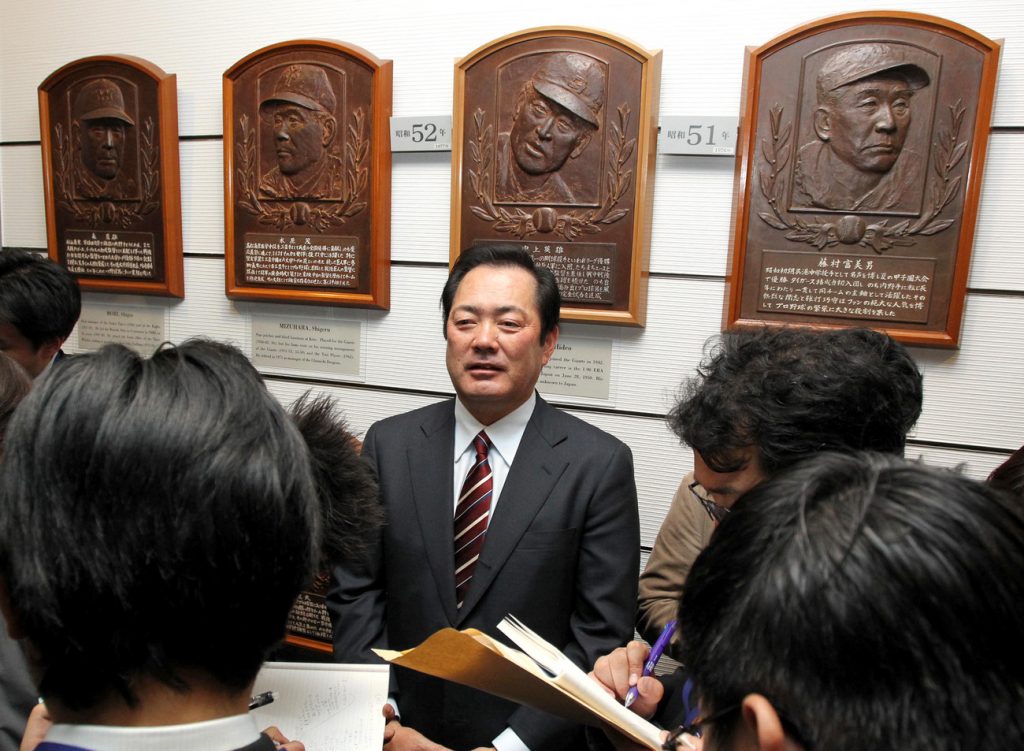 Remembrances of Kitabeppu
When discussions of Kitabeppu came up during his life and since his recent passing, people remember his pinpoint control and strong pitching mechanics. After all, people referred to him as the "Pinpoint Machine," or Seimitsu-Kikai in Japanese.

Former Carp infielder Takehiko Kobayakawa described Kitabeppu's pitching style this way: "It was a pitching style that aimed at the batter with control like passing through the eye of a needle," NHK reported.

Kobayakawa also expressed the view that Kitabeppu gave him a peace of mind during games when he was pitching.

"I remember how reassuring it was to have him behind me," Kobayakawa noted.

Carp manager Takahiro Arai, in his first season at the helm who played for the club from 1999-2007 and 2015-18, reflected on his playing days and how Kitabeppu left an impression on him.

"I have watched Mr Kitabeppu pitch since I was a small child, and I used to imitate his style of pitching," Arai recalled, according to NHK. "When I was a player, he was my coach, and no matter what the situation, he was always calm and firm."

Arai added, "When I greeted him when I came back to Carp [in 2015], I remember he kindly said, 'Do your best.' While remembering my great senior [colleague], and thinking that Mr Kitabeppu is watching over us in heaven, I would like to play with the players from today."


Prime Minister Kishida's Thoughts on Kitabeppu
Kitabeppu was born on July 12, 1957, 17 days before Japanese Prime Minister Fumio Kishida.

Speaking to reporters, Kishida paid tribute to Kitabeppu upon hearing the news of the pitching great's death on June 16.

"I would like to offer my sincere condolences," Kishida said, according to NHK. "Mr Kitabeppu was the first pitcher to win 200 games for the Carp, and was a key pitcher on the Carp's first Japan championship. He was born in the same month of the same year as me, and was a star and hero that I felt very close to.
"I would like to once again ask him to rest in peace."
Follow baseball coverage throughout the year on SportsLook.

Author: Ed Odeven
Find Ed on JAPAN Forward's dedicated website, SportsLook. Follow his [Japan Sports Notebook] on Sundays, [Odds and Evens] during the week, and Twitter @ed_odeven.