Election 2017: Japanese Voters Entrust Government to Shinzo Abe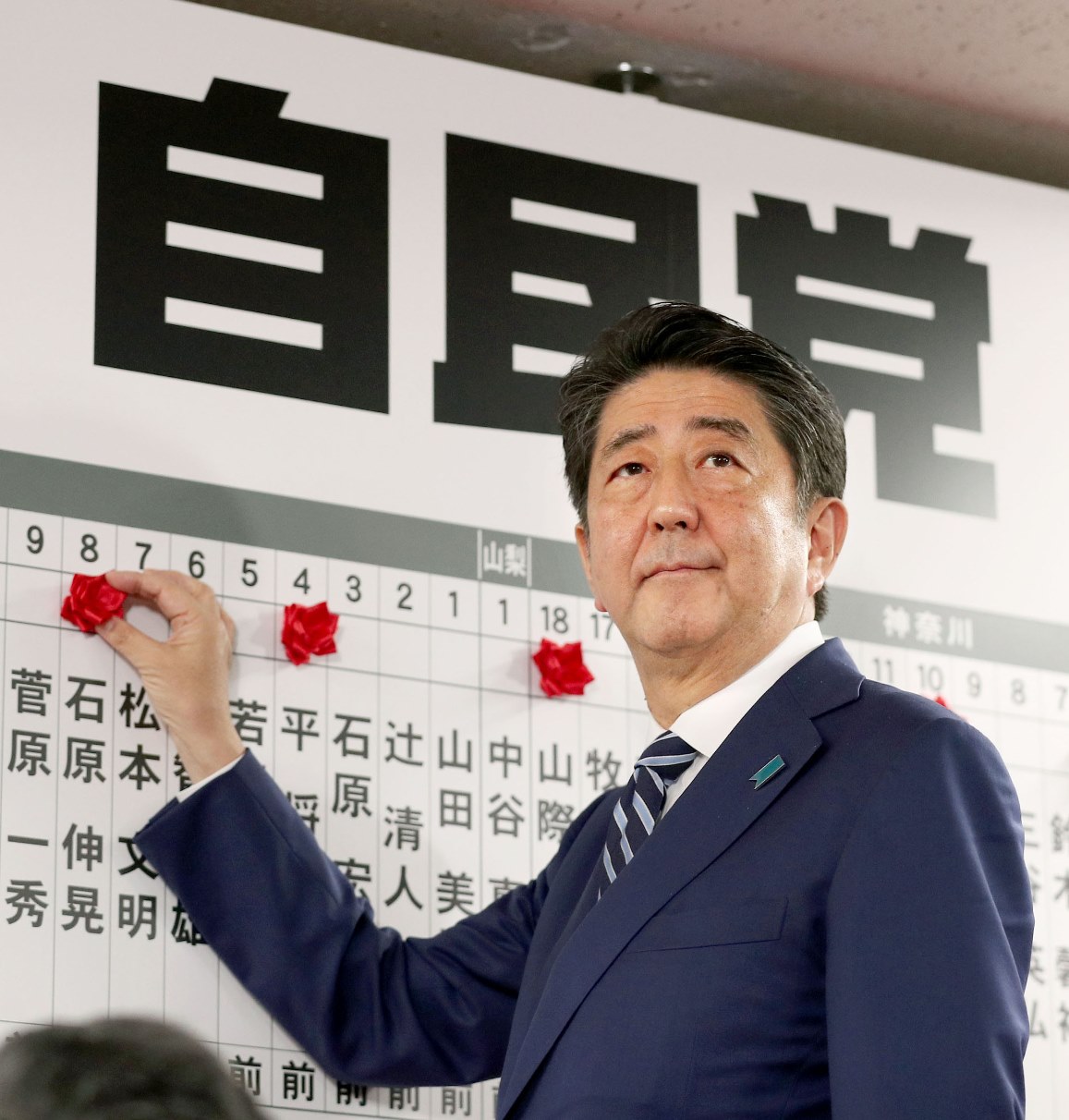 Major Victory for the Ruling Party
As giant typhoon 21 battered Tokyo on Sunday, October 22, the 48th Diet lower house elections were held, delivering a decisive victory to the ruling Liberal Democratic Party (LDP) and Komeito.
The coalition won more than the two-thirds majority, required for ultimately proposing constitutional reform in the Diet, securing 313 out of 465 seats.
LDP leader Prime Minister Shinzo Abe, who has been entrusted with running the government for nearly five years running, is set to be elected party leader for the third consecutive time in the fall of 2018. Abe will be appointed 98th prime minister at a special Diet session on November 1st, and the fourth Abe cabinet will then be underway.
The Constitutional Democratic Party of Japan emerged as the leading opposition party.
The LDP independently secured the majority—a feat that Abe had initially believed would only be achieved in tandem with Komeito.
On October 22nd, Prime Minister Abe said, "I am aware that we still have a difficult road ahead of us, so I greet the election victory with humility." In a commercial television broadcast on election day, LDP secretary general Toshihiro Nikai reiterated his support for Abe going into the next LDP party leader election.
The Komeito's final tally fell short of the goal of securing more than the 35 seats they won in the previous lower house election, securing 29 seats this time.
Komeito supports the majority in major policies, such as dealing with the North Korean threat as well as countering Japan's low birth rate through such measures as making childhood education free of charge are set to advance.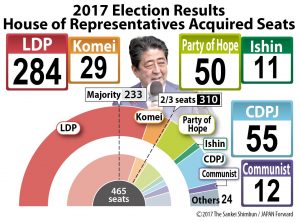 Meanwhile, Tokyo Governor Yuriko Koike's Party of Hope went into a slump, failing to maintain the 57 seats they had going into the election. While on an official trip to Paris, Koike told reporters on the 22nd that, "I have caused unpleasant feelings with my words and actions, and this has led to the disappointing results we see today. I cannot help but reflect that I may have brought this about through my own pride."
The Constitutional Democratic Party, headed by Yukio Edano, launched just prior to the election announcement, gained a lot of ground in the vote tallies, thanks to proportional representation. It made a major leap in seats, more than doubling the 16 it had before the election was announced.
The finally voting tally was completed only on Monday night, October 23. Due to typhoon 21, ballot boxes could not be immediately collected from the outlying islands of Aichi, Ehime, Miyazaki, and other prefectures after the polls closed on the 22nd. It was also the first time that a lower house election was held since the voting age was lowered to 18.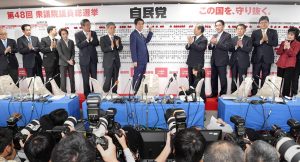 (Click here to read the latest result in Japanese)