Japan's Sweet Potato Festival Is Proof Otaku Culture Knows No Bounds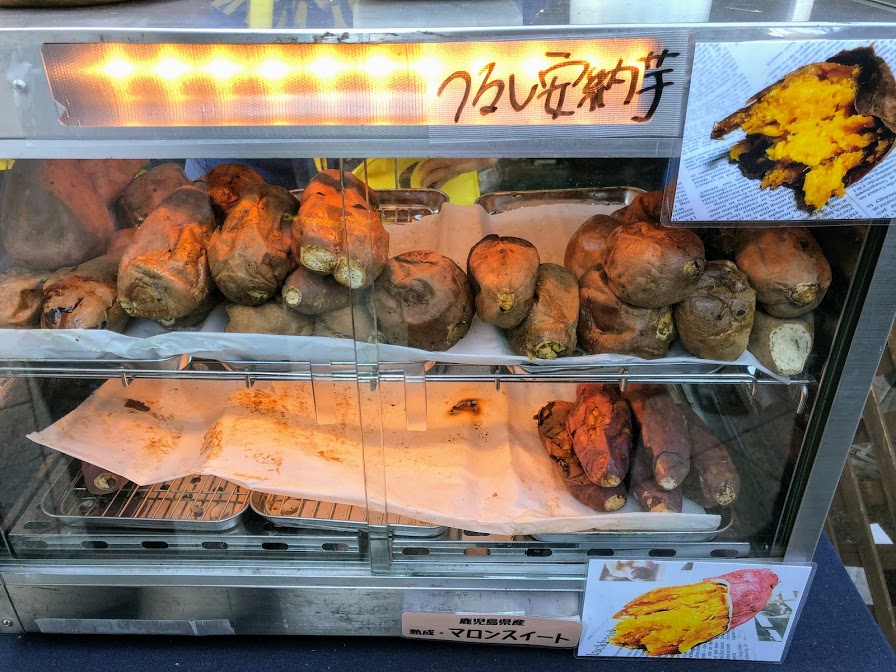 YakiJapan is known for its festivals — from the snow and ice sculptures in Hokkaido to colorful Nebuta floats in Tohoku. One that is less traditional and a lot more niche is the Shinagawa Yakiimo Terrace.
The event started recently, in 2018, and it brings the best sweet potato vendors from all over Japan to Tokyo for a week. The event in 2019 ran from January 28 to February 3 and featured yakiimo (roasted sweet potato) and sweet potato-flavored treats from 15 different companies.
I went this year to indulge in these sugary, carbohydrate-filled vegetables, and also learn a little more about why Japan would hold such an event dedicated to this food.
Why sweet potatoes? Satsumaimo (sweet potatoes) in Japan are a familiar ingredient dating back to the Edo period. You will find these bright vegetables in a lot of dishes, from tempura to candied daigakuimo, to the roasted yakiimo.
In rural areas and the suburbs, yakiimo is typically sold from tiny trucks blaring catchy tunes about the potato. Sweet and more satisfying than other sweet potato varieties outside of Japan yet filled with vitamin A and fiber, the potato is also recognized for its great taste and health benefits. These factors make a food festival dedicated to this vegetable seem a little more plausible.
As a self-confessed sweet potato addict, I marked this event on my calendar months ahead. The anticipation made me all the more excited for the New Year, and I researched far in advance about which foods and vendors I wanted to try. I even convinced my friend to come meet me early on a Saturday, in time for the 10:00 A.M. opening of the festival during its last weekend.
The venue of this festival was Shinagawa, close to JR and Keikyu Railway Shinagawa stations. This, to me, was unexpected. Shinagawa is more identifiable as an office building district rather than an entertainment-filled area with bizarre food events. However, the event turned into a sweet potato paradise hidden between Shinagawa's skyscrapers. There was even a lawn in the middle of the plaza with adorable sweet potato-themed kotatsu (cozy heated tables).
Upon entering the venue a few minutes past opening time, however, I was awestruck by the number of sweet potato fans who had arrived ahead of us and were already munching on yakiimo and other potato treats. After some executive decisions, we went to SEAED, a company based in Enoshima in Kanagawa prefecture, which featured a caramelized "brulee sweet potato" and a variety of other roasted potatoes. We waited in line for about an hour.
The paper packaging is purple and green, adorned with cute patterns of the Enoden Railway on it. Admittedly, we bought the brulee for the picture, but it was tasty, too.
The second (and final) spot on my first visit was to Yosshi no Oimoya-san, a sweet potato shop from Fujisawa, nearby Enoshima. The shop carried a special white-colored sweet potato, strikingly different than the classic purple and yellow Japanese satsumaimo. After another hour-long wait, the steaming white sweet potato was in my hands and I was soon stuffing my face with the spud's sweet, fluffy meat.
A combination of dedication and gluttony brought me to the event for a second time the next day — the final day of the festival. Unfortunately, I arrived past lunchtime and sold-out signs greeted me rudely at nearly every vendor. Sweet potato-related treats and drinks were still available at some stands, so naturally I opted to get my last taste of sugar and starch.
After nearly a two-hour wait, I bought my last sweet potato crispy sweet potato chips and a sweet potato-flavored shiruko (a sweet soup with adzuki beans and mochi). Both were delicious, but I was admittedly disappointed to have missed out on more yakiimo. Nonetheless, I'm looking forward to the festivities next year, and have committed myself to attend on earlier days.
Would I recommend this festival to anyone besides an extreme sweet potato devotee? Of course not — this year's event was crowded beyond imagination. However, the large attendance made me happy that my obsession with this starchy vegetable seems to be shared by so many people. The festival was well-thought out — from the vendors baking rare varieties of the spuds to the sweet potato-shaped kotatsu on the lawn — and enjoyable, even for my friend.
This yakiimo festival reminded me of what I like about Japan the most: the "otaku culture," or a dedicated pursuit of perfection in everything from anime to trains to, well, sweet potatoes. No obsession is too strange to be welcomed and appreciated in Japan.
You can learn more about the sweet potatoes at the Shinagawa Yakiimo Terrace here: https://yakiimo.sonotega.com/
Author: Jasmine Ortlieb