Kabuki's Ichikawa Ebizo Brings Star Wars Back to Its Japanese Roots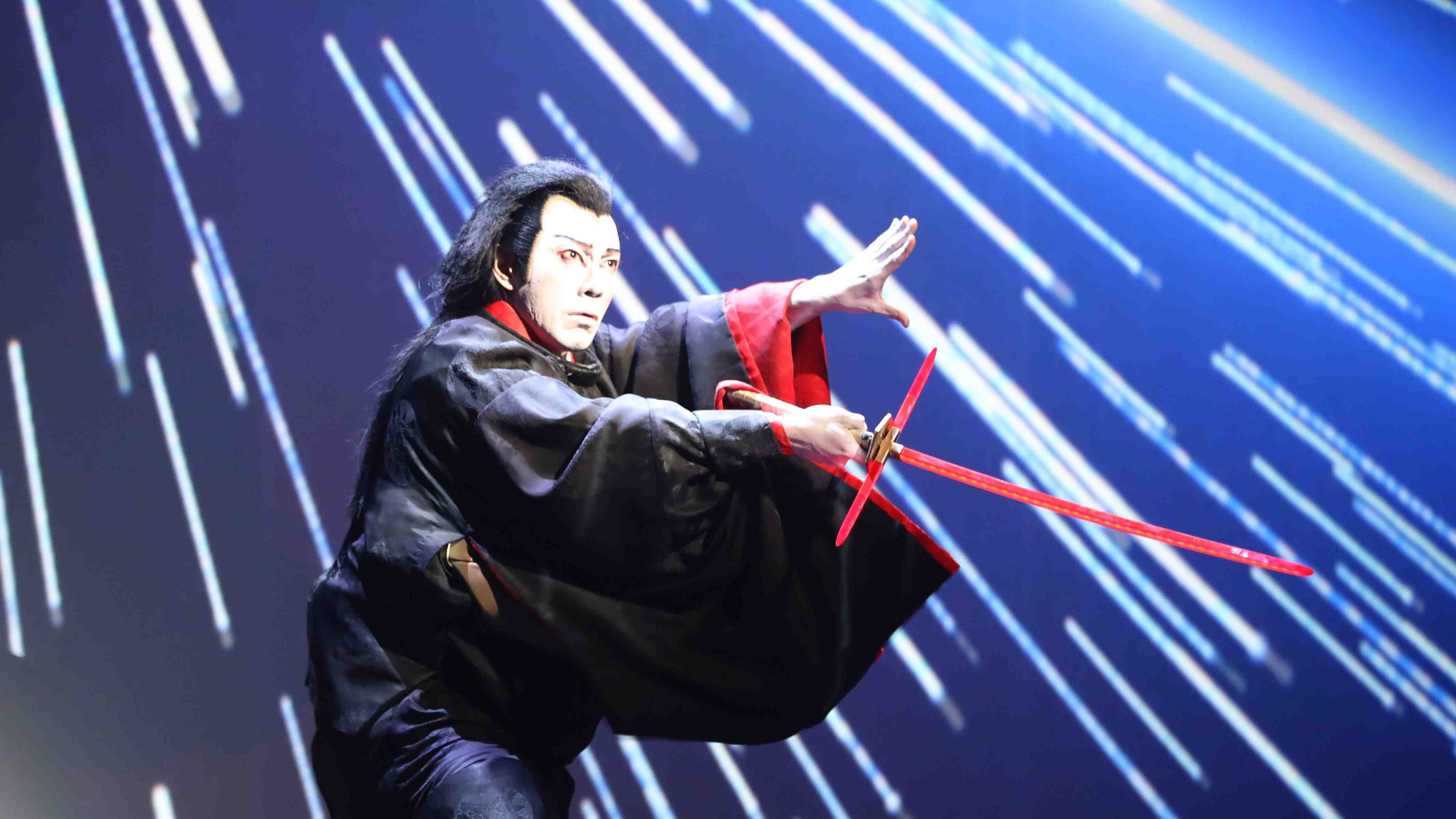 Performed by all-male actors wearing vibrant makeup and elaborate costumes, kabuki is celebrated as one of the oldest forms of theater in Japan along with noh and bunraku. It dates back to as far as the Edo period (1603-1868) with 400 years of history.
In recent years, kabuki has bridged different art sectors through remakes of contemporary entertainment into kabuki plays, including manga series, such as One Piece and NARUTO, in addition to a collaborative performance with Hatsune Miku, a vocaloid character first launched in 2007 by Crypton Future Media.
Ahead of the Star Wars: The Rise of Skywalker worldwide premier on December 20, kabuki has transcended the artistic divide once again through Star Wars Kabuki — Rennosuke Hikarigatana Sanbon. The name roughly translates into "Rennosuke and the Three Light-Sabers," a one-off matinee performance of an approximately 30-minute-long kabuki adaptation of the upcoming film.
The play was performed in Tokyo in November, starring one of the most prominent stage actors in Japan, Ichikawa Ebizō XI, 41, and streamed live around the globe on the same day. As of December 5, before it was archived, the video had gotten more than 372,000 views on YouTube.
Inspired by his fond memories of watching Star Wars for the first time with his late father, Danjūrō XII, who was a huge fan of the series himself, Ebizō was closely involved in scripting and choreographing the adaptation in cooperation with Lucasfilm. The play features plots and scenes from each of the movie franchise's latest trilogy.
In the play, Ebizō has taken up a dual role — a popular trait in kabuki dramaturgy — playing Kylo Ren as Kai Rennosuke, and Jedi Luke Skywalker as Sukaiōka Rūku.
Revolving around the story of Kylo Ren, the original stories were recomposed in conformity with conventional kabuki staging. For example, the characters have been retitled into kabuki-esque names, lines translated into Japanese language unique to kabuki productions, and highlight scenes recreated. One such scene is the battle between Kylo Ren and his uncle Luke Skywalker in the film's latest series Star Wars: The Last Jedi, swapping samurai swords for lightsabers and adding in stylized kabuki sword-fighting movements.
The play, however, has kept the Star Wars opening crawl—the signature stratagem for every Star Wars film—that almost tricks the audience into thinking they are at a movie theater.
The highlight of the show also involved a short appearance by Horikoshi Kangen (6), Ebizō's son who has been following in his father's footsteps, portraying Kai Rennosuke's early childhood and stealing the show with a breathtaking performance.
While some traditionalists and life-long Star Wars fans remain skeptical on the final product, others considered it as another breath of fresh air in classical Japanese theater. It continues to explore groundbreaking forms of traditional Japanese entertainment and seeking new expressions that might open up more doors for future kabuki actors like Kangen and the generations thereafter.
The influence of Japanese culture on the film is widely known among Star Wars fans. For the director of the series, George Lucas, Japanese film director and screenwriter Akira Kurosawa was a great influence during the film series' production process. In fact, his first Star Wars movie, A New Hope, was based on Kurosawa's film The Hidden Fortress (1958).
JJ Abrams, who has been involved in the directing of Star Wars movies since 2013, also emphasized the influence Japanese culture has had on the Star Wars production. This is specifically seen in Kylo Ren's fractured facemask — a design inspired by kintsugi, a Japanese traditional art style that repairs broken pottery with gold, silver, or platinum.
The cultural connections indicate that Ebizō and the Star Wars Kabuki might have simply brought the film back to its roots. Ebizō reflected on this circular history, saying:
Star Wars was first introduced in 1977. I was born in 1977 as well, so that makes us the same age. This year, Star Wars is releasing its last film in the series, and next year I will be succeeding the name of Ichikawa Danjūrō. I can't help but to feel a deep connection. Directed by George Lucas with a large influence from Japanese culture, the film has crossed the ocean again after 42 years to collaborate with Japanese traditional theater of kabuki — certainly a breakthrough in the industry, but I hope viewers will enjoy it nonetheless.
Author: Yukari Tanaka