Kyoto Craftsmen Take Pride in the Art of Restoring Cultural Property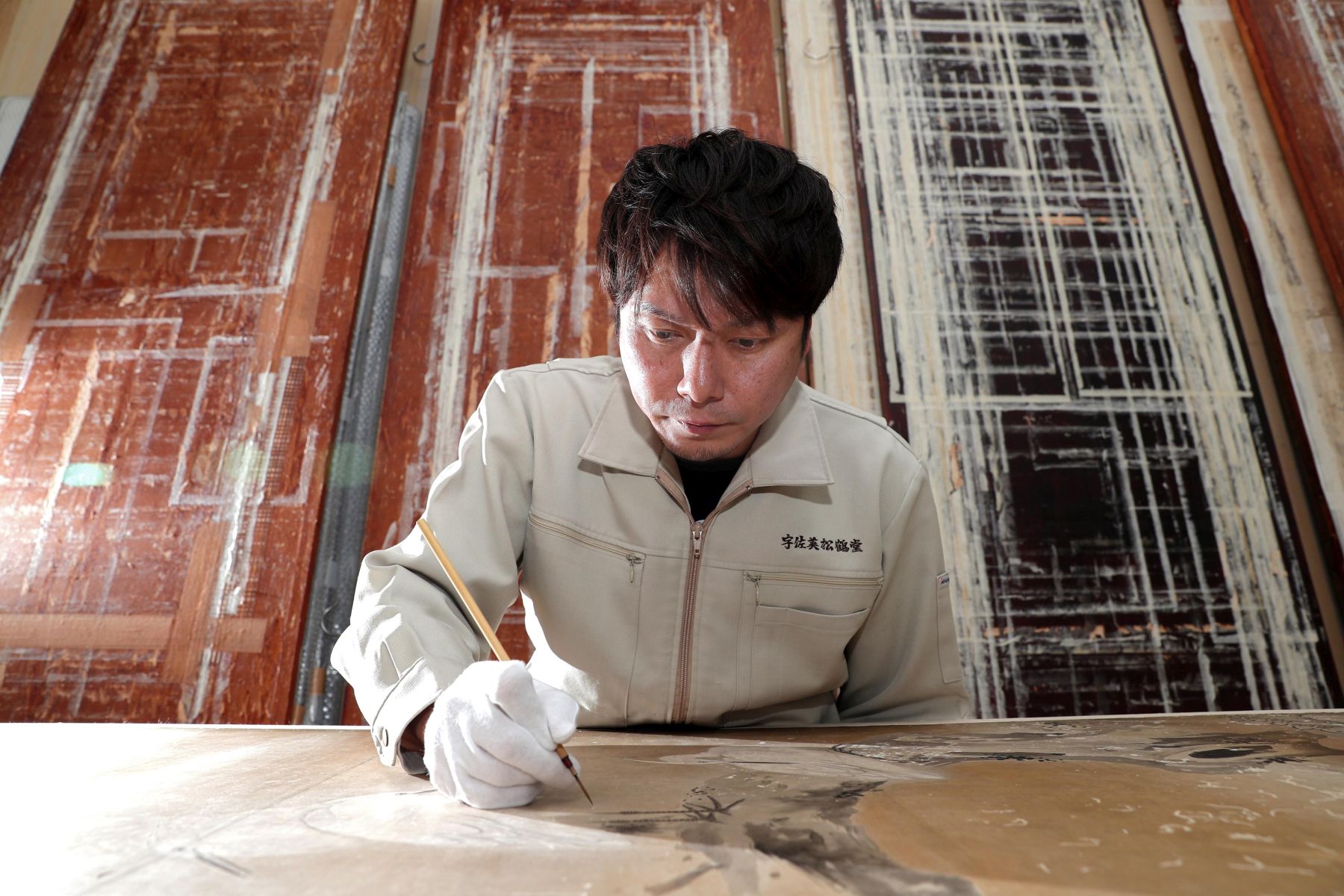 CAPTION: Kunito Horii is surrounded by
karihari
(temporary pasting) mounds used to dry Hanging Scrolls, which are being restored at the Usami Shokakudo Cultural Heritage Restoration Company, Shimogyo Ward, Kyoto City. The layers of washi paper, which remain on the mounds, reflect the industry's long history. (Photographer: Junpei Teraguchi)
Cultural property is usually defined as a historical item left by one's ancestors. The value usually increases over time, but sometimes it can be damaged in fires, accidents, or disasters.
Daigoji Temple in Fushimi Ward, Kyoto, is a World Cultural Heritage site.
As I passed through the western main gate to the main approach of the temple under the stern gaze of the Kongo Rikishi deity, a row of endless tree stumps caught my eye. They were the remains of the many cedar and hinoki (Japanese cypress trees) destroyed by Typhoon Jebi (Typhoon 21) in September 2018. The site had completely changed from the abundant greenery I saw on my last visit.
The main sanctuary of Seiryugu shrine, built during the Muromachi era, is classified as an Important Cultural Property. However, the cypress bark on its roof came away in the typhoon and several trees collapsed, damaging the cloister railing. Two small shrines nearby were also left badly damaged.
Fortunately, thanks to a government-subsidized project, restoration work has been taking place on the main sanctuary since April. Kishida Construction's (Yamashina Ward, Kyoto) Hiroki Nishibori, 29, has 10 years of experience in the industry. He is in charge of repairing the roof.
Standing on scaffolding set up around the shrine, he painstakingly assembles strips of hinoki bark on the roof, layer by layer. The bark strips are only 1.5 mm thick, to ensure that not a single drop of water will leak through the roof.
Speed is of the essence here; he holds over 10 nails at a time in his mouth, which he hammers in one by one with a special golden screw.
"Both the materials and technique remain unchanged from the past," explained Mr. Nishibori. "We want to preserve the skills of our ancestors."
Kunito Horii, 46, of the cultural heritage restoration company Usami Shokakudo (Shimogyo Ward, Kyoto) is in charge of repairing the shoji (Japanese sliding door) in Howanji Temple's meeting room, a designated National Treasure which was also badly damaged by last year's Typhoon Jebi.
"I went to investigate the extent of the damage left by the typhoon the following day, and found the earthen wall had completely collapsed. I was shocked at the sight of the damage," he said.
Mr. Horii, who has 20 years of experience as a paper hanger specializing in Japanese sliding doors, usually repairs hanging scrolls and folding screens. "I'm always eager to restore cultural property to its original state as speedily as possible," he said. Thanks to this determination, he finished restoration work on a total of 18 shoji which had been damaged by the typhoon.
We still all remember the Notre Dame fire in April, which left one of France's most important historical sites in Paris badly damaged. Japan too has experienced several disasters, both natural and man-made, which have damaged important cultural property, such as the Horyu-ji temple fire (Nara Prefecture) in 1949 and the Kumamoto earthquake that damaged Kumamoto Castle in 2016.
Interestingly, many young people aspire to enter the field of cultural heritage restoration, either as workers or researchers.
Mao Kondo, 20, a student from the Department of Historical Heritage at Kyoto University of Art and Design (Sakyo Ward, Kyoto) is studying the technique, restoration, and material analysis of folk craftwork. When it comes to items of cultural importance, "there is only one original," she said. "I want to be able to preserve these precious ancestral items."
These young people make it their mission to preserve cultural property for the next generation. It is their art and pride.
However, it was Mr. Nishibori's modest words which left the biggest impression on me: "I want to produce something that I'm proud of, so I won't feel ashamed when the next roof repair workers see it."
(Click here to read the original article in Japanese.)
(This article was translated by Sara Doel)
Author: Junpei Teraguchi, Photography Bureau, The Sankei Shimbun