Meet the First Japanese Chef to Win the Prestigious Prize in French Cuisine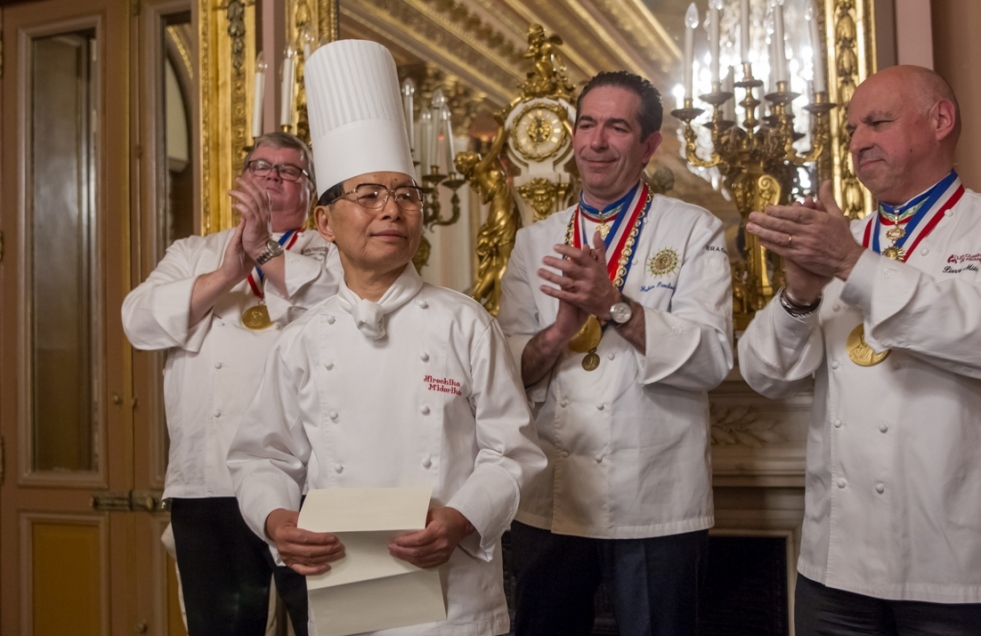 The "La Coupe d'Or Internationale d'Art Culinaire Marius Dutrey" prize, awarded to chefs for outstanding achievements in the art of French Cuisine, has been given to Hirochika Midorikawa, 77, honorary executive chef of the Keio Plaza Hotel in Shinjuku, Tokyo.
Upon his return from the awarding ceremony in Paris in April, Chef Midorikawa said: "I've dedicated myself to cooking. I'm very happy to be so honored."
World-class
The prize was established in 1958, and has since been awarded to world-renowned chefs like Paul Bocuse and Joël Robuchon.
So how does it feel to be recognized among these acclaimed chefs? "I've spent many long hours in pursuit of a field with a long tradition, and I am happy to receive this honor," Midorikawa said, smiling.
The celebrated chef was born in Kawaguchi, Saitama Prefecture. His father, a metal caster, was sent to fight in the war and died in action in 1944. His mother raised three children on her own.
"Now it's hard to believe how small our house was. We couldn't afford shoes, so we always had to wear wooden sandals," he recalled. He still remembers the joy he felt when a relative bought him canvas shoes in early elementary school.
Any Work At All
After graduation from middle school, he got a job at Seiyoken, a western-style restaurant. At the time, he says, the floor had terrible drainage and the drains often stopped up. Also, no one wanted to wash the pots and pans. "The water would back up, so I'd roll my pants up and clean in the water. I also jumped in to wash the pots."
He bought and studied a cooking textbook written by Tokuzo Akiyama, the Emperor's Chef, and closely observed older workers in the busy kitchen.
Eventually, he began to feel he wanted to master Western cooking, so when he was 24 he took the Siberian Railway to Europe on his own.
When he started working at a restaurant in Hamburg, Germany, Chef Midorikawa couldn't speak any German. The only thing he had was the skill he had mastered in Japan. His reliable and conscientious work soon showed its value.
"As a child I'd often been left alone at home in the dark, so I never felt lonely, even in far off foreign countries," he said.
After learning the basics of European cooking, and some German words, he moved on to a French restaurant. Once he actually started working with it, he found that French cuisine had been carefully cultivated over its long history, and was based on logical methods. He says he gradually became captivated by the depth behind it.
To Raise the Standards
After seven years in Europe, he returned to Japan in 1971 and joined the newly built Keio Plaza Hotel. He was named executive chef there in 1987. The policy he has worked by: "Value the ingredients."
In 2006, Midorikawa was awarded the French Republic Officier du Mérite Agricole. In 2011, he received the Order of the Sacred Treasure, Gold Rays with Rosette. He has published books, among them French Cooking: The Essence of Flavor.
As executive chef, his work was not only to use his cooking skills, but to manage a team of cooks as well. "You have to motivate people to do many different jobs, and give them techniques and knowledge. And at the same time I wracked my brains as to how I could raise standards as a whole."
Now, as honorary executive chef, still at Keio Plaza Hotel, he offers his assistance in guiding the next generation: "I don't really think it's important to dwell on next year or the future in general. It's more important to focus on tonight's work. People have to learn to value the little things right in front of their eyes."
He never saw his father at work casting metal because of his early death, but, he says, "I feel I have the making of things in my blood."
Toshihiro Kushida is a staff writer for the Sankei Shimbun at Tokyo Headquarters office.
(Click here to read the original article in Japanese)