Meet the Winners of the 2019 Praemium Imperiale Awards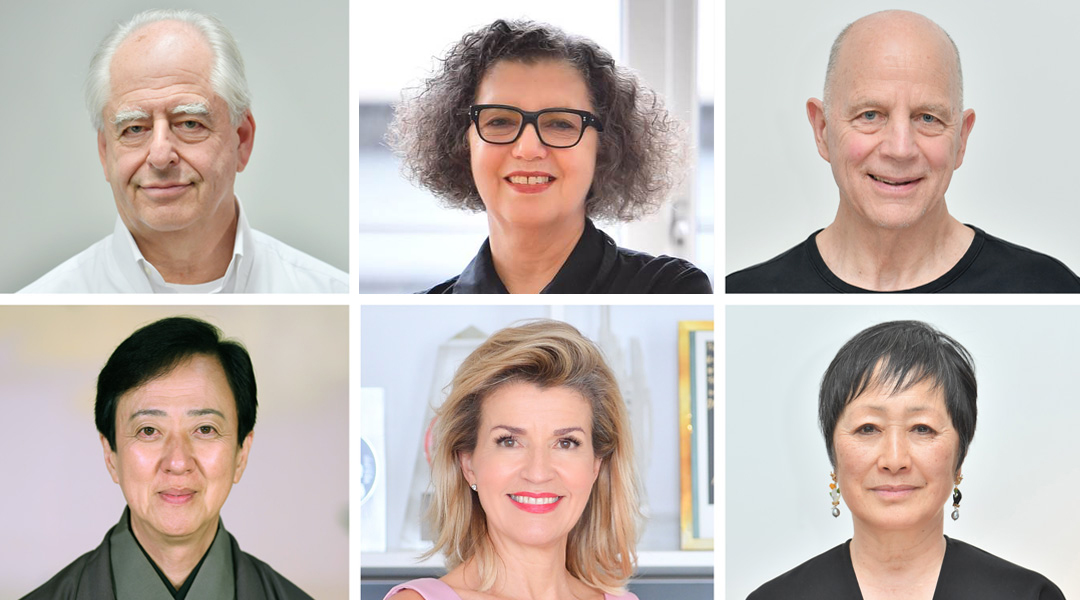 Now on its 31st year, the Praemium Imperiale Awards, known as the "Nobel Prize of Arts," announced the 2019 recipients on Tuesday, September 17. The awards recognize lifetime achievement in arts categories not covered by the Nobel Prizes, and have become a powerful voice for the importance of culture in today's world.
This year's recipients, selected from the five disciplines of painting, sculpture, architecture, music, and theater/film, are:
William Kentridge

(Painting)

Mona Hatoum

(Sculpture)

Tod Williams & Billie Tsien

(Architecture)

Anne-Sophie Mutter

(Music)

Bando Tamasaburo

(Theatre/Film)
The 2019 recipient of the Grant for Young Artists is Démos (Philharmonie de Paris).
Each of this year's winners is introduced individually below.
Painting: William Kentridge
Willian Kentridge invented "Moving Drawings," which are animated films created by filming still sketches, redrawing them, and then filming them again, over and over, bringing forth a unique world. He created a new kind of artistic media rooted in drawings, integrating sketches with film, installations, and sculptures, and, later on, combining and developing them into theater and opera works.
He has always opposed tyranny, and his intellectual quest to track down the evils of apartheid and colonialism are entwined in all his artworks, earning him the high regard of many people.
Inventive and humorous, William Kentridge is an extraordinary visual artist who uses drawing, film, performance, music, and sculpture to probe the ideas and conventions of our world; seeking its hidden truths and dismantling its false certainties. His art has its roots in the social injustice of apartheid in South Africa, where his family were leading lawyers and activists. He studied painting, acting, and filmmaking before deciding that "monochromatic drawing" was his starting point.
By the 1990s, his unique style of animated films won him recognition, and the influence of German Expressionism and Dada echo through his work, from films like Felix in Exile to his immersive pieces like Refusal of Time. Themes of change, memory, and time recur. Procession and silhouettes also play a key role. His studio is where his own vision takes flight — either on his own or in collaboration with others. It's also where the music adds a vital element to the piece. He has also directed operas, including Alban Berg's Wozzeck, which led to a wider exploration of the First World War in Africa, with its focus on the paradox of colonialism.
Kentridge has been recognized with Japan's Kyoto Prize in 2010, France's Commandeur de L'Ordre des Arts et des Lettres in 2013, and Spain's Princess of Asturias Award in 2017.
Sculpture: Mona Hatoum
Mona Hatoum is an artist who has gone through the experience of becoming a displaced person herself, and has often shown the agony and pain of displaced people in her artworks, as well as tackling social contradictions such as political repression and gender issues.
The way she gently expresses her radical and almost critical awareness of the problems is superb. Her rich imagination and artistic achievement are worthy of attention, and the sense of urgency inherent in her works gives them a strong sense of reality. The fact that she has kept on stimulating the contemporary art scene is also highly regarded.
Mona Hatoum is a British Palestinian artist whose poetic and political oeuvre is realized in a diverse and often unconventional range of media, including installation, sculpture, video, photography, and works on paper.
She was born into a Palestinian family who, exiled from their homeland, had settled in Beirut, Lebanon. When on a short trip to London in 1975, the outbreak of the Lebanese Civil War prevented Hatoum from returning to Beirut.
Based in London, she pursued a long-held dream to become an artist, studying Fine Art from 1975 to 1981 at Byam Shaw School of Art and the Slade School of Fine Art. Initially through performance and video and later through installations and large-scale artworks, she alludes to the experience of displaced people, social contradictions, and political repression.
Hatoum has developed a language in which familiar, domestic, everyday objects are often transformed into foreign, threatening, and dangerous things, as well as using cartography to explore instability and precariousness in today's political landscape.
Constantly in demand, Hatoum's works are featured in major contemporary art collections and exhibitions. In 2017, she received the 10th Hiroshima Art Prize.
Architecture: Tod Williams & Billie Tsien
Tod Williams & Billie Tsien have mainly engaged in non-commercial architecture, such as institutes, museums, schools, etc. They describe their building process as "a baby trying to learn to walk." They minutely analyze materials and forms, taking enough time to let the ideas develop, and also give importance to "handwritten drawings" and "slowness" against fast moving procedures. The way they make gentle and soothing spaces with "hand-made feel" designs are highly thought of.
New York-based architects Tod Williams and Billie Tsien have been working together since 1977, establishing their renowned practice, Tod Williams Billie Tsien Architects, in 1986. Their core belief is that architecture is an act of "profound optimism" and a service that can reflect the values of public institutions that share this view.
Over their 30-year career, they are responsible for numerous projects both domestically and overseas, including countries such as Hong Kong and India. They quickly gained attention for their design for the Neurosciences Institute (1995) in California, referred to as a "monastery for scientists." The Barnes Foundation (2012) in Philadelphia skillfully reproduces the majestic atmosphere of its former location while offering new elements for the public to engage with its inimitable art collection. In 2016 they were selected by former President Barack Obama to design The Obama Presidential Center in Chicago, scheduled for completion in 2022.
Music: Anne-Sophie Mutter
Anne-Sophie Mutter is highly regarded for having all the properties a musician should have: varied and beautiful musical tones and colors, perfect techniques, outstanding expressions, and a rich musicality. She is also recognized for her deep understanding of contemporary music. As the "Queen of Violin," her recent activities have been more and more fulfilling. She is also much appreciated for being engaged in helping young musicians around the world and being involved in many kinds of charitable activities.
German-born musician Anne-Sophie Mutter is considered as one of the world's greatest contemporary violinists. From an early age it was clear that she was precociously talented and, when only 13, she was invited by the legendary conductor, Herbert von Karajan, to play with the Berlin Philharmonic — an orchestra with which she continues to collaborate with to this day.
"He said I was actually the only violin soloist he worked with in the year 1978 until his death. I found it incredibly humbling and a wonderful compliment," she said.
She debuted in Japan with Von Karajan in 1981, and has continued to work with many of the world's greatest conductors — Seiji Ozawa, Zubin Mehta, and Daniel Barenboim, to name but a few. Her musical skills and subtle, unique vibrato technique are beyond question. She has premiered 27 works.
Through the Friends of the Anne-Sophie Mutter Foundation, a project started in 1997, to which the Anne-Sophie Mutter Foundation was added in 2008, she helps talented young musicians familiarize themselves with the life of a professional musician.
She explained, "Karajan made me aware of the importance of passing what we had received from our great teachers to coming generations."
She has given regular benefit concerts, helping the victims of the Great East Japan Earthquake and the children in Yemen to name but a few. Mutter is the recipient of four Grammys and the 2008 Ernst von Siemens Music Prize. In 2017, she received the Commandeur de L'Ordre des Arts et des Lettres, and, in 2019, she was given the highly-prized Polar Music Prize.
Theater/Film: Bando Tamasaburo
Bando Tamasaburo is the most outstanding onnagata (a male actor who plays female roles) in the contemporary kabuki world, known for his overwhelming beauty, his ability to express the spirit of the role he is playing, and his dignified performance. He is also famous in the field of dancing, creating worlds of special beauty.
He has given inspiration to artists overseas and made various collaborations internationally. A multi-talented artist, he works not only as an actor but also as a stage and film director. Bando Tamasaburo is, indeed, a most talented and unusual actor, creator, and artist, and is highly regarded both in Japan and abroad.
In the traditional world of Japanese kabuki theatre, Bando Tamasaburo is already legendary, considered to be one of its most important leading onnagata actors. As with many other countries' theatrical traditions, kabuki is performed by an all-male ensemble, with some actors specializing in playing the female roles — the onnagata. Bando is known and greatly admired for his overwhelming beauty and his ability to express the spirit of the role he is playing.
Audiences will find this quality fully embraced in Bando's upcoming film with Kataoka Nizaemon in Cinema Kabuki Kuruwa Bunsho - Love Letters from the Pleasure Quarters - to be released by ©松竹 / Shochiku on January 3, 2020, at movie theaters all over Japan.
In keeping with kabuki tradition, he made his stage debut using one name, Bando Kinoji, in 1957, but became Bando Tamasaburo V in 1964, receiving the prestigious name from his adopted father, Morita Kan'ya XIV.
At the age of 19, Bando won the role of Princess Shiranui in Yukio Mishima's Chinsetsu Yumiharizuki. He had continued to play the most important female roles in kabuki, such as the loyal nursemaid Masaoka in Meiboku Sendai Hagi (The Precious Incense and Autumn Flowers of Sendai) and the lovely courtesan Akoya in Dan no Ura Kabuto Gunki.
Revealing a constantly inquiring creative mind, he has extended his scope to include international and non-kabuki pieces. He has performed in Okinawa's Kumiodori, Chinese Kunqu opera, collaborating with cellist Yo-Yo Ma, dancer/choreographer Maurice Béjart, and film director Andrzej Wajda. Bando has also acted as the artistic director for the internationally renowned Japanese drum ensemble, Kodo, producing Amaterasu and Yugen, performances featuring his dance, combined with the traditional drumming of Japan.
Designated in 2012 a National Living Treasure by the Government of Japan — a title given to individuals certified as the holder of Important Intangible Cultural Property — Bando is understood to be a master of his art, an ambassador for Japanese culture, and an enormous creative force.
Grant for Young Artists: Démos (Philharmonie de Paris)
Démos is a musical education program run by the Philharmonie de Paris. Since its establishment in 2010, it has provided musical education to children between 7 and 12 years old in underserved localities or rural areas — areas where classical music is not traditionally promoted.
They not only lend children musical instruments but also provide lessons for up to four hours a week for three years — all without charge. Two professional musicians and a social worker work together to teach groups of 15 children. Once a month, seven groups get together to form a symphonic orchestra of 105 children, and annually these orchestras perform concerts at local concert halls. About half of the children who take part in this musical education program continue to study classical music after graduation and are allowed to keep their instrument.
There are 38 orchestras formed in this way all over France, encompassing nearly 4,000 children. Their annual operating cost is about €8 million euros, with one-third of the budget provided by the French Government, another third by the private sector, and the final third by local governments.