Mile Championship Thriller: Kota Fujioka Guides Namur to Come-From-Behind Victory
Namur, ridden by a replacement jockey, earns her first Grade 1 victory in eight tries in the 40th running of the Mile Championship, winning by a neck's length.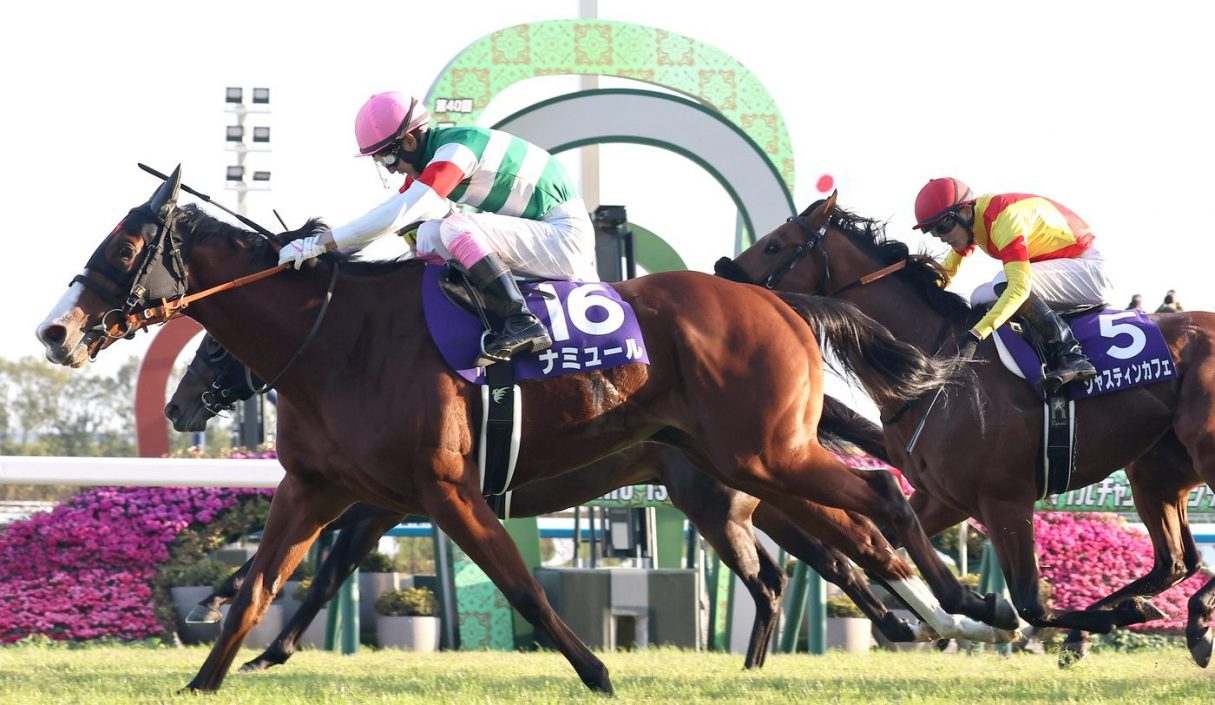 In a Mile Championship that will be remembered for years to come, jockey Kota Fujioka collected his first Japan Racing Association Grade 1 victory since October 2009.
To make that happen, fifth favorite Namur earned her first G1 win in eight attempts, beating Soul Rush (Joao Moreira's ride) by a neck's length on Sunday, November 19.

The winning 4-year-old filly, who was sired by Harbinger, clocked 33.0 seconds over the final three furlongs (about 600 meters) to secure the victory at Kyoto Racecourse.

Justin Palace (Ryusei Sakai) finished a half-length behind the runner-up, while Elton Barrows, the fourth favorite piloted by Atsuya Nishimura, was a further three-quarter lengths behind the third-place finisher.
When the day began, Fujioka wasn't scheduled to compete in the 1,600-meter event (race 11 on the Kyoto docket). But the 34-year-old Fujioka emerged as the replacement for Ryan Moore, who injured his back in Sunday's second race in Kyoto. Moore fell off Wilson Way, who stumbled after the start of the Two-Year-Old Maiden race.

Despite the mishap, Wilson Way was OK, according to the JRA, commenting after he was examined.

Moore also provided an update to the media later in the day.

"I am very grateful to JRA for taking care of me, [and] I am very impressed with the X-ray facility," Moore was quoted as saying by Sports Nippon.

The British jockey added, "It's a pity that I couldn't ride in the race afterward, but I'm fine now that I've been taken care of."

As for Namur, she was at the back of the pack at the final turn before increasing her speed and making a dramatic push to contend for the title. (Watch the full race on the JRA's YouTube channel.)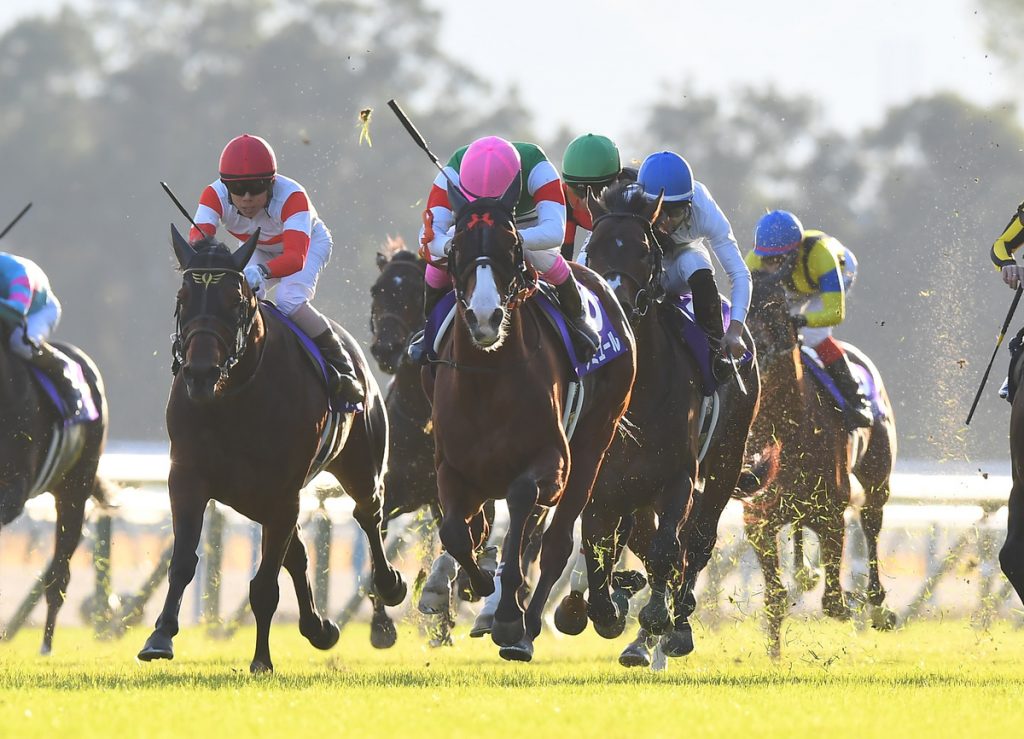 Details about the Mile Championship
Race favorite Schnell Meister, ridden by Christophe Lemaire, was slow out of the gate from the ninth post position. As a result, he was positioned at the back for the majority of the race before making a strong late surge to claim a seventh-place finish among 16 entrants.

Meanwhile, second favorite Serifos, the 2022 Mile Champion winner held the top spot for a short spell. But with veteran jockey Yuga Kawada aboard, Serifos was not a factor in the pivotal final stretch, slipping to eighth.

Namur advanced past a slew of other horses on the outside to grab everyone's attention.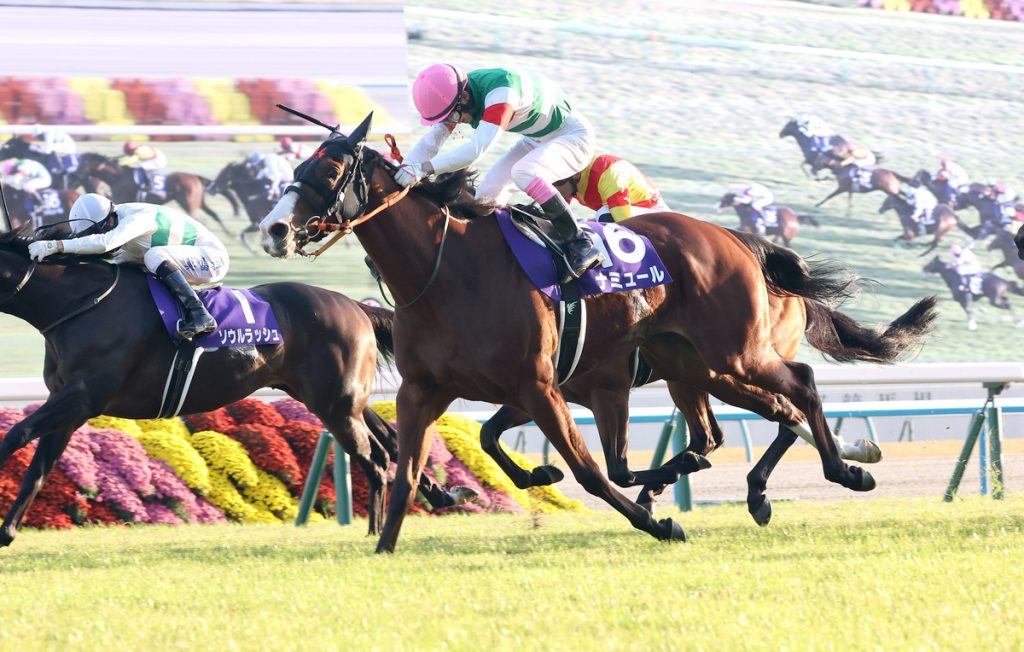 With 200 meters left, Soul Rush was the frontrunner. But Namur and Fujioka had other ideas. And Namur had just enough time and speed to squeeze out a win, with Soul Rush being overtaken a split-second before the line.

Early pacesetter Bathrat Leon (Katsuma Sameshima), who was still in front at the 800-meter mark, dropped back to 15th by the end of the race.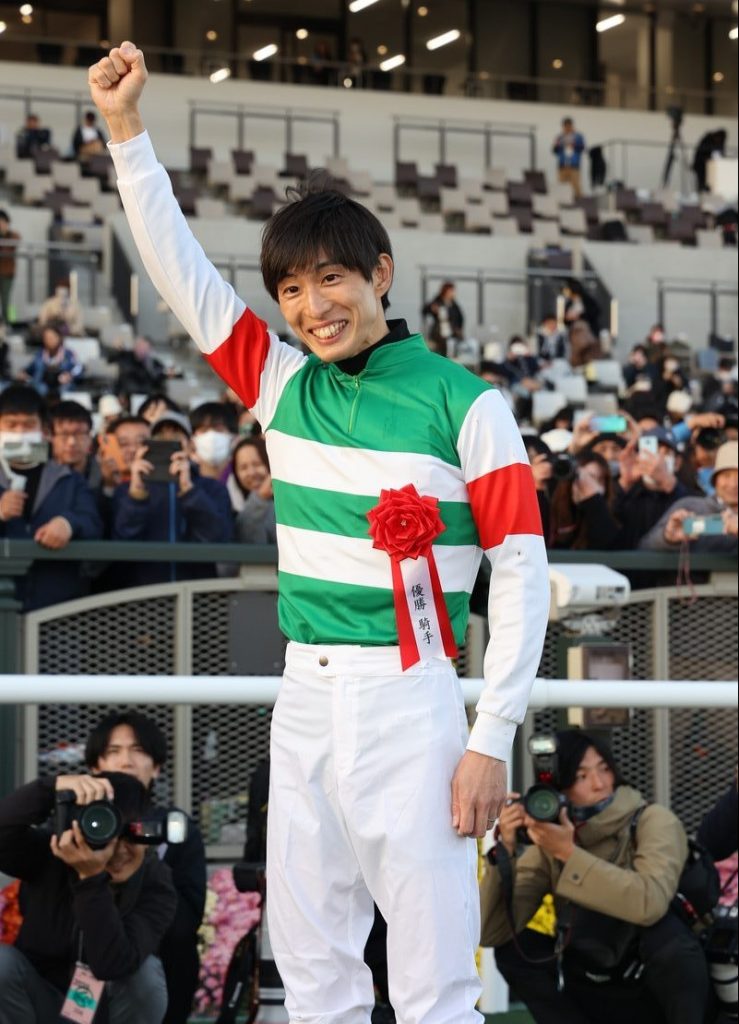 Fujioka's Reaction to Mile Championship Victory
In her previous race, Namur was the winner in the G2 Fuji Stakes on October 21 at Tokyo Racecourse.

As a Sunday replacement, Fujioka noted that he received racing advice from trainer Tomokazu Takano and Moreira, who rode Namur in her last race. That advice was helpful for him before Namura's winning run in 1 minute, 32.5 seconds.

"I'd seen how the filly raced before and was aware of her ability," Fujioka commented in his post-race interview

He continued, "I was positive going into the race and just concentrated on keeping her relaxed. The break didn't go very smoothly but she was in good rhythm once settling into the race and responded well. So I knew we could get a good run as long as I did my job of getting her into a good spot at the straight — from there she really showed her strength."
Takano collected his fifth JRA G1 win.
A Look Ahead
The 43rd running of the Japan Cup, a 2,400-meter G1 race, is on Sunday, November 26 at Tokyo Racecourse.

With Moore handling the reins, Vela Azul won the 2022 Japan Cup. Moore is scheduled to team up with Eishin Flash progeny Vela Azul once again in the upcoming prestigious race.
RELATED:

Author: Ed Odeven
Find Ed on JAPAN Forward's dedicated website, SportsLook. Follow his [Japan Sports Notebook] on Sundays, [Odds and Evens] during the week, and on X (formerly Twitter) @ed_odeven.