Moving People: Tokyo Motor Show 2019 Exhibits Latest Technology for Personal Mobility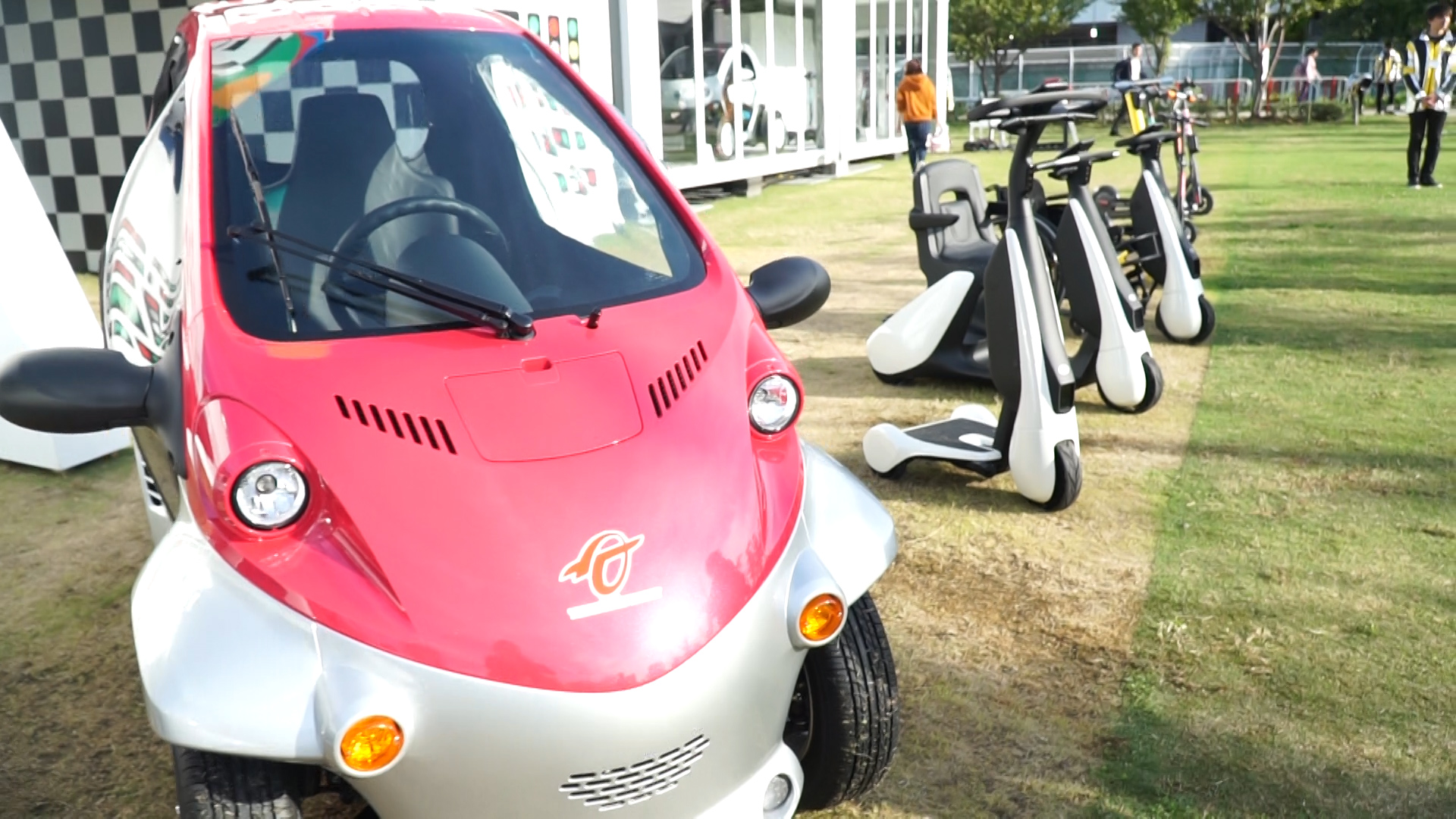 Tokyo Motor Show, this year on it's 46th edition, has as its crown jewel the future of cars. However, the 2019 event also offers us to envision transportation of the future in the broader sense.

In the Open Future Area, visitors can experience first-hand possibilities for personal mobility. Among the new products featured are the Toyota i-ROAD and the Nissan new mobility concept. Electric cars for one person are already in use in many places around the world — for example, for people with disabilities.
However, there are other options, like the modern version of what many of us associate to kids' vehicle: the kickboard. Late for an appointment on the other side of town? Just hop on the motorized kickboard parked outside your office.
This year there is a particular breadth in the models presented, with EV standing versions, or sitting versions, or some which look more like the analogue model of the vehicle in different colors and sizes.
The kickboard itself as a city mode of transportation isn't altogether a new concept, with the phenomenon of rental bicycles and electric scooters already spreading. Many of us might have seen Segways in various metropolitan cities, and the concept of the pick-up-and-leave-as-you-go kickboard is starting to expand. It has been tested in parts of the United States and is in use in some cities in France and Spain.
Shunsuke Okura, project manager at mobby ride, the Fukuoka-based kickboard production company, spoke to us about what needs to change in Japan in order for the kickboard technology to be used more commonly by the general public.
Okura explained how there is a legal impediment, preventing the spread of some modes of personal transportation: "In Japan you need a license to be able to use a kickboard, which is different from a bicycle." The main difference? Because the electrical kickboard is considered a motorized vehicle.
There are also technical rules that the designers would need to abide by if the kickboard were to expand, like the need to have side mirrors, or directional signal lights.
He added: "There are limitations to the expansion as there are concerns about allowing people to drive freely. So we are trying to showcase our product and share our data with the government so that people can envision what the future of transportation will look like, and perhaps change the law as a consequence."
An Emphasis on the Younger Generation
Quite apart from the vehicles and technology on display at TMS 2019, there is a kids area aimed specifically at bringing families. Aptly called Kidzania, it's a section in the Aomi exhibition hall, where families or just kids can enjoy the event in a different way.
There are stylized models of cars, where kids are encouraged to wear helmets and touch them, with a kind employee explaining in simple terms the workings of the vehicle.
Special to this year are efforts to spark the younger generation's interest, namely the world of e-motorsports, with a dedicated stage on the first floor of MEGA WEB.
Visitors will be able to see world class e-motorsports players in the "FIA Gran Turismo World Championship Round 5," as well as an under-18 National Prefectural Competitive Championship 2019, where the best e-sports players aged 6-18 will compete to qualify in Ibaraki Prefecture, and potentially compete at the U-18 level.
To top it all off, food and drink is at your heart's content. There's never a dull moment at Tokyo Motor Show 2019, so if you are in town, why not check it out?
Tokyo Motor Show 2019
Venue: Tokyo Big Sight (Aomi Hall, West/ South Hall, MEGAWEB, Symbol Promenade Park, the Parking lot next to Tokyo Fashion Town Building)
Dates: October 24 to November 4, 2019
Hours:
Preview Day
October 25, 9 AM – 2 PM
General Public Days
October 25 (Fri), 2 PM – 8 PM
Monday- Saturday 10 AM – 8 PM
Sunday and Holidays 10 AM – 6 PM
Admission:
Adults: Same day ¥2,000, advance ticket ¥1,800, same day after 4 PM (except Sunday and holidays: ¥1,000
High school students and under: Free
Persons presenting proof of disability and one person accompanying them (or two accompanying persons if the disabled person uses a wheelchair): Free
Access:
Approximately 7 minutes' walk from Kokusai-Tenjijo Station, Tokyo Metro Rinkai Line
Approximately 3 minutes' walk from Tokyo Big Sight Station, Yurikagome Line
For additional information, follow this link.
Author: Arielle Busetto